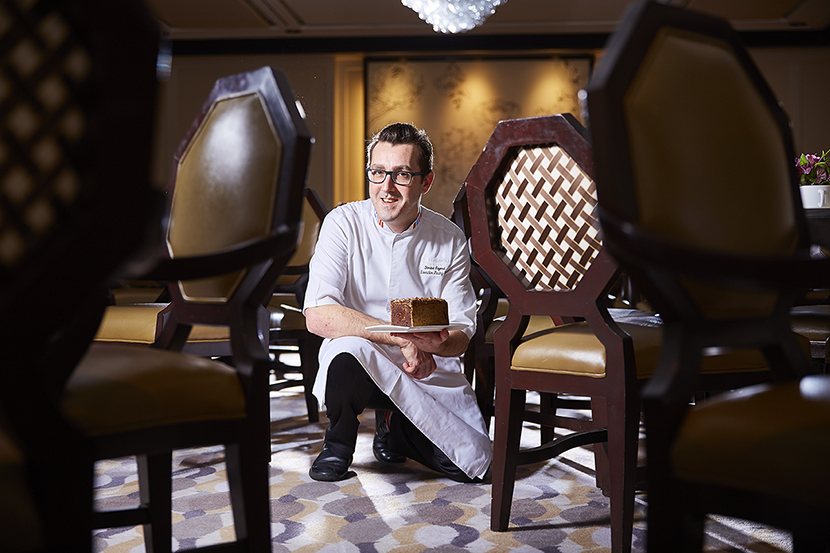 Dimitri Fayard has an impressive record. Having settled in Chicago for the past fifteen years, he learned his trade from the top pastry chefs before becoming in turn an international reference. Yet this pastry world champion has retained his humility, his Gers accent and all his reserve. A disconcerting simplicity behind an immense perfectionism.
What is your view on pastry in Chicago ?
When I arrived 20 years ago, I think that the economic context made it easy to install. Despite heightened tension, there is still a real French pastry chef know-how that stands out very clearly in the United States. This is far more notable than in cuisine where some American chefs are on a par of excellence with French chefs! Especially since, contrary to popular belief, US producers manage to make wine, cheese or charcuteries that hold their own.
As a French pastry chef, what do you bring to Chicago ?
Here, young pastry chefs lack the know-how; they don't have the basics, the basic gestures: how to pipe choux pastry or spread a biscuit… For five years I taught at the French Pastry School and I observed that apprentices want to advance too fast. Young people do not realize what learning entails in order to master the basics! I remember that when I was learning, we would pipe five to six hundred pieces a day, until the result was perfect! To compare with France, before you can become a pastry chef of an establishment like the Peninsula, you need to have at least ten years of experience!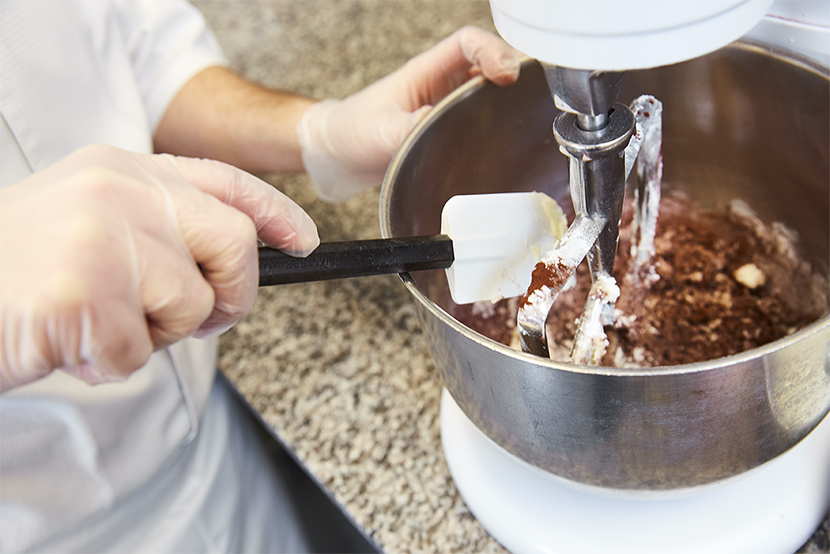 What is the main difference between French pastry and pastry in the United States ?
I think that pastries are a little sweeter here. And the portion size is much bigger! (Laughs)
And in terms of products ?
For raw ingredients in pastry, we have easy access to French products: chocolate, fruit purées,… We can find all the major French brands. And it's exactly the same for equipment. Besides, pastry is so closely linked to France that the major French brands have been copied a lot here, but never equaled in terms of quality. For example with molds; only Matfer has a real quality of silicone. The others are too hard to remove things from the mold, it breaks, it remains stuck … We undeniably master tool manufacture in France. In the same way that Italians are more advanced in ice cream, the French are more advanced in pastry. I have been using Matfer since my apprenticeship and from as far back as I can remember I have always seen the brand's products in my professional environment.
What tools do you use most frequently ?
I'm a big consumer of oven gloves! We use at least five or six pairs a year. There's also Silpat, and the dough scraper to scrape dishes! When I was learning, we always had dough scrapers in our pockets, because if we wasted anything, we'd be slapped! I like the spatula too: it's good for mixing and because they are flexible, they can also be used for scraping. These are very professional tools.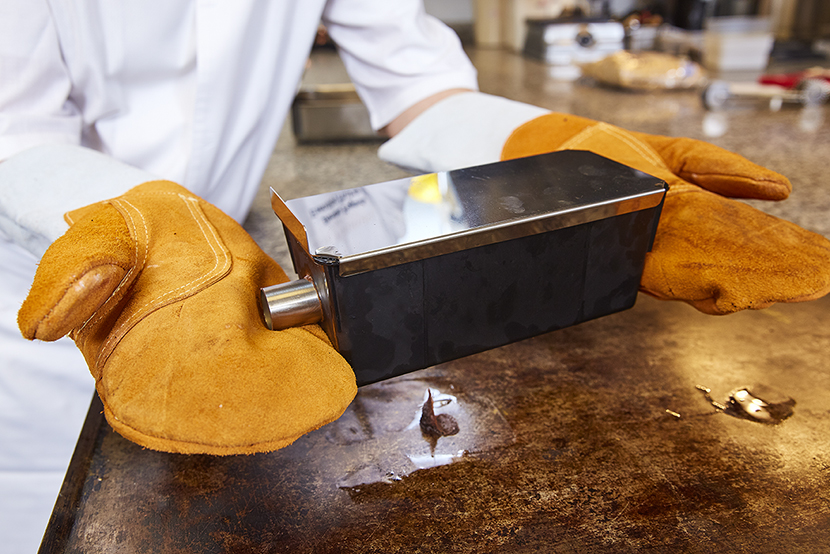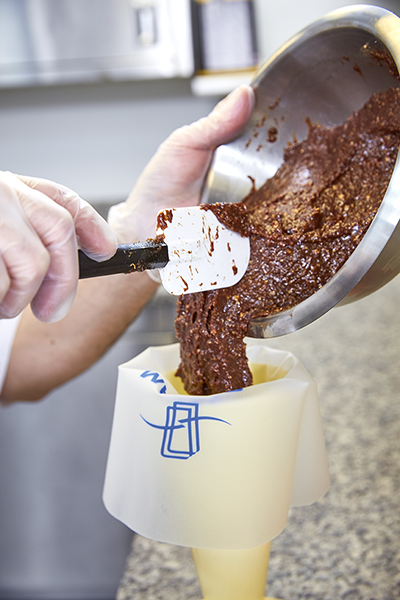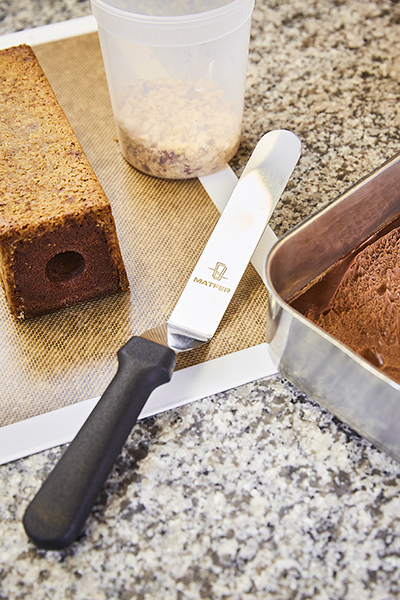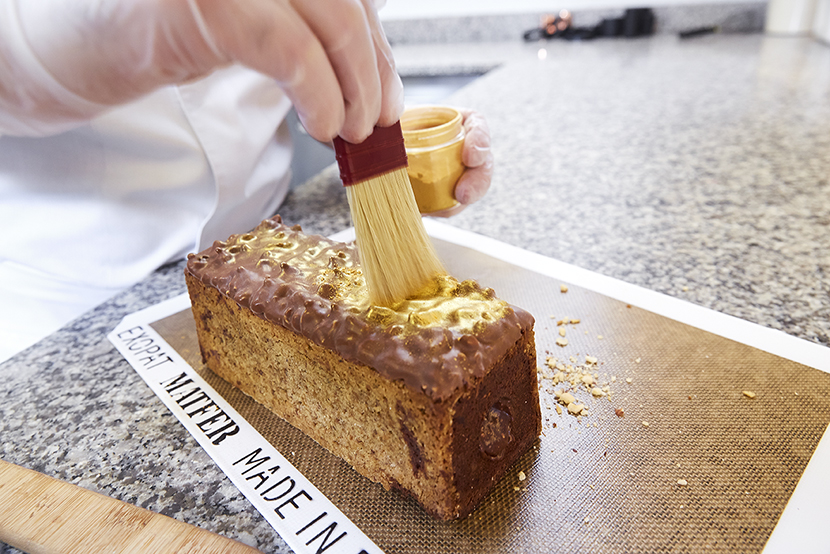 Simplicity. I like to work with what I like to eat and what people know. I don't look to make exotic flavor combinations, I like to remain classic: chocolate, strawberry, raspberry, vanilla,… In the United States, there is much more diversity than in France. In the kitchen alone, we are three different nationalities: Mexican, Chinese and French. I think that by using simple products, all origins are covered. As I had my shop for 10 years, I know what pleases. For my part, I prefer to make cakes that everyone loves and will want to buy. I think, for example, that recipes like eclairs with matcha green tea are reserved for a small percentage of clients.
Having graduated in cuisine and pastry in Auch, in the Gers, Dimitri Fayard began working alongside the MOF (best craftsman in France – Meilleur Ouvrier de France) Philippe Urraca, who then placed him with François Payard a young MOF recently expatriated. In 1998, at the age of 19, he flew to New York, before leaving for the Bellagio Hotel in Las Vegas to work alongside Jean-Philippe Maury, yet another MOF! He then went on and discovered Atlanta, working with a double pastry world champion, Laurent Branlard, at the Ritz-Carlton Corporate Hotel. He arrived in Chicago in 2002 for the opening of the Sofitel Water Tower Hotel, as Executive Pastry Chef. The following year, he created Vanille Pâtisserie, an upscale boutique where he made and sold tarts, entremets, chocolate candies, wedding cakes … The adventure lasted ten years, before selling his business in 2011. With three medals in the Atlanta Pastry Classic Competition (2001) and the title of World Pastry Champion (2008), to his credit, this member of the Académie Culinaire de France was also elected "one of the 10 best pastry chefs in America." He taught at the renowned French Pastry School in Chicago for five years. In 2014, Dimitri Fayard took up a new challenge by integrating the Peninsula Hotel Chicago as pastry chef.