Meg Galus could have become an actress but finally, it's in the kitchen where her hyperactivity gives free rein to her talent. As the head of the pastry and sweet range at the all-new Somerset and trendy Boka in Chicago, this reserved young chef works behind the scenes to create original and gourmet pastries, which she declines according to the style of each of the very prolific Boka group restaurants.
How did you decide to become a pastry chef?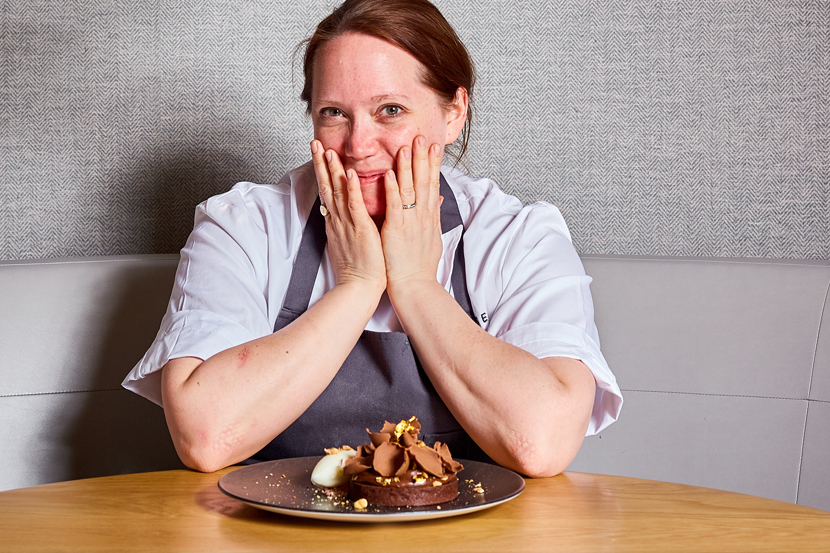 When I was little, I wanted to become an actress, but I also wanted to be president of the United States, a rock-star, designer, architect … I had a lot of ambition! (laughs). But what it came down to was that I wanted a profession where I'd be in the limelight. So, at the age of 20, I sat down and wrote a list: on one side, a column with what I knew how to do and on the other, a column with what I liked. And it was the profession of pastry chef that clearly came out!
What does French pastry represent?
France is the mother of pastry. It is the country that sets the rules for technique. But in the past few years, pastry has been exported worldwide and French chefs are not the only ones to excel. I think that something is happening right now; in France, the United States, and everywhere else. All this creativity is very interesting but at the same time, it constantly comes back to the techniques of French pastry chefs. Besides, I don't think it is possible to bake without these fundamentals: those who try don't really succeed.
Who are the French pastry chefs who inspire you?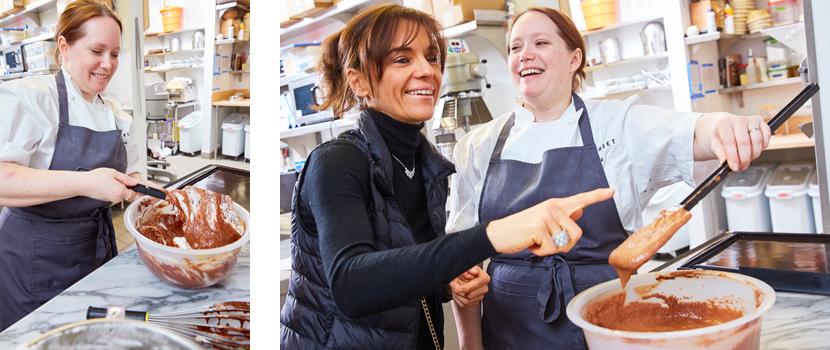 Oh, the list is endless! But, for example: Yann Couvreur. He is one of the pastry chefs who makes classical things with very contemporary interpretation. What I like in his shops is that his pastries evolve throughout the day: there are pastries for breakfast, for the afternoon, for dessert … With his team, they work in front of us, interacting with the customer. It is current and very new!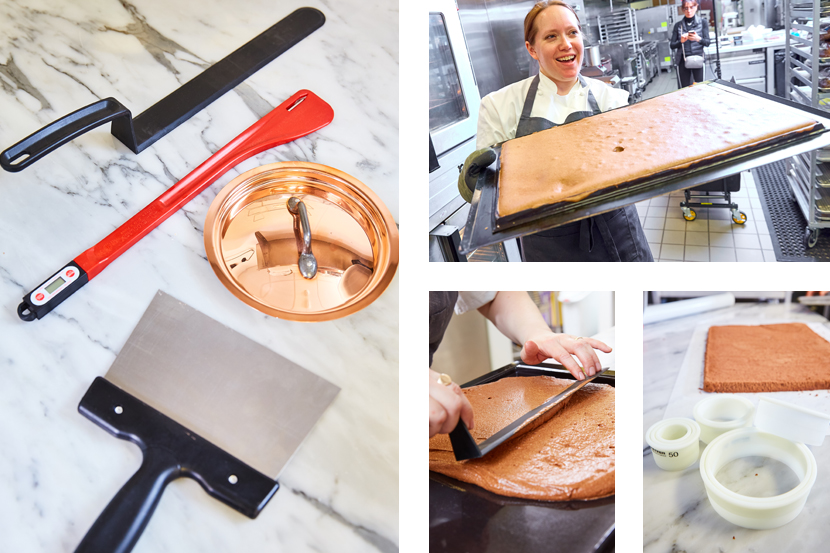 And you, what is your own way of reinterpreting pastry?
That is a very difficult question … I was trained by French pastry chefs, so I acquired a very French style of training and technique. But I'm a girl from the Midwest! I grew up 100 kilometers from the city, in the wheat fields, so I'm very American! (laughs) And I think I'm able to bring these two worlds together. For example, with pumpkin mousse: the technique is totally French, but behind it is a dessert with a world of American taste, and American sensitivity.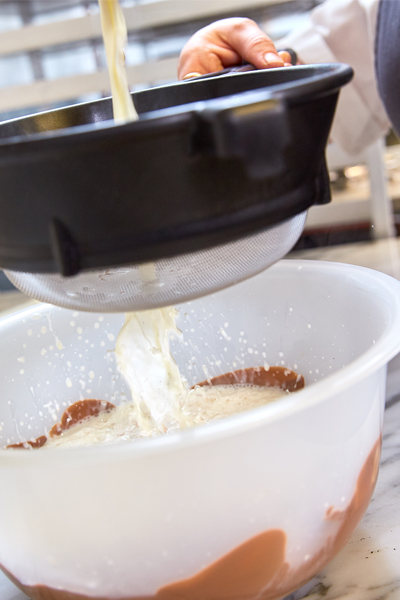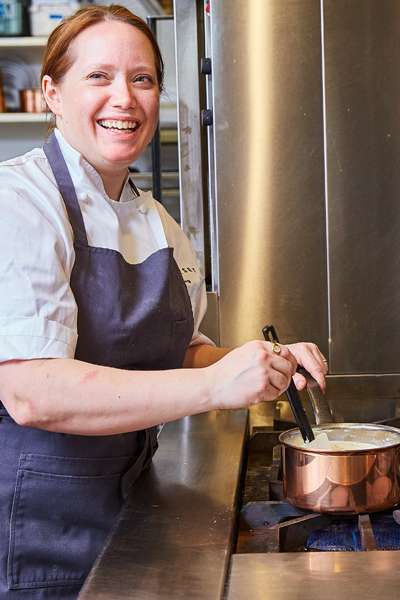 As pastry chef at Somerset, I have a lot to say, but I don't decide on the style of the desserts. My priority is to make sure they are in sync with the menu. I wouldn't want people to sit down at the restaurant and say, "These are Meg's desserts" because firstly they are Somerset or Boka desserts! It has to make sense. It's not like going to Yann Couvreur or Christophe Michalak. Restaurants have a different approach. It's part of a global experience.
Look, for 2 years I was the pastry chef of Swift & Sons, a steakhouse within the same group. My desserts were very different from the ones I'm doing now! I also opened Momotaro, the Japanese restaurant and made Japanese desserts. So I don't think I have a single style: I have tools that I work with in different ways.
Do you think you will open your own pastry shop one day?
Yes. I think about it quite a lot! After that, it's about profitability. A business is not that easy … In Chicago, we have very few bakeries. It's very hard to run one and I don't want to end up making wedding cakes for a living! But whether it's in a restaurant or in a pastry shop, it's about team work and that's great.
Combining tradition and modernity, is that what you liked about Somerset and Boka?
Yes, after working in very classic hotels, I wanted to integrate a small restaurant and everything made sense with Boka. This is my favorite restaurant in Chicago: becoming their pastry chef, I never even thought of it! It was a dream. Boka and Somerset are two very different concepts. Boka is intimate and a very creative 1 Michelin star table. In Somerset, I make pastries, which I had never made previously in my career and I love it! It is a real challenge to think about the two ways to make desserts and the different ways to express them in each restaurant.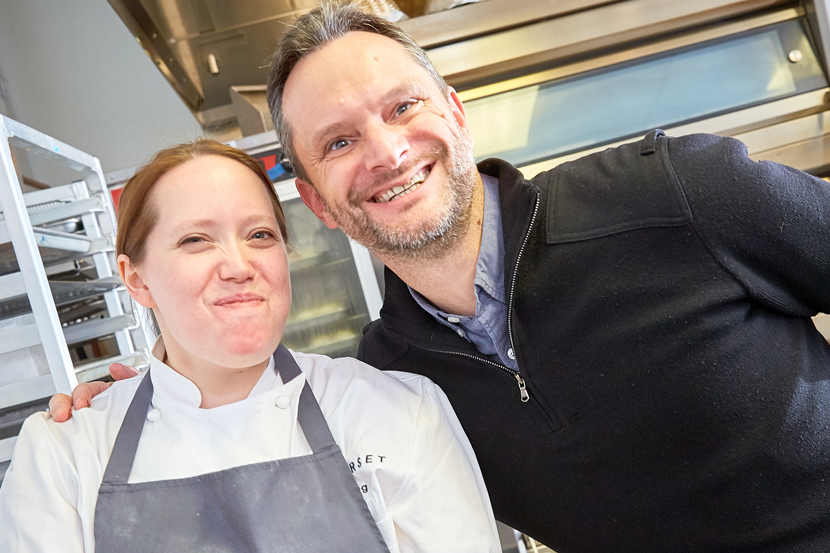 What has remained with you from your years at the French Pastry School ?
Until 2005, I had the best lessons with chefs Jacquy Pfeiffer et Sébastien Cannone. I don't think it's possible to work in pastry without these fundamentals: those who try don't really succeed. I leant about demands, the base of the profession and also about gesture, tools… And it was also during these years that I discovered Matfer, like many students. Since then, I continue to use the brand, and it's as though I've always worked with it.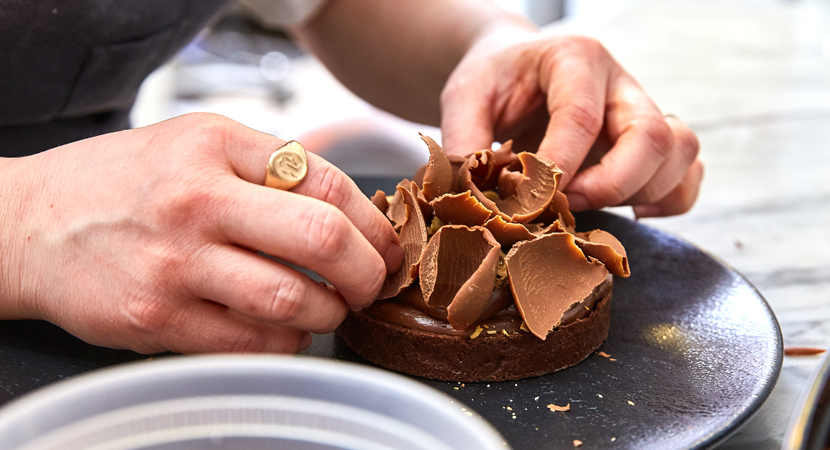 Is the diversity of tools important to you ?
It's essential. Cuisine chefs make fun of pastry chefs because we need a lot of space to store our pastry rings, silpats, molds… (laughs). But seriously, it is true that we need a lot of tools… And what I like about Matfer is that they have very specific products that correspond to each way of working and that the quality is there too. Matfer is an expensive brand that we all want to have here. For a pastry chef's needs, this is the best you can find. I can't buy my equipment everywhere!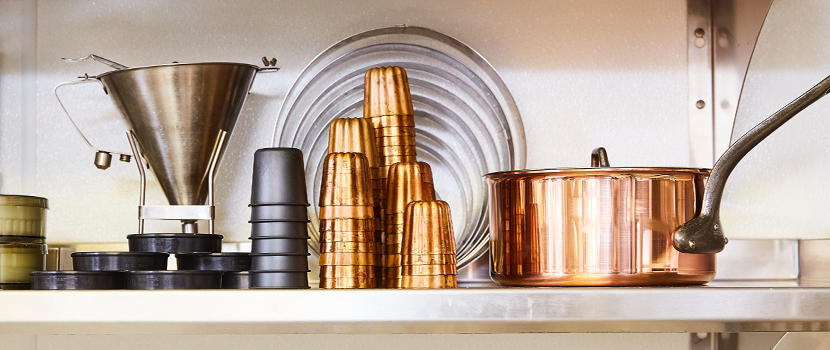 It's fun to see the way you divert the functions of some of the tools! Like the dough cutters you use to make your gianduja petals for example! How did this idea come to you?
Before, I used an old-fashioned technique to make my chocolate flowers, doing rustic-type curls with ice cream spoons, but the result was pretty weird! So, I took the dough cutters! You know, pastry chefs use their equipment for different things because they have to think in terms of space and expense! We are so resourceful!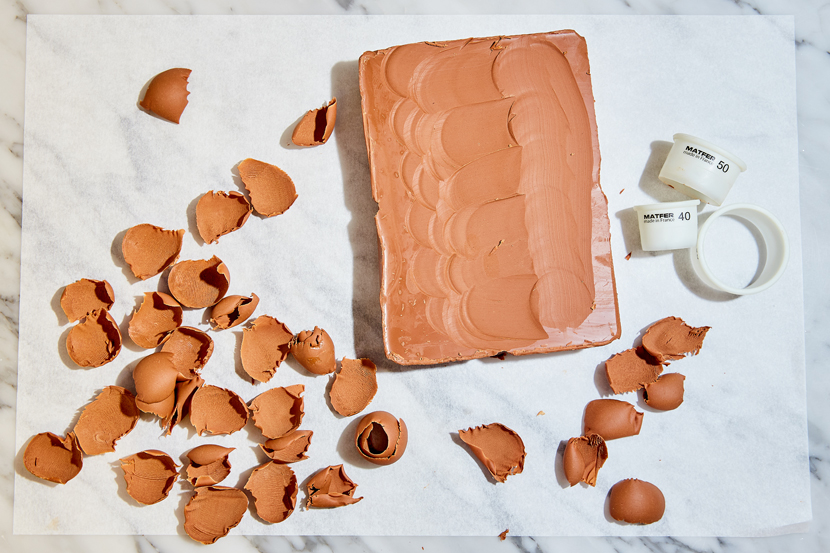 What's your favorite tool?
There are plenty of tools that I will only buy from Matfer. For example, I only use Matfer dough cutters. Or the "to die for" adjustable rolling pin, that rolls different thicknesses of dough. But if I had to pick one, I'd say the Bowl Scraper.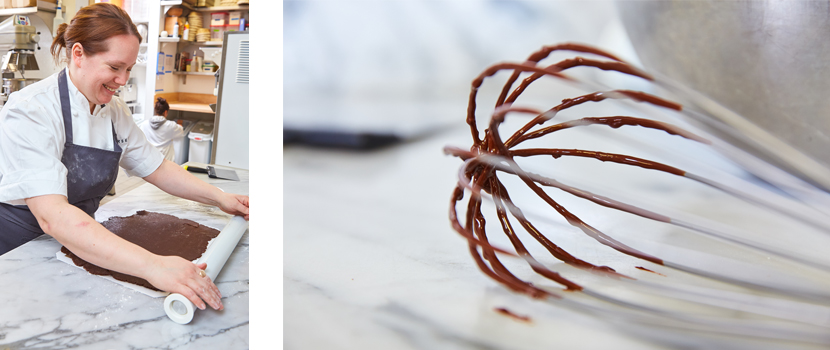 What do you think of Exoglass?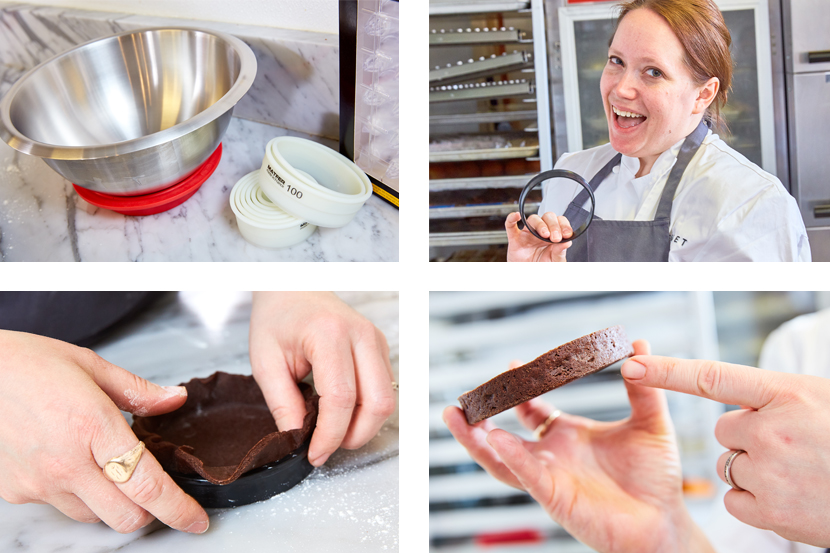 I use two sizes of tart rings in Exoglass and they're great. The material is indestructible, and not too rigid or flexible. I like it because there it leaves no solder marks, which means it leaves no traces on the pastry! And there is uniform coloring and baking. Also, it is more hygienic and easy to clean. I also use an Exoglass strainer; what I like is the filter's mesh. But then again, I like the whole Exoglass range, really!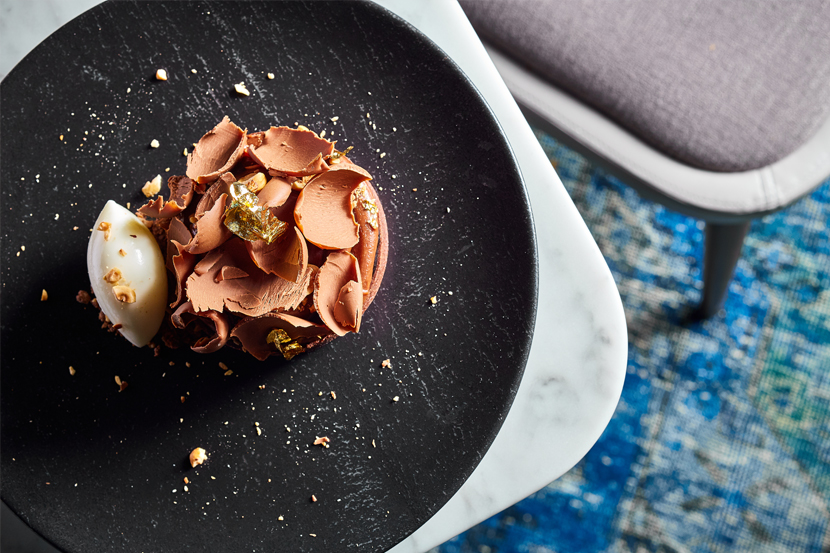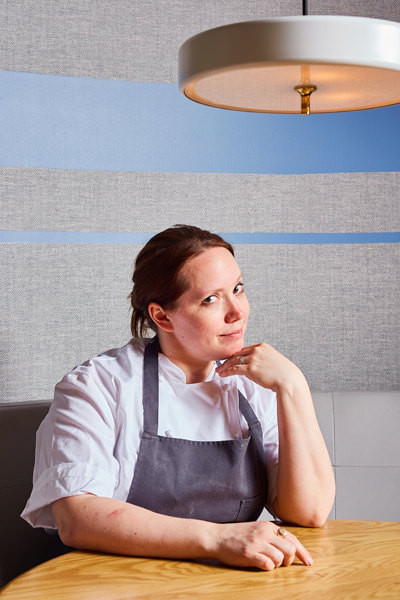 Prior to cooking, Meg Galus completed a degree at Weslyan University in Illinois with a Bachelor's degree in Theater Arts. After graduating, small and uninteresting jobs got the better of her ambitions to be an actress! On the eve of her 20s, introspection led her to join the French Pastry School in Chicago, where she graduated brilliantly in 2005. Meg then joined some of the most prestigious establishments in the city; working for 5 years at the 2-star Michelin restaurant Tru, before being appointed Executive Pastry Chef at Sofitel Chicago in 2010 and then a year later at NoMI at the Park Hyatt. At the same time, this outstanding competitor garnered many awards: the 2011 StarChefs Rising Star Award, which names young hopefuls of the new American culinary scene, and first prize at the Chicago Restaurant Pastry Competition in 2013. In 2015, she was a finalist in the "Outstanding Pastry Chef" category at the prestigious James Beard Awards. At the same time, Meg felt the need for change and joined the very prolific Boka group three years ago. Today, she oversees the pastry offer of the various entities and officiates as pastry chef at Boka restaurant (1 Michelin star) and Somerset.