ingredients for all the recipe
Butter 531 g
Sugar 805 g
Flour 459 g
Eggs 240 g
Buttermilk 175 g
Cocoa powder 52 g
Salt 4 g
Cake flour 1 g
Vanilla paste 8 g
Brewed coffee 51 g
Cacao barry venezuela 70% – 87.5 g
Candied orange 68 g
Cream 106 g
Glucose 19 g
Gold power
Cacao Barry Ghana 40.5% – 244 g
Vanilla beans 1
Fleur de sel 5.6 g
Hazelmut 533 g
Praline 900 g
Cocoa butter 198 g
Raw sugar 198 g
Praligrain 306 g
Butter 234 g
Flour 234 g
Fleur de sel 3.6 g
Raw sugar 198 g
Praligrain 306 g
Mix all ingredients together. Spread the dough on a Silpat. Line the Exoglass ® cake mold with hazelnut crumble.
Bake at 340° F for 25 minutes.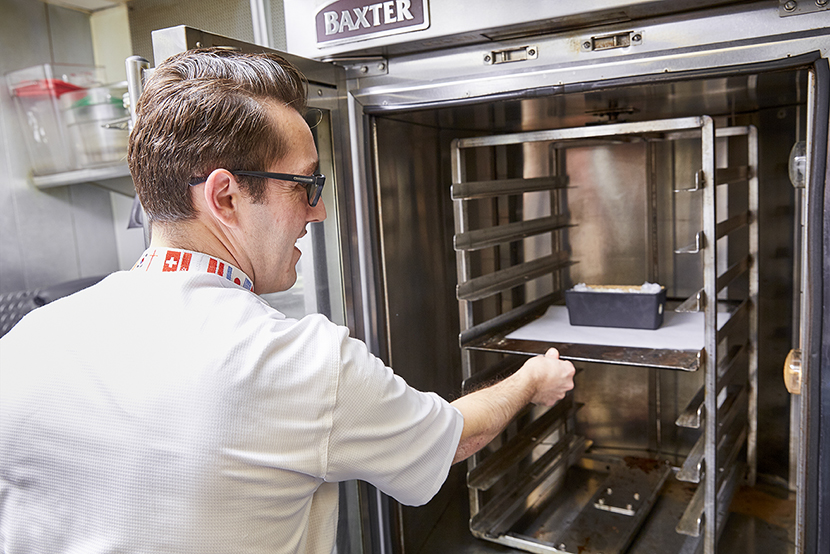 Butter 285 g
Sugar 450 g
Flour 225 g
Eggs 240g
Buttermilk 175 g
Cocoa powder 52 g
Salt 4 g
Cake flour 1 g
Vanilla paste 8 g
Brewed coffee 51 g
Cacao barry venezuela 70% – 75 g
Candied orange 68 g
Make sure all ingredients are at room temperature. Mix butter, cream, salt and vanilla.
Then alternate dry sieved ingredients and wet ingredients. Fill the crumble-covered mold with the chocolate cake dough.
Bake at 375° F for 45 minutes. Cool and unmold.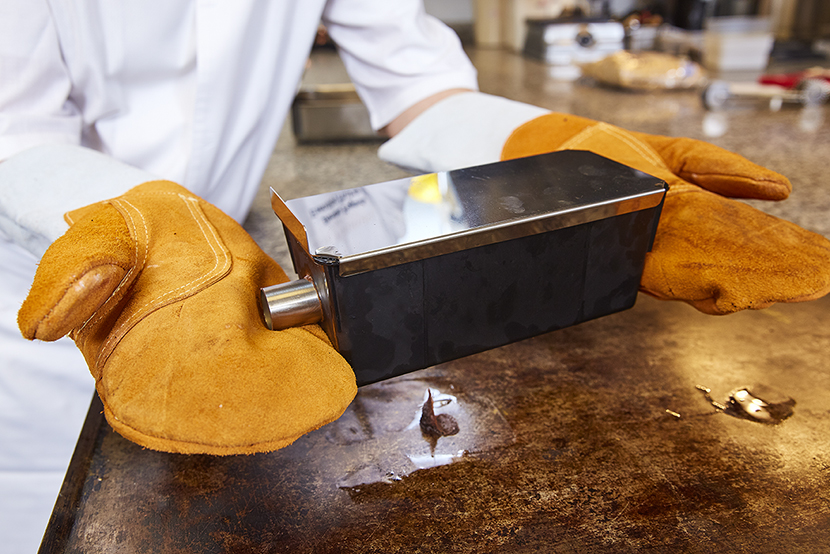 Cream 106 g
Glucose 19 g
Cacao Barry 40.5% – 94 g
Cacao Barry Venezuela 70% – 12.5 g
Butter 12.5
Bring the cream and glucose to boil. Add the chocolate. Mix with a Matfer whisk. When this mixture reaches 104° F integrate the butter. Once baked, let the cake cool and cover the top of the cake with the chocolate ganache.
Sugar 355 g
Vanilla beans 1
Fleur de sel 2 g
Hazelnut 533 g
Caramelize the sugar and add the roasted hazelnuts, the fleur de sel and the vanilla. Pass this mixture to a blender. Cover the top of the cake with this mixture of crushed hazelnuts over the ganache on top of the cake.
Dip the cake in temper milk chocolate
Praline 600 g
Cacao Barry Ghana 40.5% – 150 g
Cocoa butter 15 g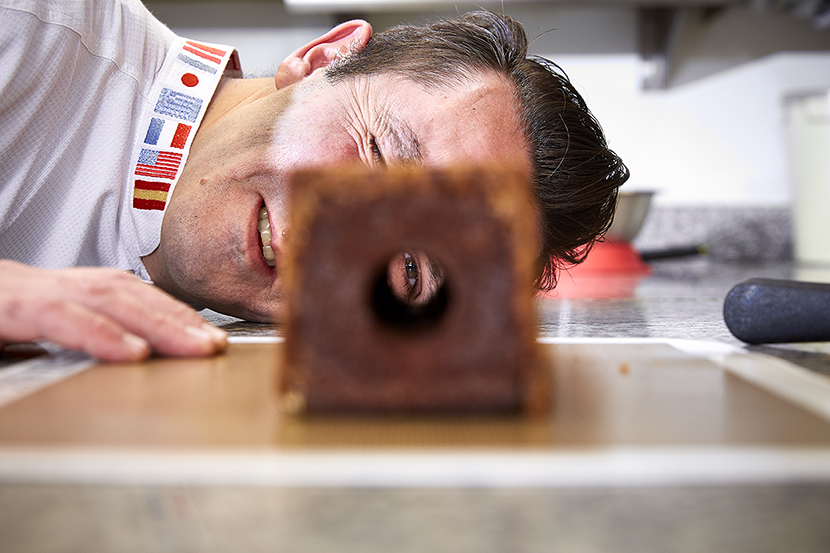 Mix praline with tempered chocolate, cocoa and butter. Using a pastry bag, fill the center of the cake with this praline cream.
Gold powder
Dust with gold luster dust.