Aquaris, the wash-hand basin 100% efficient and safe
Effective and regular hand washing is one of the essential barriers in the fight against coronavirus. In order to practice this essential gesture, we invite you to discover the Aquaris wash-hand basin which respects a number of clearly defined rules and steps. First, start by thoroughly wetting your hands before applying enough soap to cover the entire surface. Rub your hands for 20 to 30 seconds with rotational movements of the palms. Do not forget the back of the hand, fingernails, thumbs and fingertips. Finally, rinse well under running water and dry thoroughly. Turn off the tap without touching it.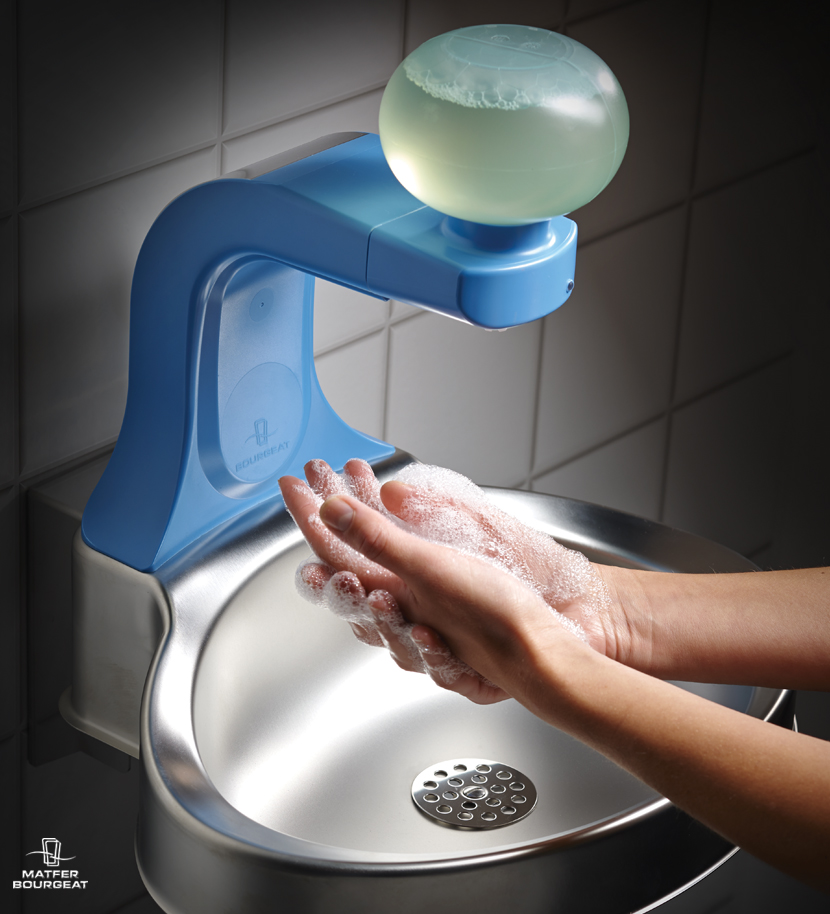 These crucial steps have been optimized by Aquaris, the only wash-hand basin to guarantee 100% effective and safe hygiene for both teams and users. With this wash-hand basin, Bourgeat makes it possible to carry out a wash in three pre-set phases perfectly in line with government recommendations: distribution of a dose of a mix of water and soap, then 30 seconds to scrub hands and finally distribution of water for rinsing. Electronic cell detection, for both the water supply and soap, allows contact-free washing and thus prevents the spread of the virus.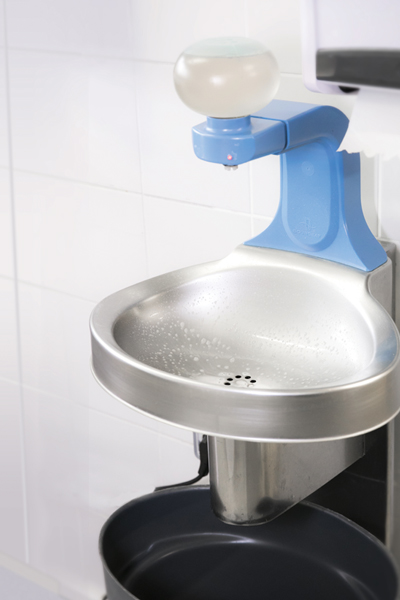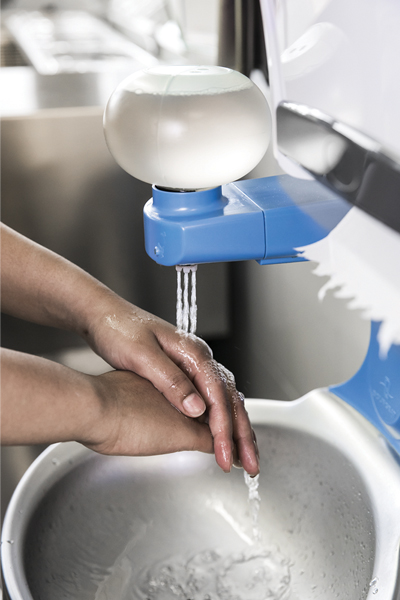 With the same rigorous distribution of a controlled dose of water and soap, Aquaris responds to a threefold problem: efficiency, thanks to the precise dosage set for hand washing; eco-responsibility, with a reduction in water consumption (more than 20,000 litres of water saved per appliance); and economy, providing up to 90% reduction in water consumption compared to a leg operated wash-hand basin and no water heating required, with 900 Kw less per year per wash-hand basin consumed, as well as controlled soap consumption. As for recharging, it is carried out in a simple and safe way. With Aquaris, Bourgeat revolutionizes hand washing in the kitchen.
New mobile wash-hand unit
For a space-saving alternative that can be transported and used anywhere indoors or outdoors, Bourgeat offers the mobile wash-hand basin, mounted on 2 fixed castors and equipped with a handle. Perfectly autonomous, this new "nomadic" wash-hand basin is completely self-contained and requires no water supply or drainage. Thanks to its 2 tanks, it offers an initial capacity of 13 litres of freshwater (identified) and 13 litres for waste water. In addition, it ensures perfect user safety thanks to contact-free operation with foot control (battery or mains power assistance possible). Quick and easy maintenance, easily accessible tanks and waste bin.