Jérémy Del Val, the whirlwind of freshness within the prestigious Maison Dalloyau
Please introduce yourself ?
Bonjour, My name is Jérémy Del Val, Pastry Creation Chef at Dalloyau for the past 5 years. I manage all of the sweet product range in France and abroad for this well-known French house of gastronomy, where many professions can be found, from pastry to chocolate and ice cream makers.
Tell us what Dalloyau represents to you. What are the main markers of its signature, and what has your contribution been?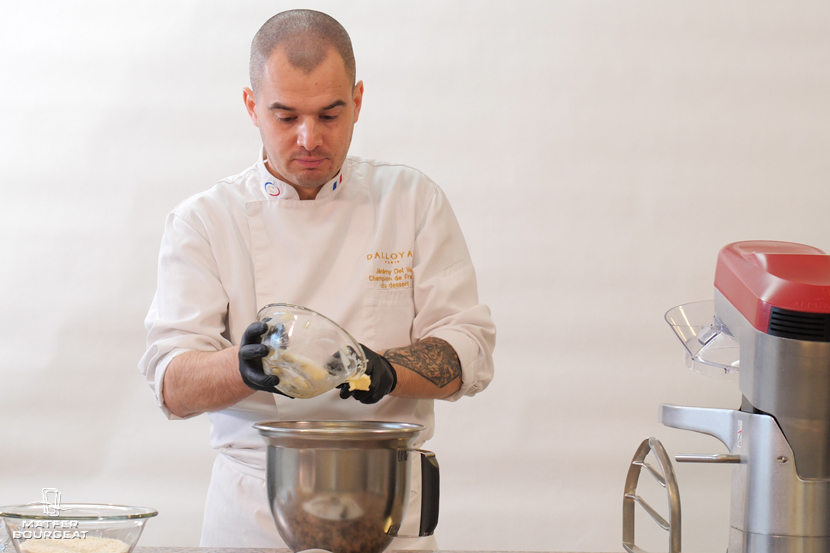 Dalloyau is a historic gastronomic house with many emblematic creations that include the Opéra cake, imagined in 1955, the Echiquier in the 90s or the Dalloyau that I recently reinterpreted to "rejuvenate" it while retaining the essential codes of this pastry – in regards to its taste and appearance. The Echiquier for example, was originally composed of 3 chocolates. We have only kept 2 but added a thin printed chocolate layer on top.
How do you work at Dalloyau?
I am fortunate to have more and more creative latitude here. Today, there is a real exchange with the marketing and communications team who express their wishes for creations around traditional themes; Valentine's Day, Easter or Christmas for example. And in the same spirit as the fashion world, I develop spring-summer and autumn-winter trends. Their demand at the moment is for cakes with chocolate or seasonal fruits. Currently, I'm working on a raspberry cake for the spring-summer range.
What is your opinion on the "naturalness" trend?
Concerning naturalness, it is a word that is becoming more and more present in our domain. My approach is to work as close to the seasons as possible, to have a local selection of French products for everything that is milk, creams etc.
Dalloyau is increasing its international presence. What is your view on this development and what role do you play in it ?
Our house of gastronomy has had many great Chefs before me like Yann Brys and Pascal Niau for example, who have contributed to the brand's success. I feel a certain amount of pressure to succeed in keeping it at least as prosperous as it has always been. Today, I am lucky to go to Japan, Hong Kong and Dubai twice a year to provide further training for Chefs. It is important to me to encourage exchanges with Chefs locally; for me to share my knowledge with them, but also for them to share their culture and vision with me. French pastry is widely promoted in every country and in each region I look to give a local touch thanks to different flavors.
In creating recipes, there are both products and equipment. Can you explain how the latter is vital in making your creations ?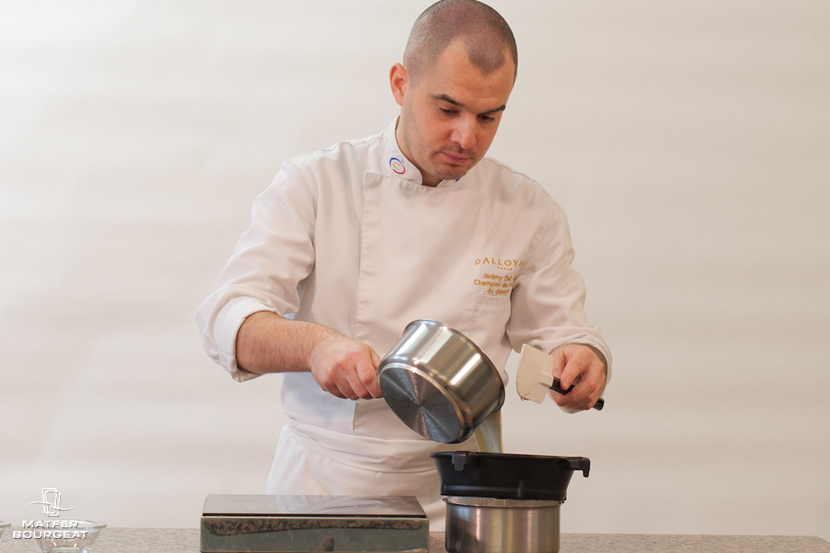 The choice of equipment is very important as it supports a technique used in making a cake. Some equipment is more adequate than others. I always look for optimal quality that will last over time and that doesn't need renewing too often.
Do you use the same equipment everywhere ?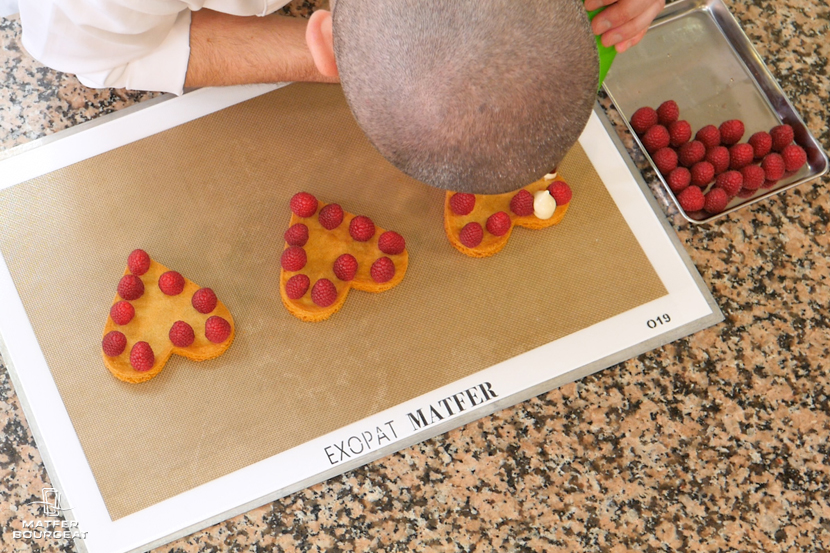 In different countries, it can be a challenge to find exactly the same primary ingredients and equipment to work with. In Japan, where Dalloyau has been established for more than 20 years, today there is a real knowledge of the suppliers that has developed. We also import many products from France because French quality is recognized and appreciated. In terms of equipment, such as what Matfer Bourgeat offers, we are fortunate that the brand is established in the same countries as we are. This means that we can find the same products as in France.
In order to guarantee that the creations imagined in Paris can be reproduced overseas, whether it be for a demonstration or a presentation of the range, it is always more satisfying and simpler to use the same primary ingredients and equipment to ensure continuity.
In a few words, tell us what Matfer Bourgeat means to you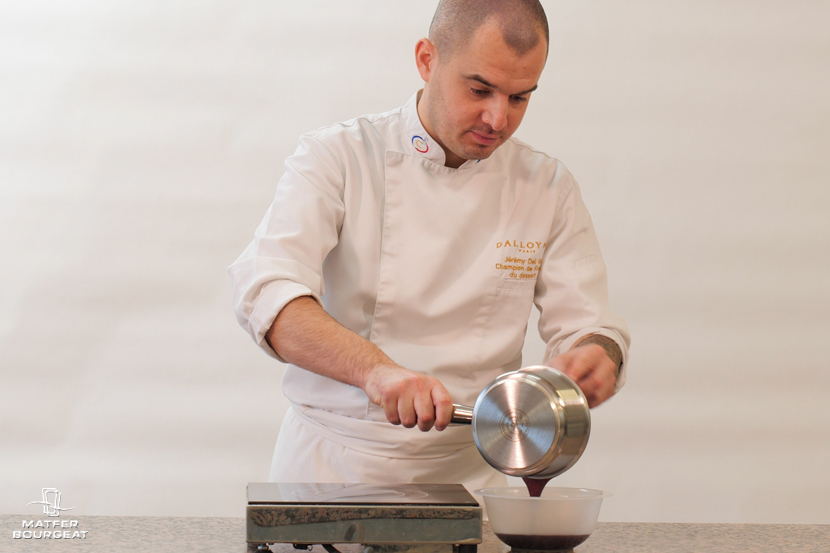 Quality and made in France appear to me as the two key values at Matfer Bourgeat. Even if they are rather "inedible", they nevertheless remain very important and it is essential that this is publicized. This French know-how is a real plus and to work with Matfer Bourgeat every day is an opportunity. I also had the chance to visit the Matfer Bourgeat factory and to discover that, even for utensils that can be found all over the world, i.e. whisks or rubber spatulas, everything is handmade. It was very interesting.
Are there any distinctive features in your relationship with Matfer Bourgeat ?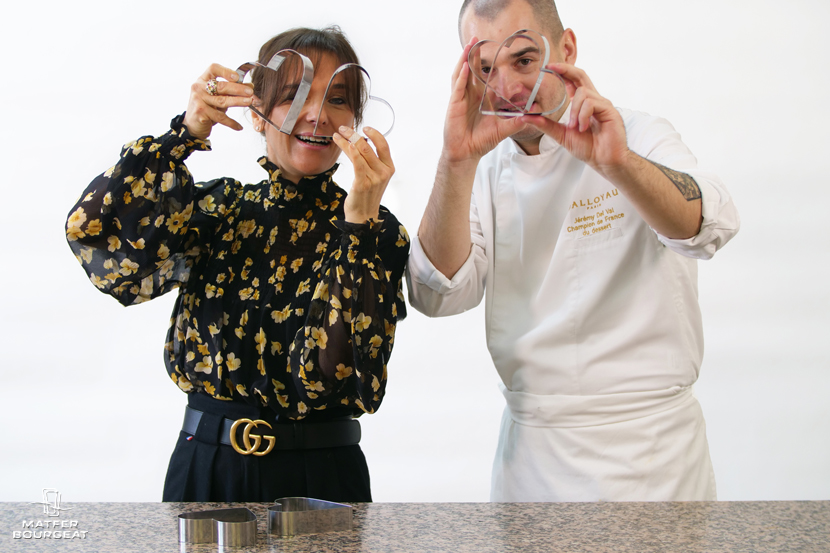 Two years ago, Dalloyau formed a partnership with the Ferrandi School in which Matfer Bourgeat acted as a sponsor and followed us closely. Marine Mora was a member of the jury for the competition in the pastry section and Dalloyau proposed to put the best participants' creations in the shop for one month. Two pastries emerged and Matfer Bourgeat was there to accompany these young people, creating custom-made molds to ensure that everything was made under the best conditions for them to be put in the shop. It was a very exciting operation both for us and the students.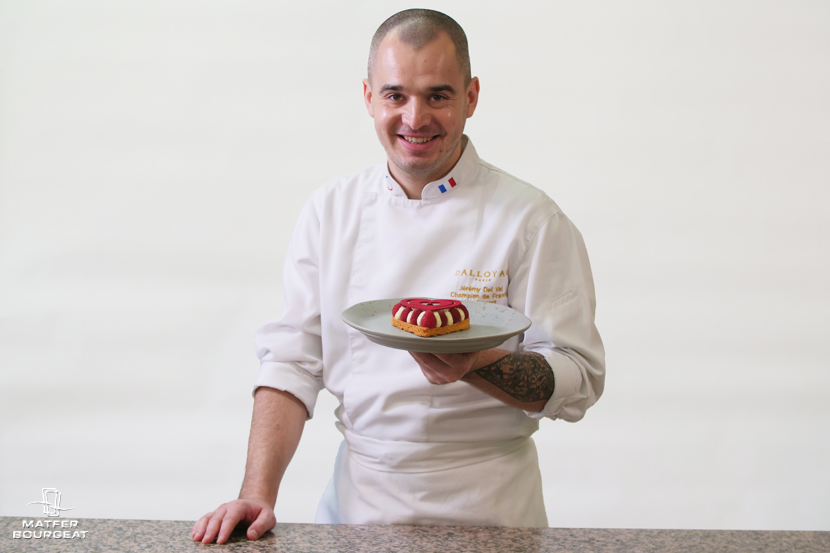 RECETTE DE LA TARTE AUX POMMES PAR CÉDRIC GROLET
Réalisez la tarte aux pommes de Cédric GROLET, quand beauté rime avec simplicité