Ingredients for a chocolate tart and Jerusalem artichoke ice cream for 1 person
325 g whipping cream
110 g milk
51 g sugar
230 g chocolate
57 g egg yolks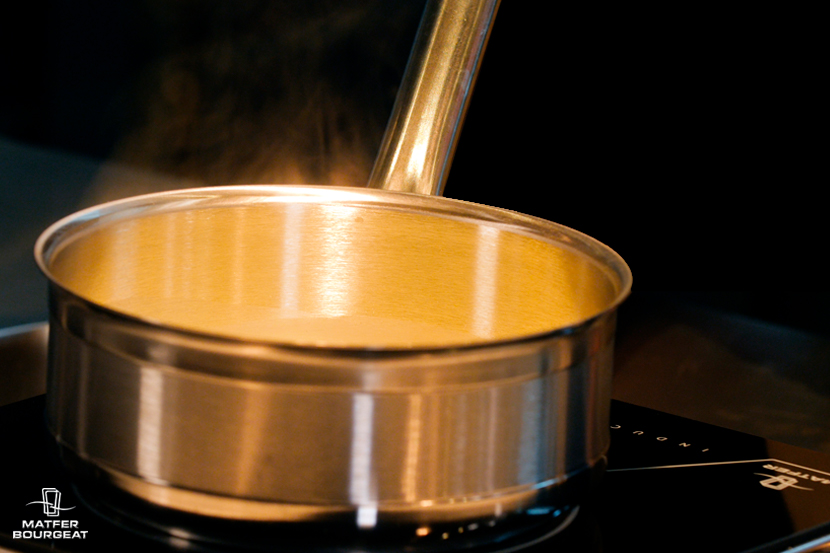 Heat the cream for your ganache. When it begins to boil, place it to the side and start to heat separately the sugar to make a blond caramel.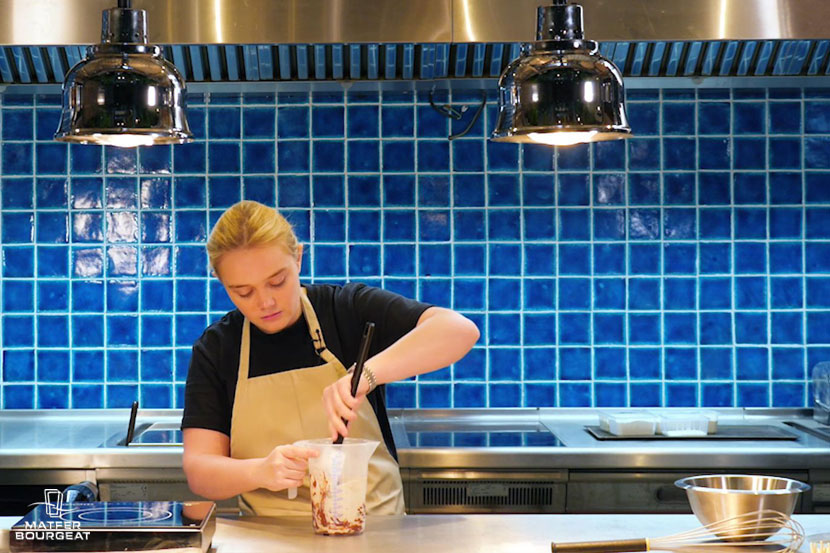 Put the hot milk, the caramel and the chocolate together and mix.
Add the egg yolks and mix again.
The almond sweet pastry dough
240 g butter
4 g salt
180 g powdered sugar
60 g ground almonds
100 g whole eggs
120 g flour T55 (all-purpose)
350 g flour T45 (strong white)
Combine all of the ingredients except the flour T45. When the dough is homogenous, add the flour T45.
Make a thin dough so that there won't be too much chewing involved which can get in the way when tasting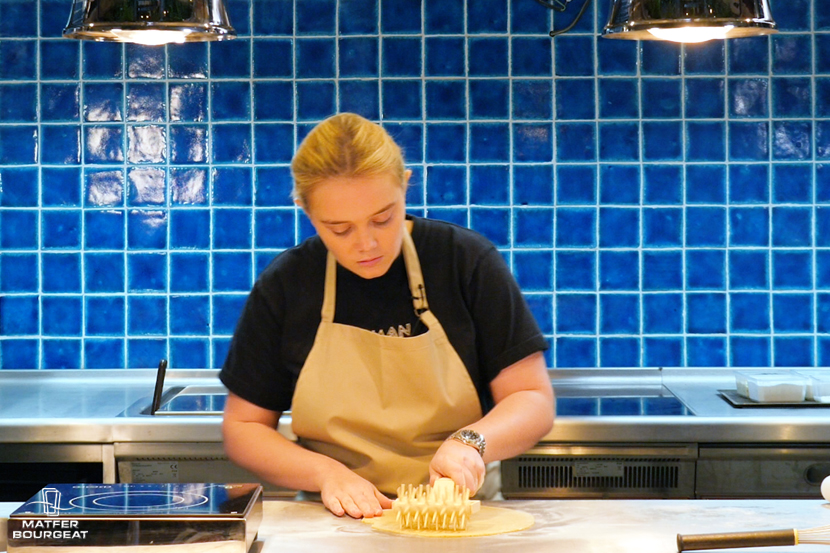 Make a nice dough and once you get the required thickness, use the picvit. After that, take the mould. Once the dough Is lines, let it sit for 1 hour before backing it at 160° (320°F) for 20 minutes.
The Jerusalem artichoke ice cream
300 g milk
17 g milk powder
80 g eggs
25 g trimoline
25 g sugar
200 g Jerusalem artichokes, cleaned with their skin
100 g butter
Grate the Jerusalem artichokes, color them in the butter and press through an exoglass drum sieve. In a pan, bring the milk, cream, milk powder and sugar to a boil. Mix the Jerusalem artichokes until smooth and press through an exoglass china cap sieve. Cook the liquid and eggs to 80°C (176°F), strain through a china cap sieve into a bowl and leave in the freezer for 24 hours.
When the dough is lining, gently remove it from the mould. Put your physalis compote at the base of your tart then apply the ganache evenly all over. Once it is done, put it in the oven to bake at 120°C (248°F) for 10 minutes.
Let it sit for at least an hour for the ganache to take. Add a little bit of fleur de sel as well as the Jerusalem artichoke ice cream. Place the tart on a plate, make a quenelle with the Jerusalem artichoke ice cream. It may be decorated with fresh cape gooseberries.