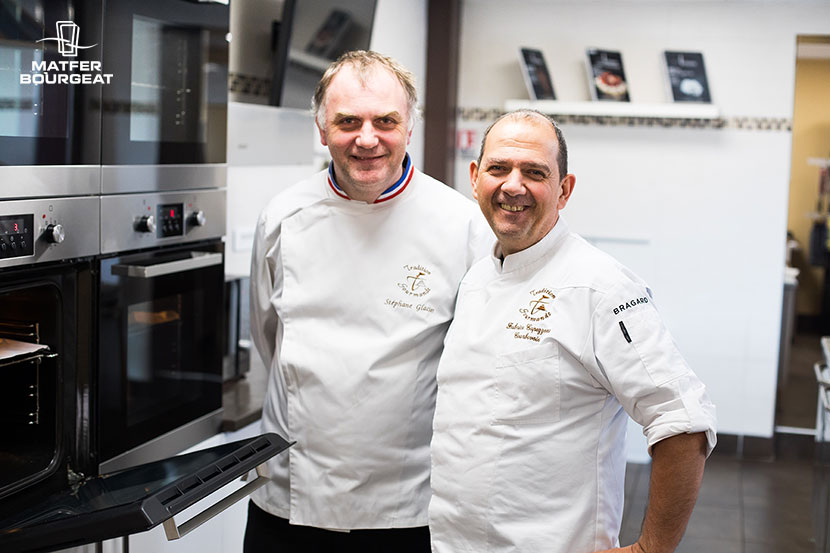 Stéphane Glacier has accumulated the titles of Best Craftsman in France (Meilleur Ouvrier de France – MOF) Pastry 2000 and World Champion 2006. He writes books, publishes a magazine and works hard in his shop "Pâtisseries et Gourmandises" in Colombes (Hauts-de-Seine), where he has also set up a school for professionals and amateurs alike. Fabrice Capezzone, artisan pastry chef and baker, passionate about the product and driven by conveying his knowledge, is at the head of two shops in Courbevoie and Puteaux and manages twenty employees. Both are defined, above all as committed artisan craftsmen. Animated by the same values, they defend, with about sixty other members, the maintenance of artisan craft through "Tradition Gourmande", an association presided by Stéphane Glacier.
How did you become the head of Tradition Gourmande ?
I strongly believe in exchange because we are strangled by so many standards and regulations, that if we do not join forces, it becomes complicated. We are craftsmen; our structures are on a human scale. If we mechanize too much, we lose know-how. In our trades, we can make a hundred cakes as we make ten, but we cannot make ten thousand as we make a hundred! The development of outlets definitely has consequences. My shop runs very well. But if tomorrow I was to open two or three other shops with the same volume, I'm not sure I would maintain the level of quality. I refuse to, it's a choice.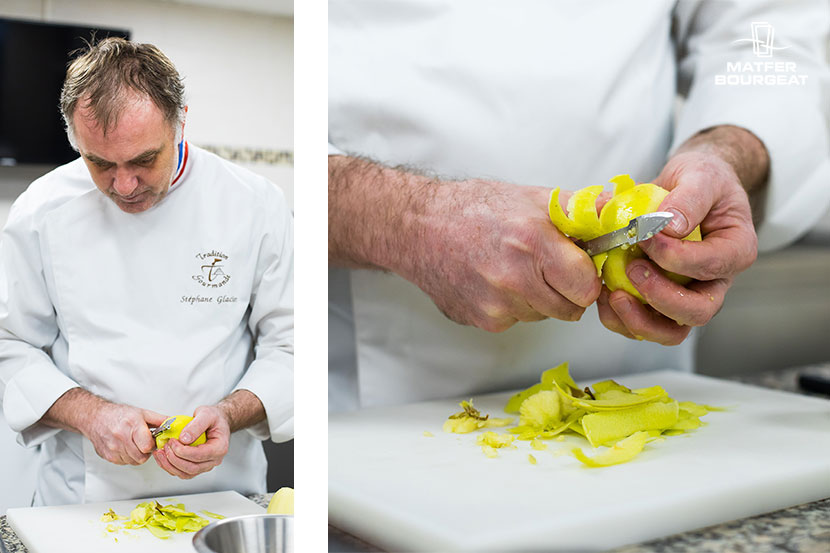 A state of mind that you demand from your suppliers ?
Yes, definitely. My training school has been working with Matfer for years. It is the leading brand for equipment; a steamroller in the trade. Their competitors, in comparison, are like small hardware stores! If you set up a pastry lab today, Matfer is a must. Tradition Gourmande and Matfer are similar in many ways, notably in the respect of tradition: with them for equipment and for us the method … I attach great importance to a job well done, but also to human relationships. I only know one or two companies with this state of mind, which respect employees who have been present in the company for 25 years. And then, we are in a world of service: competition is such that service must be at product level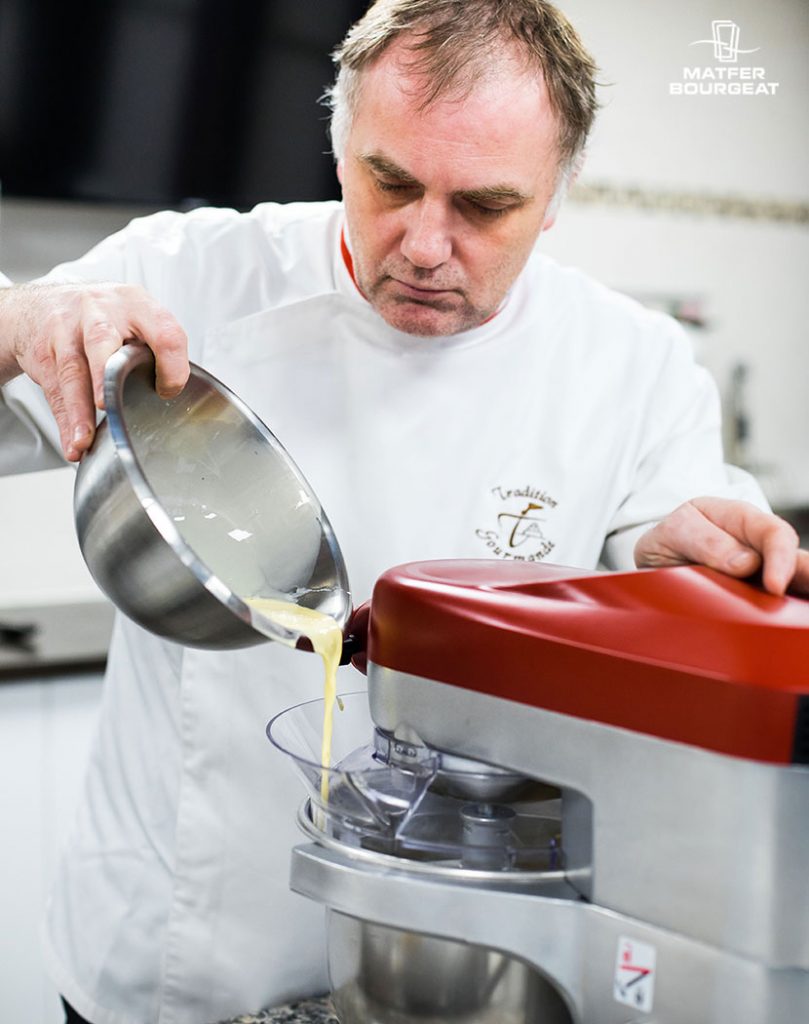 What is your view on apprentices ?
I often say that some young people are passionate for seven hours a day … When I sign an apprenticeship contract, I explain that I open my business to them, and I give access to knowledge.
Unfortunately, television influences them a lot. Some think that becoming a pastry chef means becoming a super star. As proof, my courses for amateurs have been full for 8 years. But these programs make people think that our profession is an easy one … The reality is that on Saturday and Sunday, I turn on my oven at half past two in the morning! It is for these reasons that we lose 7 young apprentices out of 10. If you are passionate it passes. Otherwise, one day you stop!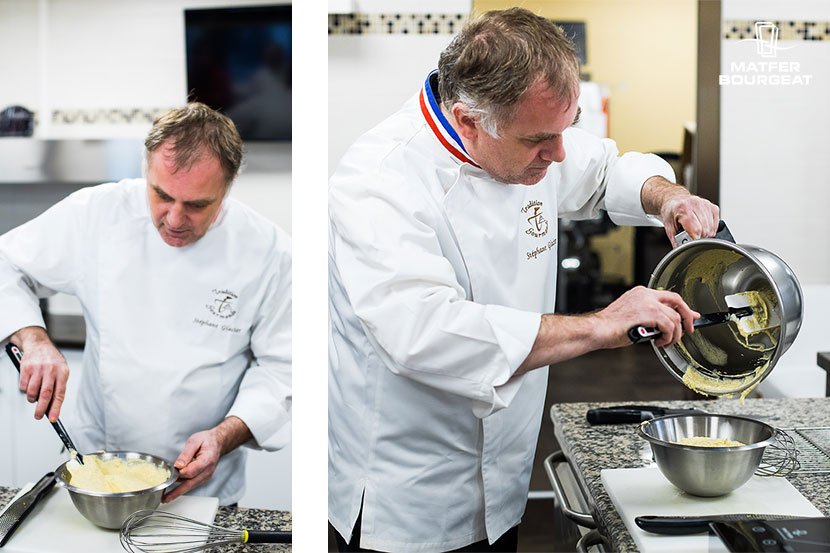 How can you show young people the reality of the profession ?
It all starts with career guidance, it's essential! I do not believe in professional retraining at the age of 35. It's too late to learn to wake up at 5 am every morning. So, there is a high failure rate. A trade should be chosen at the age of 15. There is no point in extending school circuits further. For my part, I see only the path of alternating school and professional application. We do not learn the trade while seated in a hospitality school.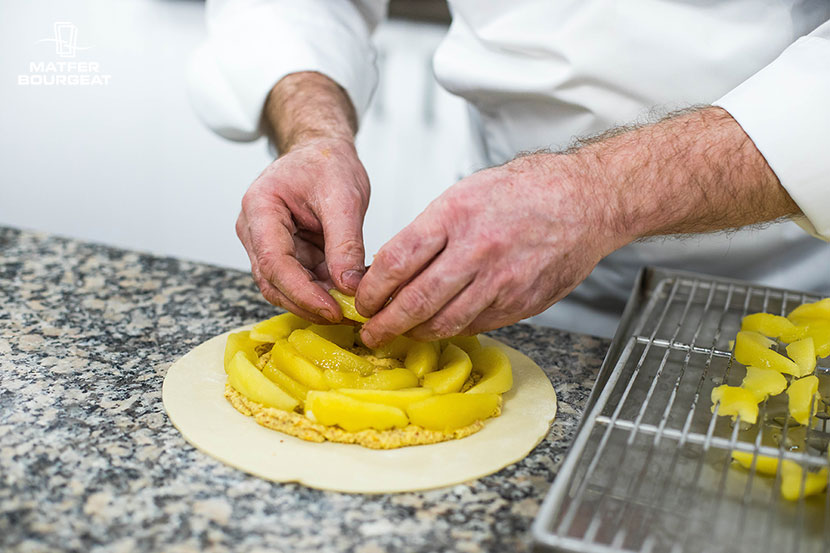 Is there still a future for young pastry chefs ?
There is a huge potential! I bought a bankrupt bakery in Colombes 11 years ago: we were two to start with, and now we are sixteen. This is because I do quality! We source our ingredients, choose our suppliers, and are very strict on staff recruitment. We are demanding, the shop never turns without my wife or me. There is no secret, you have to be there.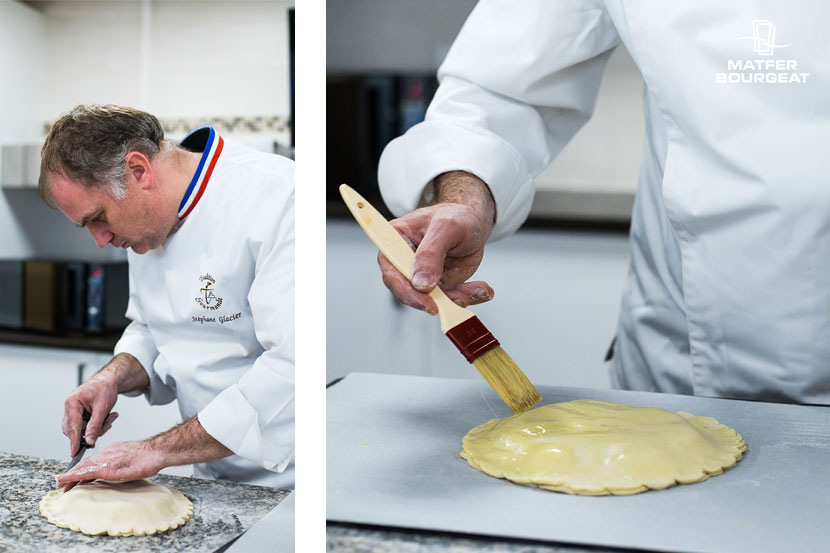 What is the message you give to your apprentices ?
You do not learn when you are complacent! Learning is suffering in order to progress and evolve. I repeat what Gabriel Paillasson has said (Editor's note: the only person to have obtained the two titles of best craftsman in France (MOF) for Pastry and Glacier, also Pastry-Glacier-Chocolatier master craftsman): "In a competition, the winners are the losers". When you win, you stay in your comfort zone. It's when you take a slap that you learn.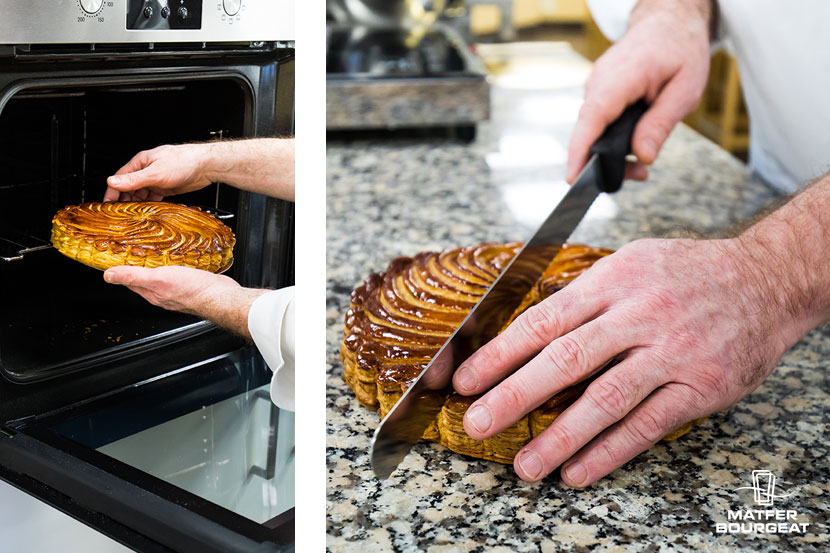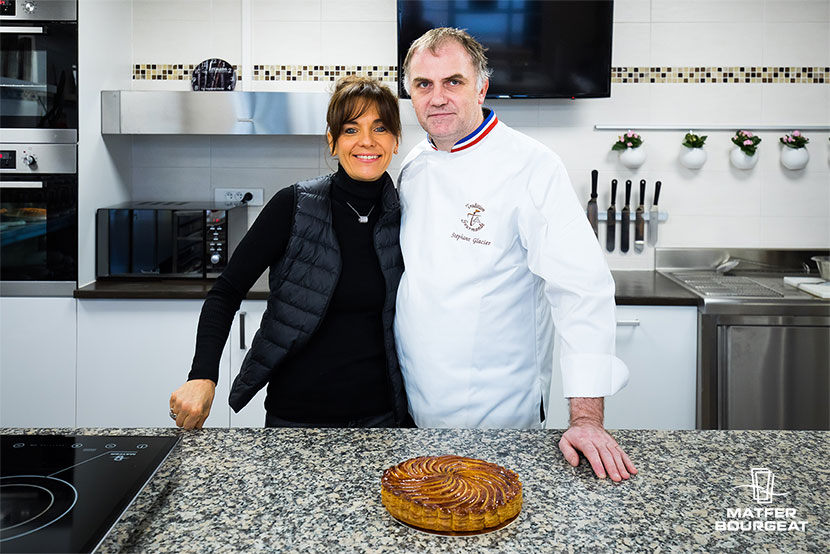 What is the main difficulty you face in your job ?
We are very few bakers to make our own croissants: I would say at most 20 to 30% in Ile de France. And yet, we are subject to the same sanitary constraints as someone who buys a carton of frozen croissants. In fact, if I make a croissant in my bakery and I decide to freeze it, my croissant will be stamped with the logo as an industrial product when it is a bakery-made croissant! I deplore it because we, the real craftsmen, are not valued. Nothing is done to highlight our products. I try to offer regularity to my clients, which is the most important thing for me.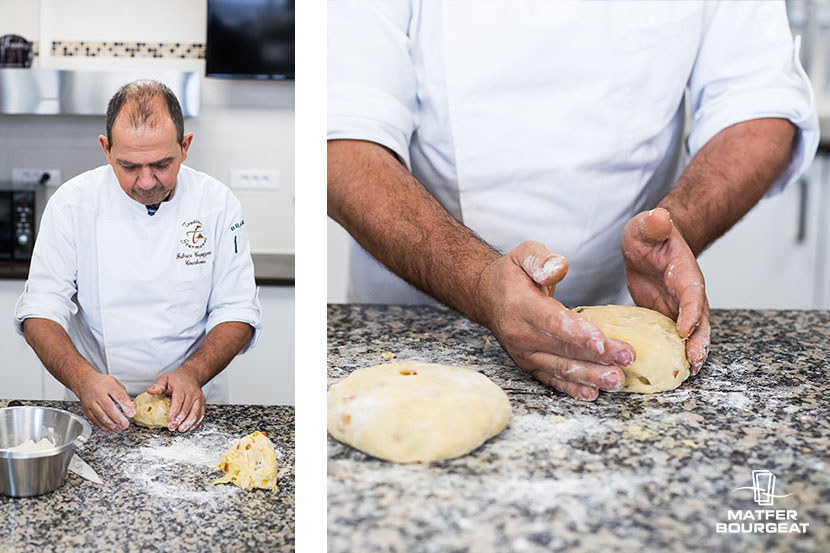 Tell us about your motivation to join Tradition Gourmande.
It is an association of master pastry chefs/bakers who work within the rules of the art, who transmit and love to receive, while cultivating an open mind. We are about sixty pastry chefs, bakers and chocolatiers. We manufacture everything in a traditional way, we do not buy frozen products. We love our profession and we train people to make it a lasting one. Unfortunately, I think there will be fewer artisans. Before, bakeries never encountered bankruptcy, that did not exist. People did not go to supermarkets to buy bread or pastries … Today, they are gradually returning to quality products. But all that is proposed is far from being developed within the rules of the art.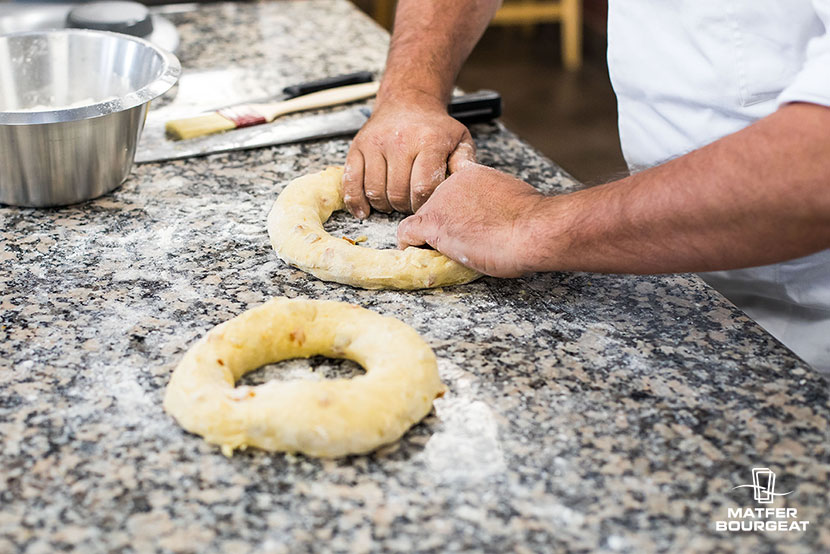 Do you expect the same involvement from your suppliers ?
Yes, very clearly. That's why I immediately asked Matfer Bourgeat to join us when I joined Tradition Gourmande. It is a reference. For small equipment, I only work with Matfer: pots, brushes; rubber spatulas, ring molds … we share a taste for work well done, respect for craftsmanship and concern for the quality of products. It is essential to always have products made in France at a time when some French brands are manufacturing abroad! Overall, the quality drops, it's undeniable.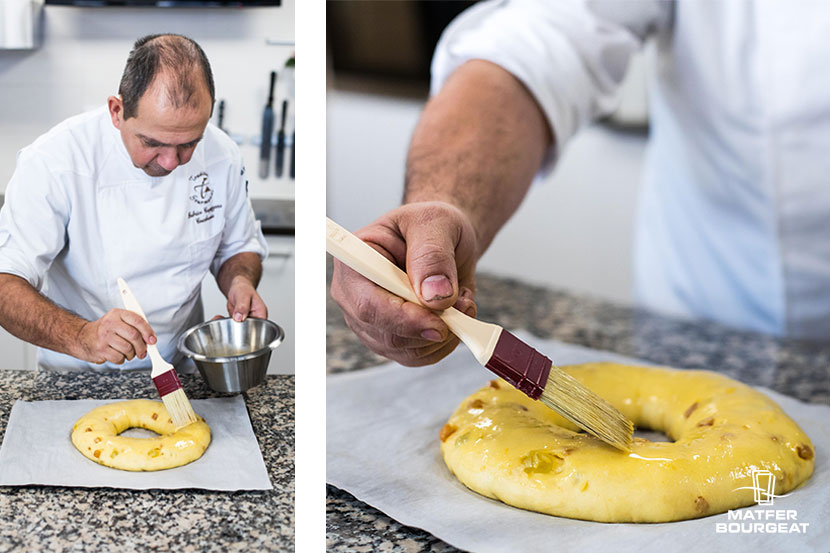 What is your view of young apprentices ?
I tell them we can not do our job by just working 7 hours a day. I recognize that at the time I was an apprentice there was a lot of abuse. But we went to the opposite extreme. And then I also see a training problem. I have often called for trainers to be controlled on their knowledge and how they convey. I picked up apprentices who, for two years opened croissant packets or washed dishes! You have to be able to inspire young people. At the same time, the level of the CAP (apprentice) Pastry Chef has decreased. Today, chocolate and ice-creams are no longer part of the program. The recipes are communicated to the apprentices when we should in fact know them by heart! And to know the basic recipes, for example pastry cream, is the least of things.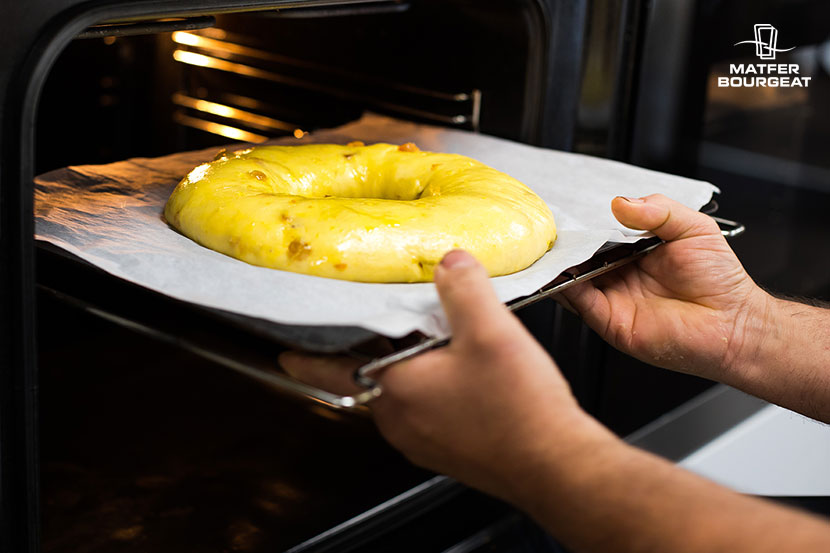 The impact of television and social networks ?
TV shows give a false image of the trade! Customers believe that everything is possible in record time, it becomes even demeaning to our work. As for social networks, I have put things back into perspective for my guys. They are focused on the visual aspect: aesthetics, shapes and volumes. We must be aware that the cakes that we see on television or Instagram contain a lot of gelatin to hold them together. The textures are very pasty or hard to emphasize the visual side and how it holds. At a time when we are talking about natural products and reducing the use of food colors, we are flooded with cakes full of colors that explode in all directions! I like simple pastry, well made with good products. I also often remind young people that putting a cake on Instagram and having a production in the shop is not the same thing. If you spend two hours on a cake finish, how can you do it!
[/vc_column_text][/vc_column][/vc_row][vc_row][vc_column width="2/3″][vc_images_carousel images="8290,8292,8294,6751,8296,7554,7556,7558,7560,7562,7564,7566,7568″ img_size="full" onclick="custom_link" custom_links_target="_blank" custom_links="#E-8_aHR0cCUzQSUyRiUyRmUtY2F0YWxvZ3Vlcy5tYXRmZXJib3VyZ2VhdC5jb20lMkYyMDE5JTJGbWF0ZmVyJTJGZW4lMkY0NCUyRiUyQ2h0dHAlM0ElMkYlMkZlLWNhdGFsb2d1ZXMubWF0ZmVyYm91cmdlYXQuY29tJTJGMjAxOSUyRm1hdGZlciUyRmVuJTJGNDQlMkYlMkNodHRwJTNBJTJGJTJGZS1jYXRhbG9ndWVzLm1hdGZlcmJvdXJnZWF0LmNvbSUyRjIwMTklMkZtYXRmZXIlMkZlbiUyRjE5JTJGJTJDaHR0cCUzQSUyRiUyRmUtY2F0YWxvZ3Vlcy5tYXRmZXJib3VyZ2VhdC5jb20lMkYyMDE5JTJGbWF0ZmVyJTJGZW4lMkY2OCUyRiUyQ2h0dHAlM0ElMkYlMkZlLWNhdGFsb2d1ZXMubWF0ZmVyYm91cmdlYXQuY29tJTJGMjAxOSUyRm1hdGZlciUyRmVuJTJGMzc2JTJGJTJDaHR0cCUzQSUyRiUyRmUtY2F0YWxvZ3Vlcy5tYXRmZXJib3VyZ2VhdC5jb20lMkYyMDE5JTJGbWF0ZmVyJTJGZW4lMkYxMTYlMkYlMkNodHRwJTNBJTJGJTJGZS1jYXRhbG9ndWVzLm1hdGZlcmJvdXJnZWF0LmNvbSUyRjIwMTklMkZtYXRmZXIlMkZmciUyRjU3JTJGJTJDaHR0cCUzQSUyRiUyRmUtY2F0YWxvZ3Vlcy5tYXRmZXJib3VyZ2VhdC5jb20lMkYyMDE5JTJGbWF0ZmVyJTJGZnIlMkYxMDQlMkYlMkNodHRwJTNBJTJGJTJGZS1jYXRhbG9ndWVzLm1hdGZlcmJvdXJnZWF0LmNvbSUyRjIwMTklMkZtYXRmZXIlMkZmciUyRjU4JTJGJTJDaHR0cCUzQSUyRiUyRmUtY2F0YWxvZ3Vlcy5tYXRmZXJib3VyZ2VhdC5jb20lMkYyMDE5JTJGbWF0ZmVyJTJGZW4lMkYxODAlMkYlMkNodHRwJTNBJTJGJTJGZS1jYXRhbG9ndWVzLm1hdGZlcmJvdXJnZWF0LmNvbSUyRjIwMTklMkZtYXRmZXIlMkZmciUyRjY2JTJGJTJDaHR0cCUzQSUyRiUyRmUtY2F0YWxvZ3Vlcy5tYXRmZXJib3VyZ2VhdC5jb20lMkYyMDE5JTJGbWF0ZmVyJTJGZW4lMkYxNTIlMkYlMkNodHRwJTNBJTJGJTJGZS1jYXRhbG9ndWVzLm1hdGZlcmJvdXJnZWF0LmNvbSUyRjIwMTklMkZtYXRmZXIlMkZlbiUyRjM1OCUyRg=="][/vc_column][vc_column width="1/3″][vc_column_text]Hemispherical mixing bowl
Flat-bottom pastry mixing bowl
[/vc_column_text][/vc_column][/vc_row]