210g all purpose flour
22.5g cocoa powder
100g sugar
3g kosher salt
113g butter, cold and cubed
40g egg yolks
28g heavy cream
2.5g vanilla extract
Combine the flour, cocoa, sugar, and salt. Add the cold, cubed butter. Paddle until the dough is crumbly. Add the egg yolks, cream, and vanilla. Mix until dough is smooth and pliable.
Roll to 3mm with the Matfer adjustable rolling pin.
Cut the dough with Matfer tart ring. Place on a Silpain and chill 15 mn.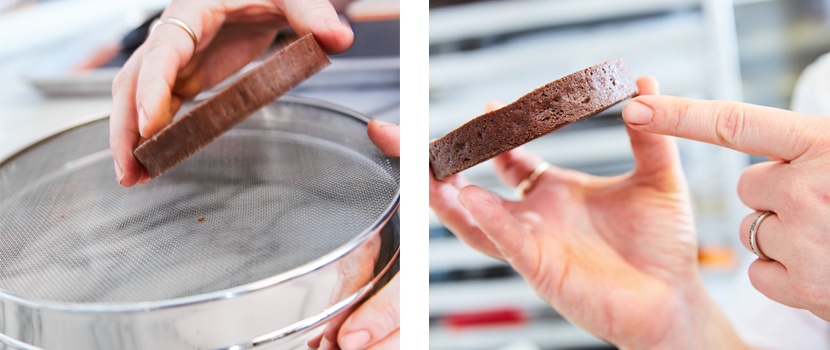 Flourless Chocolate Sponge
300g 65-70% dark chocolate
100g unsalted butter
200g egg yolks
300g egg whites
100g sugar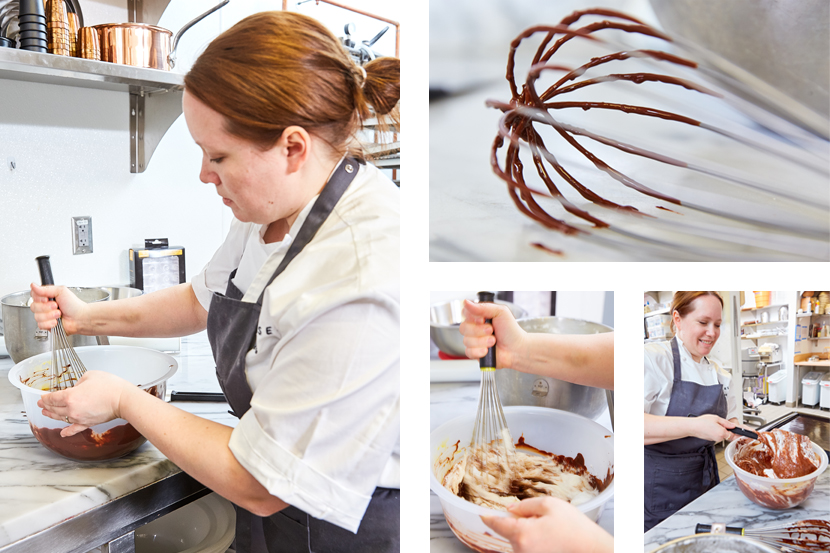 Melt the chocolate and butter together. Whip the egg whites and sugar to medium peak. Whisk the egg yolks into the chocolate/butter mixture. Fold in the meringue.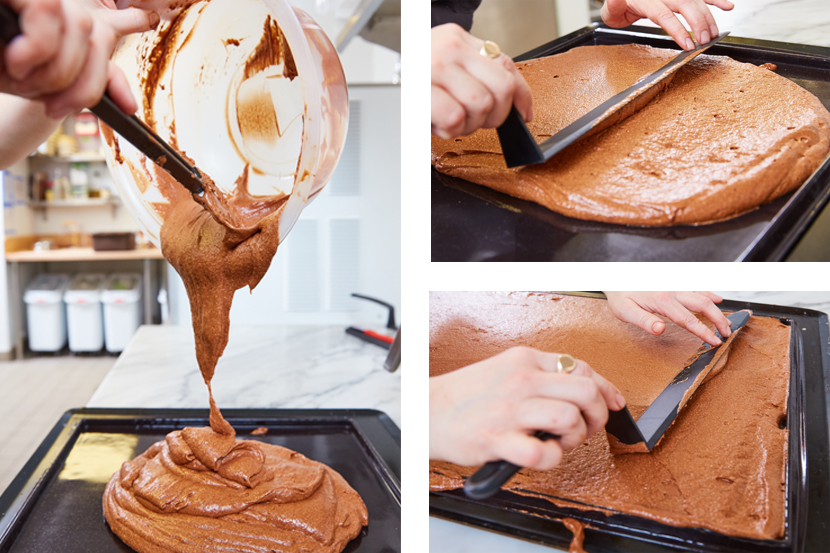 Spread into a half sheet pan lined with an exomat.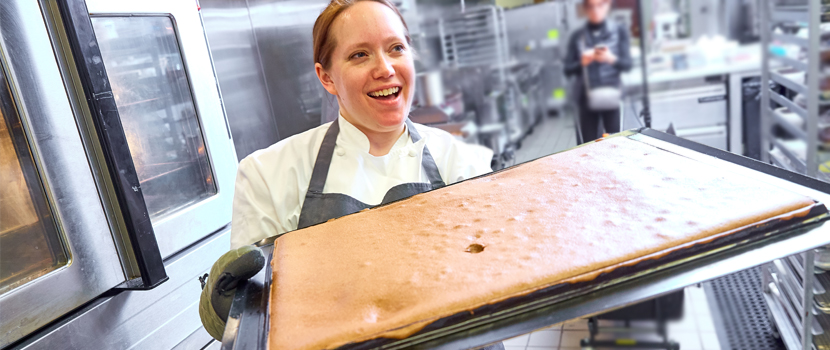 Bake at 300F about 15 minutes. Chill quickly and completely. Cut rounds with ø 50 cutter.
700g gianduja
255g heavy cream
1ea vanilla bean, split & scraped
75g trimoline
75g unsalted butter
4g kosher salt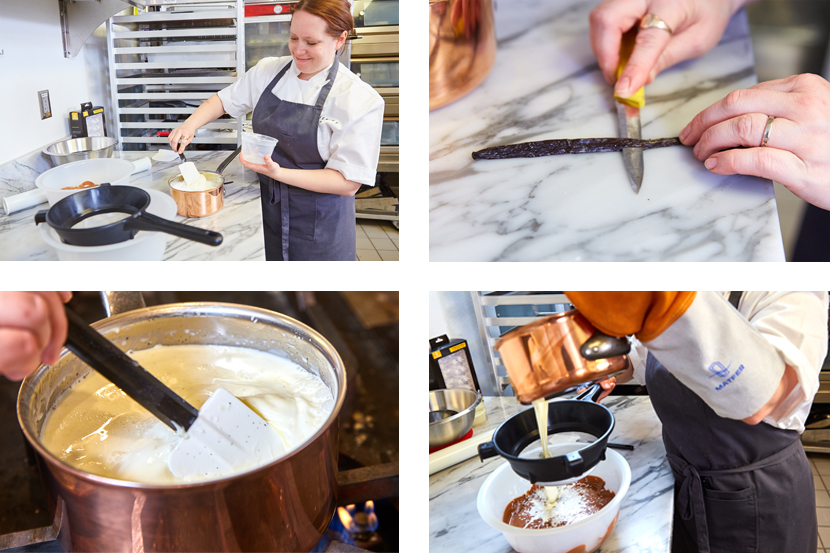 Melt the gianduja. Bring the cream, vanilla bean, trimoline, butter, and salt to a boil.
Emulsify with a whisk. Cast into a shallow pan and cover with plastic wrap touching the surface. Let sit at room temperature overnight to crystallize. Transfer into piping bag with medium round tip.
620g heavy cream
624g glucose
492g dark brown sugar
92g black cocoa powder
600g 70% dark chocolate
112g unsalted butter
16g vanilla extract
Bring the cream, glucose, dark brown sugar, and black cocoa powder to a boil. Boil for five minutes, whisking. Whisk in the butter, chocolate, and vanilla extract.
100g butter
300g light brown sugar
2g kosher salt
250g water
10g cornstarch
2qt bananas, cut in half lengthwise and into ½' slices
Melt the butter. Whisk in the brown sugar. When all the sugar has dissolved and it is bubbly and slightly darker, add the water and cornstarch slurry, and the salt. Bring back to a boil. Add the bananas and cook until they break down somewhat and the mixture is thick. Chill.
Chocolate Feuilletine Crunch
225g 40% milk chocolate
200g vanilla streusel
50g feuilletine
50g cocoa nibs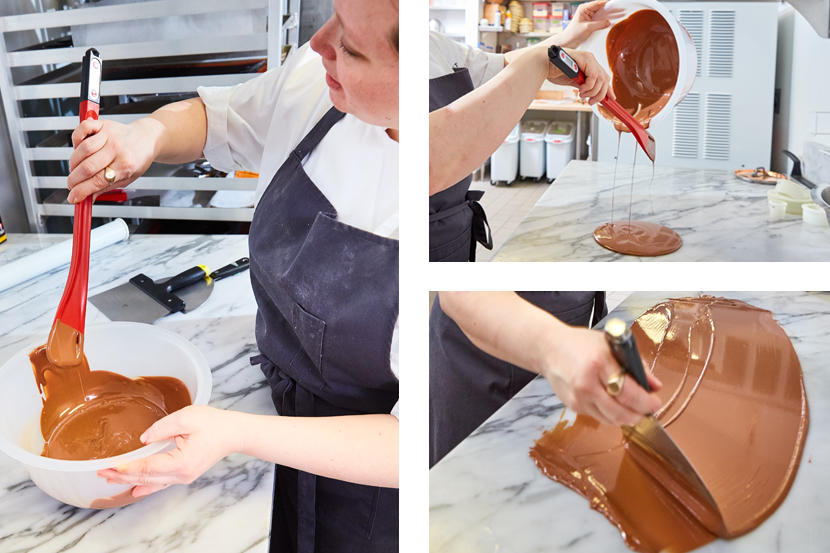 Stir in the streusel, feuilletine, and nibs. Spread on a exopat to crystallize. Blitz in food processor to make small pieces.
980g buttermilk
500g corn syrup
100g sugar
110g orange juice
2.5g gelatin
Bloom gelatin and melt with the orange juice.
Hand blend all ingredients together.
Strain.
Process in ice cream machine.
Toasted hazelnuts, chopped,
Shaved gianduja "petals" (shaved with #50 or #60 Exoglass® round cutters)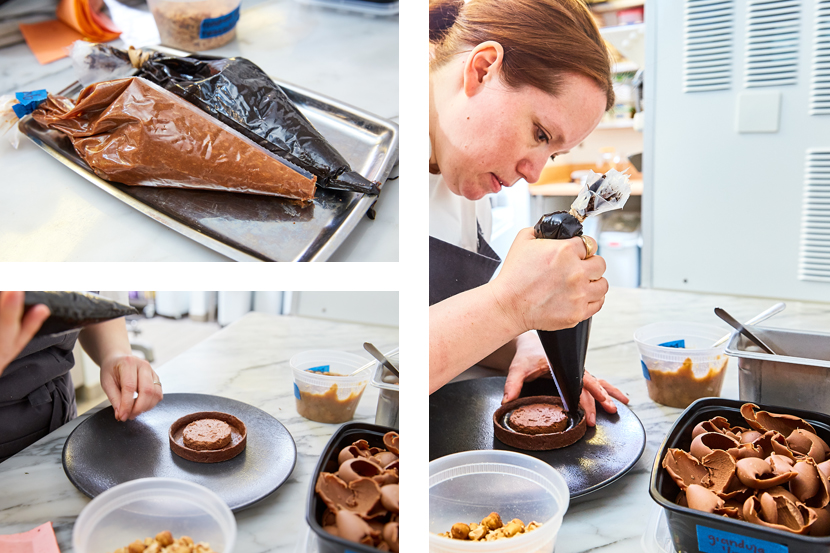 Place a round of flourless cake in the center of the tart shell. Pipe a ring of black cocoa fudge around the cake.
Fill the center of the tart with banana jam. Pipe gianduja ganache to cover the whole tart. Sprinkle with toasted hazelnuts.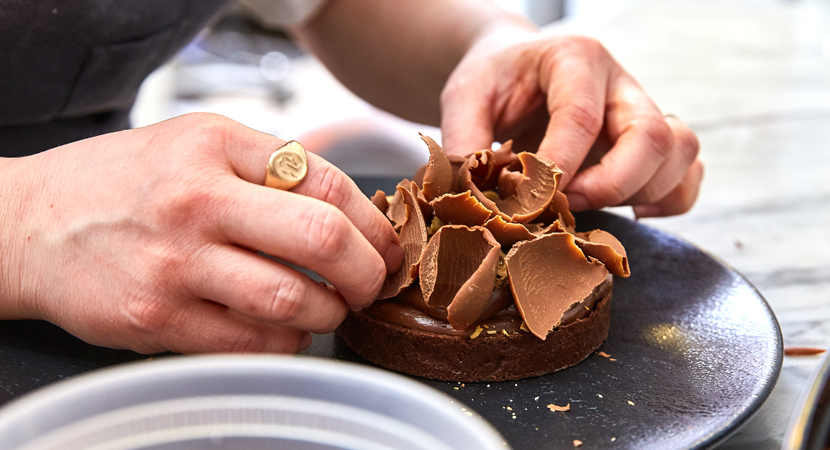 Arrange gianduja petals on top.
Place off to the side on a round plate. Place a small spoonful of feuilletine crunch on the plate to the side of the tart. Place a quenelle of buttermilk orange sorbet on the crunch. Sprinkle small pieces of toasted hazelnut around the tart and on the sorbet.