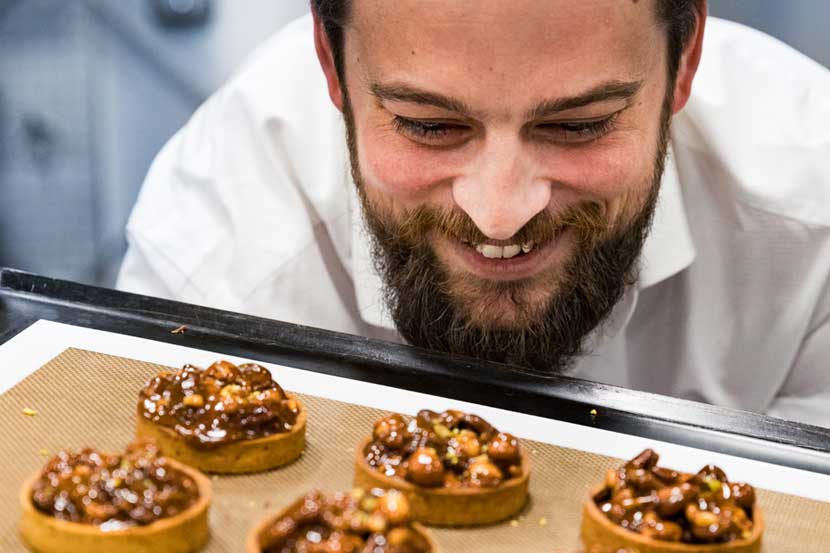 Makes: 6 tartlets
Preparation time: 2.30 h
Cooking time: 1 h
For pecan sweet pastry doughpâte sucrée noix de Pécan
80 g butter
30 g egg
45 g powdered sugar
125 g flour
1.5 g fleur de sel
15 g pecan meal
For vanilla Karamel fondant & fleur de sel
100 g sugar
15 g water
20 g glucose
60 g butter
50 g cream
1 g fleur de sel
1 vanilla bean
For mixed toasted nutsmélange fruits grillés
Pine nuts – 35g
Unblanched almonds – 75g
Whole pecans – 50g
Pistachios – 75g
Skinned hazelnuts – 50g
30°B syrup / Water – 100g / Sugar – 100g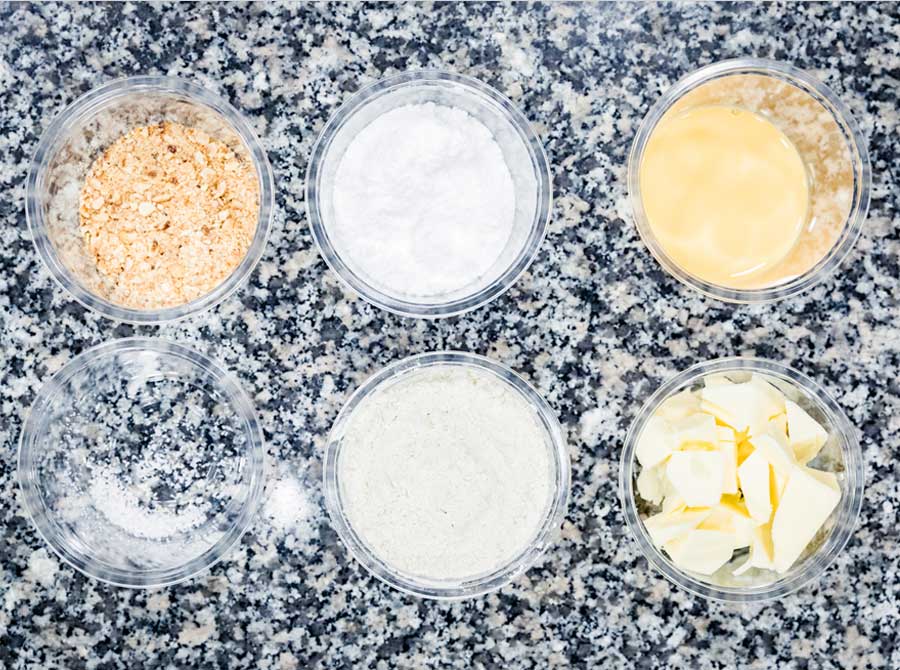 Soften the butter, and work it in a stand mixer using a flat beater. Add the powdered sugar and blanch the mixture. Gradually add the tempered egg.
Combine the dry ingredients (flour and pecan meal, sifted together) into the mixture. Wrap the obtained dough in plastic wrap and refrigerate for 6 hours.
Vanilla Karamel fondant & fleur de sel
Put the water and sugar in a saucepan and cook to a blond caramel (185°C).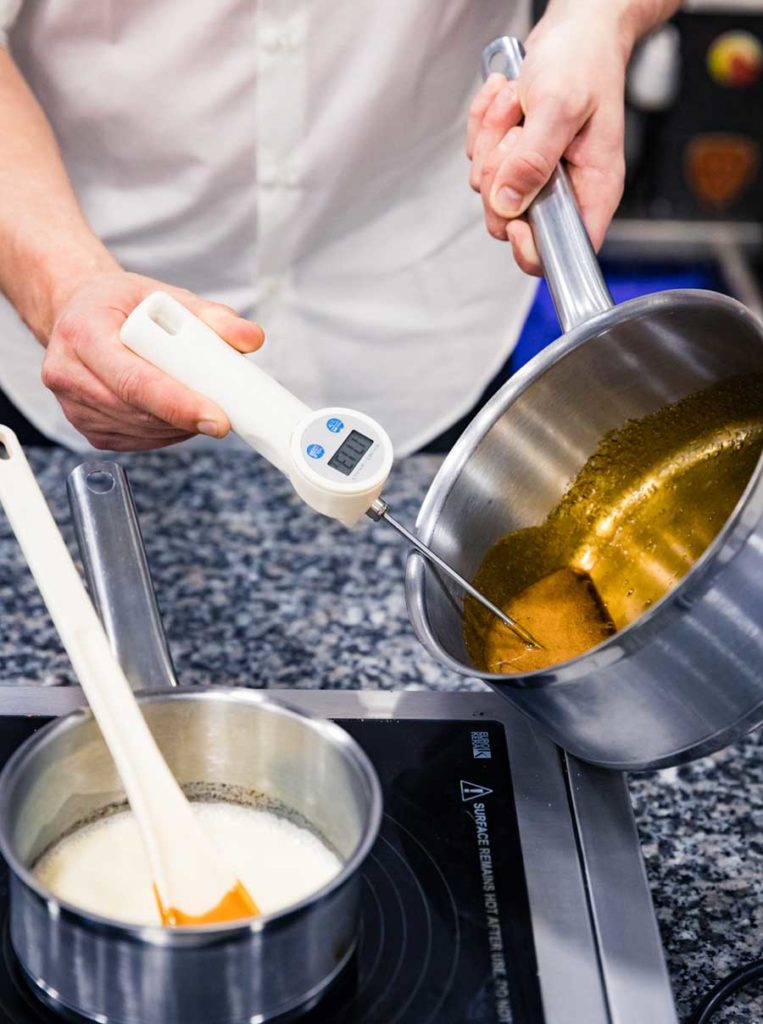 Infuse the vanilla in the hot cream, and deglaze the caramel with the hot infused cream.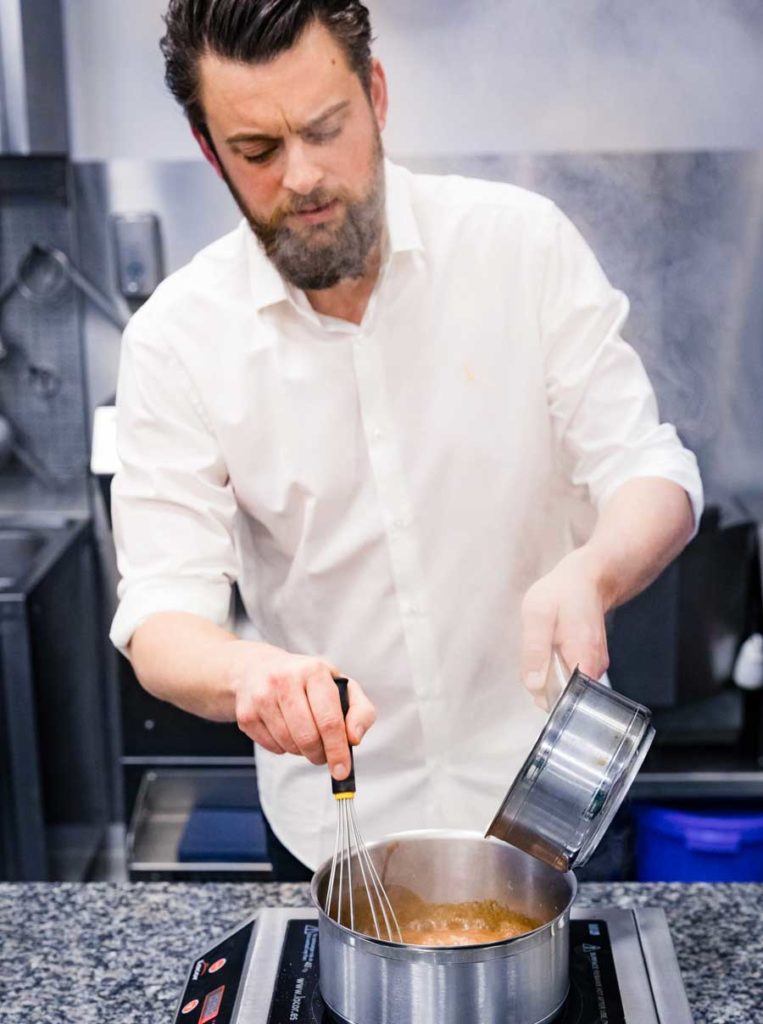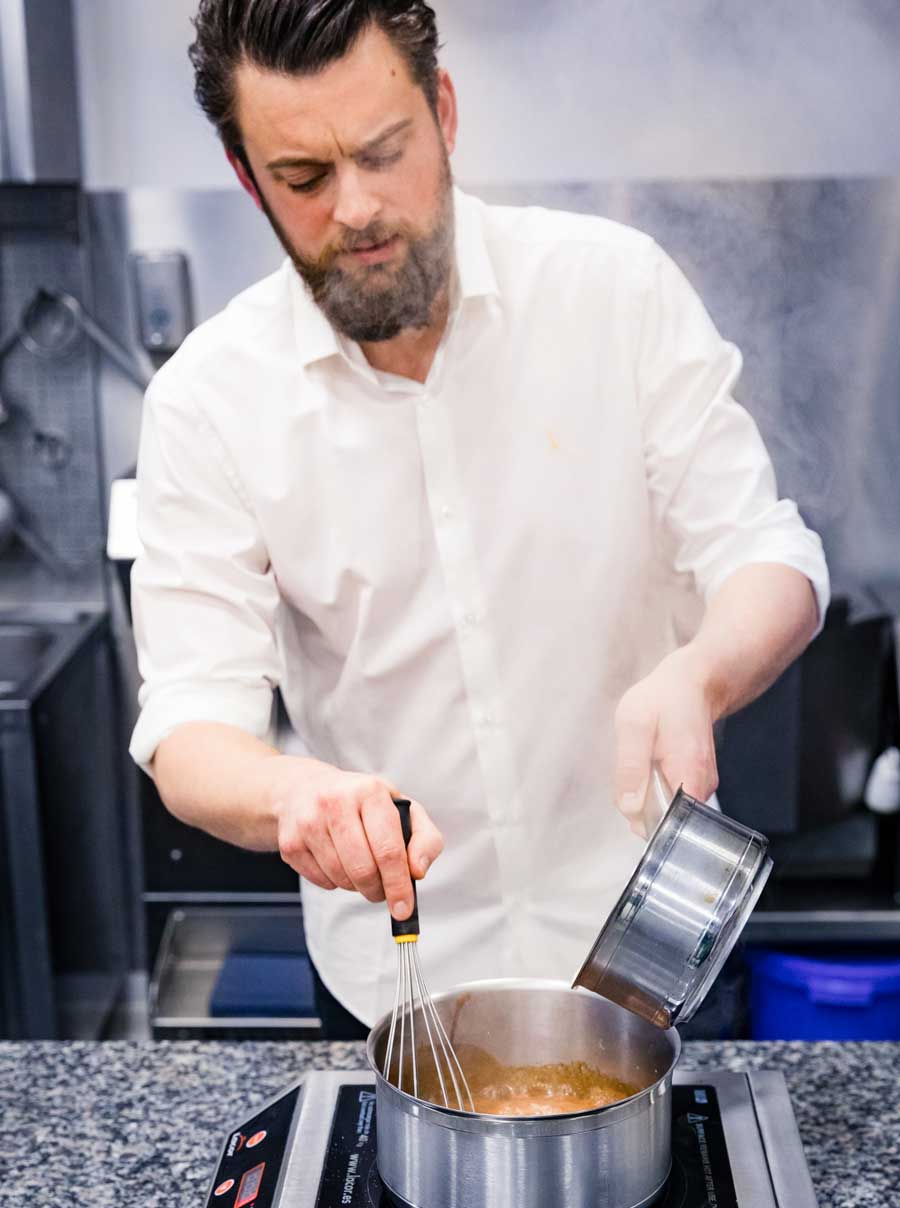 Cook together for approximately 1 minute.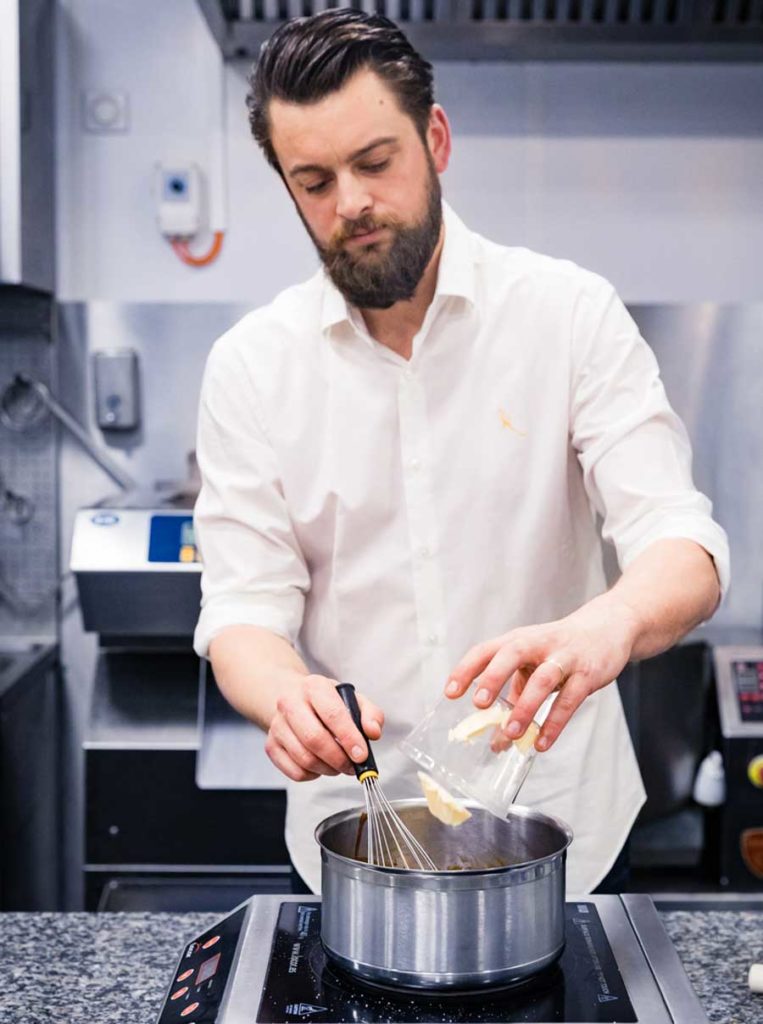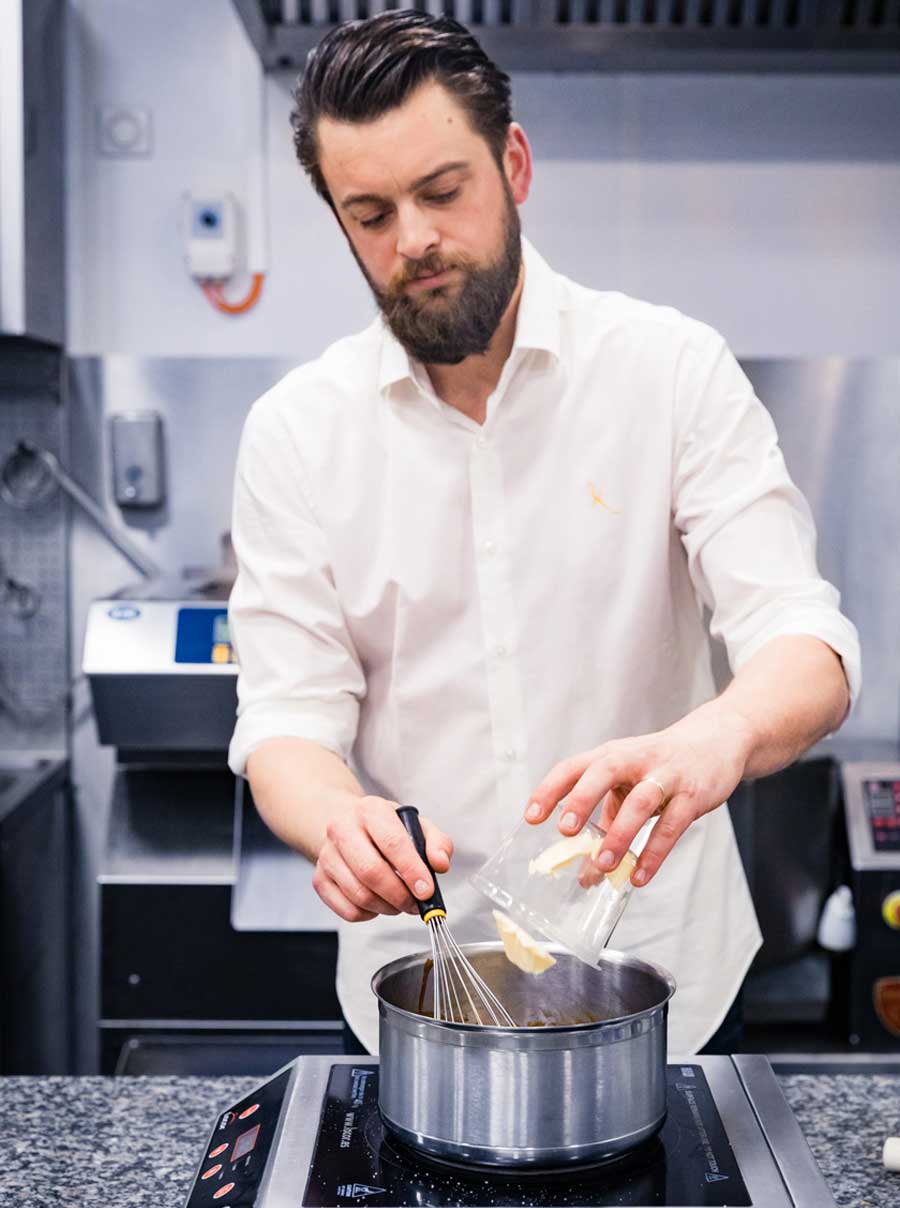 Add the butter in pieces and the fleur de sel. Keep at room temperature.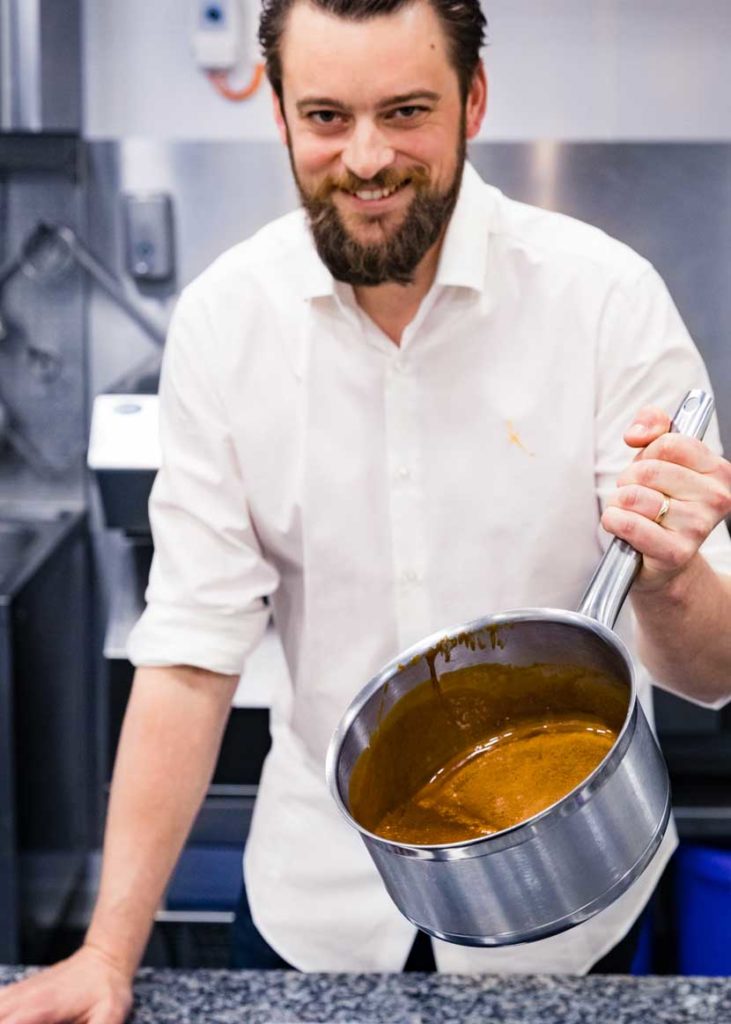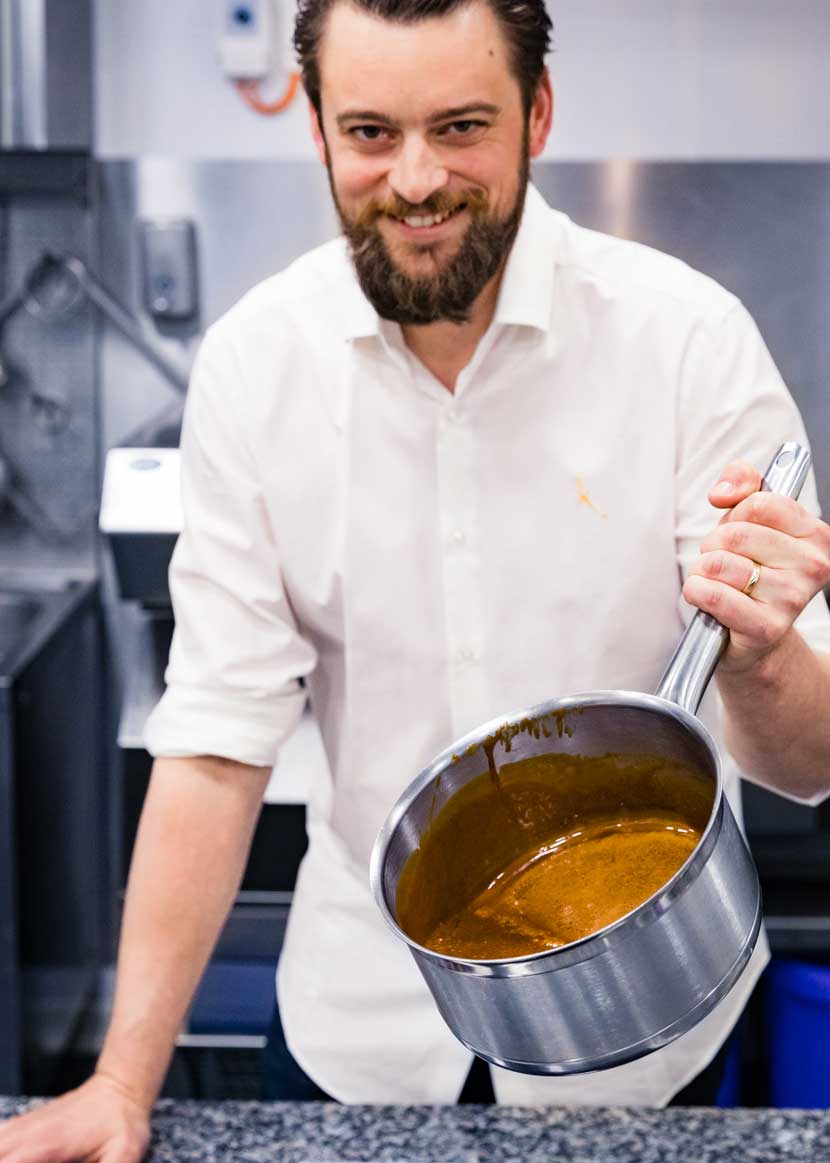 In a bowl, combine all the nuts by hand with 30 g of 30°B syrup*.
On a black baking sheet with baking paper, spread out the mixed nuts to toast in the oven for approximately 8 minutes at 170°C. They need to be toasted all the way through.
Leave to cook at room temperature.
* 30°B syrup = water + sugar brought to a boil
Blind-bake the tartlet cases for 20 minutes at 150°C.
Make a very thin melted milk chocolate base (chablonne), sprinkle with a pinch of fleur de sel and reserve.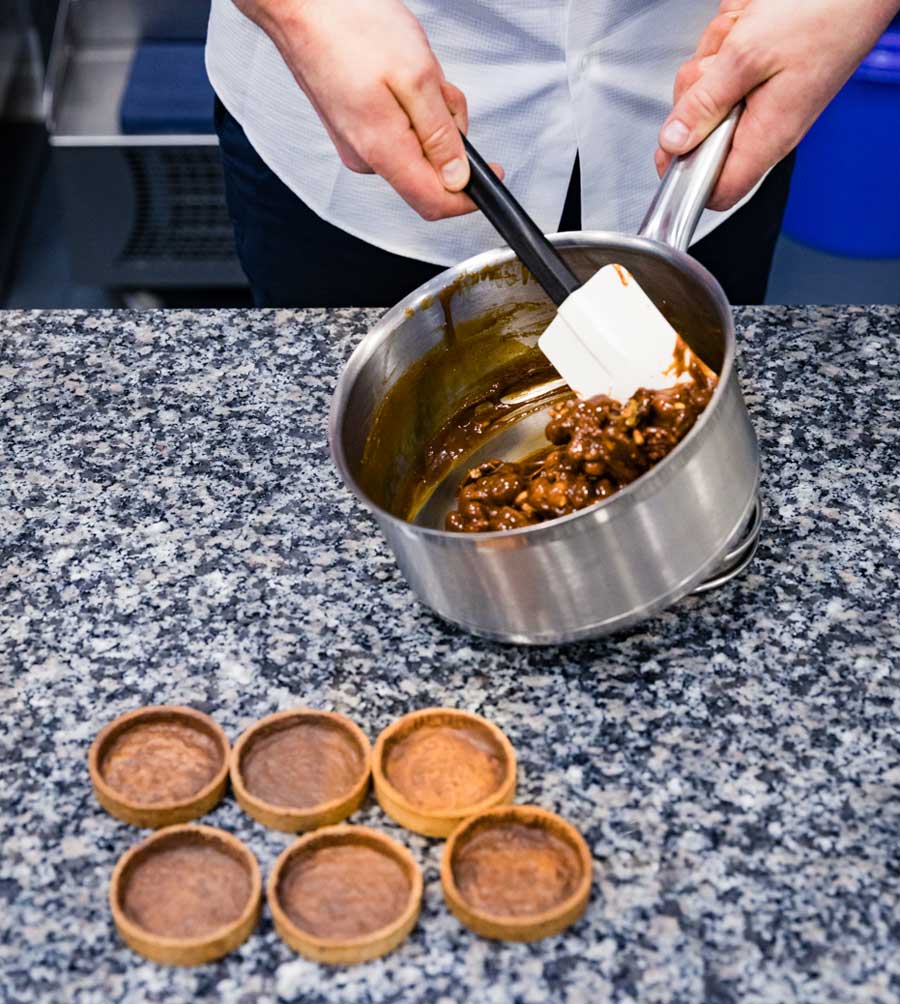 Gently combine the vanilla Karamel fondant while still warm with the nuts, also warm.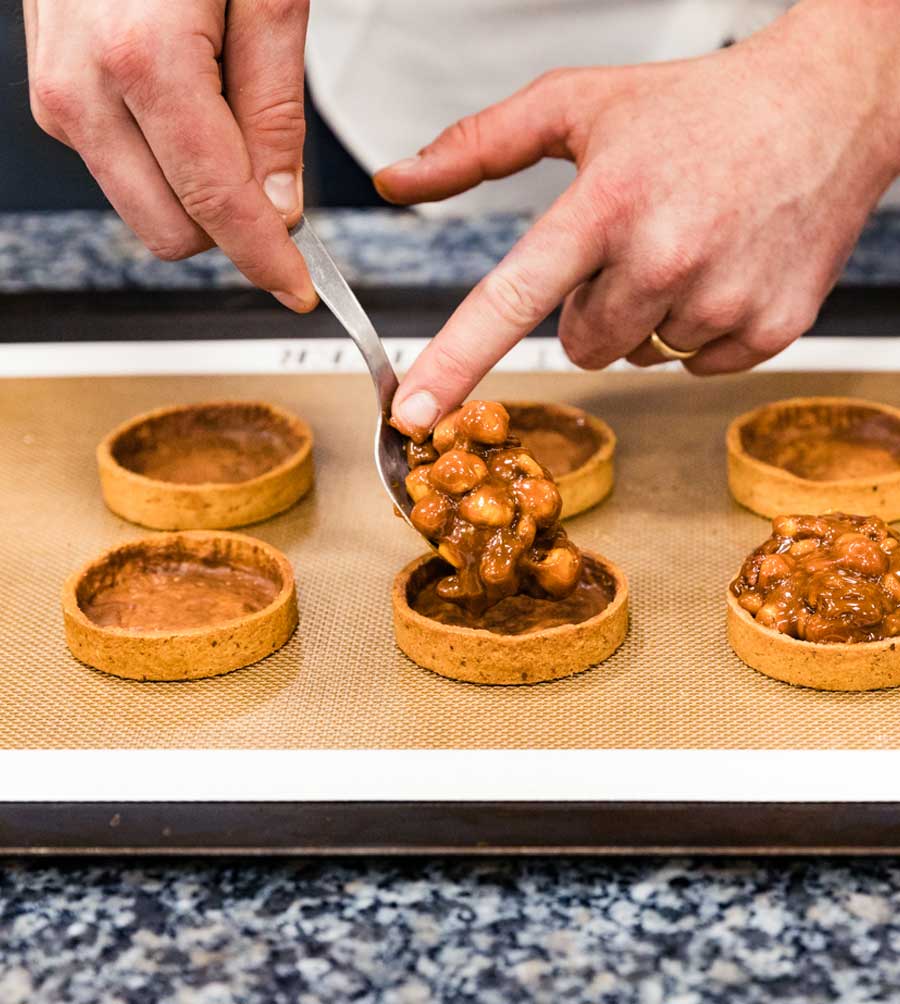 Use a tablespoon to place this mixture in the pecan sweet pastry cases. Garnish generously and be careful to put equal amounts of caramel and nuts (the nuts should be completely covered).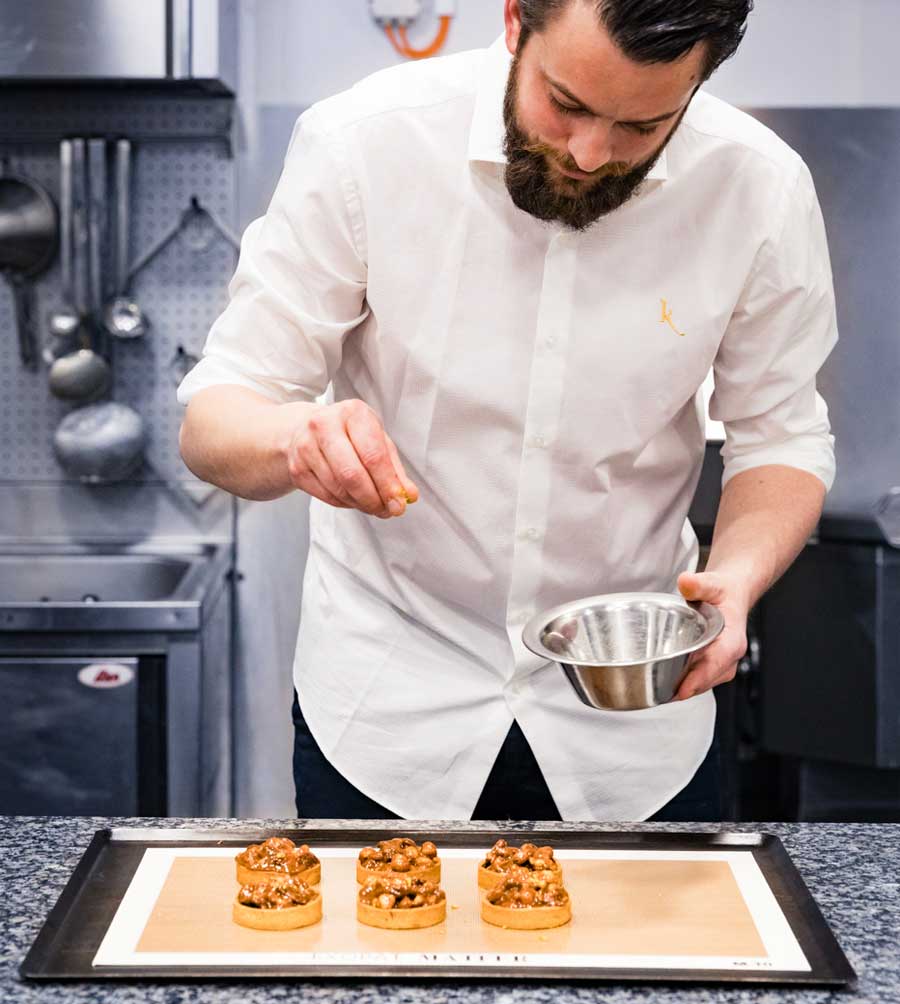 Finish with a little pinch of fleur de sel. Store and consume at room temperature. Do not refrigerate.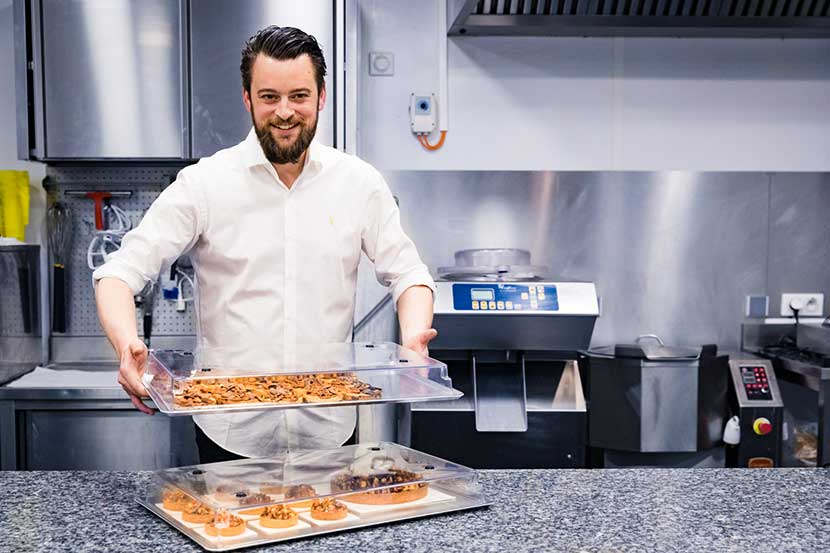 the essentials of the chef
[vc_row][vc_column width="1/2″][vc_hoverbox image="4340″ primary_title="" primary_align="right" hover_title="" shape="round" el_width="80″ hover_btn_title="+ details" hover_add_button="true" hover_btn_link="url:http%3A%2F%2Fe-catalogues.matferbourgeat.com%2Fcurrent%2Fmatfer%2Ffr%2F168%2F||target:%20_blank|"]
"Thanks to the protective guard, I can add eggs without them going everywhere. It's an extra security measure! The stainless steel bowl has a good 5 liter capacity, and it's also pretty and robust."
[/vc_hoverbox][vc_hoverbox image="4322″ primary_title="" hover_title="" shape="round" el_width="80″ hover_btn_title="+ details" hover_add_button="true" css=".vc_custom_1527174819122{margin-top: 5px !important;border-top-width: 5px !important;padding-top: 5px !important;}" hover_btn_link="url:http%3A%2F%2Fe-catalogues.matferbourgeat.com%2Fcurrent%2Fmatfer%2Ffr%2F358%2F||target:%20_blank|"]
"These are the best scrapers in the world! They're really flexible and an ideal size to hold them easily. Also, you can use both sides of them. Mine must be at least 10 years old and indestructible! It's timeless (Laughs)!"
[/vc_hoverbox][vc_hoverbox image="4377″ primary_title="" hover_title="" hover_align="right" shape="round" el_width="80″ hover_btn_title="+ details" hover_add_button="true" hover_btn_link="url:http%3A%2F%2Fe-catalogues.matferbourgeat.com%2Fcurrent%2Fmatfer%2Ffr%2F316%2F||target:%20_blank|"]
EXOGLASS MOLDS
"I've been using Exoglass moulds for the past 4 years, and was using them at Ladurée. I've never had a problem with turning out. With Exoglass, no need to grease them and cooking is really good, leaving no marks. What's also good is that you can use the mold on both sides: if you want a straight edge in a cake, you can simply just work on the flat side. You can even obtain a rounded edge, like for a pear and almond cream tartlet by simply using the other side."
[/vc_hoverbox][/vc_column][vc_column width="1/2″][vc_hoverbox image="4321″ primary_title="" primary_align="right" hover_title="" shape="round" el_width="80″ hover_btn_title="+ details" hover_add_button="true" hover_btn_link="url:http%3A%2F%2Fe-catalogues.matferbourgeat.com%2Fcurrent%2Fmatfer%2Ffr%2F44%2F||target:%20_blank|"]
"These spatulas are indestructible!"
[/vc_hoverbox][vc_hoverbox image="4323″ primary_title="" hover_title="" shape="round" el_width="80″ hover_btn_title="+ details" hover_add_button="true" css=".vc_custom_1527174858860{margin-top: 5px !important;border-top-width: 5px !important;padding-top: 5px !important;}" hover_btn_link="url:http%3A%2F%2Fe-catalogues.matferbourgeat.com%2Fcurrent%2Fmatfer%2Ffr%2F326%2F|||"]
"There used to be only stainless steel cutters and the problem, is that it is something that will deform. With Exoglass cutters, you don't have that problem. They're also more hygienic: cleaning them is simple – just with water."
[/vc_hoverbox][vc_hoverbox image="4770″ primary_title="" hover_title="" shape="round" el_width="80″ hover_btn_title="+ details" hover_add_button="true" hover_btn_link="url:http%3A%2F%2Fe-catalogues.matferbourgeat.com%2Fcurrent%2Fmatfer%2Ffr%2F6%2F||target:%20_blank|"]MATFER SAUCEPANS
"To make a dry caramel, these saucepans are ideal as sugar melts in them evenly with even heat distribution. These are truly good saucepans!"
 [/vc_hoverbox][vc_hoverbox image="4326″ primary_title="" hover_title="" shape="round" el_width="80″ hover_btn_title="+ details" hover_add_button="true" hover_btn_link="url:http%3A%2F%2Fe-catalogues.matferbourgeat.com%2Fcurrent%2Fmatfer%2Ffr%2F234%2F||target:%20_blank|"]
PASTRY SHEET CLOCHES 60×40
"With a cloche cover, fresh products are protected from humidity. I can even stack them to save space!"
[/vc_hoverbox][/vc_column][/vc_row][vc_row][vc_column][vc_column_text]Read our interview with chef Nicolas Haelewyn[/vc_column_text][/vc_column][/vc_row][vc_column][/vc_column]