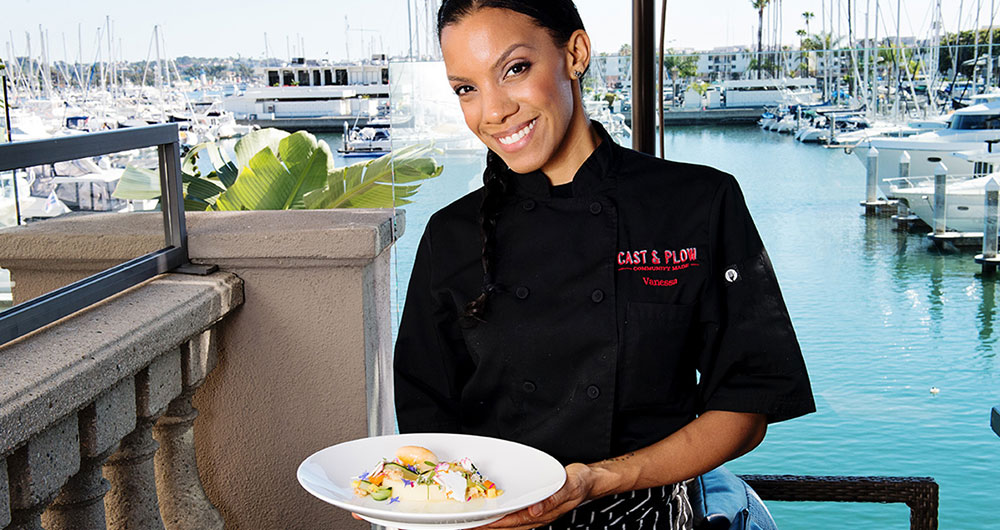 As an established Pastry Chef, what inspires you?
The subtle yet profound aspects of nature and beauty have always inspired me. Citrus trees, fresh herbs and seductive spices can be infused into desserts to add more depth of flavor that are different and delicious. When using these interesting ingredients, I am able to create classic desserts with diverse twists. I love to garnish each dish with edible flowers too for a pretty finishing touch. I always hope guests enjoy the whole meal but I am thrilled when a dessert gets an awestruck reaction. I want them to remember their last bite of the evening forever! That hopeful wish inspires me every time!!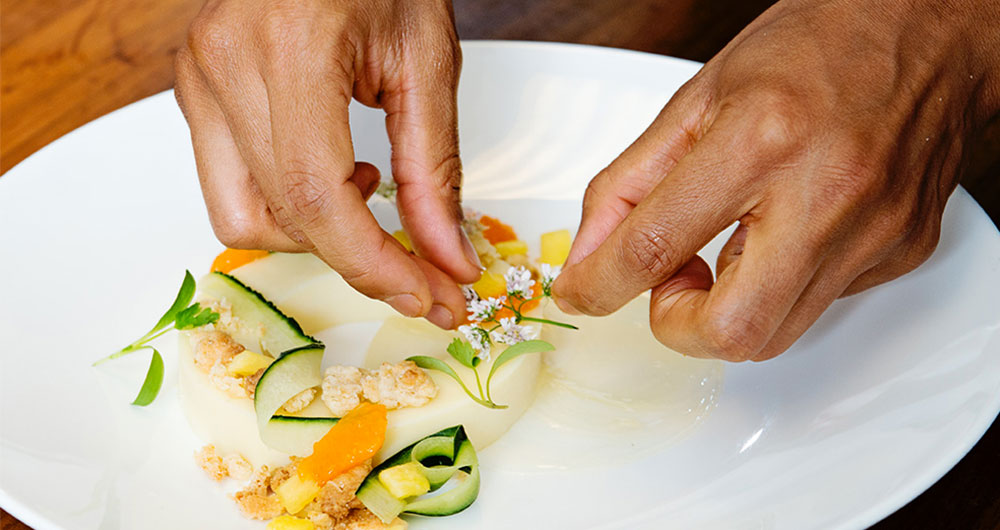 What is it about citrus, tropical fruits and herbs that particularly intrigue you? You even use flower and herb-based liqueurs in your desserts!
My Caribbean roots and love of the tropics allowed me to really notice those elements around me when there. I also worked in Cabo San Lucas and that gave me the opportunity to experiment with different natural ingredients.
Herbs and fruit really do complement each other once you start taste testing the blends of the savory with the sweet or the smooth herb with the acid of citrus. They are as fresh and pure as flavors can be especially when mixed with a neutral textured base like a flan, cheesecake or ice cream. For instance, cilantro and citrus are great together if balanced correctly as are basil and pineapple or mandarin and a splash of tequila that comes from the agave plant. I also like to combine chili with chocolate for a surprising bite.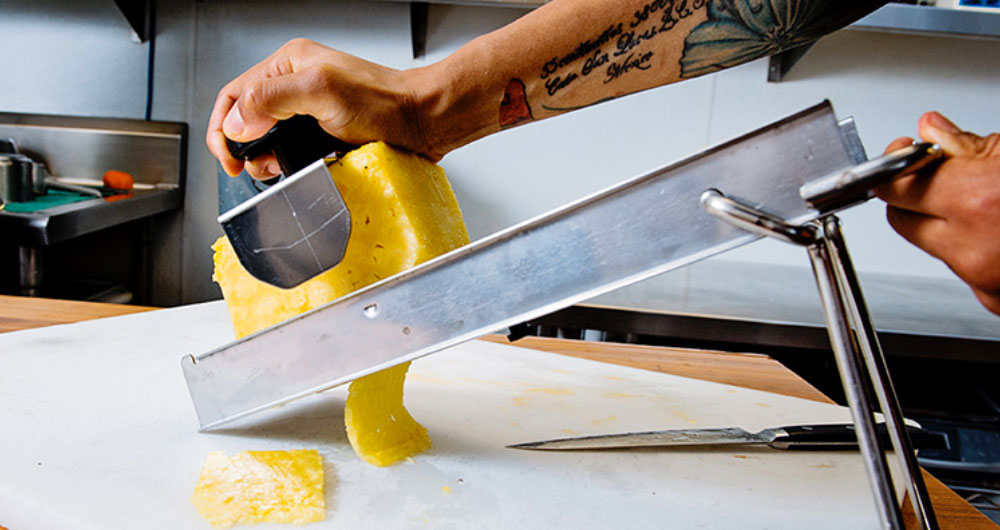 How did you come up with the Happiness Flan?
My Mom is from Mexico and my Dad is from Barbados. All kinds of flans or crème caramel are traditionally popular in both places so it is a dish that is very familiar to me. It always reminds me of the sun and happy times. I had so much fun creating this flan-based dessert using white chocolate, tequila, mandarin, pineapple and yuzu. Happiness to me is what a dessert should be and I think this says that, especially when I added the colorful edible flowers from cilantro and chamomile buds.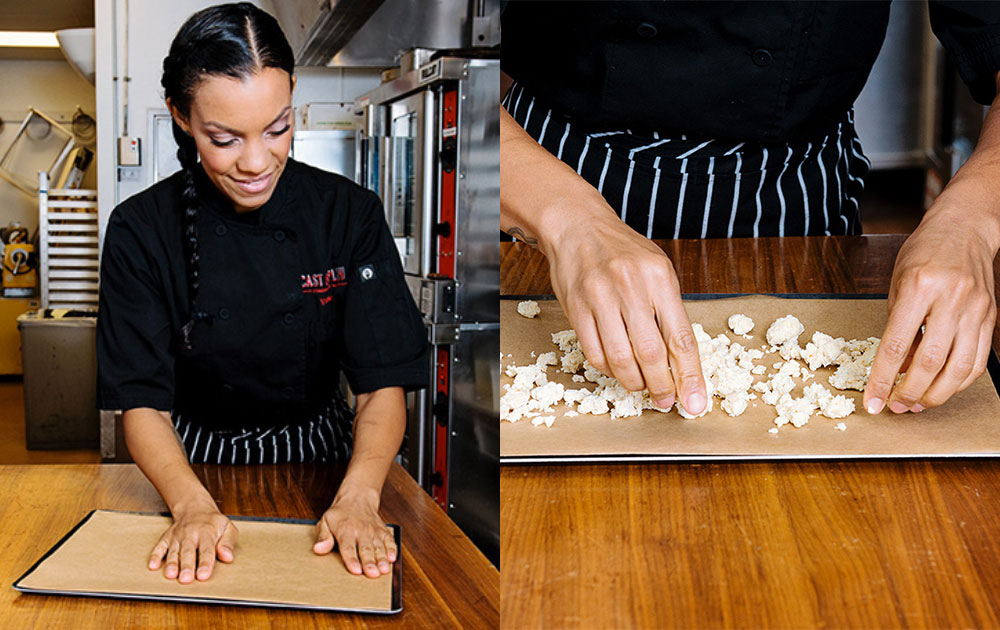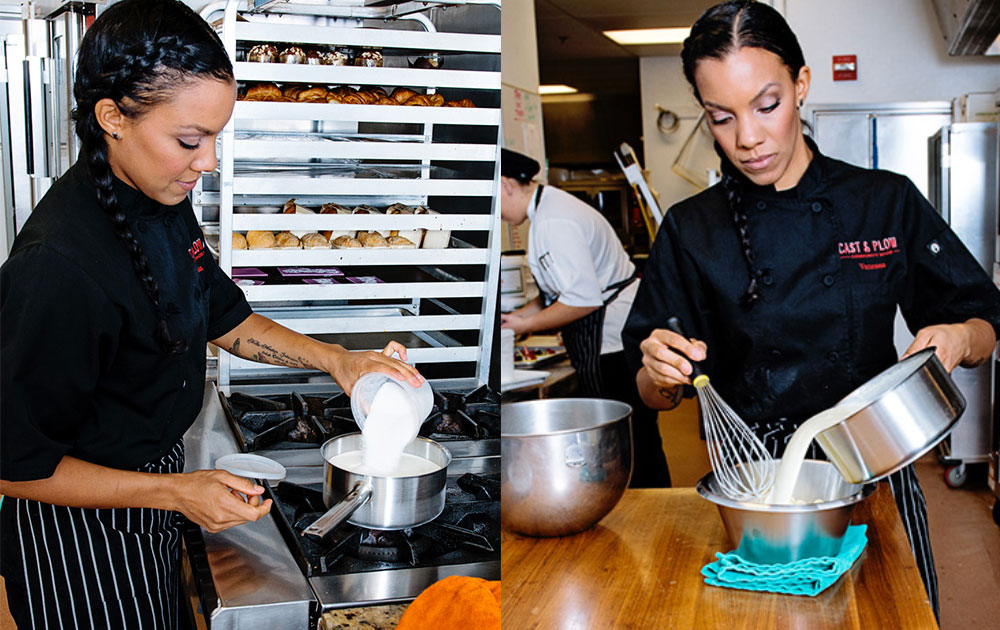 You are in charge of all of the dessert preparations at the Ritz-Carlton Marina Del Rey, from their Cast & Plow restaurant to the private events that are large and small. How do you do it?
We all work together and delegate accordingly so we make a strong team. I'm lucky as I love working by the water and guests here really enjoy the Ritz Marina Del Rey experience and the California waterfront as much as I do. The philosophy of the Cast & Plow is to source and serve the best organic ingredients from the local community's fresh markets and purveyors. It truly affects the kind of desserts I create.
Patrons like light and frivolous so I have the luxury of creating new combinations of tastes using fruits, herbs, spices and chocolate. It is also really fun to design buffets with spun sugar, pretty petit-fours, colorful macaroons and edible flowers, especially at banquets and weddings.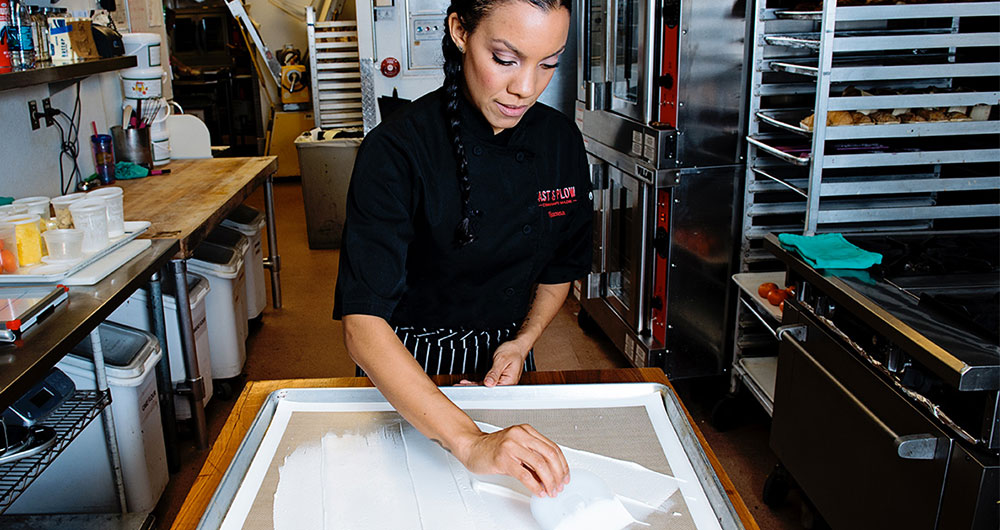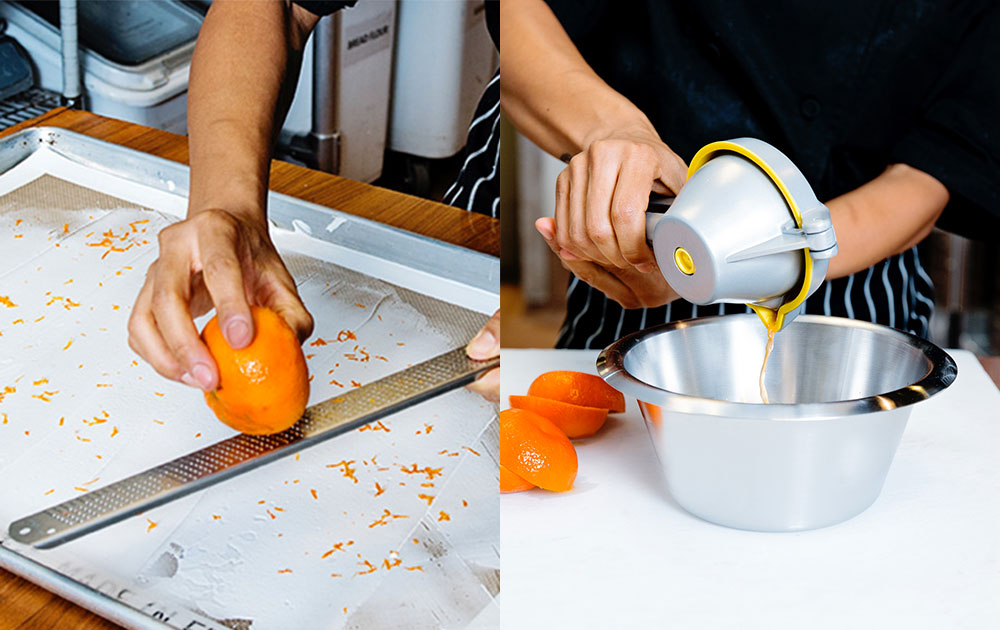 What is it about the Matfer products that make a difference to the outcome of your various desserts?
I was introduced to Matfer tools when I was a student at the Culinary Academy in San Francisco. No other brand matches up to the quality and consistency of Matfer. Whatever products I need, they have. I trust them and I am never let down. My job as a pastry chef is to always respect the method of the recipe and its intricate details. I have to be clear and concise with my work and every Matfer item I use allows me to do that. Matfer materials let me make desserts that look as enticing as they taste.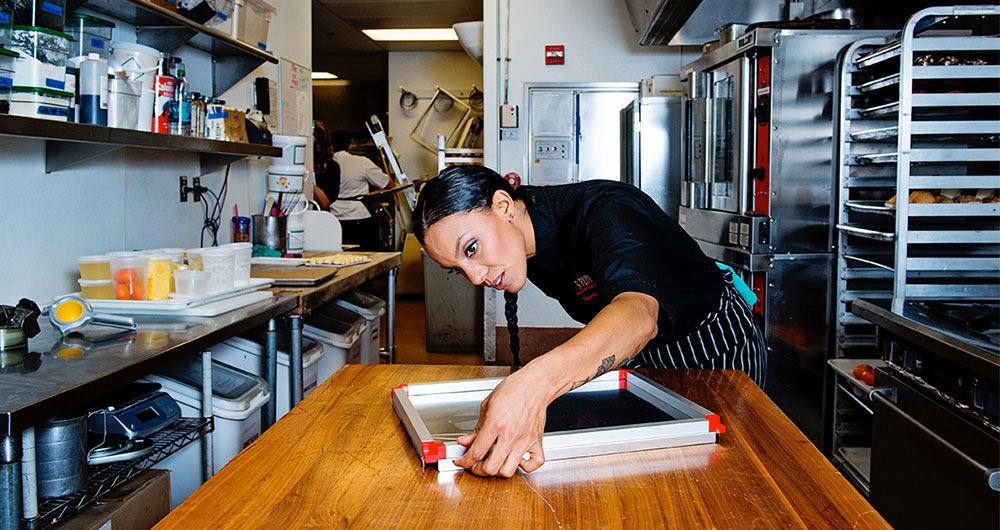 What do you think of the Matfer's Rubber Spatulas, Scraper, Set of 3 Frames, Exoglass™ Plain Pastry Cutters, Duo Decorating Tubes, Candy Thermometer, Stainless Steel Mandoline & Blue Steel Oven Baking Sheet?
I want my whole pastry kitchen to be stocked with Matfer products as I think they are amazing! I use the rubber spatulas and scrapers all of the time. The Set of 3 Frames makes everything level so every layer is perfect and as a result the finished dish looks fantastic. The Mandoline lets me slice my fruits very thin. The pastry cutters and Duo Decorating Tips are true favorites of mine as they give me control and precision for a beautiful outcome. And a reliable candy thermometer and Blue Steel Oven Baking Sheet are always needed!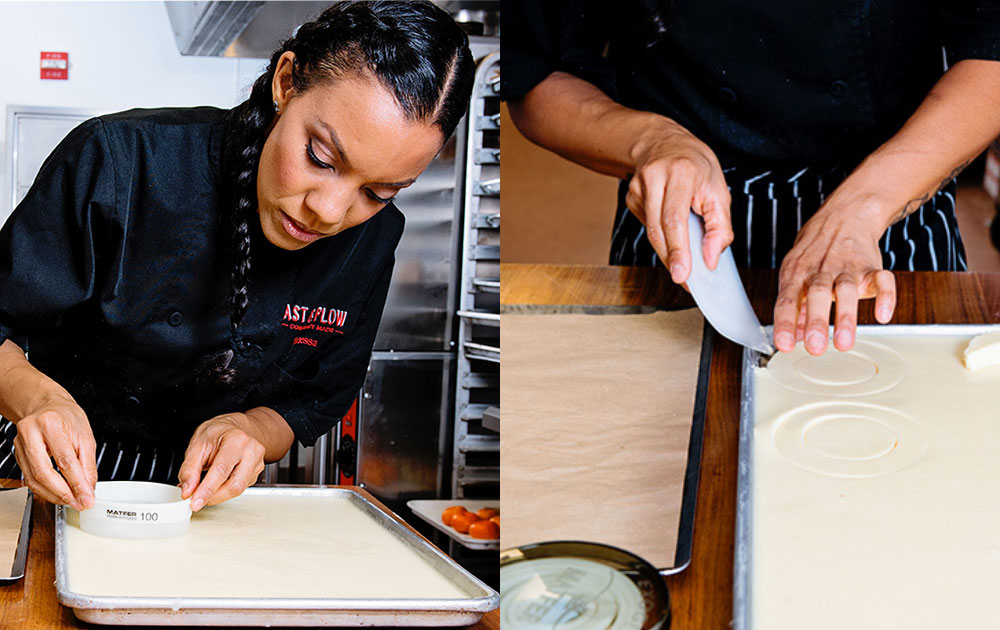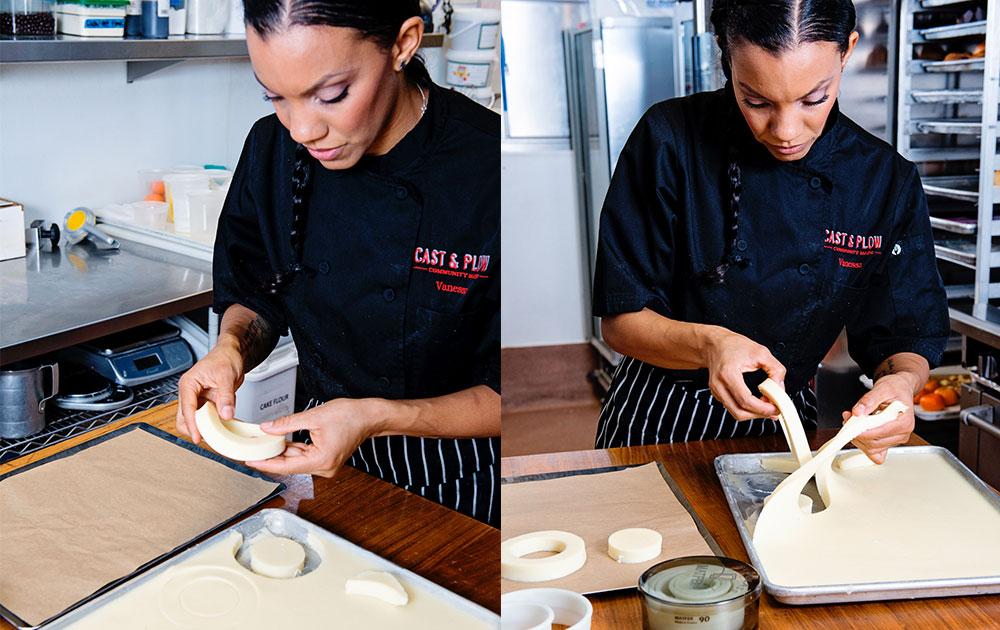 What is your favorite Matfer must-have tool?
The Scraper! I love it and rely on it so much that I even carry one in my purse! And I'm not kidding!! It is the perfect tool –really flexible yet durably firm—ideal for the most delicate meringue or thick pastry cream. It is super thin so it bends back and forth which lets me fiddle with my fillings as well as catch every drop and scrape. I also can make every spread incredibly smooth with it.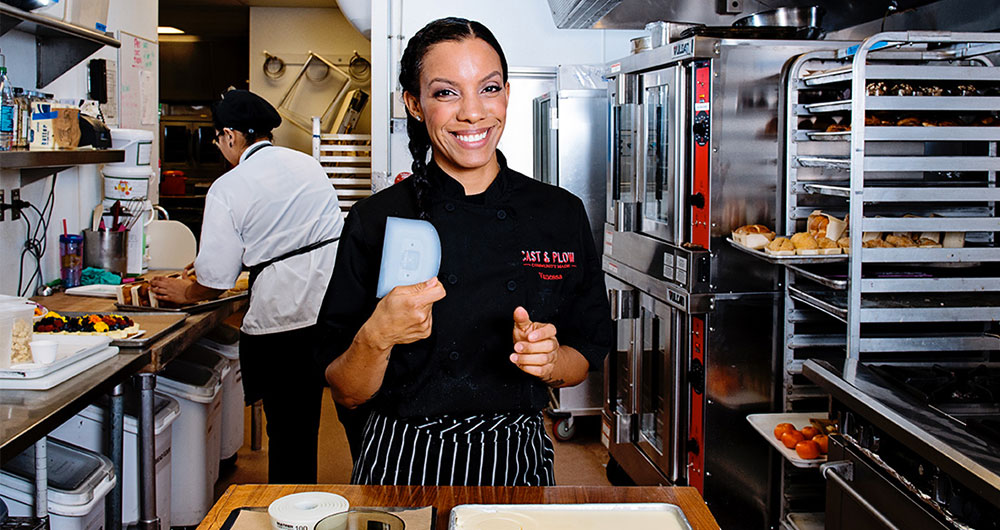 What do you consider the ultimate classic dessert?
Cheesecakes and custards. I love working with cream, eggs and sugar for that lovely silky result. It is so much fun to infuse that classic combination with new unexpected flavors from herbs, spices and liqueurs.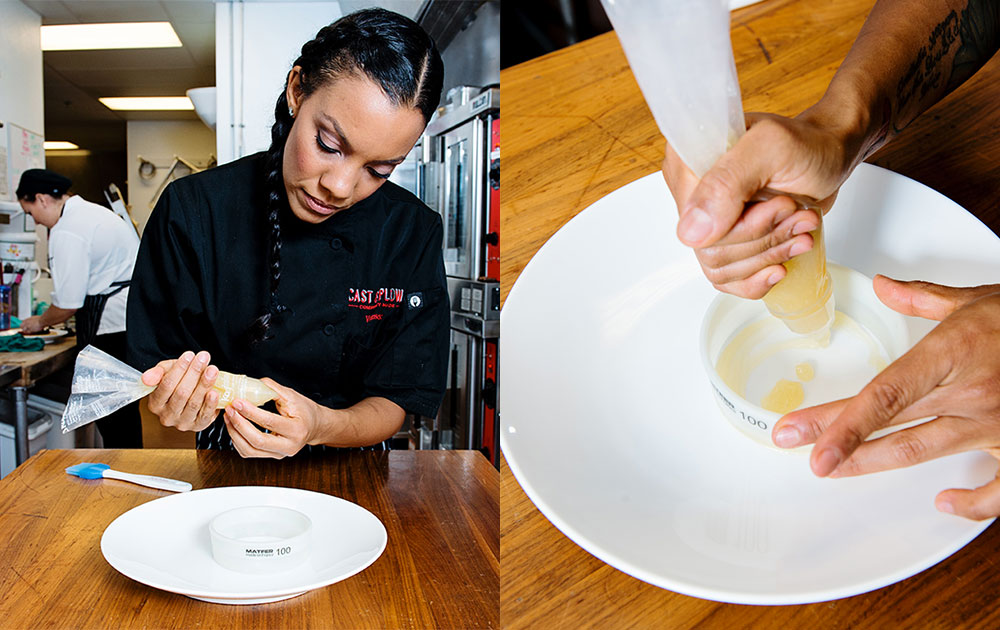 And your personal favorite dessert to eat?
Chocolate. I even used white chocolate in this new dessert!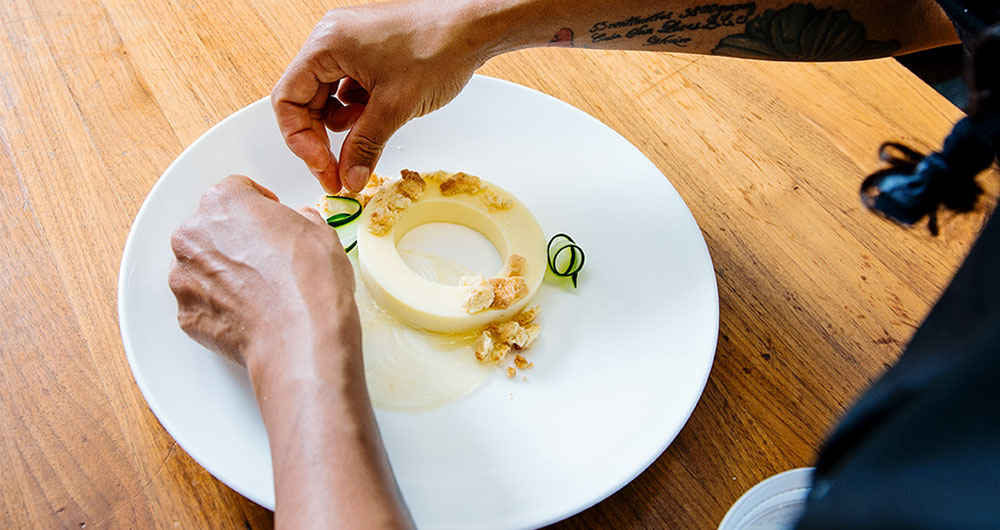 Jean Anthelme Brillat-Savarin, (1755-1826) the French Epicurean and Gastronome and Author of The Physiology of Taste said, "The way in which meals are enjoyed is very important to the happiness of life". Since your dessert is called happiness flan is it safe to say you agree?
Absolutely! There are so many challenges in life so taking time for a special occasion should be honored. When I, as a pastry chef, can create something that a guest can fully enjoy it is a happy win for both of us. With company around them and with this light yet luscious dessert in front of them, happiness arrives. It becomes a delicious fulfilling moment on every level. I hope that memory makes them smile. This is why I love my work so much.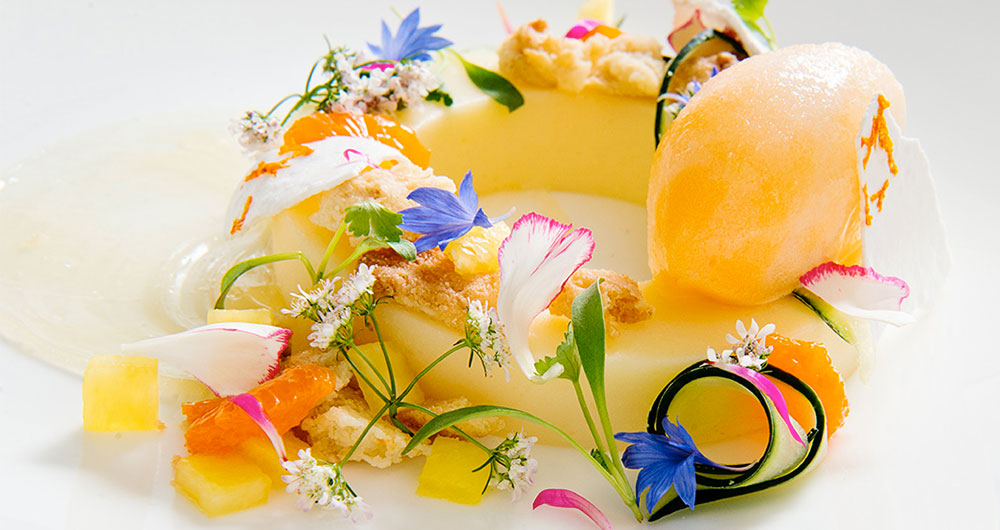 TOOLS FOR THE TASTE
As an executive chef, you know that less is more and fresh is best. Use Matfer's Rubber Spatulas, Scraper, Set of 3 Frames, Exoglass® Plain Pastry Cutters, Duo Decorating Tubes, Candy Thermometer, Stainless Steel Mandoline & Blue Steel Oven Baking Sheet.
More about Vanessa Johnson Mendoza
True talent and joy exudes from established Executive Pastry Chef Vanessa Johnson Mendoza. After graduating from the prestigious Culinary Academy in San Francisco California, Vanessa refined her pastry making skills at the city's acclaimed Aqua Restaurant before moving to Las Vegas, Nevada to work at Roy's and then at renowned Le Cirque in the Bellagio Hotel. Her love of water and travel lead her to sail the high seas from 2004-2007 as the Assistant Pastry Chef for NCL Cruise Lines.
Once back on land, she continued to broaden her pastry techniques first at the Ritz-Carlton Marina Del Rey as Assistant Pastry and then in the Caribbean as Head Pastry Chef at the Capella Pedregal in Cabo San Lucas. She is happy to be back on the waterfront in California and to return to her favorite property of the Ritz-Carlton Marina del Reynow as the Executive Pastry Chef where she continues to present her stunning and delectable desserts.
Chef Vanessa Mendoza will join over 100 inspirational chefs for the Autism Speaks to LA Celebrity Chef Gala on Thursday, October 8th. When we asked her participation in the upcoming event she said, "I am thrilled to take part of what will be an extremely heart felt night at the Autism Speaks Celebrity Chef Gala, this night will open the eyes and hearts to many that are not aware of this condition!"