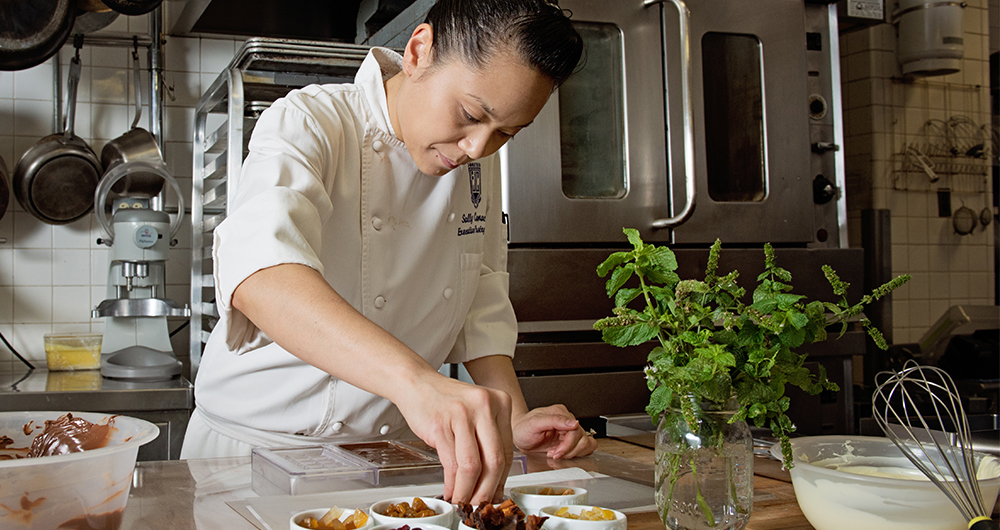 As a pastry chef, you know that divine desserts leave a lasting impression and chocolate hits the mark. For a holiday twist, Executive Pastry Chef Sally Camacho Mueller has taken a classic and added a California touch with her Pistachio Opera Petit-Fours and Mendient Mint Chocolate Discs.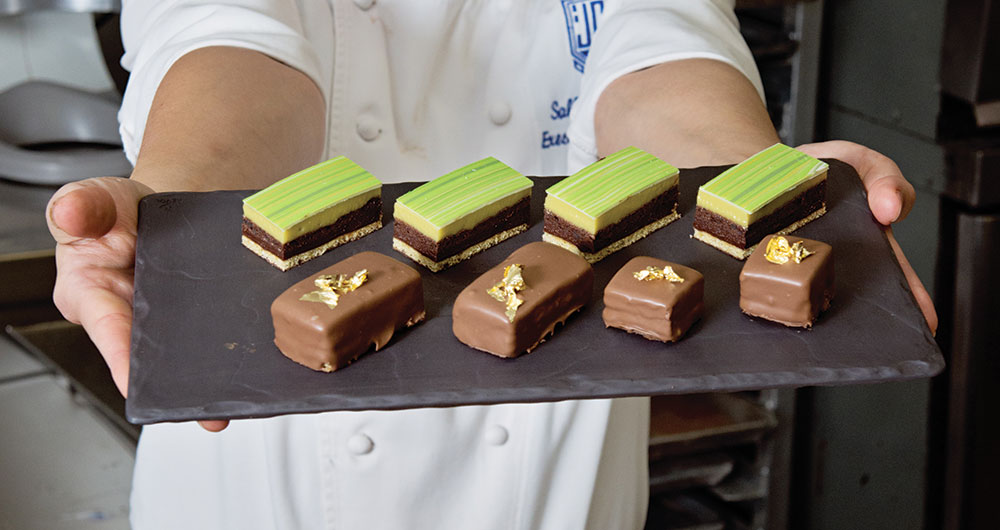 As an established Executive Pastry Chef, what inspires you?
Sugar! I love creating desserts with sugar, fruit, nuts and chocolate. Desserts make me happy! I like to see people happy when eating desserts!
You are a master of Chocolate Making and Sugar Decorating with lots of accolades to show for it. What is it like to be in those competitions?
It is an honor and a happy challenge! I like coming up with new ideas and inspirations of what to do with desserts. It is a different kind of sugar rush! I am so fortunate to have worked with terrific teams along with international pastry masters throughout my career and in the various competitions. The Valrhona Chocolate Regional and World Competitions were particularly amazing.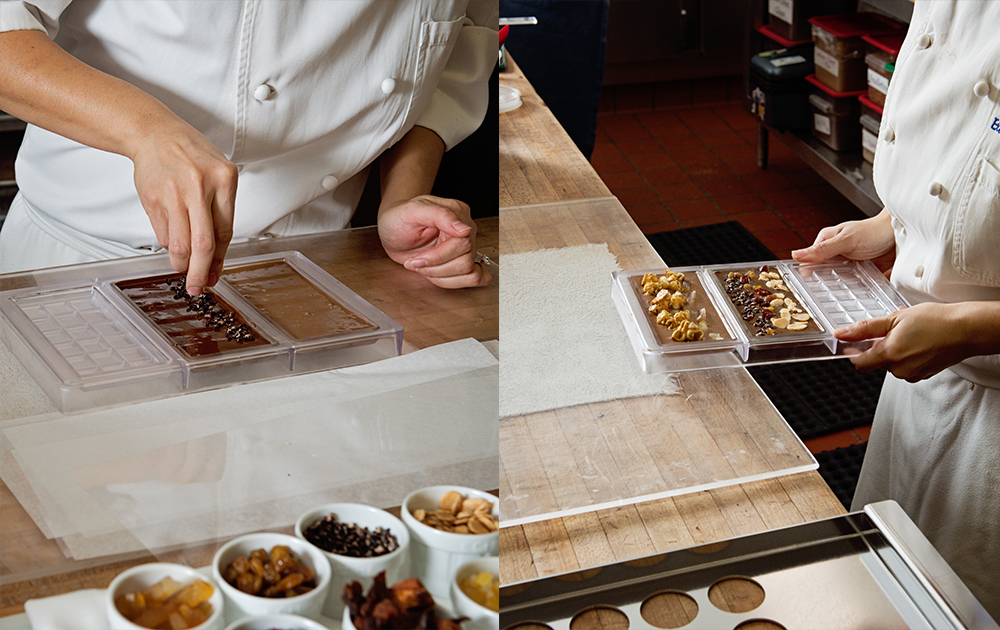 As a specialist in sweets, how do you incorporate the herbs and fruits that grow in your renowned rooftop garden at the Jonathan Club?
I am so lucky to have this terrific garden at my fingertips. It is so much fun to be able to be creative with the fruits and herbs for desserts for our members. I enjoy doing the classic cakes and pastries but I love the delicious opportunity to do a seasonal specialized ice cream or tart that has a unique twist combining the sweetness of the freshest of fruit or citrus with the unexpected bite of a fresh herb like mint or rosemary.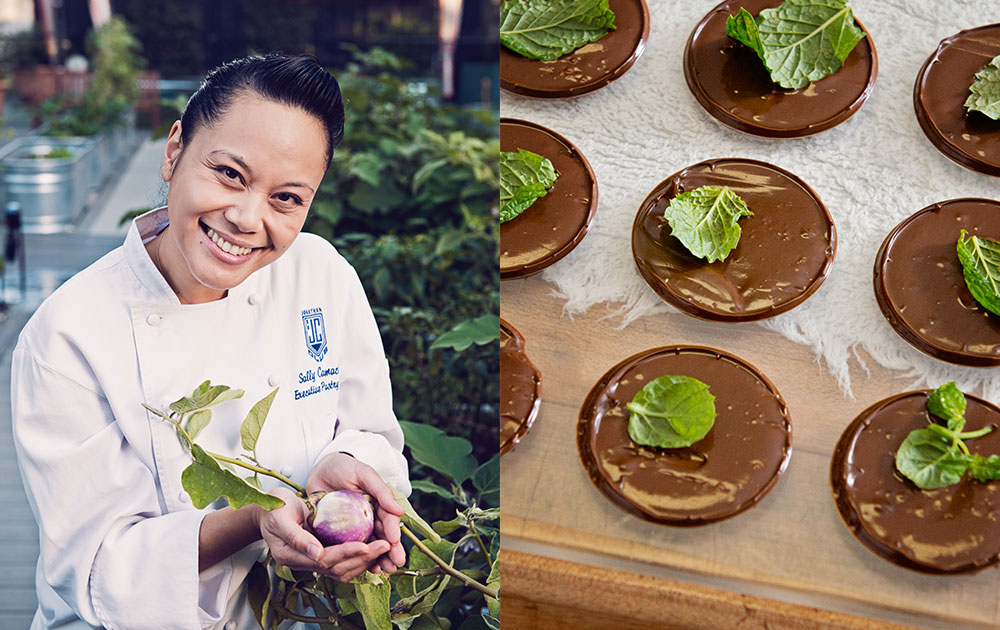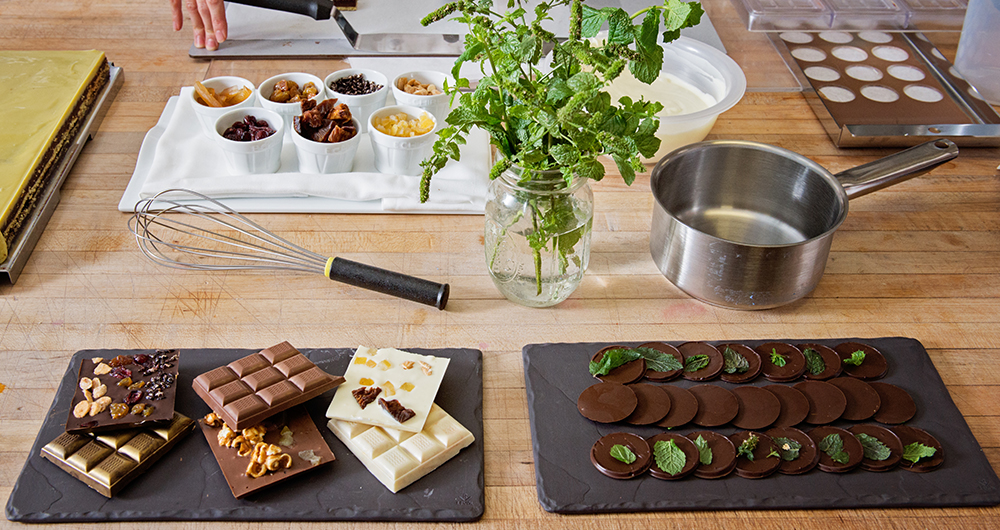 You are in charge of all of the dessert preparations at the Jonathan Club, for two major venues (downtown and at the beach) as well as private events, large and small. How do you do it?
Pastry is precise and takes discipline. I have a great team and we plan everything out in advance. What we serve in one venue may differ at the other depending of course if the menu is casual or more formal.
I love doing the spun sugar, chocolate or gingerbread display centerpieces for our special events. It is always a joy to impress our members with presentations that wow them. And petit fours or some sort of disc or bon bon at the end of a meal leaves a lasting delicious impression. It's that final taste!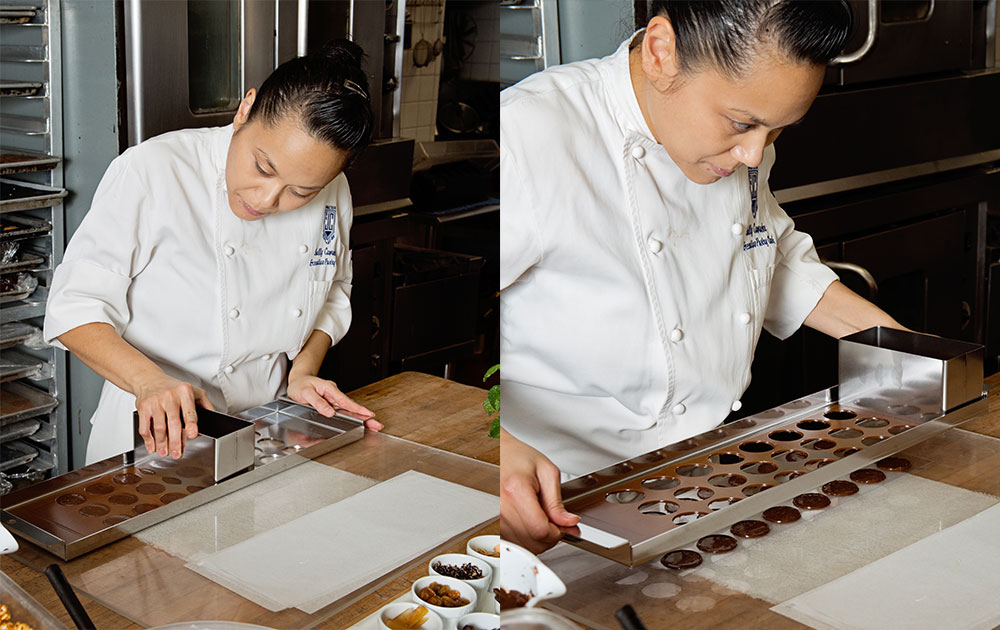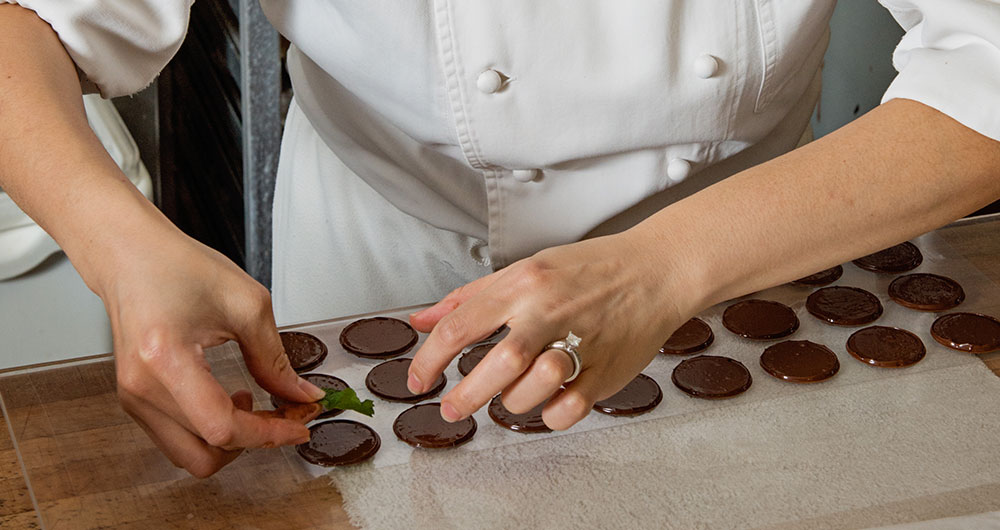 What made your version of the Opera Cake different to prepare?
The Opera Cake is a classic yet festive dessert especially with the addition of gold leaf. In this instance, I love the California twist of adding pistachios instead of almonds to the chocolate ganache of an otherwise traditional opera cake preparation. And petit-fours allow you to have one or more! I always like to offer an extra bite of chocolate for our club members at the end of a meal so I make chocolate discs with different components each time. For a holiday touch, I like adding sprigs of fresh green mint from the roof garden to these chocolate discs.
What is it about the Matfer products that make a difference to the outcome of your various desserts?
Matfer products are beautifully made and easy to use. I am very discerning with my ingredients and my materials when I work. The high quality of their products is an added boost of confidence especially when working with chocolate. It is a fantastic ingredient but can be temperamental to prepare properly. I don't worry about that when using Matfer items. I know I am going to get a refined ideal result.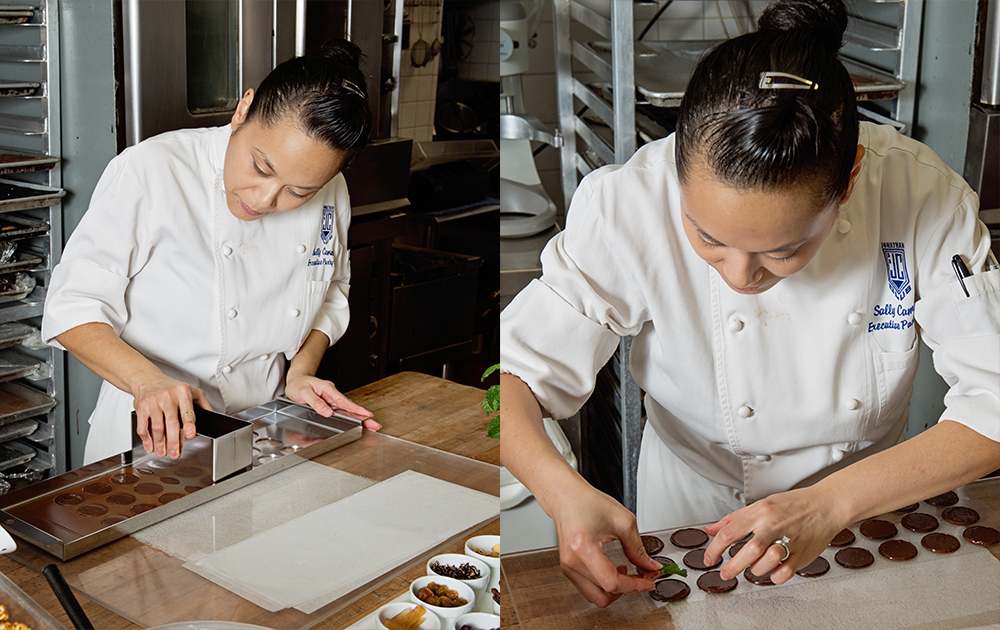 What are your favorite Matfer must-have tools?
The different sized Elveo spatulas, a flat pastry brush and the edgeless baking sheet. They are durable and precise which is vital in pastry and chocolate making! The precision of their rings with no seams and the Gastrolfex® molds are impressive. The firm yet flexible spatulas with temperature control make all of the difference when I am working and swirling chocolate.
More about Sally Camacho Mueller
A graduate of the California Culinary Academy in San Francisco and the International School of Confectionary Arts, Sally Camacho Mueller, Executive Pastry Chef at the Jonathan Club, is truly a dessert specialist.
During her established career, she has further cultivated her impressive skills at Wolfgang Pucks WP24, the Hotel Belair, the Fairmont Turnberry Isle in Miami, Bradley Ogden and the Wynn Resort in Las Vegas and the Four Seasons in Beverly Hills.
She was named one of the Ten Top Pastry Chefs in the United States by Dessert Professional Magazine and has won numerous awards as well as placing second in Top Chef Just Desserts.