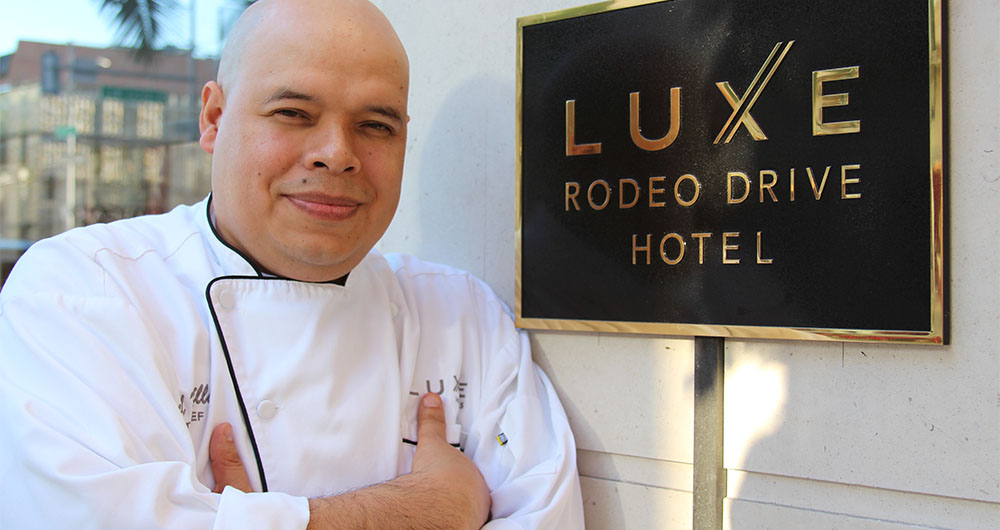 As an executive chef, you know that the purest of ingredients makes the difference in the flavor and flair of a dish. For a fresh twist and healthy start to 2015, Executive Chef David Padilla has taken root vegetables to a whole new level. Separate but united, he has mixed and matched carrots, radishes and parsnips together in his refined Root Vegetable Medley Salad.
As an established Executive Chef, what inspires you?
Freshness and purity. I love vegetables and citrus. They intrigue me as much as they inspire me. I grew up on a farm and have been surrounded by these elements all of my life. At age 5, I was picking radishes from our garden and popping them straight into my mouth!
Authenticity matters and I look for that from every angle when I'm sourcing ingredients to developing recipes and menus. And I love citrus trees. They are so Californian and whether it's a Meyer lemon or other citrus juice, it always adds zing!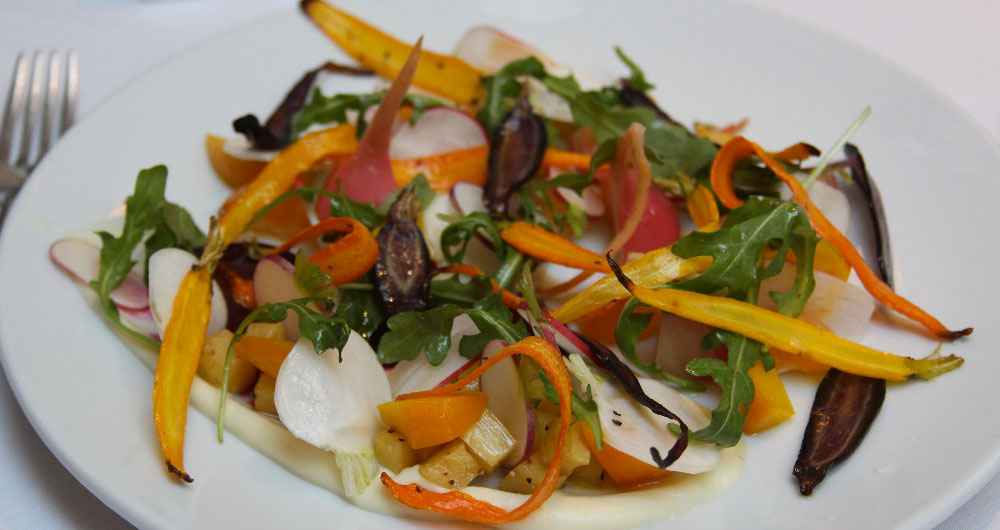 What do you like about being the Executive Chef at a luxury hotel like LUXE?
I want our guests' hotel dining experience to be a delectable and memorable adventure. Here we are on Rodeo Drive amidst the most iconic fashion designer boutiques in the world and I want to honor that in the restaurant in an elegant understated way. High quality cuisine and high fashion walk in parallel universes.
You are in charge of all of the preparations at the LUXE, from meals in the restaurant and room service to private events and special tasting menus. How do you do it?
I believe in mentoring and great training. Teamwork and respect are vital to running a happy and successful kitchen. I have a terrific team and we work together well. I work directly with my purveyors as well as paying attention to seasonal produce that catches my eye and gets my culinary brain going.
I am fortunate that I can develop classic delicious dishes for the restaurant and then be a bit more daring with tasting menus and private events when the clients are open to that. It is fun to always go for the WOW factor whether for daily or specialty menus.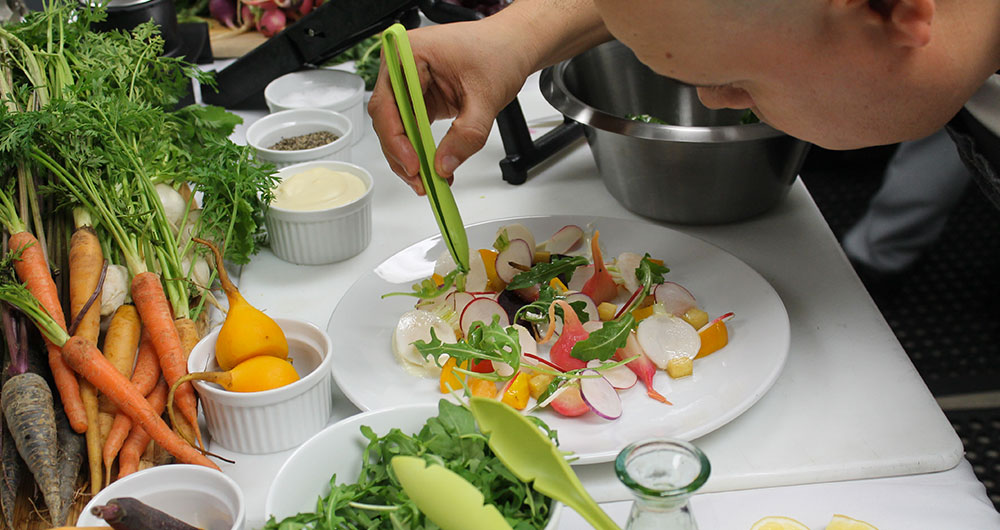 This Root Medley Vegetable Salad is stunning. How did it come to be?
There's something very appealing about the heart and soul of root vegetables. After all, they come straight from the earth' soil. They are real and hearty yet refined. I love their versatility. As members of the vegetable family, they are related but have diverse tastes and textures. And that is fun!
This allows me to vary the way I prepare each one to bring them together to create a new dish. Some are raw, roasted, slice, diced, pureed or curled. It feels like a great way to wake up the palate naturally and to start taste buds off right in this New Year.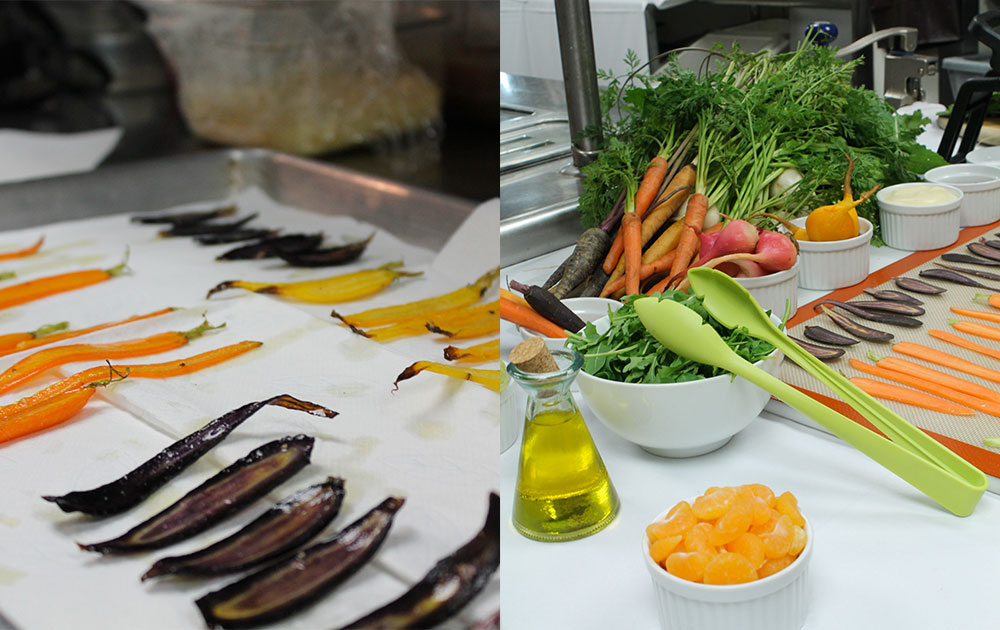 What is it about the Matfer products that make a difference in your preparation and results of your various dishes?
Matfer products are stand-alone perfect and of the highest quality. They keep up with the evolution of a modern professional kitchen. They are strong and durable, refined and reliable. I expect and need that from the instruments I use when prepping, cookingand creating. The Matfer items never let me down.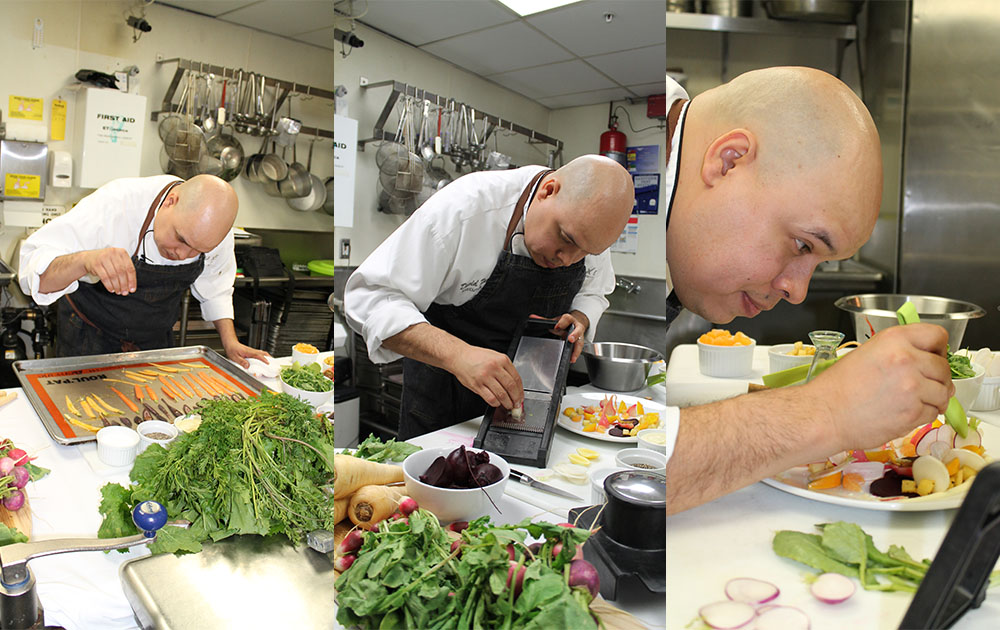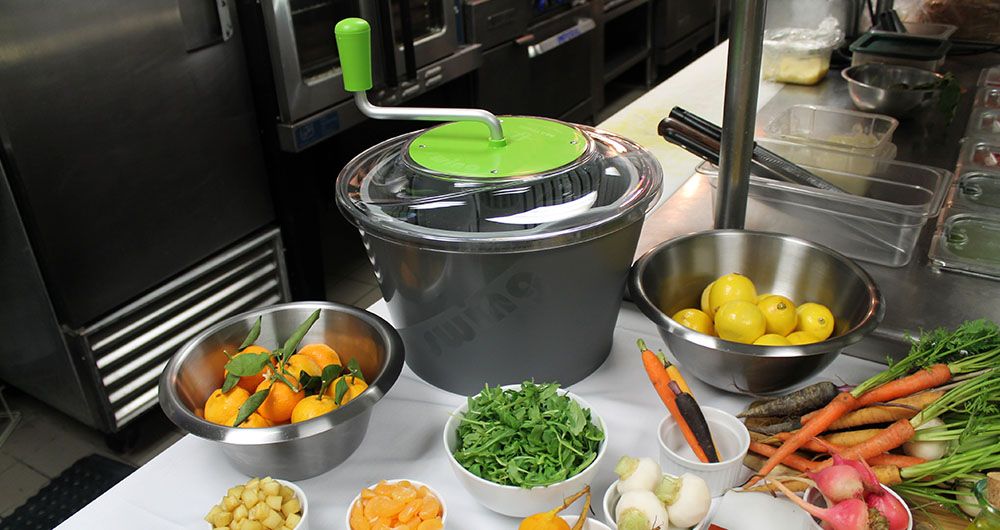 What do you think of the Mandoline 2000S, the Swing Salad Spinner, the Hemispherical Mixing bowls and Exoglass® Lime Green Tongs?
They are all terrific for different reasons. Each one does exactly what it is designed to do and even more than that!
The Mandoline is awesome because its base is stable which keeps your fingers safe and it adjusts to do different levels of thinness and thickness when "shaving" "slicing" the ingredients whether the beets, carrots, parsnips or radishes.
The Salad Spinner fluffs up my arugula nicely and I like the feel and sizes of the mixing bowls. The tongs are flexible and firm at the same time that lets me pick-up and perfectly place an ingredient or garnish.
What are your favorite Matfer must-have tools?
They are all terrific for different reasons. Right now my must-haves are the Mandoline and the tongs. The Matfer Mandoline is the best one I've ever used and it allows me to continue to develop beautiful dishes with vegetables and fruits And the Matfer tongs are fantastic!
They are much better than cooking tweezers and the cool lime green color means I never lose them!!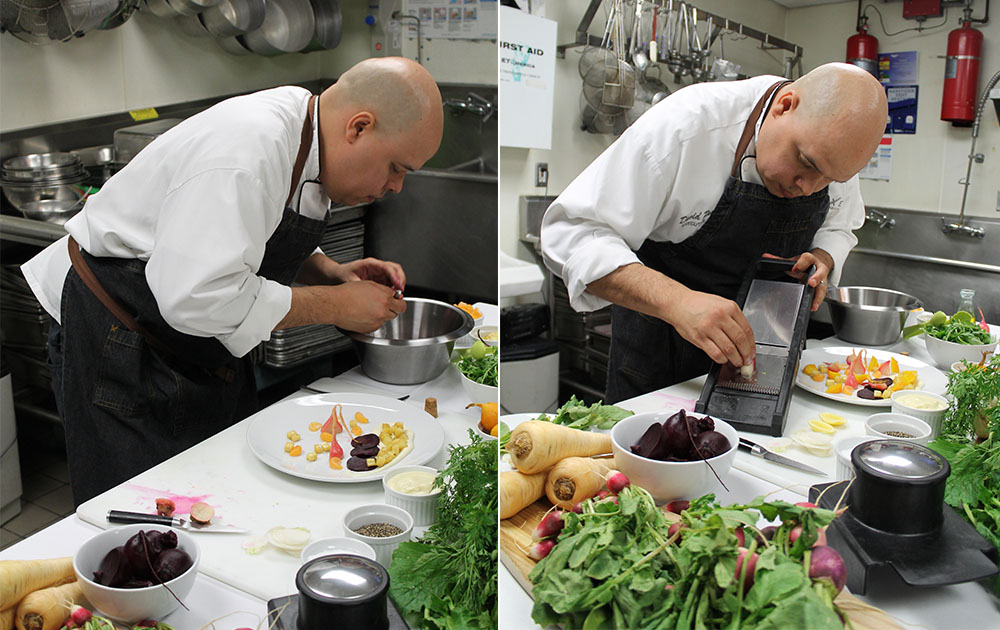 The renowned American poet Ralph Waldo Emerson said, "The greatest delight the fields and woods minister is the suggestion of a mysterious relation between man and the vegetable. I am not alone and unacknowledged. They nod to me and I to them." Do you agree?
This is exactly my philosophy. Amazing new tastes occur every time a fresh vegetable enters your mouth. Each bite is a new tasting experience. There is something beautifully simple and sacred about how ingredients grow from the soil and arrive in the kitchen to get to the table.
I am excited to always embrace these natural elements in a beautiful healthy and delicious way to create memorable dishes. I wish everyone a happy, healthy and flavorful 2015!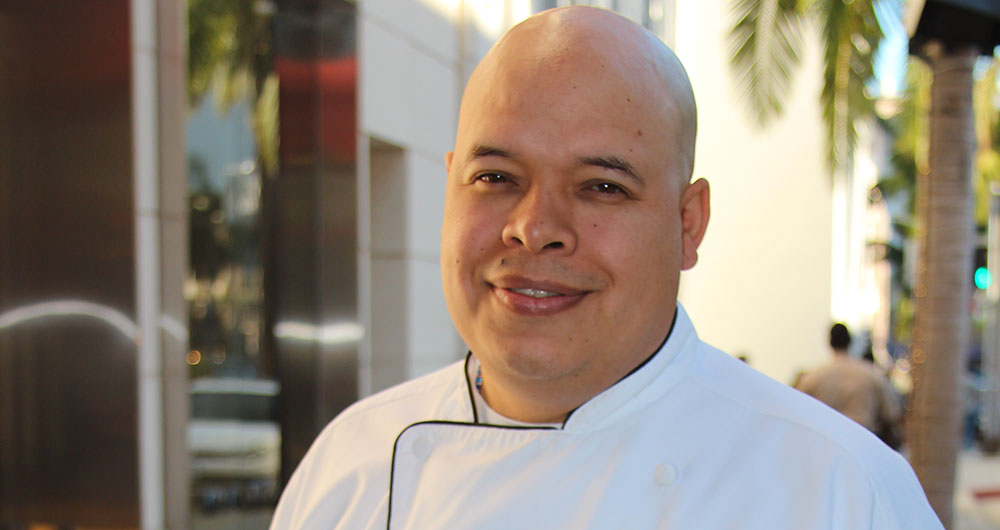 More About David Padilla
As a graduate of the California School of Culinary Arts in Pasadena California, David Padilla, Executive Chef at the Hotel Luxe and On Rodeo Restaurant in Beverly Hills, has always embraced his native California roots in his lifestyle and approach to cooking. During his formidable career, he has developed his impressive culinary creativity and skills at other established California restaurants that include Fig at the Fairmont Miramar Hotel, Gordon Ramsey at the London Hotel, the Hillcrest Country Club and West at Hotel Angelino. He is also an annual participant at the Los Angeles Food & Wine Festival and the Los Angeles Star Chef Rising Dinners and Galas.