Chef Spotlight – Derrick Peltz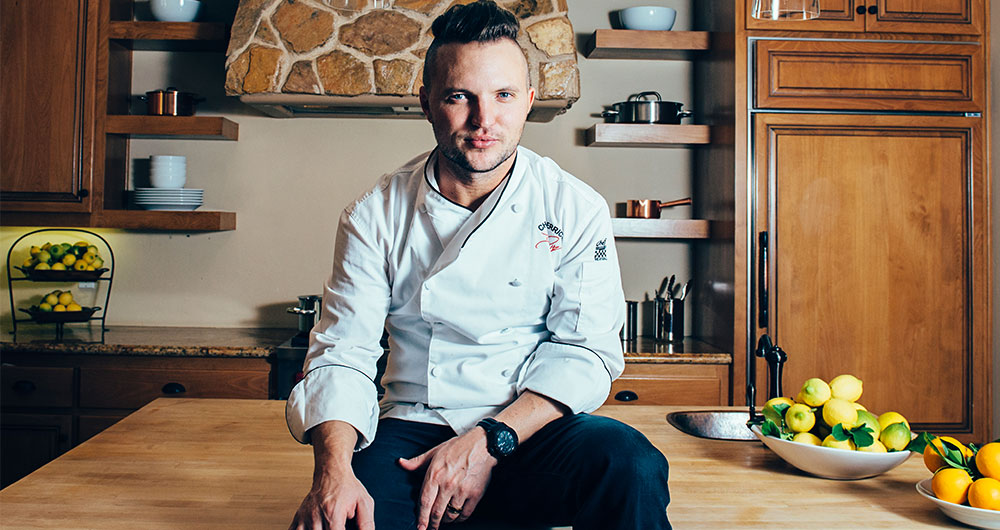 The Matfer team was thrilled to spend the afternoon with Chef Derrick Peltz recently. We talked learned more about his Time on FOX's MASTERCHEF and culinary journey while watching him successfully take a leap of faith in using classic ingredients of duck and cherries to create a stunning main course by crowning it with a beautiful lattice arch and surrounding it with colorful seasonal cauliflower.
How did you become a contender on FOX's MASTERCHEF and what was your experience like?
I love food. I was a fan of the show and Gordon Ramsey is one of my culinary idols. I learned technique from watching him cook on television and reading more about it on the Internet. I began to replicate his stuff. I was becoming intrigued by cooking, blending flavors, trying new stuff. I can be super competitive so the pulse of the show intrigued me. And then I realized I had one mission –to win MasterChef. I wanted to be able to call my Mom and say, "Mom, I am America's next MasterChef!" So I applied and got accepted for an audition. I think being a drummer who really liked to cook made an interesting story. Anyway, I passed and got on the show. My time on MasterChef was an amazing life-changing experience. I met and learnt from great people. I certainly didn't anticipate that I would end up on the road to a serious culinary career. I'm very excited and grateful about that.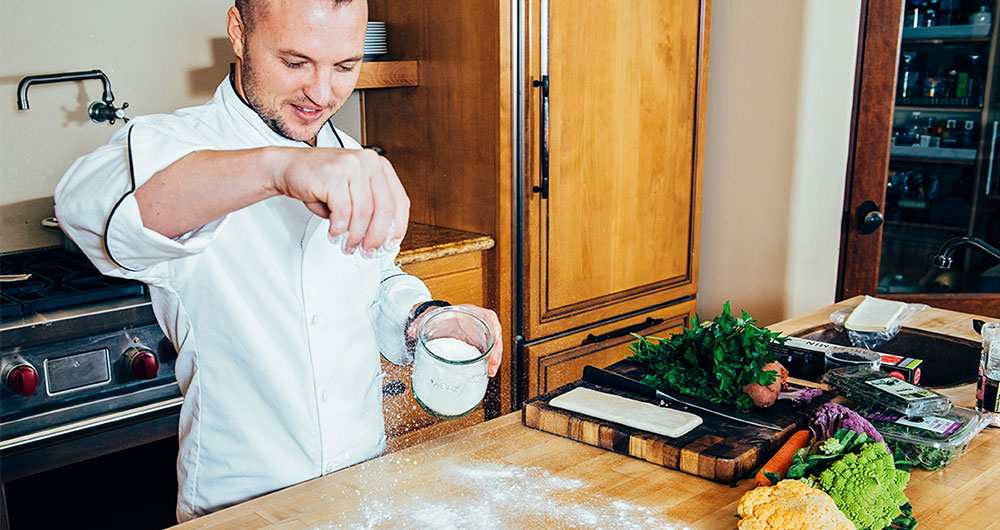 Did the pressure of cooking on live television get to you?
Sure. It was stressful sometimes especially as I began to make headway on the show. And by the end of 3 months of filming everyone is worn out. But overall, having played on stage as a band drummer in front of an audience, cooking for and in front of others didn't get to me too much. In fact, when Gordon liked my "perfect strip steak", I thought, "wow maybe I can win this." That's when the adrenalin started pumping. Focus is vital at all times but especially when the clock is ticking and there are distractions everywhere. There was a lot of general stuff I knew how to do but some dishes and tasks were new to me so I just had to keep persevering and figuring them out. That part was personal pressure but I also learned so much by doing and watching. It was a different kind of cooking school!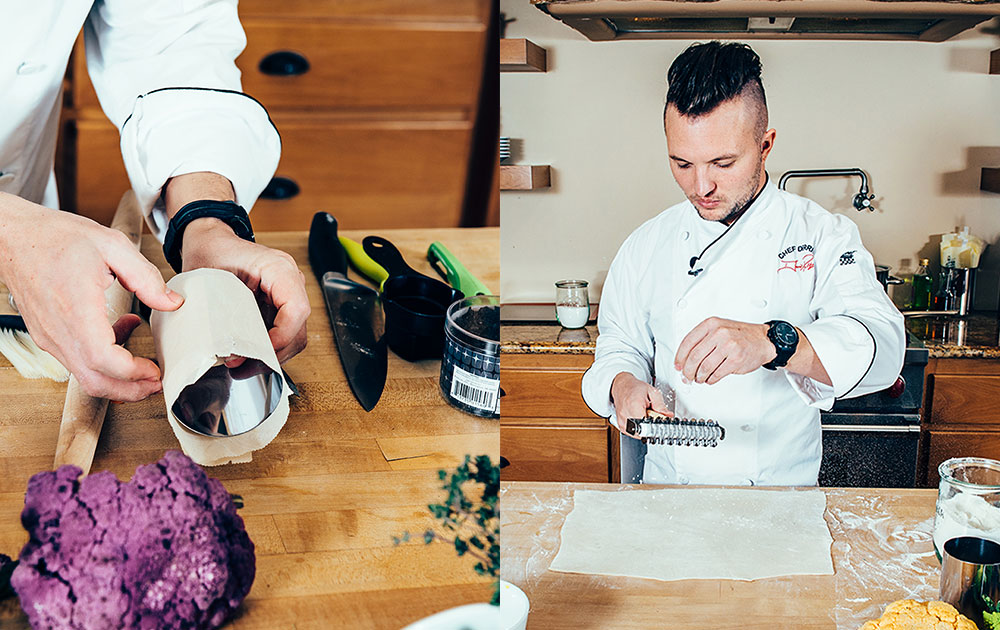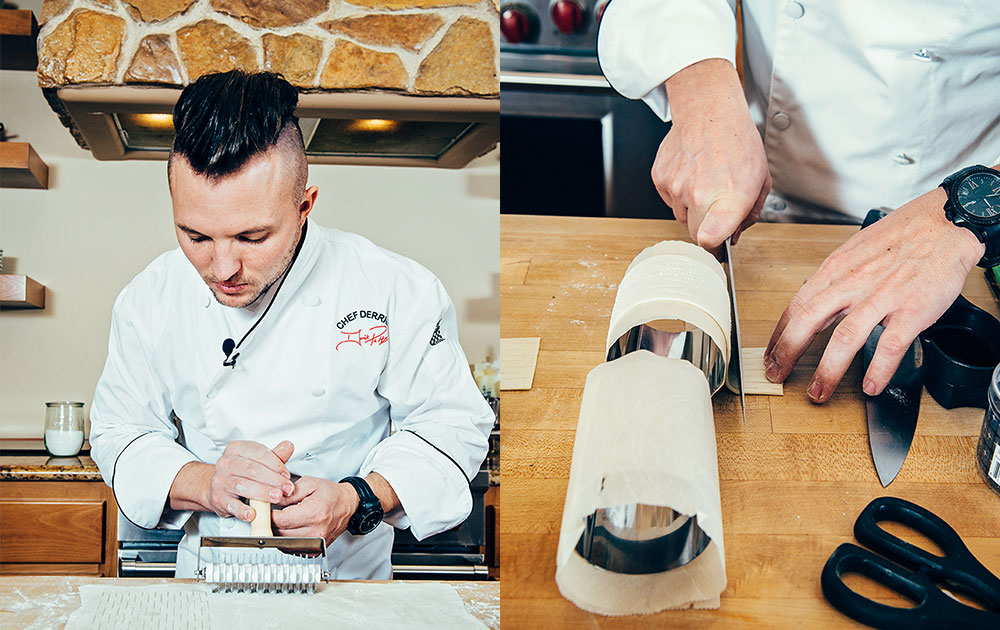 How has your culinary philosophy changed from then to now?
It has changed so much! Food has always wowed me and I will always love seeking and searching for new ways to combine ingredients and flavors. There is such a natural creative parallel for me between music and food and that feels deeper and clearer now. The show has helped me to step up my game, to push myself further, to learn more to be the best I can be. The reward for me from MasterChef has been the journey. This was one of the hardest things I've ever done and the sense of accomplishment is very real. I've come to appreciate and to realize that the culinary world is brimming with so many opportunities and mentors. I just want to keep going on this journey.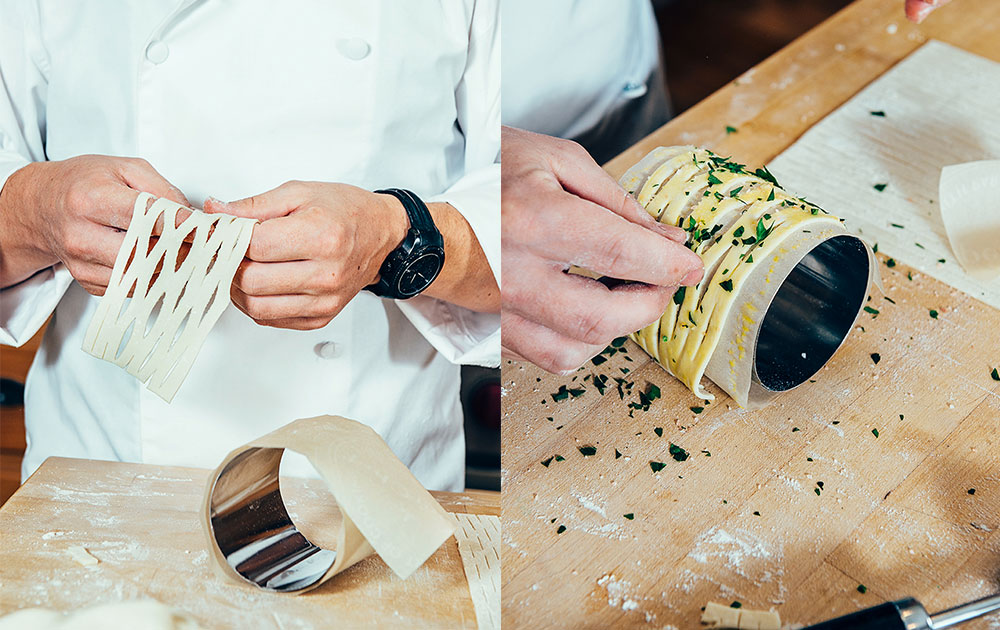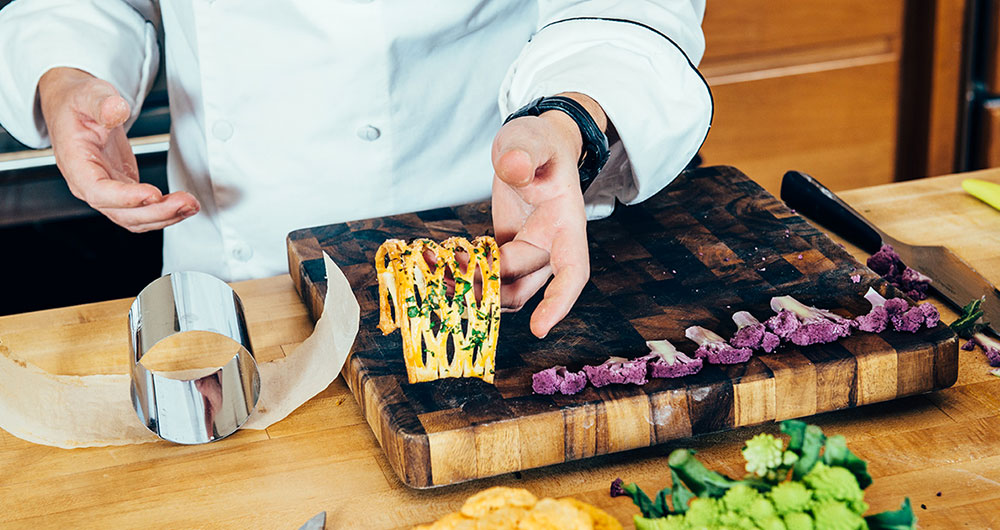 This Bourbon Marinated Glazed Duck Breast with Cherries topped by a Puff Pastry Lattice Arch is gorgeous. How did you develop it?
As a result of being on MasterChef, I've come to enjoy creating show-stopping delicious dishes! The puff pastry lattice arch adds that important plus of artistic beauty. I keep learning as I go and I wanted to develop a dish that took flavors rom everywhere I've lived. I also wanted to incorporate all the skills that I learned on the show. I've really come to like deglazing meats. This sauce is me. It contains bourbon from the South, cherries from California and Duck from the West. They all blend really well together and the colors of the cauliflower and the orange of the sweet potato puree added to the taste and the look just said spring.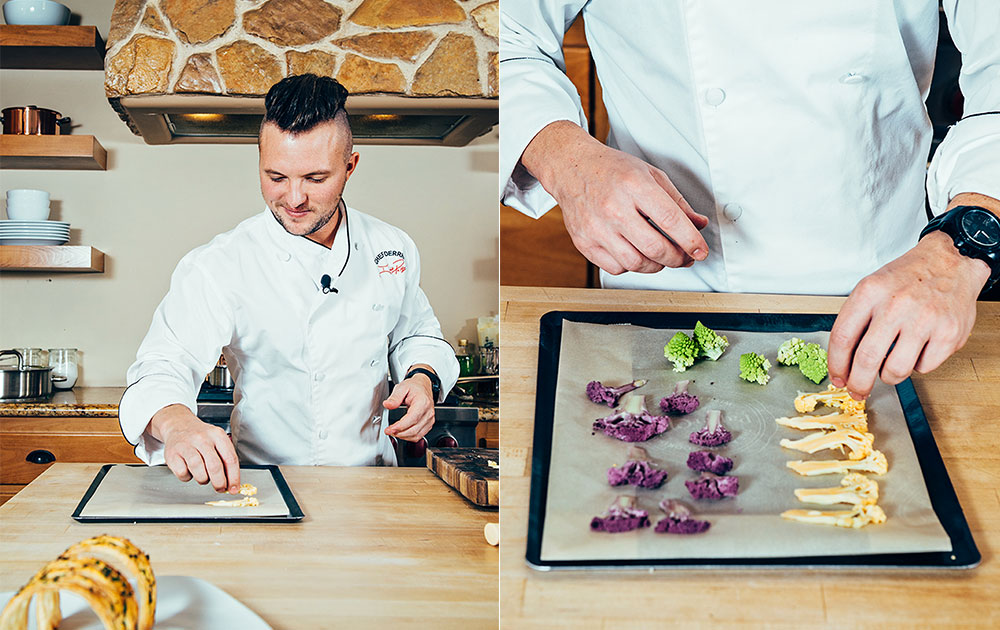 As a more newly established chef how were you introduced to Matfer products? What do you like about them?
Believe it or not, I first came to know about Matfer and its amazing utensils through the internet and Matfer's website. As I began working with puff pastry more and more, it became clear a good lattice cutter would make a world of difference. When I looked up best lattice cutter for chefs, I was directed to the Matfer site. And there was this awesome cutter. It lets me guide the tool to design and cut the intricate lattice of the dough beautifully, smoothly and easily. When I then saw all of the other amazing culinary tools they offer I was blown away. I didn't go to cooking school so hadn't heard of Matfer before. Now I understand why chefs have such respect for the Matfer brand and items. When I first started cooking I used whatever kitchen tools I could find. As I got more involved in the process and started improving my skills I realized using the right utensils for a dish preparation was as important as using the right ingredients. The hand held cherry stoner made prepping the cherries for the recipe a breeze and the ceramic fry pan balanced the heat out perfectly when I was doing the duck breast.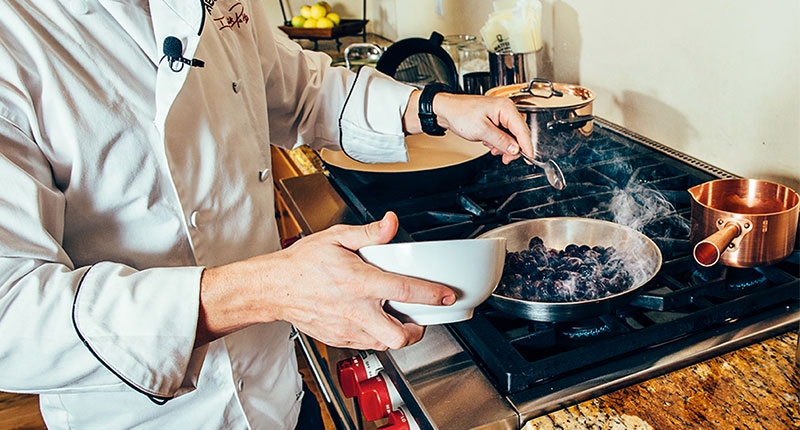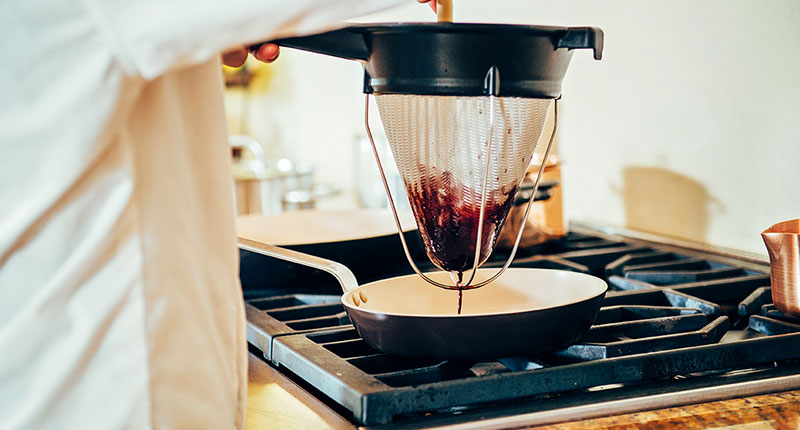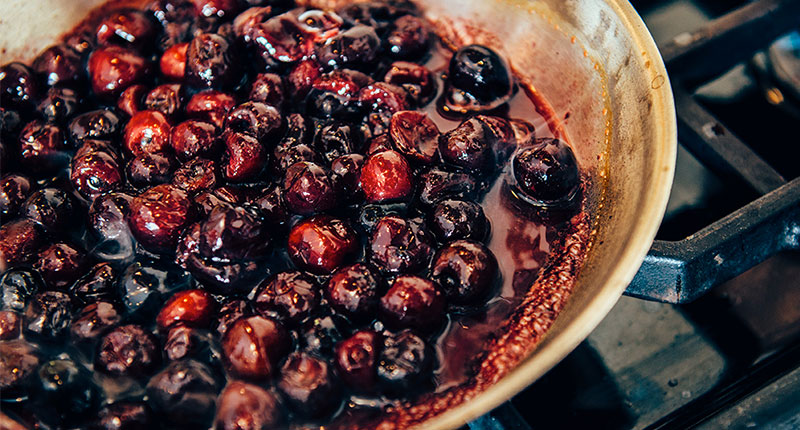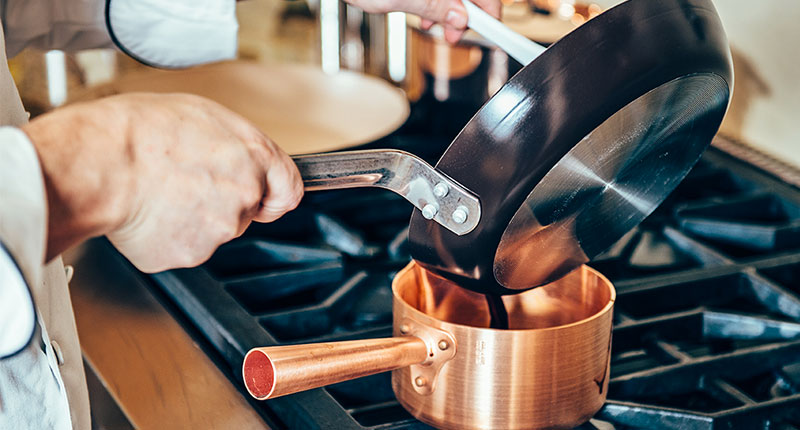 Famed English playwright William Shakespeare said, "If music be the food of love, play on." As a professional drummer and as a chef, do you agree?
Definitely! This quote to me says, "Get lost in what you are doing!" I have always said, time does not exist if you are truly doing what you love. When I play music or make food I just get lost in it and it feels the same as when you are in love. Time stands still.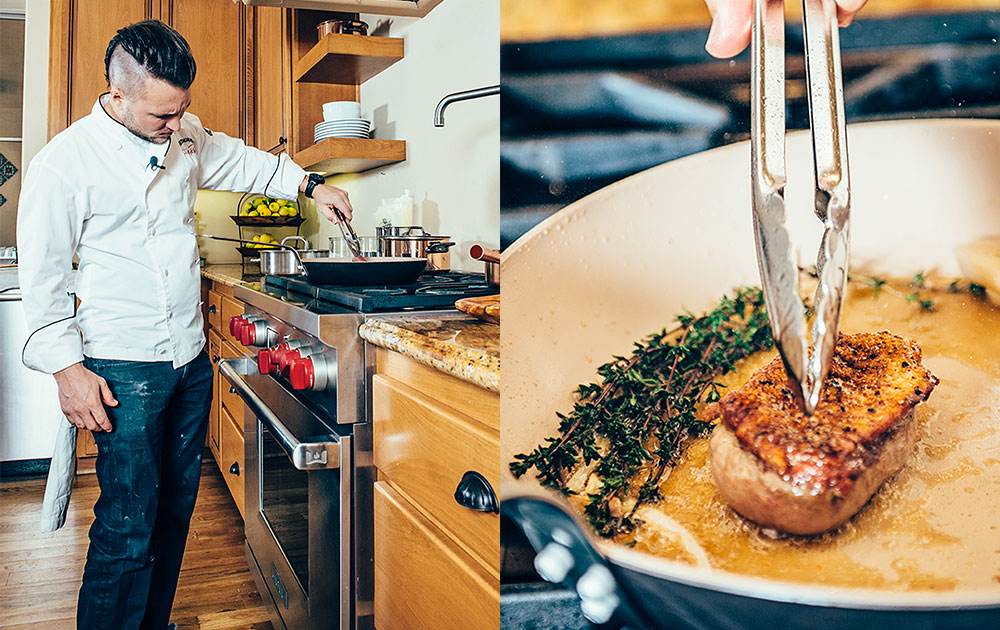 On a personal note, what are your favorite things to eat?
When I cook I love to use salt, pepper and butter because they can make anything taste good. But when I'm just hanging out at home there is nothing like a fresh flour tortilla with melted cheddar cheese topped with a good dose of Sriracha sauce. Savory and spicy flavors come together and I love it!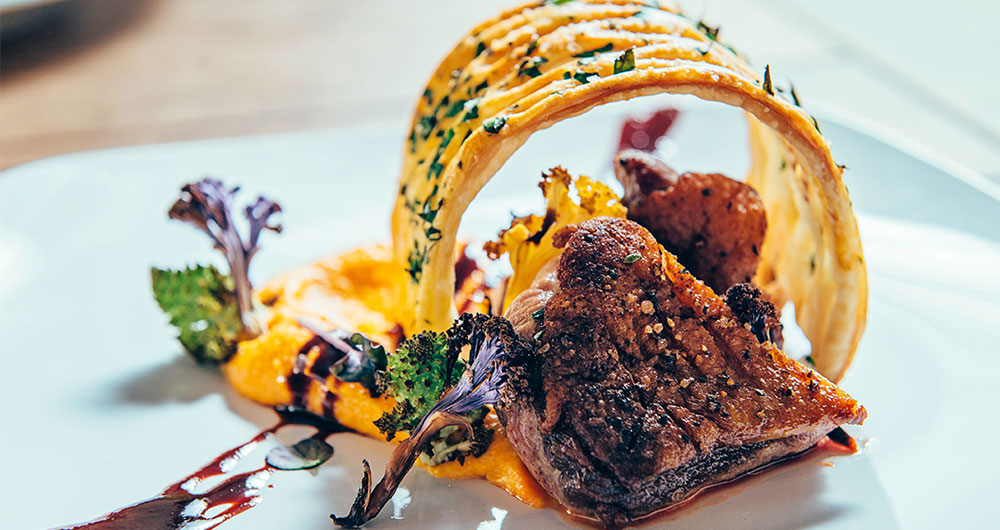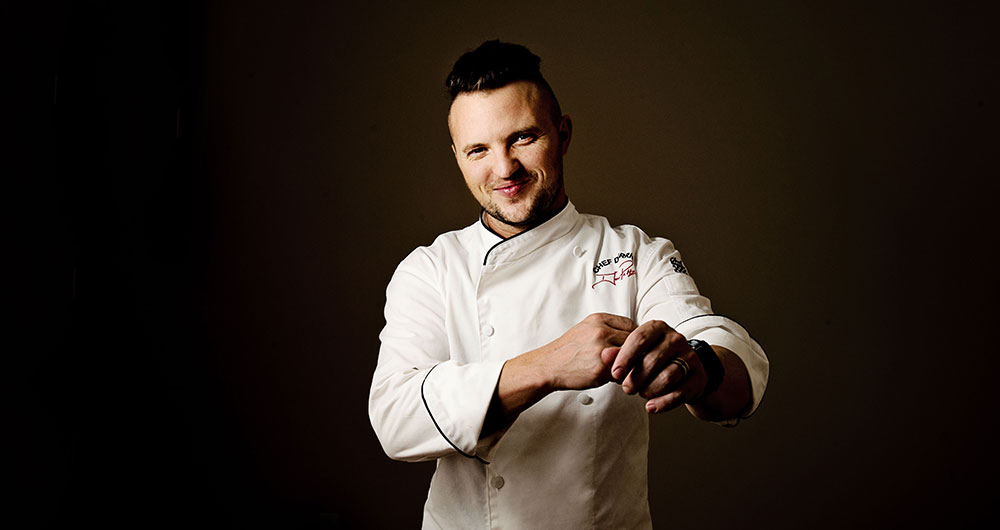 Florida native, Derrick Peltz is a professional drummer turned Chef. Living in Los Angeles for the better part of a decade, food found Chef Derrick. Having a creative side as a musician, Chef Derrick has a true love for the artistic side of cuisine. Using the parallels of music and food to create a concert in the kitchen, Derrick decided to submit a dish to the casting department of FOX Network's MasterChef. In less than 20 minutes the phone rang. That phone call turned into countless hours of working with host Chef Gordon Ramsay and his team. While a contestant, he sharpened his skills and knowledge in the kitchen and considers his time on MasterChef as a turning point in his culinary career. He was this past season's Runner-up. Currently, he cooks privately for clients as he pursues new endeavors in the hospitality and restaurant arenas.