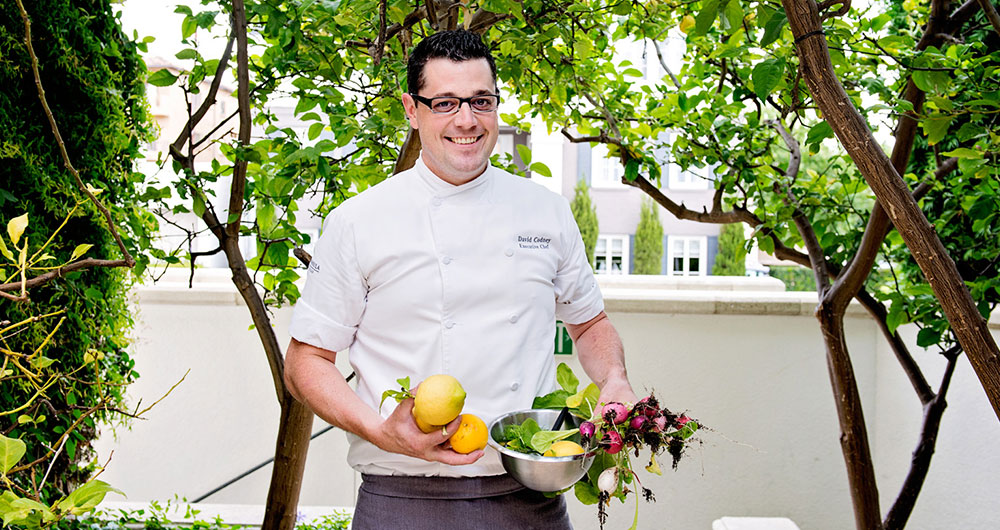 "Cool" was the feel and theme of the day in every way when the Matfer team gathered in Beverly Hills at the Peninsula Hotel to watch Executive Chef David Codney work his cooking magic. He created a stunning chilled pea soup using locally sourced Santa Barbara prawns, organic ingredients from the hotel's rooftop garden, and of course his favorite Matfer tools!
As an established Executive Chef, what inspires you to create?
The intensity and passion of cooking thrills me and I find the diversity of ingredients fascinating. They continue to feed my curiosity. I am very driven and feel so lucky that cooking became my thing. There is a calm that comes over me amidst the chaos of a busy bustling hotel kitchen. I thrive on it. I am a creature of habit but I love that the chef world is full of passionate people like me who love to learn, create and pass on their creations. It is a unique to be able to focus on what intriguing dishes I can bring to the table for patrons to enjoy.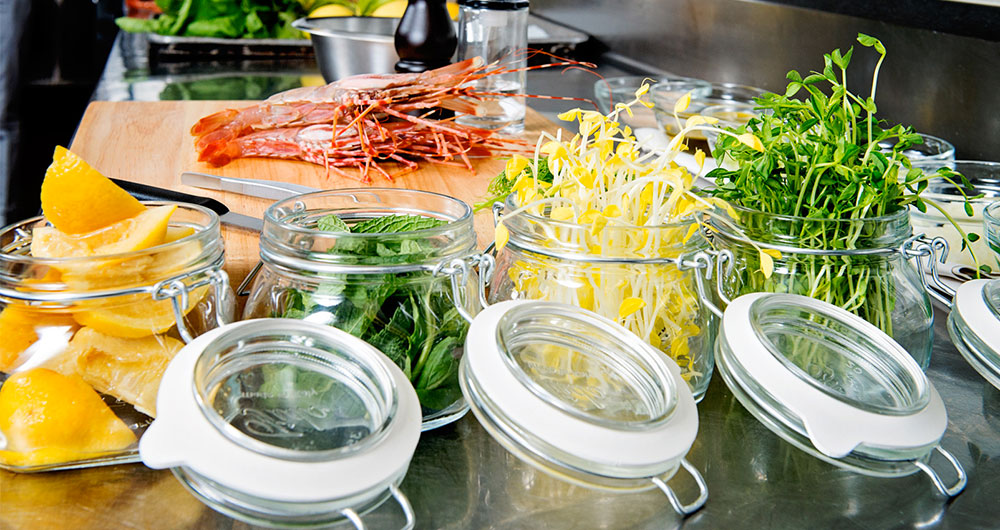 What do you like about being the Executive Chef of the Peninsula?
We have new and returning guests come and go from the hotel all of the time and that excites me. I approach each day as a new experience and a new beginning. A to and fro, and give and take process requires a positive balancing act of every member in the kitchen. I have a phenomenal team and together we are like a big wheel. We are the spokes and at the center of the wheel are the guests. We take great pride in giving our guests a memorable high quality excellent experience that is expected of this hotel and our dining venues. We prepare and serve them the best and most refined cuisine we can no matter what the meal, occasion or time of day.
This chilled, very pretty pea soup has a luscious texture and a fantastic flavor topped off with a colorful prawn, radishes and pea shoots. How did you develop it?
Soup seems so simple to make yet the beauty of its simplicity is in the multi-layers of its preparation. Ingredients and their flavors should blend so that they enhance each other not overpower one another. It should also flaunt a refined texture topped off with alluring and appealing garnishes that are relevant. And this combination does that. I loved using the fresh fennel and heirloom radishes from our roof top herb garden, as well as the lemons from our tree that has been here since the hotel opened. The sweetness of the Santa Barbara prawn adds another dimension to the taste. To me, the freshest of garden ingredients coming together in a chilled soup just says summer.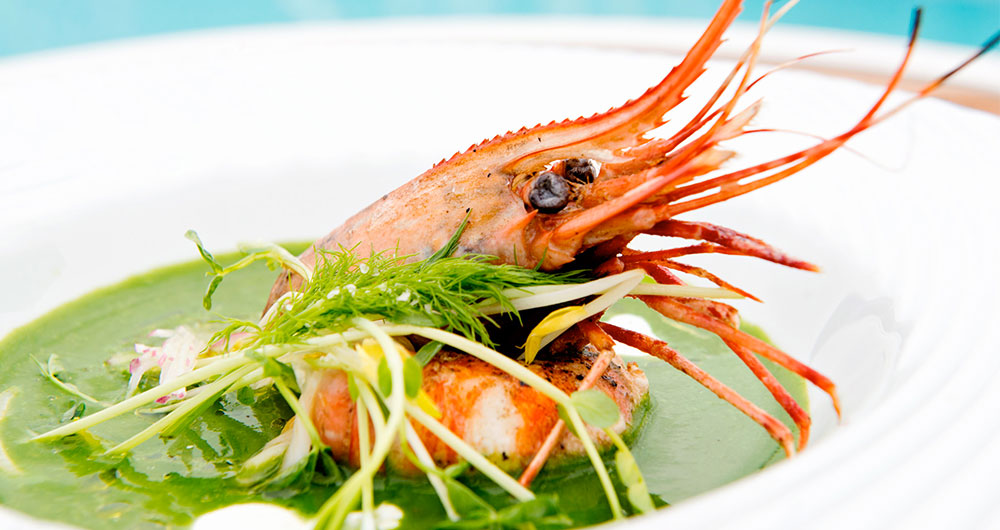 What is it about the Matfer products that make a difference in your preparation and results of your various dishes?
Matfer's materials are the best. Each product is a winner. I was introduced to them at CIA where I graduated. Since then, every established kitchen I've ever worked in has always had Matfer items. I've used the various elements throughout my career and they never ever let me down. They just hold up. You can tell Matfer designers talk to chefs and respect the cooking process from start to finish by the items they produce. I love the subtle touches in their designs- the handle grips, the steel pans, the jars. The high quality of Matfer is a respectful extension of what I do. Begin and end food preparation with focus and respect. Respect the tools, respect the process, respect the ingredients and you get a phenomenal result.
What do you think of Matfer's Exoglass Bouillon Strainer, Stainless Steel Ladle, Piano Whisk, Exoglass Petlon Spatula, Exoglass Professional Peeler, Wood Pepper Mill & Salt Grinder, Jam Jars & Chef's Tweezers?
They are all just great. I keep them in the Peninsula kitchen and use each one regularly. The Exoglass Bouillon Strainer is fantastic especially when I'm making soup. When I'm straining the liquid, I push it through with the very efficient long handled Matfer ladle and it comes through smooth and silky. The strong heavy plastic base supports the strainer so I can push hard, and I love the fine mesh of the strainer's net. I've always been a fan of the Matfer whisks and spatulas. They are firm yet pliable and last forever. Again the quality of these products is impressive. I love the look and feel of the tall sturdy pepper mill in my hand and it grinds the pepper really well.
I'm intense about my mise en place and I think the jam jars are even better than glass bowls. They're deep and clear so I can see what's where when I'm cooking and they are wide enough for my hand to grab something or fit a spoon in to scoop or sauce something out of it.
I like the various lengths of the Matfer tweezers. Different ones give me flexibility when I'm garnishing a dish with final touches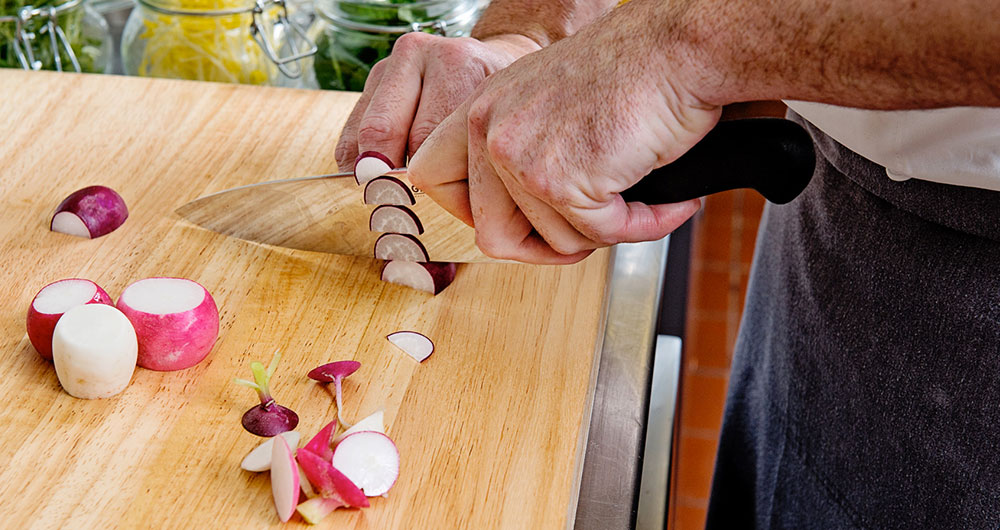 What are your favorite Matfer must-have tools?
I love love love my Matfer Black Steel Pans. I have them in various sizes and use them all of the time. They heat up quickly and cook evenly. They're ideal for searing or sautéing. They are my go to item along with the ladles and whisks.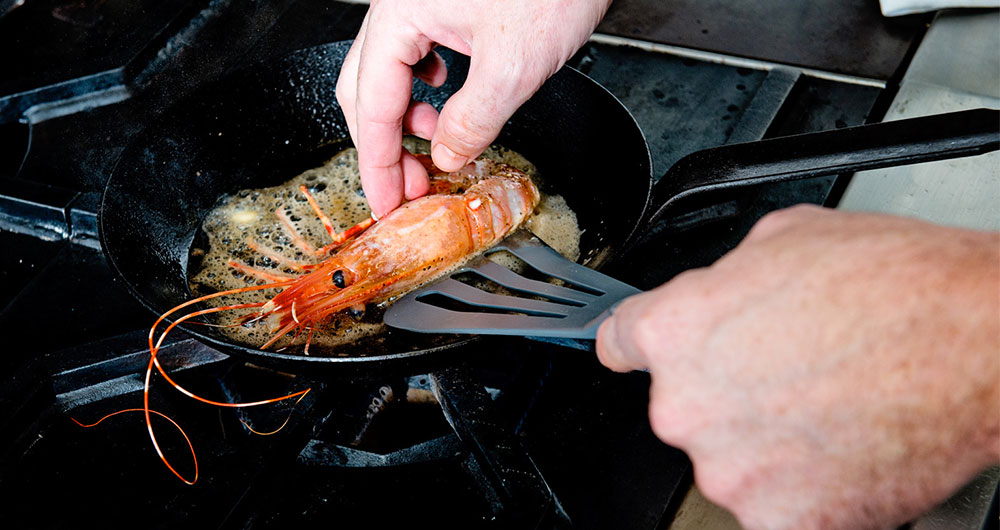 Auguste Escoffier, a 19th century renowned French Chef and author of La Guide Culinaire said, "Of all the items on the menu, soup is that which extracts the most delicate perfection and the strictest attention." Do you agree?
I do agree. And I'm a perfectionist! Soup to me says it all and sets the tone for a successful meal. It is all in the details and approach to achieve that winning result. When I'm hiring new kitchen talent, I test with soup. I can see right there and then what kind of chefs-in-training they are. I watch how they prepare it –from their station set-up to their basic process combined with creative flair.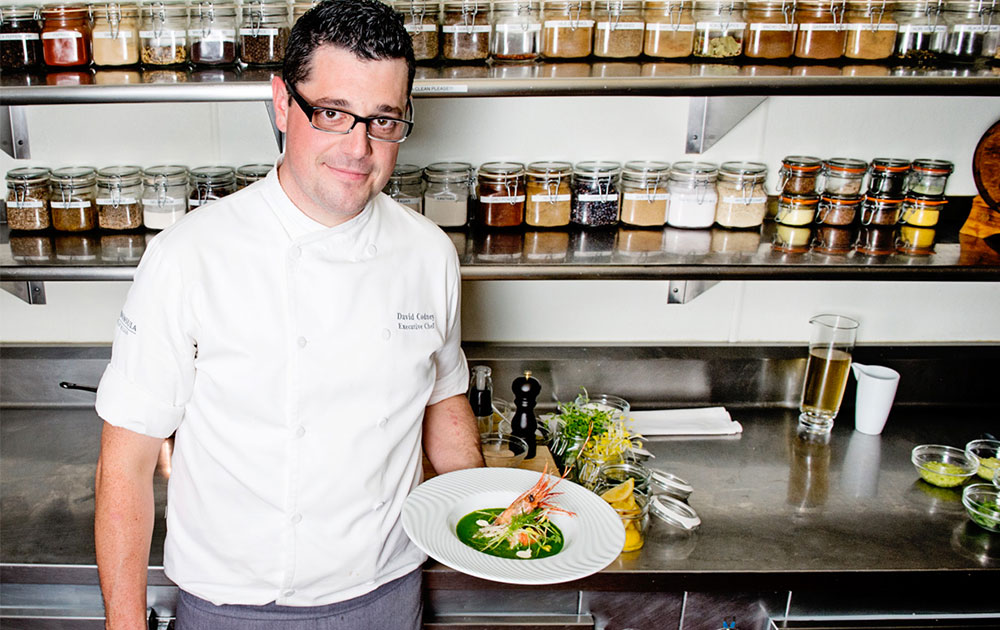 On a personal note, what do you like to eat when you're not working?
I'm a back to basics guy, so simple and fresh, anything authentic. Honestly? It really depends on the day and what I've been cooking
As an inspirational chef, you can create your own chilled soup sensation when you use Matfer's Exoglass Bouillon Strainer, Stainless Steel Ladle, Piano Whisk, Exoglass Petlon Spatula, Exoglass Professional Peeler, Wood Pepper Mill & Salt Grinder, Jam Jars & Chef's Tweezers.
Nothing pleases Executive Chef David Codney more than when the kitchens for the award -winning Belvedere or Roof Top Restaurants at the AAA Five Diamond Peninsula Hotel in Beverly Hills California are bustling. A graduate of the Culinary Institute of America in Hyde Park, New York, David spent a significant part of his early career with the Ritz Carlton Group in Naples Florida. There, he eventually became Executive Sous Chef. During his tenure with Ritz-Carlton, he cooked under three Certified Master Chefs and was a guest chef at the James Beard House, the Naples Food & Wine Festival, and the Southwest Winter Wine Festival. He also served on the Ritz-Carlton Task Force, helping to open new Ritz-Carlton hotels throughout North America. In 2002, he won a Gold Medal at the Javits Center International Food Expo.