Executive Chef & Restaurant Owner, Eric Greenspan's talent and passion for cooking and creating bold memorable dishes is evident and becoming legendary.
How does a classically trained chef with James Beard nominations and other numerous accolades become the Grilled Cheese Invitational Champion of 2008?
I have great respect for classical training and precision in cooking is very important. I did a lot of that in my move up the culinary ladder. But what is just as important is to take that knowledge and put your own soulful spin on it. Basically, for that invitational I deconstructed a traditional cheese plate and put it into a sandwich. After I won, I became known as the King of Comfort Food and specialty grilled cheese concoctions. So I rode the wave, got more creative and eventually opened Greenspan's Grilled Cheese. It's a blast.
The mix and match approach of how you serve shellfish is unique. The dish you have prepared–clams over pasta in a vadouvan curry and green apple broth– is intriguing and delicious. How did you develop it?
Broth is king. It is that basic. If I can make flavorful hearty broths the rest will follow. So that's what I do. I love shellfish because of its delicate texture and subtle taste. And it is always a big part of coastal cuisine. So to put the two together is a natural combination for me. It feels rustic and refined at the same time. But I want my guests to choose what they want to taste and try. So I created five different broths that can be served with clams, black mussels or shrimp over pasta and with an egg. That way they can eat the shellfish and then add the softly poached egg to the broth and pasta almost as another course.
With this dish, I personally love the tenderness of clams and this broth's bite of curry with the slight bitter bite of green apple complements it very well. It's a little more unique for those that want to go in that direction. But I also offer the classic broths like leek and white wine, tomato fennel, spicy sausage romesco or pistou pesto.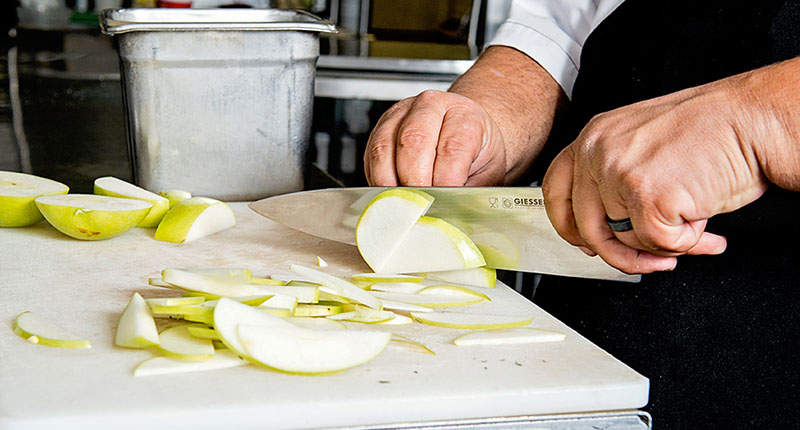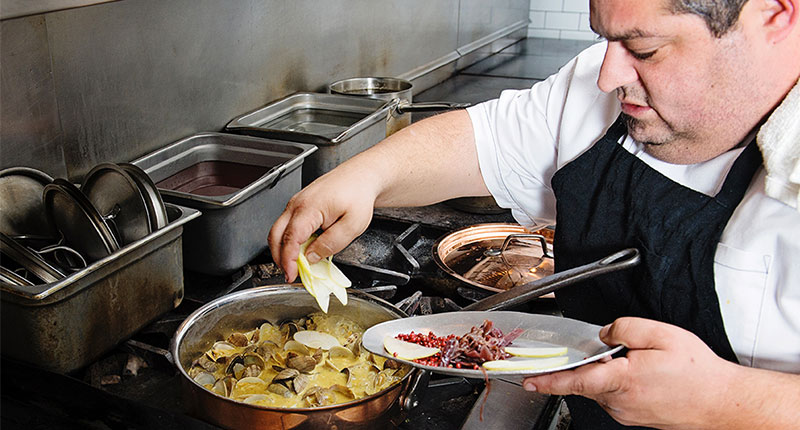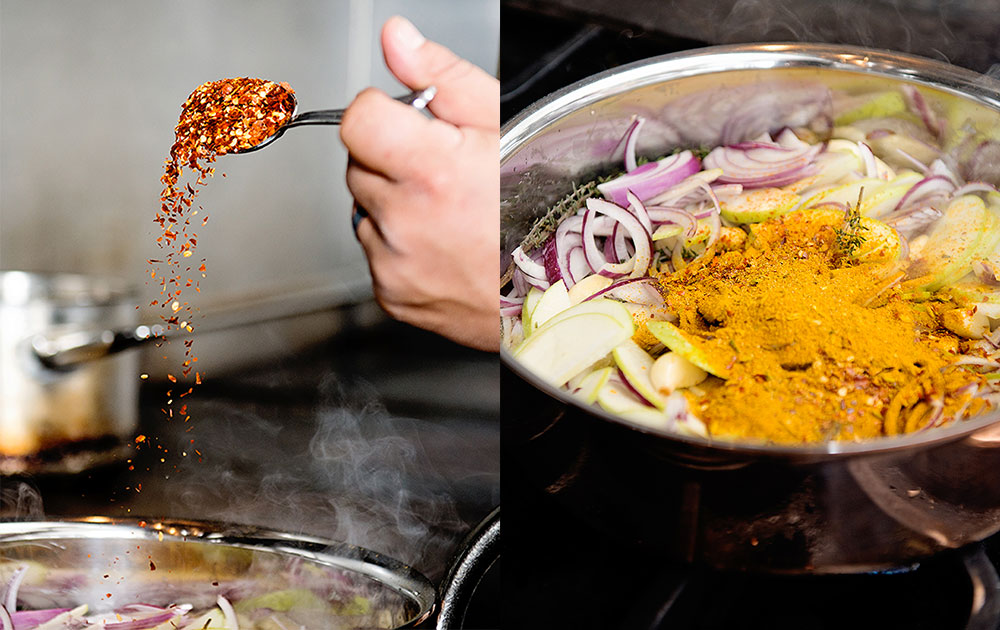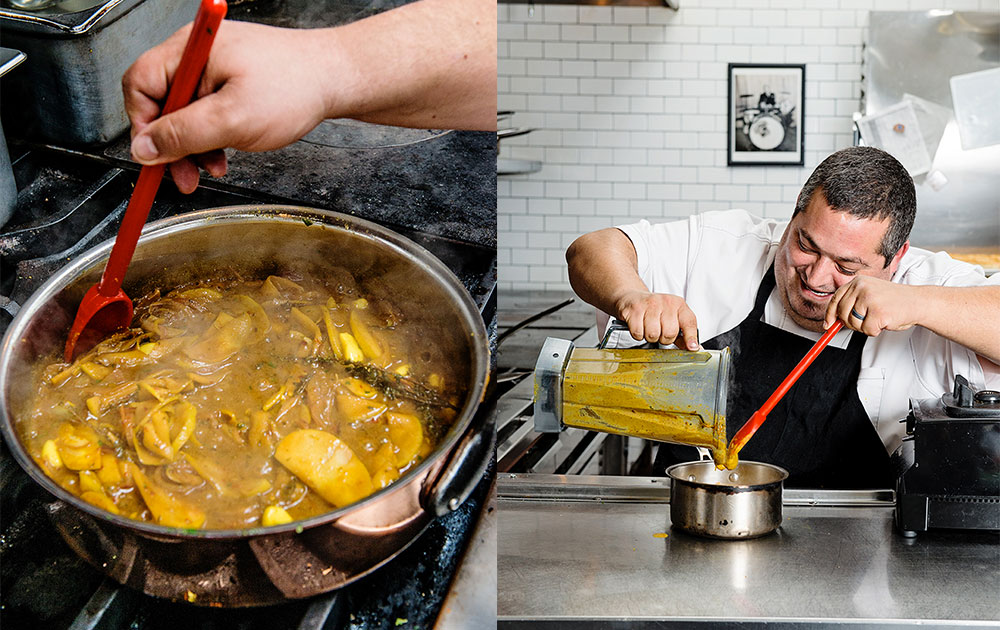 As an established Executive Chef & restaurant owner, what is your philosophy for success?
Follow your heart and your intuition to do what you want to do and to do what is right for you. If you don't have a passion and love for cooking don't do it. Be committed to the passion. That's my philosophy and approach every day. I like to accomplish things and cooking allows me to do that. It remains a personal visceral experience. I have enormous energy to create and cooking does that for me. I like being an owner because nobody is telling me what to do and it gives me freedom to think out of the culinary box to develop and to strive for newer, better, different. But there is also a huge responsibility when you are an owner.
It is not only about pleasing the patrons and making sure your food delivers a high quality memorable experience for them. As an owner, it is also about impacting the lives of the members of your kitchen team and helping them to become great at what they are learning and doing. If your people know they can count on you and trust you and that you care about them, they will give you their all and if not, they will think it's just a job and your restaurant won't succeed. A successful restaurant affects everybody involved. The mentoring element is a big part of it for me. Having a well-trained staff that knows I care about them is vital.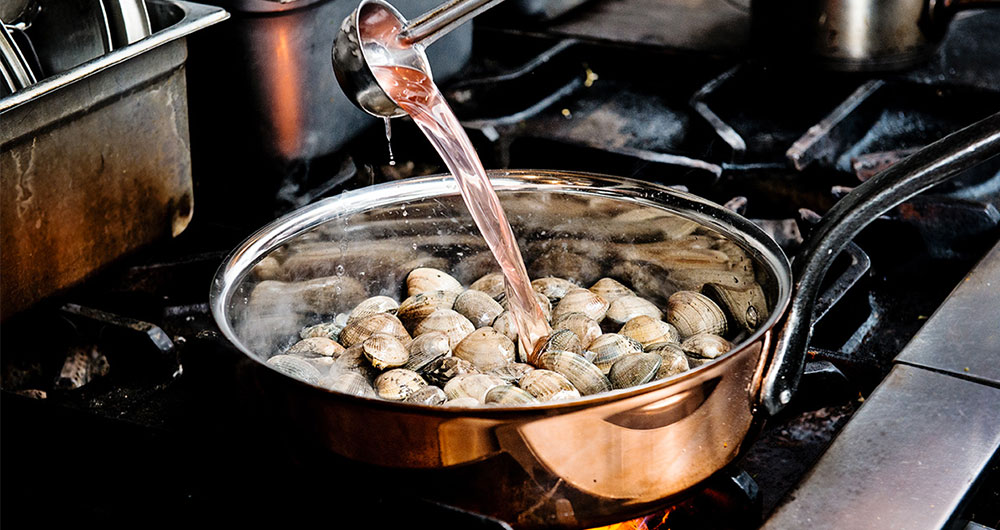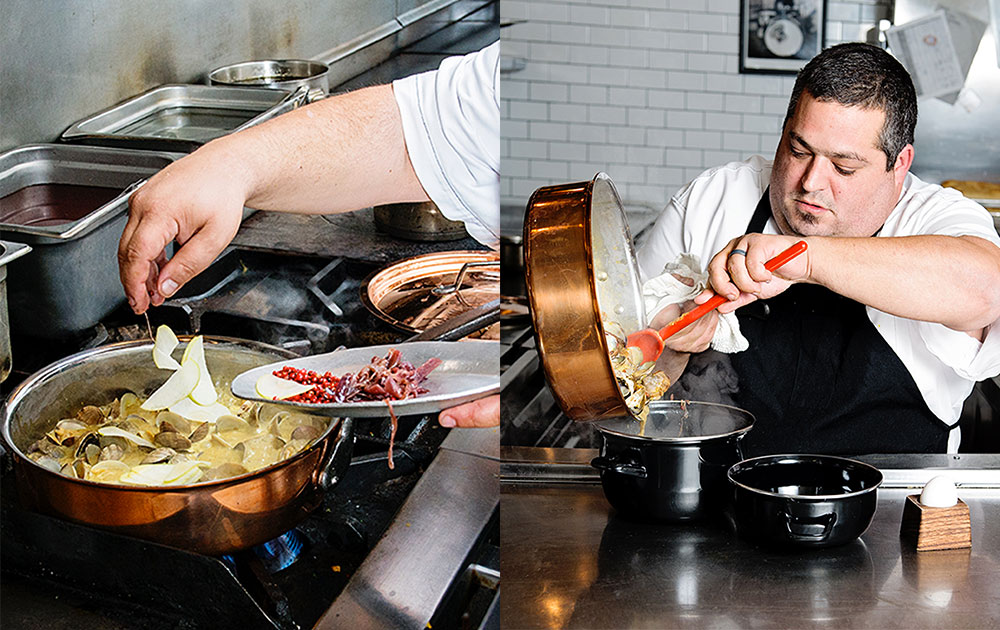 You went to business school and cooking school. Why both?
Cooking is not all fun and games and the restaurant business at the end of the day is a people business. I am very much a people person so it is a good fit for me. But to be successful in and out of the kitchen I believed I needed to know how everything worked so I could get that balance right. Once I fell for cooking I always knew I wanted to own my own place. I worked hard and learned from the many of the best by working in their kitchens. I gathered knowledge and expertise from every side. At the center of it all, I just really love to cook. And I realized along the way that I prefer small kitchens. I feel more magic happens there than in big kitchens which feel more theoretical to me. And I don't cook or lead that way. I'm the in your face guy, guiding you each step of the way. I'm intense but encouraging. I'm the first one in and the last one out.
You use Matfer products in all of your kitchens. What is it about them that make a difference in your preparation and results of your various dishes?
Matfer items have been in front of me throughout my career from cooking school to all of the kitchens I trained in and then worked in or ran. They are beyond durable and the breadth of variety of high quality equipment impresses me and meets my needs for each restaurant. It says a lot that one brand cares about all aspects cooking from the smallest spatula or spoon to the pots and pans. I love the mussel pot and lid, perfect for cooking and serving.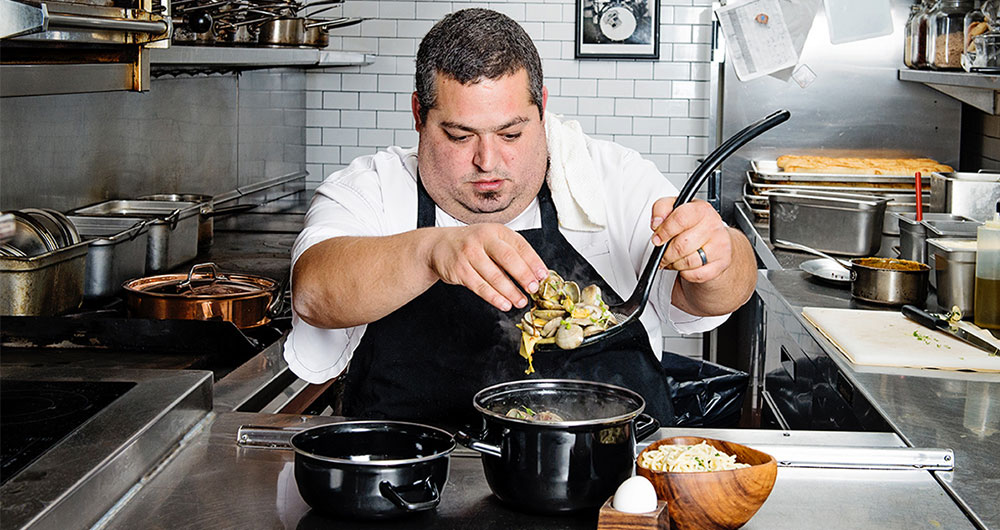 In the center of your kitchen at Maré is a photo of music great Chick Webb? Why?
Chick Webb is my man! Music and cooking are a lot alike. He was an amazing jazz and swing music drummer as well as a bandleader in the late 20's and early 30's. He had a spinal deformity so was short and hunchbacked but it didn't matter to his larger than life attitude and performances. It was always forgotten when he played. He played with soul and passion. He didn't let anything get in his way. He would compete with other bandleaders especially Benny Goodman. They would do Stompin' at the Savoy.
Benny played with precision and Chick would turn that same piece on its head and play it with passion and soul. I'm all for precision because that is mandatory in music and in cooking. But that's cerebral. For true greatness in music and cooking you've got to take risks and interpret precise ingredients-like musical notes- in different ways—to create amazing results. His photo hangs in my kitchen as an inspiration to me and to my team. It reminds us to keep the soul and passion in dishes and to keep striving to make them better.
Lou Holtz, the much-respected American football coach said, "I follow three rules. Do the right thing. Do the best you can do and always show people you care." Do you agree?
I agree with this on a multiple of levels. Doing the right thing is doing the best you can do as a person, a chef and as a business owner. Of course, the right thing in the kitchen is to use the freshest ingredients. There is then the artistic craftsmanship level of being a chef. The right thing is to prepare and cook well each and every time I do the dish. I owe my patrons that. It shows people that I care and appreciate them dining at my restaurants. I am only as good as my last dish and I want to do each dish better than the last time I did it.
There is also the level of caring on and off the job for my team and staff. To me, this is mentoring. They learn how to prepare well, cook well and care about what they do here and for the patrons that come to eat with us. They become committed because I believe in them and encourage them professionally as well as support them in other aspects of their lives. You need to live it and breathe it and taste it and listen to your people and your customers.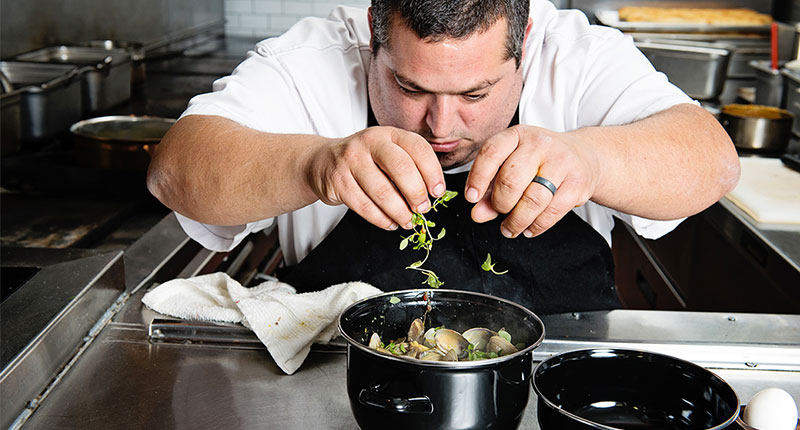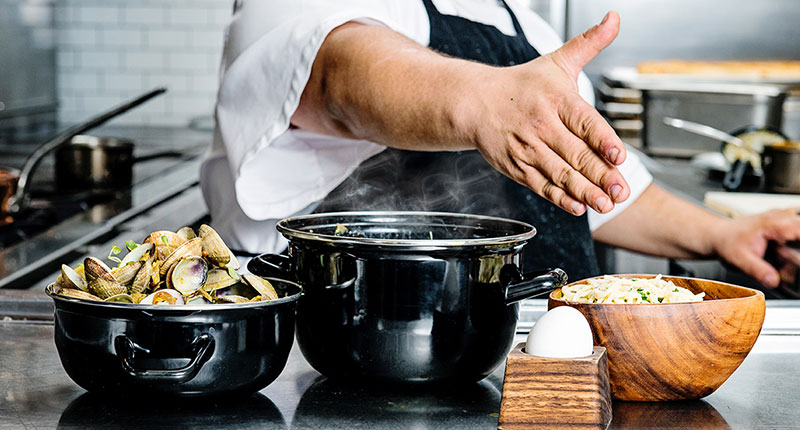 The stunning patio at Maré is tucked away behind Greenspan's and visitors have to go through that restaurant to get to this one. Can you elaborate on its story and its concept?
I like having a casual eatery, but I knew I also wanted to still create fine dining dishes with a rustic touch in a relaxed beautiful setting. And that's how the idea of Maré came to be. It has a small menu with big flavors and refined touches. It features Coastal cuisine. I love the elements from the coast whatever part of the world that may be so it allows me to create and to push myself in new directions with the freshest of ingredients. The surprise of the treasured hideaway setting I hope only adds to the experience.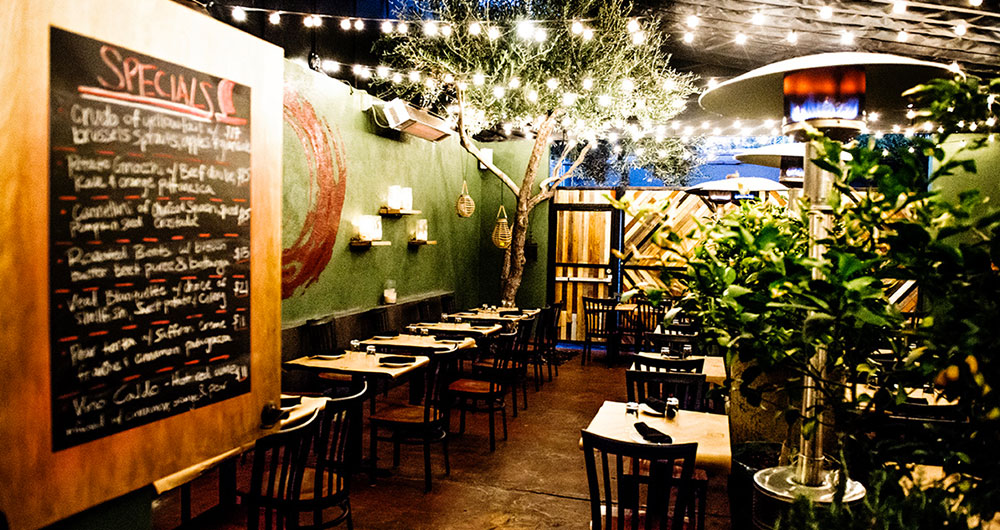 What is your favorite ingredient to use when you cook?
I have lots of ingredients I really like to use especially when they add that extra added something to my bases and broths. But one ingredient that I'm always drawn to when cooking is fennel. I can't exactly pinpoint why it stands out for me but I always look for it wherever I am. I don't like licorice but I love fennel. It' s strong yet subtle and I can do so much with it in my dishes. It's in my broth. I serve it char-grilled, on my crudité platters and use it when roasting fish.
On a personal note, when you're not cooking, what do you like to eat?
I love almost everything as long as it is executed well. But personally, I absolutely love Chinese Dim Sum and all of its variety of ingredients and flavors.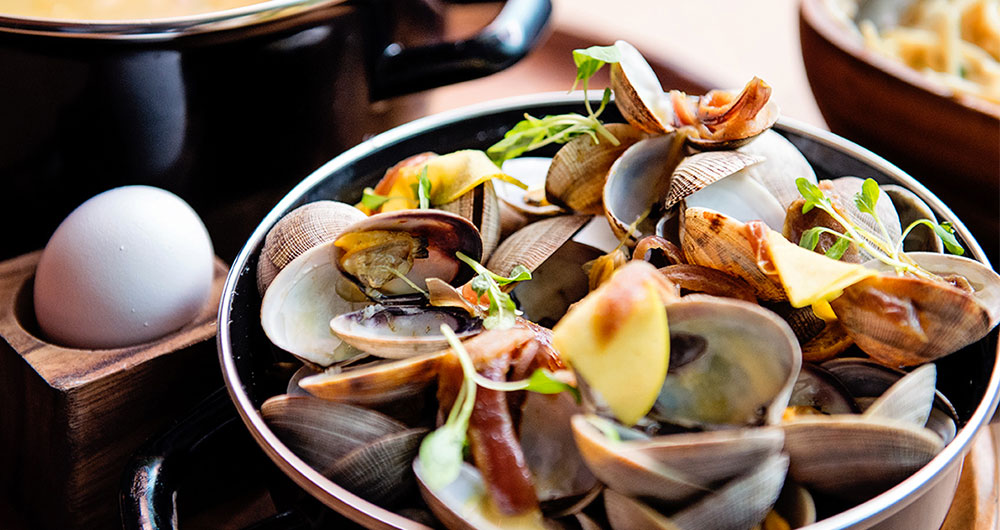 TOOLS FOR THE TASTE

As an innovative chef, make clams the star to create your own shellfish-based concoction and use Matfer's Copper Sauté Pan with Lid, the Mussel Pot with Lid, the Exoglass® Skimmerand Spoon as well as the diverse Giesser Knives.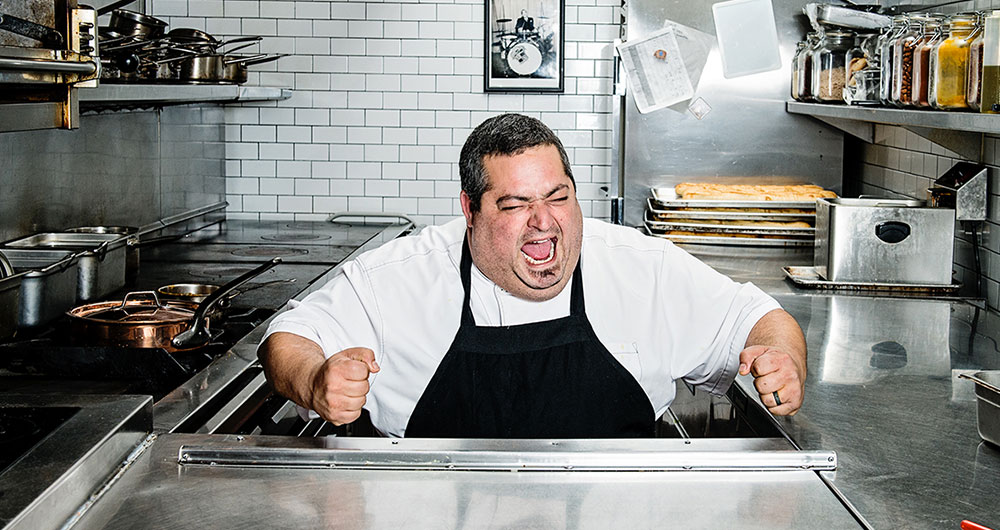 MORE ABOUT Eric Greenspan
Having graduated both from Berkeley's Haas School of Business and the Cordon Blue Culinary School in Paris, he has trained with celebrated chefs including Alain Ducasse, David Bouley, and Joachim Splichal. While Executive Chef at the renowned Patina he was named one of Angeleno Magazines "Eight Hot Chefs" and his kitchen garnered both a 27/30 rating and a "Top French Restaurant" from Zagat. In spring 2007, Eric opened The Foundry on Melrose to rave reviews and resounding success.
Eric has competed on numerous culinary competition and food-reality shows, including Food Network's "Cutthroat Kitchen All-Stars," "Chopped All-Stars," "Guy's a Grocery Games All-Stars," "The Next Iron Chef," "The Next Iron Chef: Redemption," "Iron Chef America Countdown" and "Iron Chef America" where he defeated Bobby Flay in a throw-down. Eric is the Executive Chef and owner of Greenspan's Grilled Cheese, The Roof On Wilshire and the recently opened, seafood stunner Maré.