CHEF SPOTLIGHT – JET TILA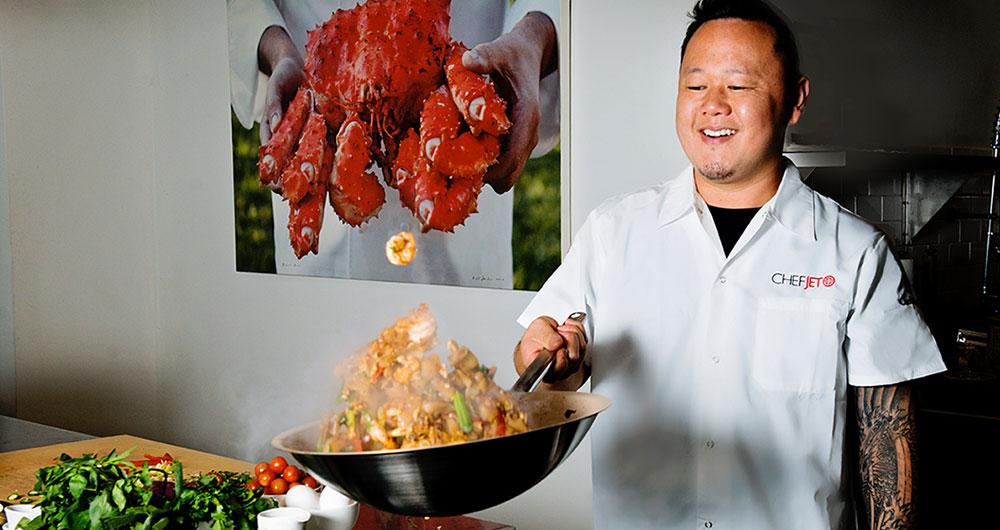 The Matfer Team had an exhilarating time with Executive/Celebrity Chef Jet Tila in Los Angeles watching him work his wok magic! He created his famous and fabulous Drunken Noodles as well as luscious lobster using ideally matched Matfer tools.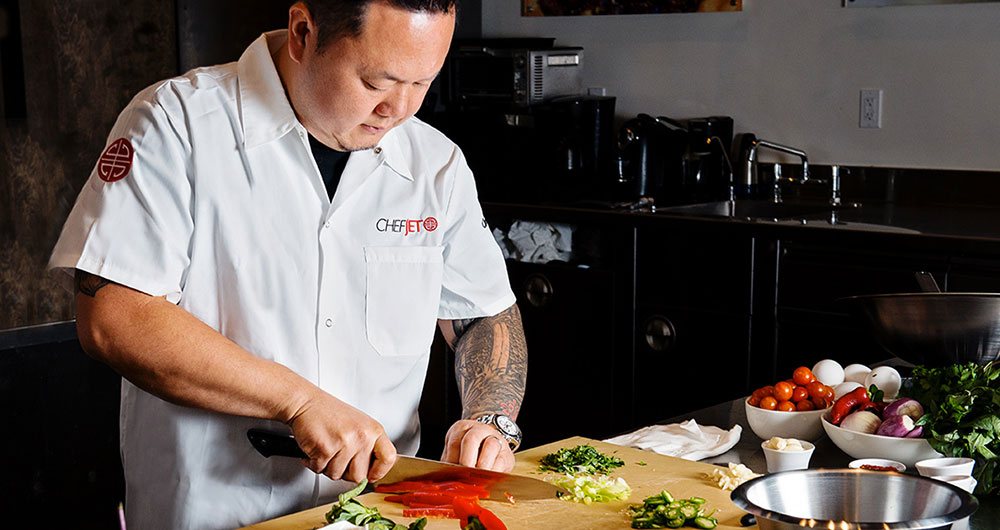 You have such energy and passion. As an established Executive Chef what inspires you?
I'm always inspired by my family's culinary traditions and history. I'm aware that everything I cook has been done before by my great grandmother, my grandmother and my mother. That knowledge is always with me.
I initially learned by watching my Cantonese grandmother cook recipes passed down to her. My parents arrived in California and opened Bangkok Market one of the first Thai markets in the country and then the Royal Thai restaurant in Los Angeles. I grew up in that environment. I worked in the store and in the restaurant from the bottom to the top. Asian ingredients were always around me from noodles to lemongrass to chilies to special spices. I remain curious about how it was done before and how it can be done today.
I respect the connection between then and now, the Old and the New Worlds. I enjoy teaching people about where I come from through my food. It is actually how my joy of sharing Asian flavors and techniques through teaching began. I started showing customers how to make Pad Thai and other noodle dishes in the back lot of my parents' store as the interest in Thai cooking was on the rise. I now do culinary tours through Thai town to showcase its tastes and traditions. I'm still learning all of the time and sharing those lessons. I am a chef, a student and a teacher with every dish I create or recreate. I'm inspired every time I cook.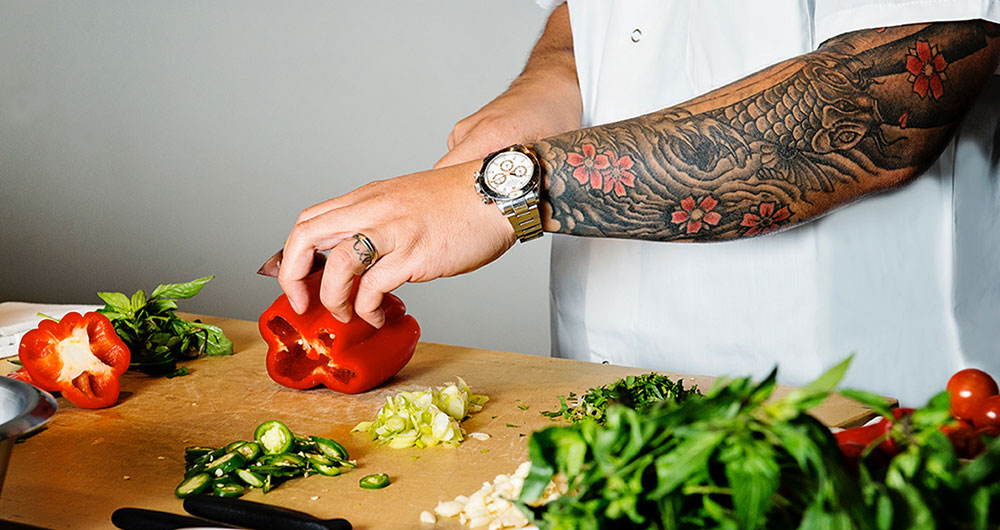 Your heritage is a combination of Chinese and Thai which reflects in your cooking but you also went on to learn classical French and Japanese techniques. Why?
Initially growing up in the business I ironically didn't foresee becoming a chef. I wanted to try something different but I came to realize that making food and creating dishes is in my DNA. I'm intrigued by ingredients and challenged by the multi-layer process of flavors and techniques. I decided if I was really going to pursue this path than I needed to know, respect and understand other types of cuisines and their methods.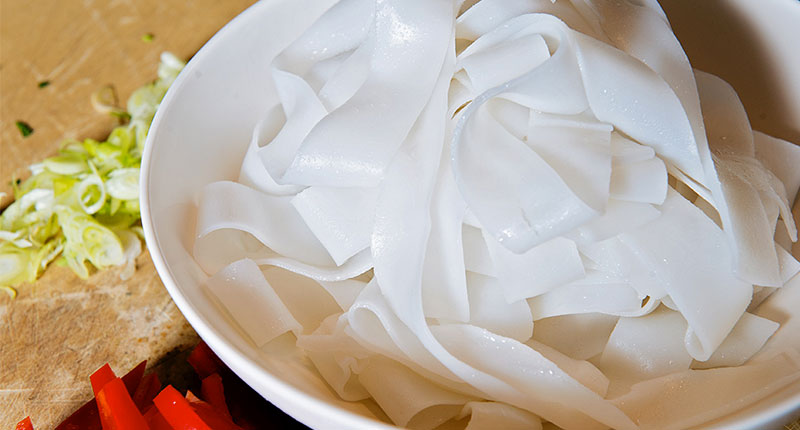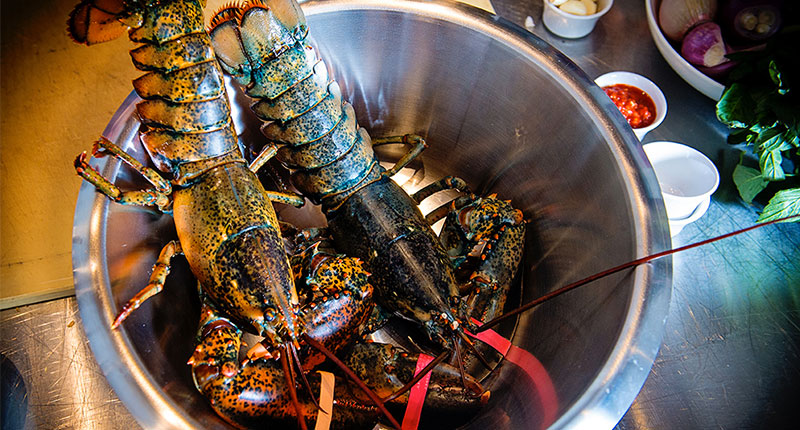 You opened Wazuzu at the Encore Wynn resort in Las Vegas. You also introduced Asian cuisine to the masses at Google, Intel and EBay in Silicon Valley in their office cafes. Now you are a force and vision behind Compass, the largest food service company where you share Asian techniques so they can be produced for the greater public. You also have a web channel to highlight certain dishes and are a regular judge on Chopped. What's different from what you did then to what you do now?
When I started, it was go, go go! Growing up as an immigrant in the Los Angeles Thai community, it was and still is all about achievement and always doing your best. The wave of Asian immigrants who arrived to chase their American dreams were growing up and becoming successful in their own right. When they traveled to places like Vegas they wanted to eat what they knew and liked. I was their contemporary and knew how to deliver those dishes and flavors. The Asian techno geek crowd employed at the big internet companies wanted to eat what was natural to them too.
My learning curve was how to take Grandma's recipes and reproduce them in an authentic way for larger audiences. It was a challenge and a blast. It was the meeting of traditional techniques with modern methods. Along the way, flavorful Asian cuisine has been introduced to others who have come to appreciate it. I have been so fortunate on my career track. I've really been allowed to do it all. I love teaching and sharing so the media part allows me to do that and at Compass I can continue to create with a big outreach.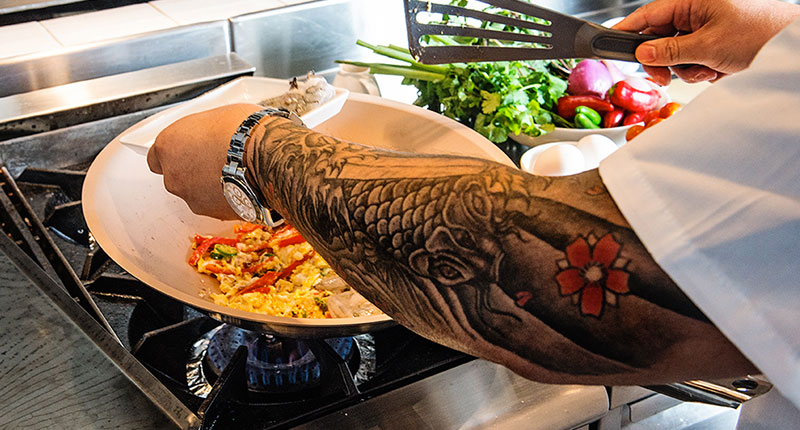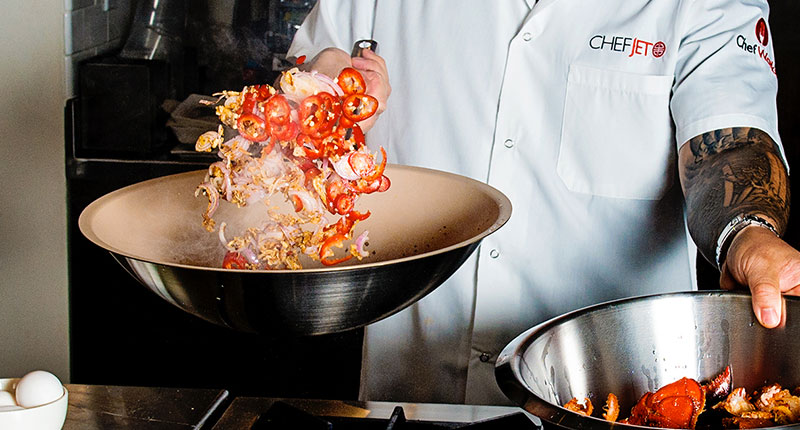 In your accomplished career you have earned impressive accolades as well as holding some interesting world cooking records! Do you have a favorite?
I am honored and humbled by each one. Being appointed the Culinary Ambassador of Thai cuisine by the Royal Thai Consulate General is amazing.
The Iron Chef competition really tested my abilities on a whole other level and brought me recognition that steered my career in this direction. The cooking records were fun to do. I welcome challenge. I never thought my studies at the Sushi Academy would lead me to holding the record for the longest California roll (440 feet). And I smile at what my Grandma would say about my cooking the largest stir-fry (4010 pounds) or heaviest seafood stew (6500 pounds).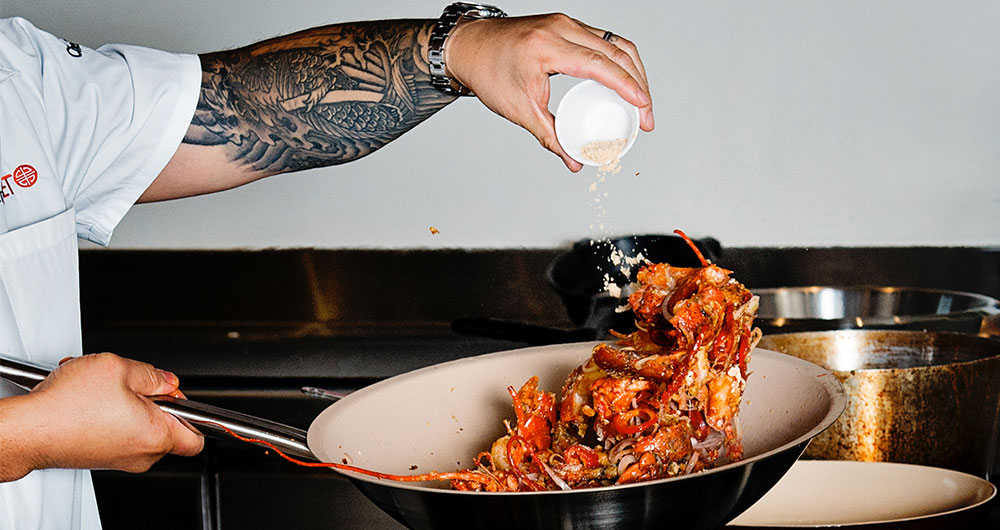 Drunken noodles are your signature dish. And this succulent lobster as another entrée with it is divine. What makes these recipes uniquely Jet?
It is taking what you know and just making it as delicious as it can be using the freshest of ingredients. The fantastic flavors of the Thai and Cantonese kitchens are second nature to me. The cooking mantra is to blend sweet, spicy, sour and sweet in every dish with every bite. I do that.
Noodles are a prominent component on the Asian menu and in Thailand it is all about rice noodles. When I created my Drunken Noodles—which is a type of Pad Thai– I mixed the variety of saltier sauces (soy and oyster) with the spicy (sriracha sauce & chilies) the sweet (basil & sugar) and sour (Rice wine) to create the coating. The bite of the garlic and acidity of the fresh tomatoes tops it all off. Being on Iron Chef and the Food Network highlighted the dish.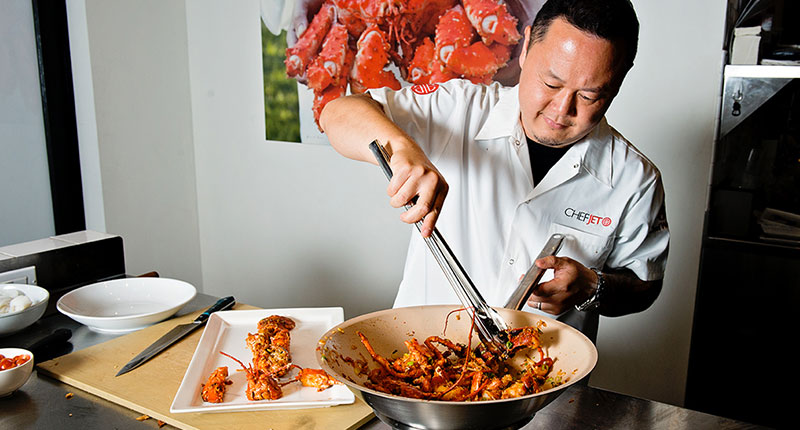 How would you describe your style of cooking?
I cook with abundance and abandonment. The heat of the kitchen on every level provokes that and I believe translates that intensity into the heat of the dish. I love the feeling-it is very Zen to me. High heat cooking like stir-fry in a wok means you have to cook fast and almost ferociously. This is why I respect and rely on Matfer products in my kitchens. They're beyond durable and their quality is of the highest caliber. The different sized bowls are deep and can be banged around without getting a dent. The Matfer wok guarantees a perfect stir-fry. Its shape has a good slope that holds the ingredients and balances the heat out beautifully. It is light enough in weight for me to be able to lift it on and off the stove when I'm tossing the noodles to coat them well. The length of the tongs let me get in there to move it all around and serve it straight to the dish.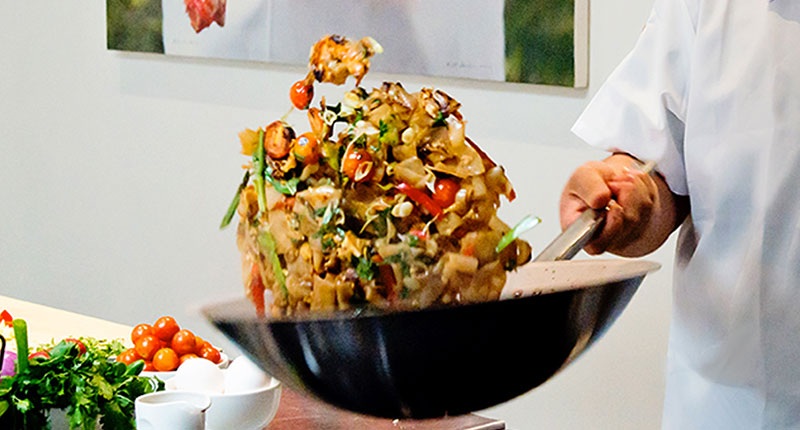 Established American author Alex Haley said, "In every conceivable manner, the family is link to our past, bridge to our future." Do you agree?
This quote really resonates with me. Family is everything. I say I have birth luck as it is my family that really set me on this phenomenal path. A lot of chefs spend much of their lives thinking that cooking as a career is the most important, challenging & fulfilling venture in a lifetime. Striving for success, recognition & honing one's craft is everything. And much of that is true. Then you marry, have children and realize there's nothing more challenging yet more fulfilling or tougher in the universe than being there for your family. My devotion and passion for food is a very fulfilling career that now affords me my time with my family.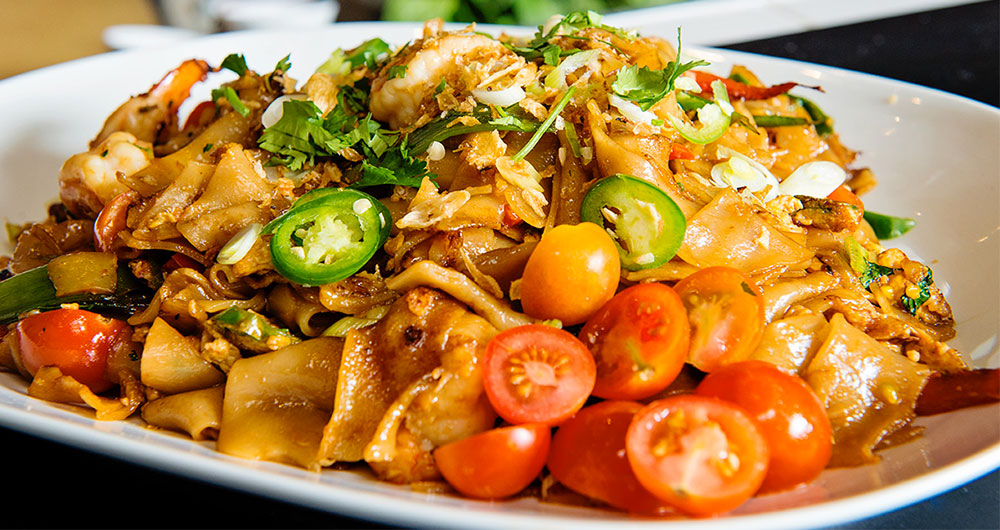 Personally, what are your favorite ingredients?
For me it is all about flavor and heat. I love sweet basil and chilies. At home, I'll make fried rice with a fresh basil omelette.