INGREDIENTS OF THE CROISSANT DOUGH FOR THE APPLE TART BY CEDRIC GROLET
400 g flour type 45 (pastry flour)
400 g flour type 55 (all-purpose)
450 ml water
3 egg yolks
50 g milk powder
20 g sugar
30 g fresh yeast
15 g salt
50 g butter for the détrempe dough
350 g butter for the turns (dry butter is ideal for the preparation of yeast-based laminated doughs)
REALIZATION OF THE CROISSANT DOUGH
Knead all ingredients, except the butter for the turns, on low speed for about 6 minutes.
Give the dough 3 simple turns. This consists of layering the butter and dough using a rolling pin.
Rest the croissant dough in the refrigerator for 3 hours.
Remove the dough from the refrigerator and roll thinly to 3 cm thick and 20 cm diameter.
Use an 18 cm diameter mold and line it with the dough as for a tart.
Use a knife to trim off the excess dough.
Refrigerate the dough-lined mold.
INGREDIENTS OF THE ALMOND CREAM FOR THE APPLE TART BY CEDRIC GROLET
50 g butter
50 g superfine sugar
50 g ground almonds
50 g egg
In the Alphamix, use a flat beater to beat the butter with the sugar and ground almonds.
Gradually add the egg.
Use a pastry bag and garnish the tart base.
FINISHING THE CEDRIC GROLET'S APPLE TART
Arrange the apples nicely on the tart
Melt some butter and with a pastry brush, generously glaze them with the butter.
Sprinkle unrefined cane sugar on the tart.
Heat the oven to 175°C (350°F) and bake the tart about 40 minutes.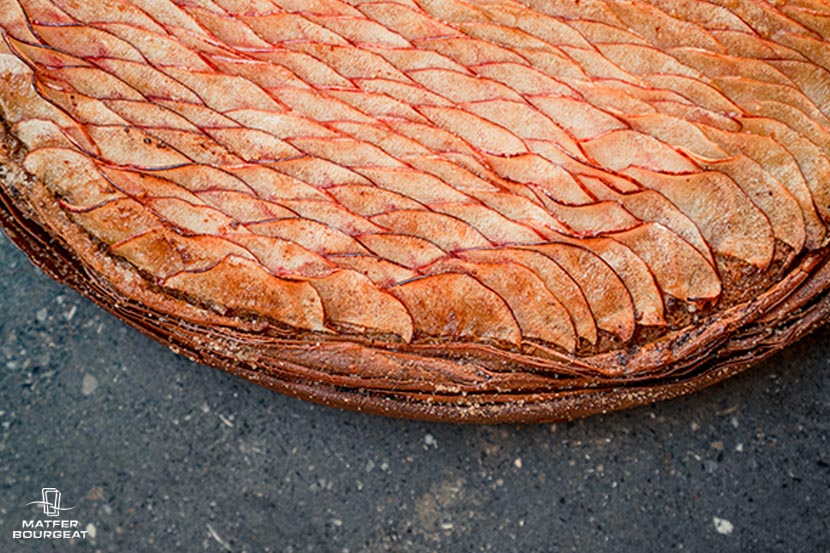 As soon as the tart is removed from the oven, brush a second time with melted butter and taste.