Blender, silicone scraper, thermometer spatula … your professional tools essential for working with chocolate!
While chocolate wins all the votes in terms of sweet treats, you can't improvise yourself as a chocolate maker or pastry chef! To do this, you need a little talent, a good dose of know-how and some professional tools for professional chocolates: blender, silicone scraper, thermometer spatula, transfer pad on the chocolates, etc.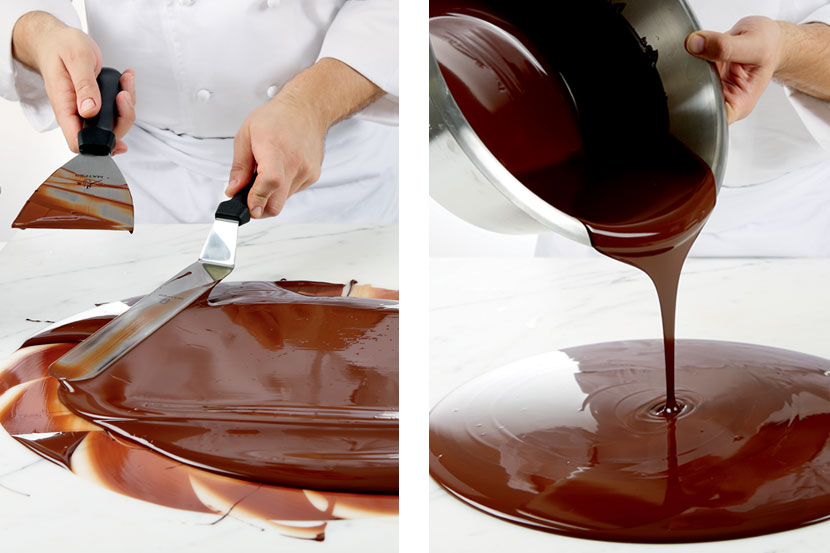 The blender to mix and smooth your ganaches!
The Bamix Gastro 200 is a multifunction blender equipped with 3 accessories that fulfill as many functions: blender, whisk and mixer. With a view to your chocolate preparation, you can therefore cut, chop and mix ingredients that are difficult to reduce, stir and beat creams and egg whites or even mix and emulsify your sweet sauces that accompany them.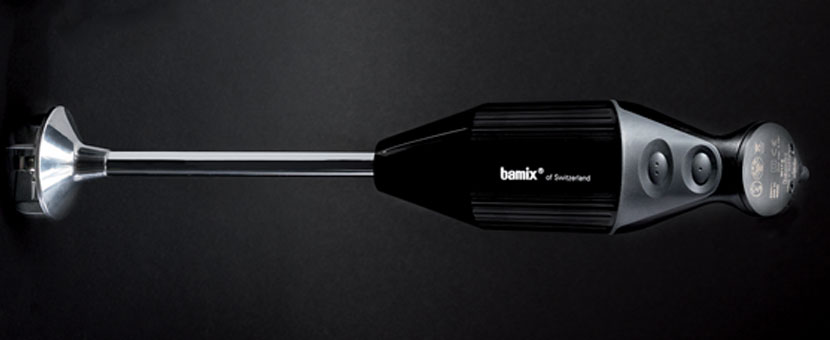 Chocolatiers and pastry chefs will find there professional tailor-made utensils to mix and perfectly smooth their ganaches!
Prepare your Easter chocolates with precision thanks to the thermometer spatula
Pastry chefs and chocolate makers for a long time managed to work miracles with traditional utensils, it would be a shame to deprive themselves of modern technology which greatly facilitates preparations without taking anything away from the authenticity. flavors. Among the innovations that have made themselves essential for today's chocolate makers and pastry chefs, we find in particular spatulas-thermometers.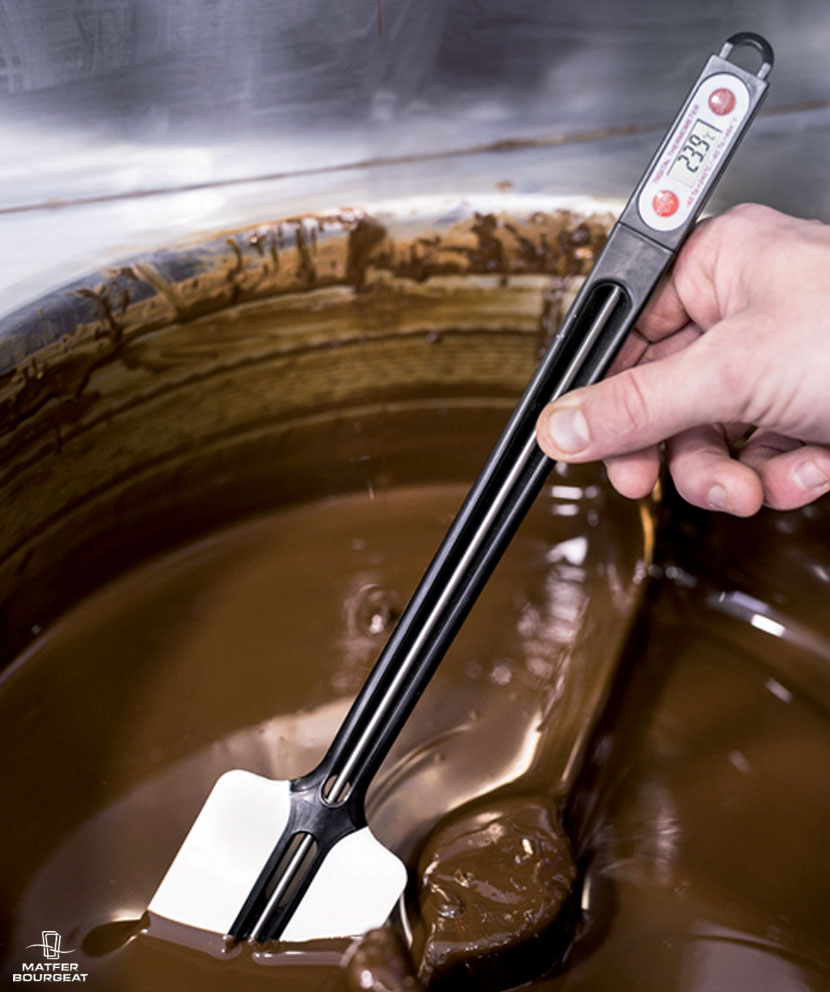 Matfer Bourgeat therefore presents its Elvéo thermometer spatula, a 2 in 1 tool that allows you to mix the chocolate in your dippers while precisely controlling the temperature of the molding. The design of this professional kitchen utensil provides for a flexible silicone paddle to perfectly scrape the bottom of your containers, which promotes homogeneity of preparation and precision of measurement.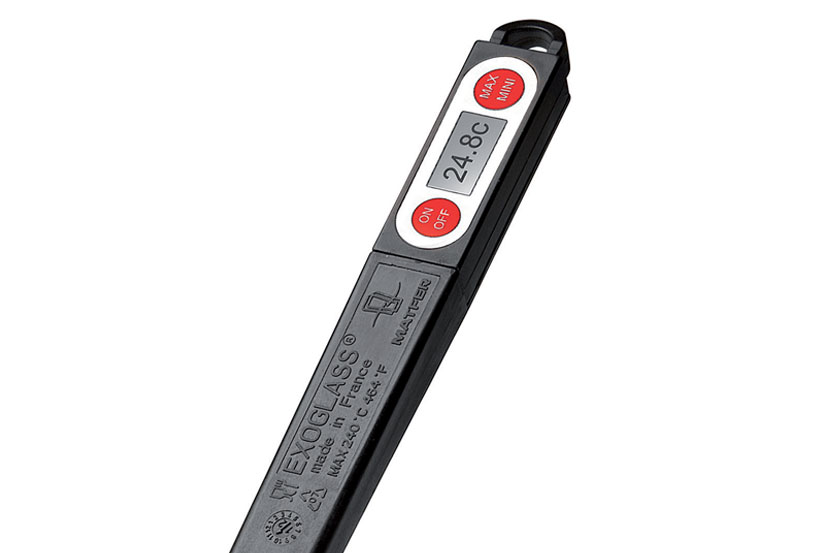 In terms of robustness, the thermometer is perfectly waterproof to various projections of liquid and the handle withstands a temperature of 220 °c. For maintenance, you just have to remove the removable thermometer and put your sleeve in the dishwasher!
Distribute and smooth your preparations using the silicone scraper
After placing your tasty chocolate preparation in the cavities of a professional chocolate mold, you must have an instrument suitable for scraping the chocolate out of the enrobing machine. Matfer Bourgeat has therefore designed a full thick silicone scraper, designed for this purpose. Lightweight and ergonomic to ensure a good grip, this squeegee also allows you to obtain a homogeneous smoothing of your blanket. Its 180 mm width is particularly suitable for scraping your chocolate molds in a single pass.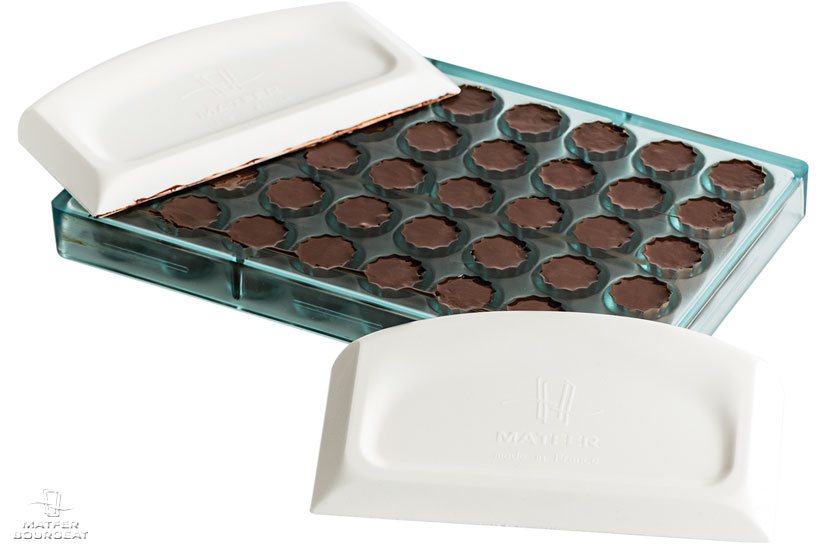 Flexible and robust, this silicone scraper will be a tailor-made tool for chocolate makers and confectioners, as well as suitable for working with nougatines, cooked sugars and any confectionery preparation. This is enough to smooth or distribute all your chocolate preparations on your baking sheet or your worktop!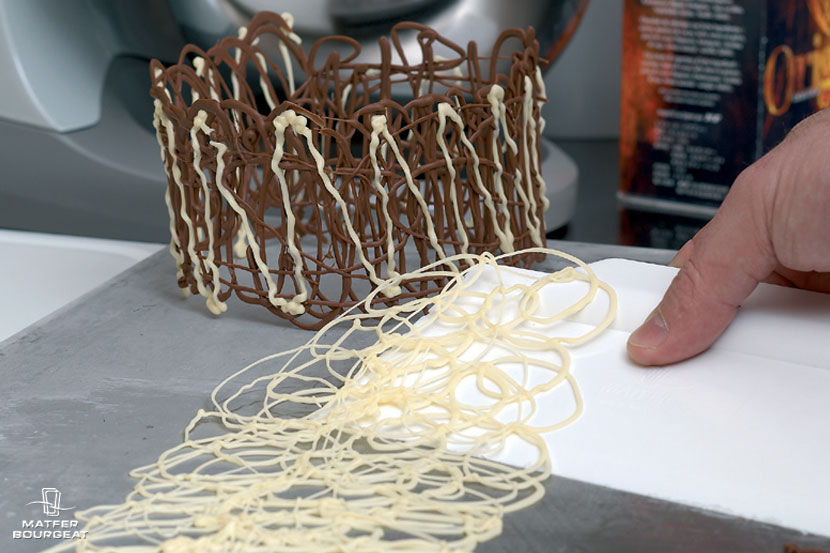 Let your imagination run wild to decorate your Easter chocolates!
Chocolate has the advantage that it can be handled quite easily and goes well with a very large number of sweet elements. In order to decorate pieces and desserts, you can therefore turn to the Cool décor plate which will allow you to make chocolate ribbons or grids. The stainless steel plate in the 600×400 format, suitable for the slides of freezer cabinets, contains eutectic liquid frozen at – 21 °c.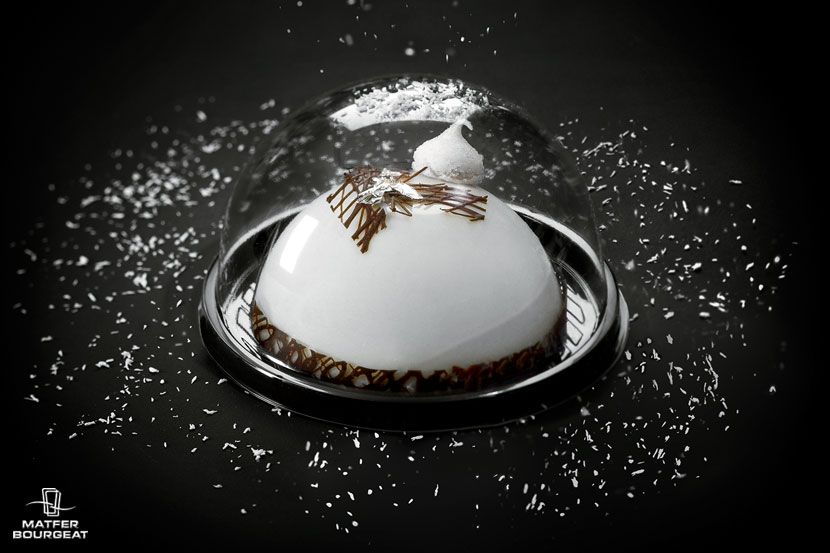 Another possibility of decoration and other instrument with the transfer stamp on chocolate from Matfer Bourgeat, designed to smooth transfers or guitar film on your candies and other chocolate subjects. Their custom weight will allow you to apply the pads without leaving any air bubbles. A benchmark for chocolate makers!
DISCOVER A SELECTION OF THE MOST BEAUTIFUL EASTER CREATIONS 2019
We have the professional utensils to suit your creativity.
Sorry, this content isn't available right now