Matfer Bourgeat and its ecological engagement
Matfer Bourgeat lives with the times. The company, concerned about the future of the planet, is moving towards innovative materials and presents Flo Green 2020, a new range for take-away catering complying with regulations that came into force on January 1st, impacting single-use products as part of ecological transition. As a reminder, the following 100% plastic products are banned (with a deadline for stock clearance by 30 June 2020): cutlery (except if they are intended for use in prisons, health care institutions or for rail, air and sea transport); individually wrapped cups; straws; stirrers; steak sticks; ice cream spoons. An eco-responsible range of products made from aesthetic, reliable and respectful materials, such as cardboard, sugar cane fibre or palm leaf.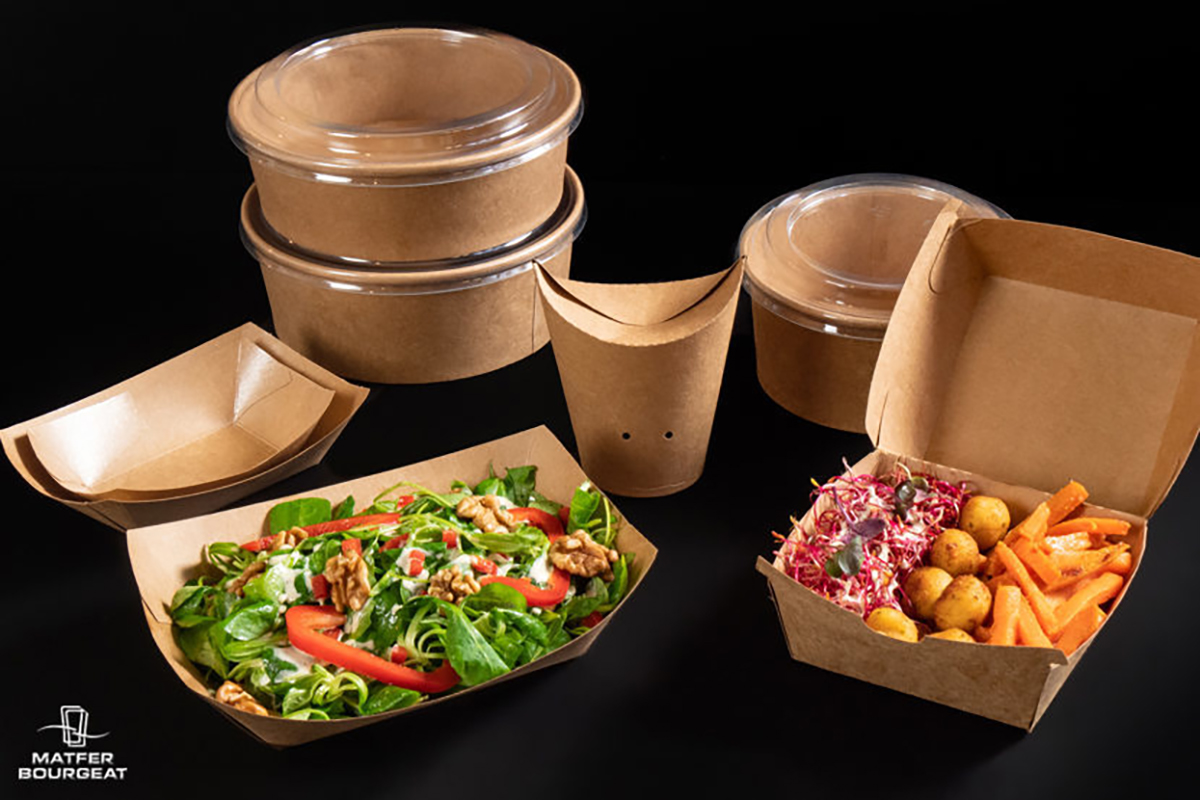 Eco-friendly salad bowls made of cardboard with recyclable PET lids. Thanks to a PE film, these salad bowls are greaseproof and watertight. The cardboard comes from sustainably managed forests that comply with FSC standards, an independent, non-profit, non-governmental, global organization that has drawn up forest management specifications. To combat deforestation, for every tree that is cut down, another tree is planted. A unique contemporary range available in several sizes: 500, 1000 and 1300 ml.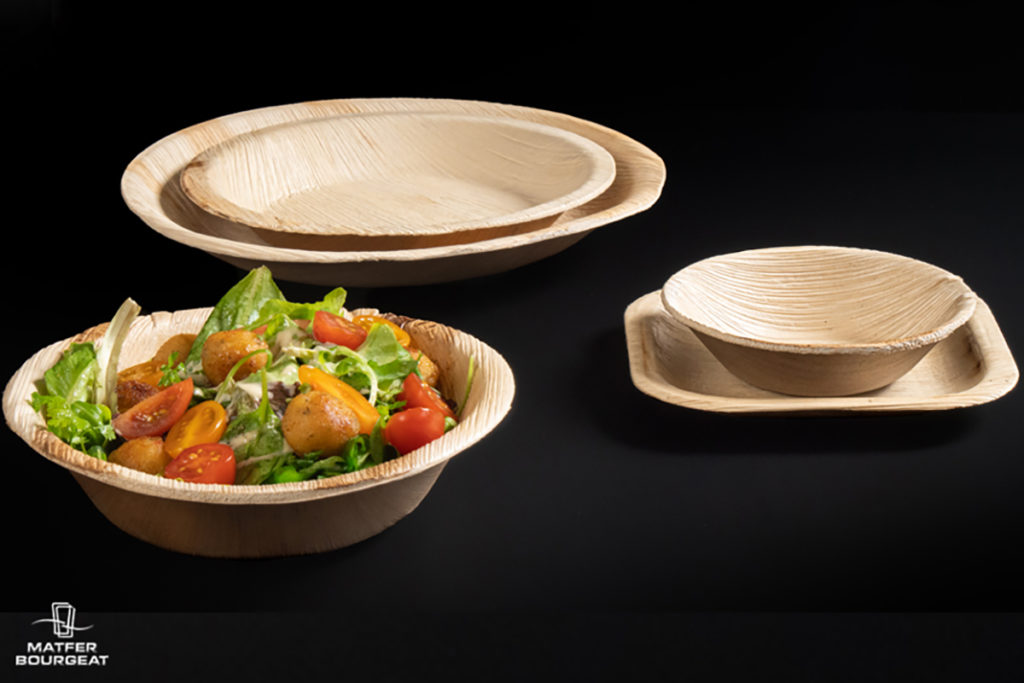 An eco-friendly solution for fresh salads or catered meals. Sugarcane fibre, or bagasse, is the pulp residue after the juice has been extracted. It is 100% natural and compostable. An alternative to paper leaving no environmental impact. These new sauce containers and round or square salad bowls have the added advantage of being impermeable to fat (no lamination film), oil and acids, and perfectly preserve aromas and flavours. This robust material can be used in traditional ovens and microwaves (up to 220°C) and is resistant to hot and cold. An intelligent fibre previously disposed of, now being reused and valorised! Bowls are rigid and stackable due to the unique recyclable PET lid. An attractive eco-friendly range available in either white, or craft version for a natural trendy look. Products available in several sizes.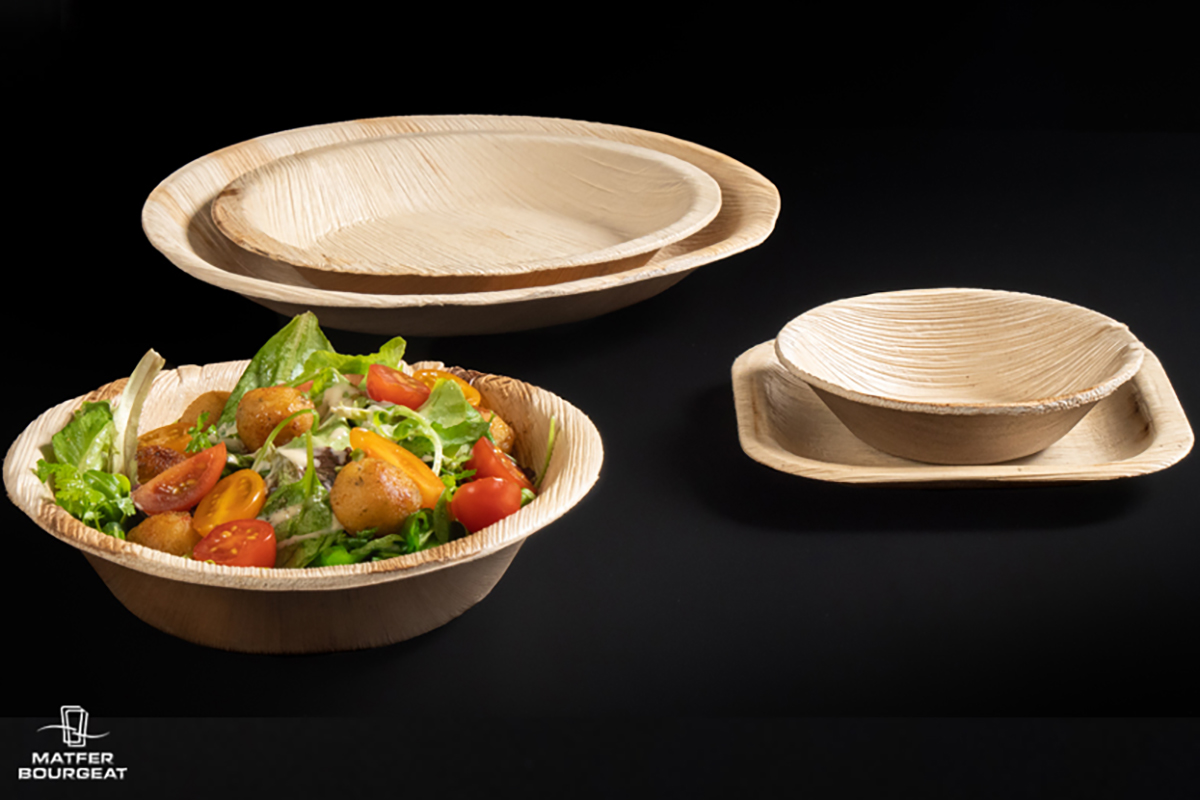 his very eco-friendly range is made from the palm tree's shoots that naturally fall from the tree. The leaf is not processed and is one of the most natural raw materials available. It can be home composted and is 100% biodegradable. Waterproof and greaseproof without lamination films, these plates and bowls are resistant to high temperatures (up to 220°C) as well as cold liquids. Palm leaf does not transfer heat and maintains its shape. A perfect range for high-end take-away restaurants, caterers and chic street-food. Naturally aesthetic and unique, each leaf gives a plate with different veins and colours. Many sizes available. Also find the essential 2020 of our ranges Matfer for small material et Vauconsant for the distribution of meals.