Ingredients for a blue lobster recipe with some poached butter, barigoule's artichoke, green and white asparagus, serves 4.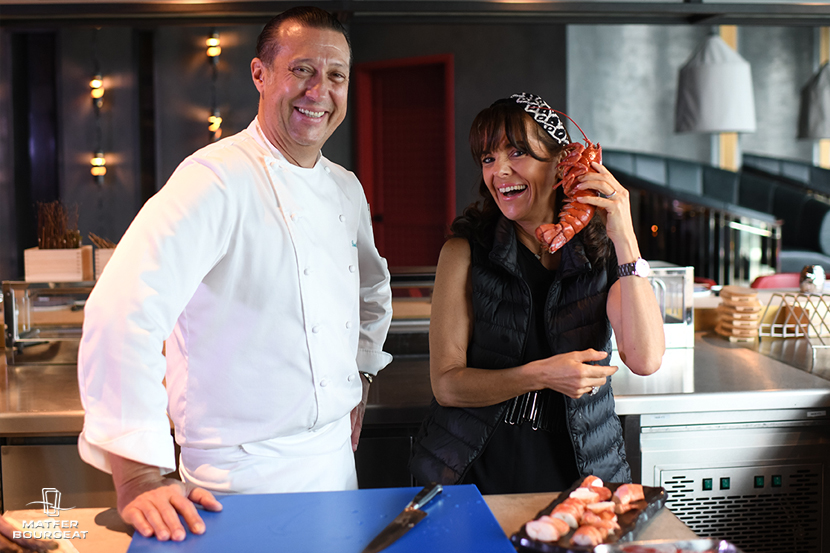 50 g carrot
50 g celery
1 onion
1 lime
1 bouquet garni
40 ml white wine
100 g shallots
30 g champagne vinegar
300 g butter
Salt, Pepper
2 blue lobsters (800-900g)
3 purple artichokes
200 ml fish stock
50 ml virgin olive oil
1 bay leaf
5 g thyme
120 g new potatoes
BLUe LOBSTER POÊLÉ AND VEGETABLES
100 g shimeji mushrooms
30 g garlic
30 g tarragon
Prepare a court bouillon with carrots, celery bouquet garni, shallots, white wine and a dash of vinegar. Bring to a boil.
Add and poach the blue lobster skewered and cleaned.
When the lobster changes color and is ¾ cooked, take it out of the liquid and put it to rest.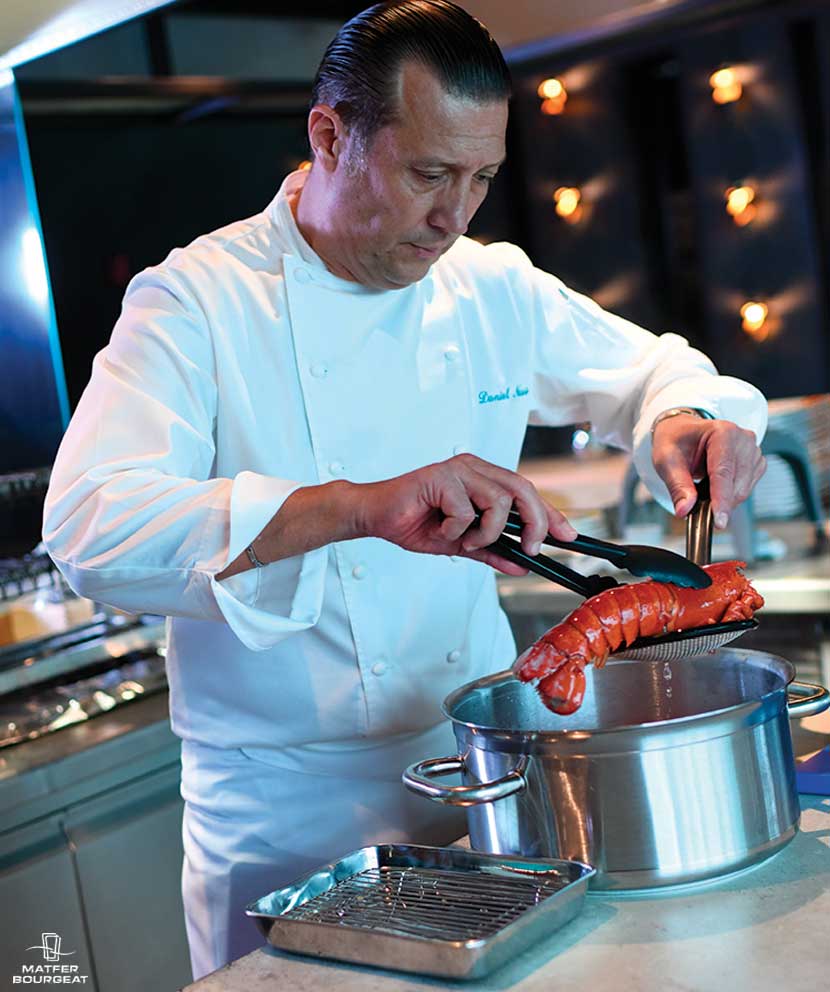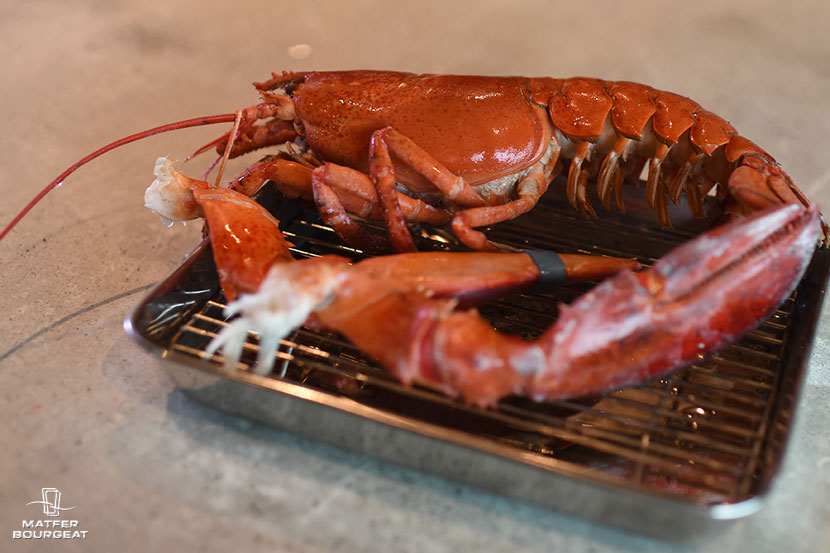 Peel the green and white asparagus and brown them in a pan with a knob of butter.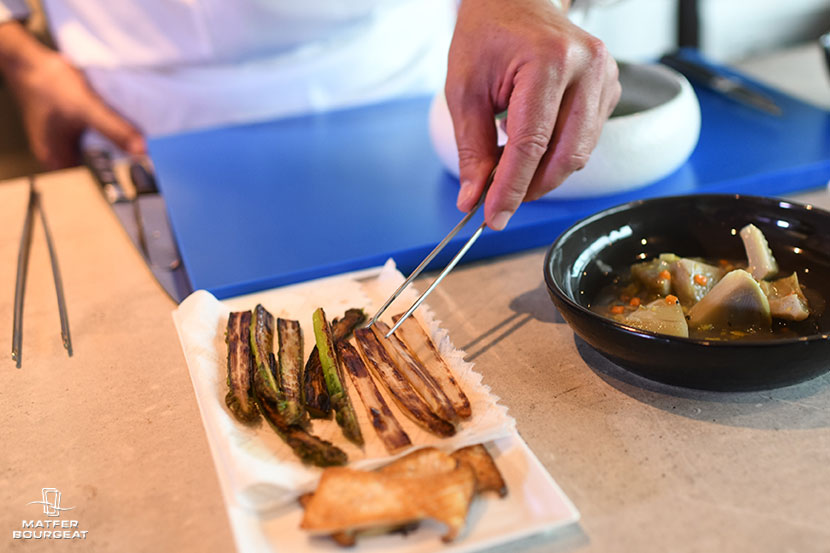 Clean the artichokes and cook them in a barigoule court bouillon, with the fish stock, olive oil, carrot, onions, white wine, bay leaf and seasoning. When tender cut them in 6 pieces with the stem.
Cut the mushrooms into strips and brown them in a pan with a knob of butter.
Wash the new potatoes, keep the skin on, and cook them slowly in a shallow pan with butter and fresh thyme until the flesh is golden brown.
Blue lobster poêlé and vegetables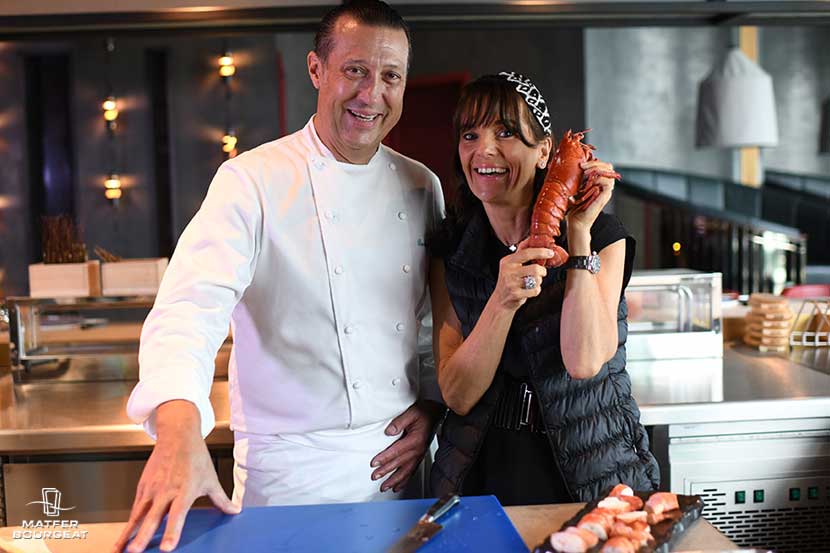 Cut the lobster into medallions.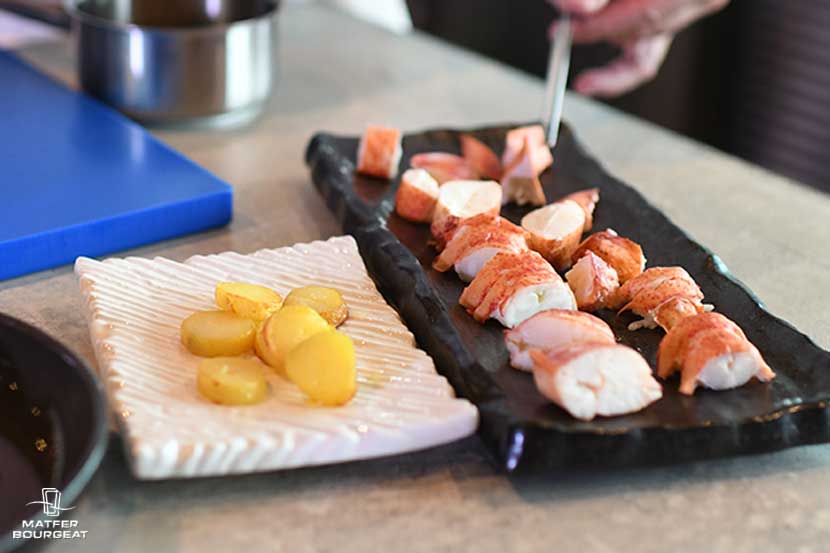 Reheat in the butter with the artichoke. Sauté the mushrooms with shallot, butter and garlic.
Deglaze with white wine and a dash of lime juice and zest.
Reduce the barigoule jus, add butter, emulsify and finish with fresh tarragon, and season to taste.
In a round hot plate:
Put the lobster medallion and one claw all "pele mele" on the bottom of the plate.
Add the artichokes in the same fashion as the lobster.
Place the potatoes and sautéed mushrooms in a bundle with the asparagus roasted in a brown butter. Add the emulsified barigoule butter with tarragon over the vegetables.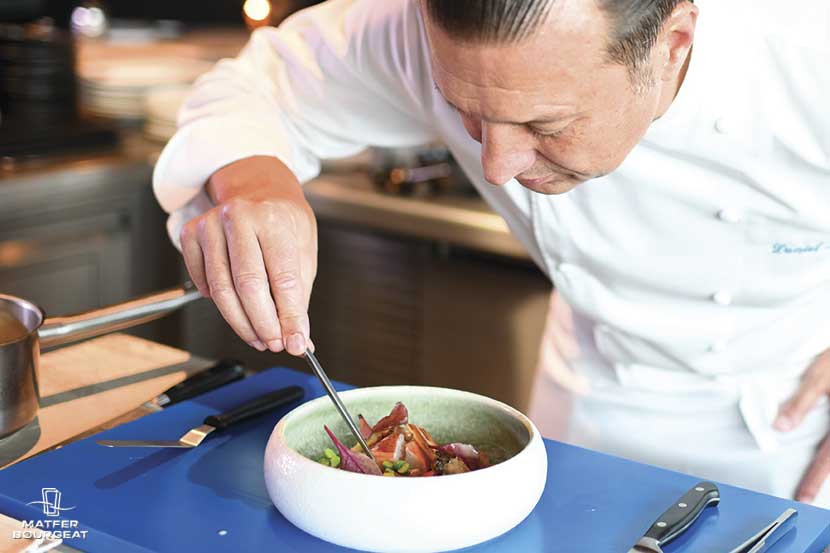 RECETTE DE LA TARTE AUX POMMES PAR CÉDRIC GROLET
Réalisez la tarte aux pommes de Cédric GROLET, quand beauté rime avec simplicité