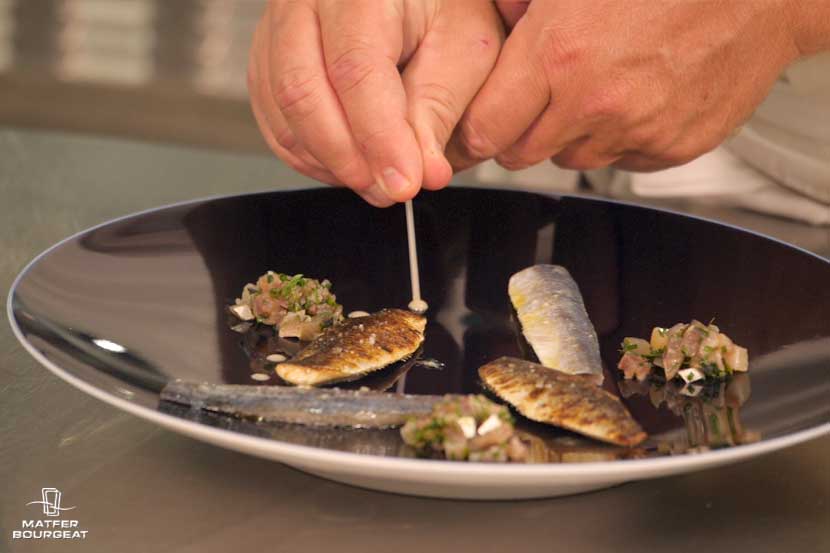 Ingredients for the sardines recipe for 8
8 sardines
1 lemon
20 ml olive oil
4 sardines
2 g shallots
Lemon juice
Olive oil
Salt / pepper
Chives / flat-leaf parsley
Sardine garnish and stock
80 g tapioca
70 g enoki mushrooms
16 sardine heads and bones
20 g carrots
20 g onion
20 g celery-stalk
1 bouquet garni
50 ml white wine
1 kaffir lime
4 g wakame
8 g kombu
10 g sesame oil
10 g rice vinegar
40 g ponzu
10 g sweet soy sauce
10 g tamarind paste
250 ml milk
60 ml whipping cream
1/4 smoked kipper
12 g powdered milk
12 g powdered glucose
1 g stabilizer
8 sardine tails and bones
30 g sesame paste
Thai chive shoots, Thai basil, dulce and umi budo.
Gut and scale the sardines. Remove the fillets and marinade for a few minutes with the lemon juice and olive oil.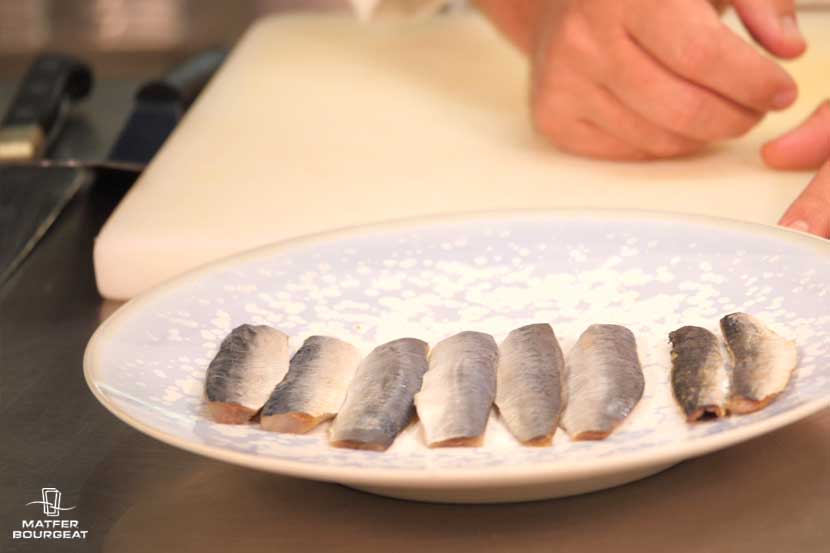 Take both raw and lightly salted and smoked sardine fillets. Cut the sardine tartare and place in a small round-bottom bowl to mix without crushing and damaging the fish. Add the aromatic ingredients to enhance the natural fish flavor.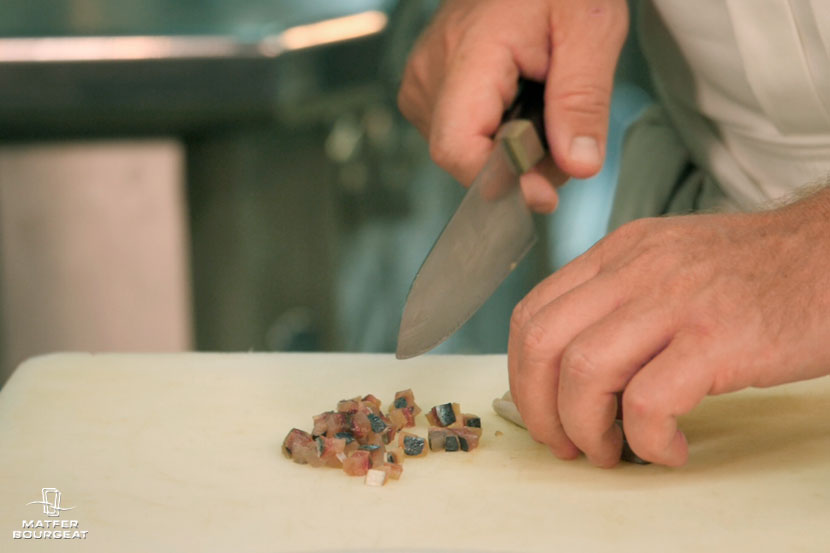 Sardine garnish and stock
Color the sardine heads and bones in an oven at 180°C (350°F) and deglaze with the white wine. Peel and thinly slice the carrot, onion and celery-stalk. In a saucepan, place the sardine bones, the garnish and bouquet garni. Cover with water and simmer for 45 minutes. Strain through a fine mesh chinois. Mix together the zested kaffir lime, wakame, kombu, sesame oil, rice vinegar, ponzu, sweet soy sauce and tamarind paste. Season the stock with the mixture and infuse for 10 minutes before straining through a fine mesh chinois. Cook the tapioca and enoki mushroom in the stock.
Chef's tips Christopher Coutanceau
For a better sardine recipe, the stock was made with the sardine heads to avoid wasting them and to bring a stronger taste as sardine heads have concentrated flavor.
Caramelization Grilled sardine fillets
Remove the sardine fillets and bones; grill them on the skin side and season with fleur de sel and pepper. Lightly and gently flatten the fillet without damaging it to caramelize all the skin.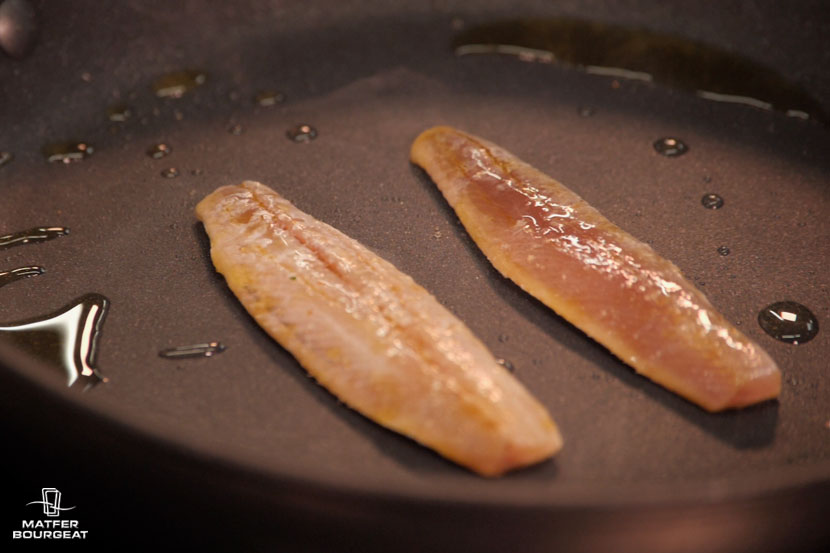 Chef's tips Christopher Coutanceau
"Thanks to the pan's surface, which is long lasting and non-stick, in addition to its thickness, it means that I can draw the stove's entire power. Another advantage is that the saucepan and frying pan handles don't heat, meaning that I do not need to use a towel which saves time and makes the job easier."

Cut the lightly smoked kipper into pieces and infuse in the milk and cream until cold. Add the powders. Freeze and churn.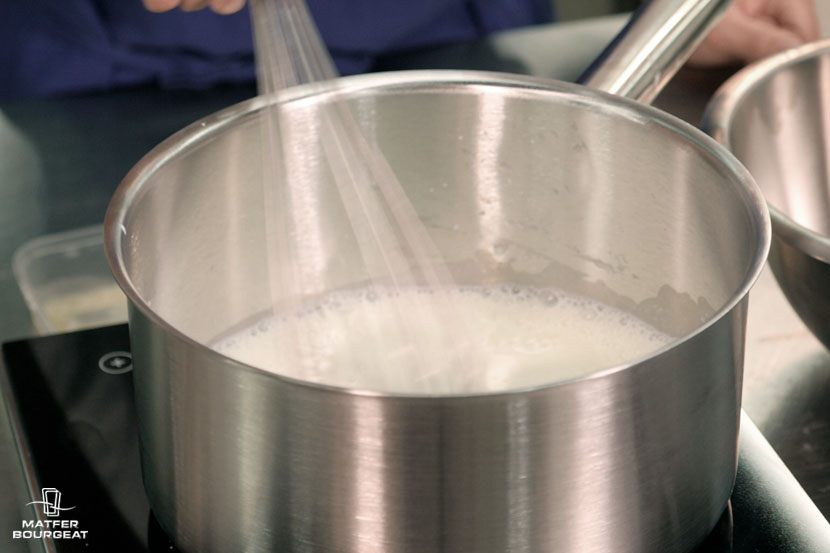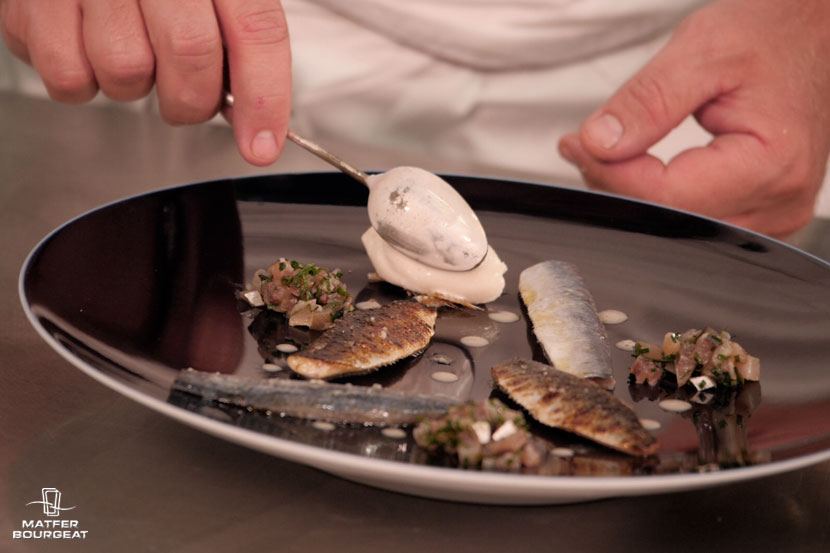 Plate together the marinated, raw and caramelized sardines. On the plate, add a vinaigrette sauce made with the sardine heads and bones. Then, simply toast the sardine heads with the backbones and strain through a Matfer Bourgeat exoglass sauce strainer. To finish, add the smoked kipper ice-cream. On top, simply place a crisp chip of sardine tail and bones.