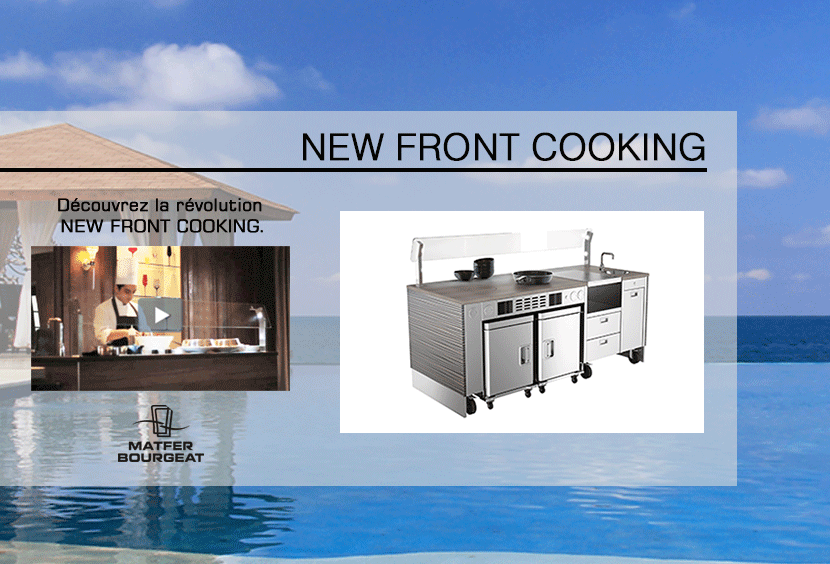 The New Front Cooking is a new professional kitchen unit designed for and with chefs. Its mobility enables you to provide a distinctive catering service that creates a pleasant atmosphere and turns the preparation of the meal into an entertaining show. The New Front Cooking unit can be used wherever catering is required — hotels, trade shows, concerts, parties and weddings. It enables high-end services for every service, from breakfast to dinner, and especially cocktail receptions. Any service or culinary performance will benefit from its array of professional features and impeccably stylish design.
Live cooking with total transparency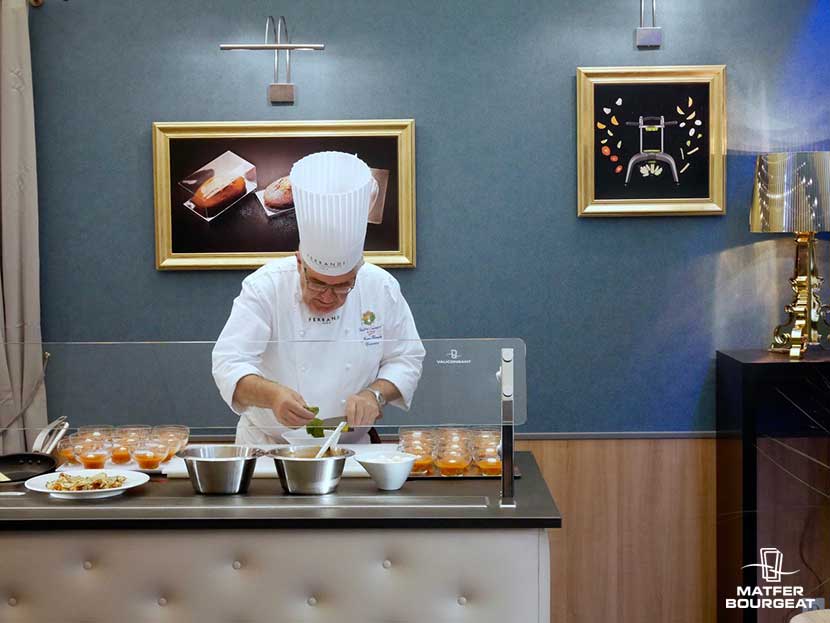 Live cooking equipment gives your catering space a dynamic feel by providing the option of cooking in front of guests with total transparency. More than ever, guests are seeking a dining experience, and watching the meal being prepared become an interesting show that heightens both appetite and appreciation. While they wait for their dishes, your guests can enjoy the performance put on by an expert chef. Thanks to stylish design and expanded display, guests can experience the meal even before they taste it.
The standard equipment for a professional mobile kitchen
The standard equipment for this professional mobile kitchen comprises several parts. It has a mobile part with a multi-purpose surface that can be used as a cutting surface or a shelf for equipment. It has two cooking spots (3600W, diameter of 220 mm) and. a temperature control area that goes up to 40°C and comes in a variety of sizes – 1100 or 1520x105mm. This area includes an end stop to prevent plates from falling and allows you to cook in complete safety.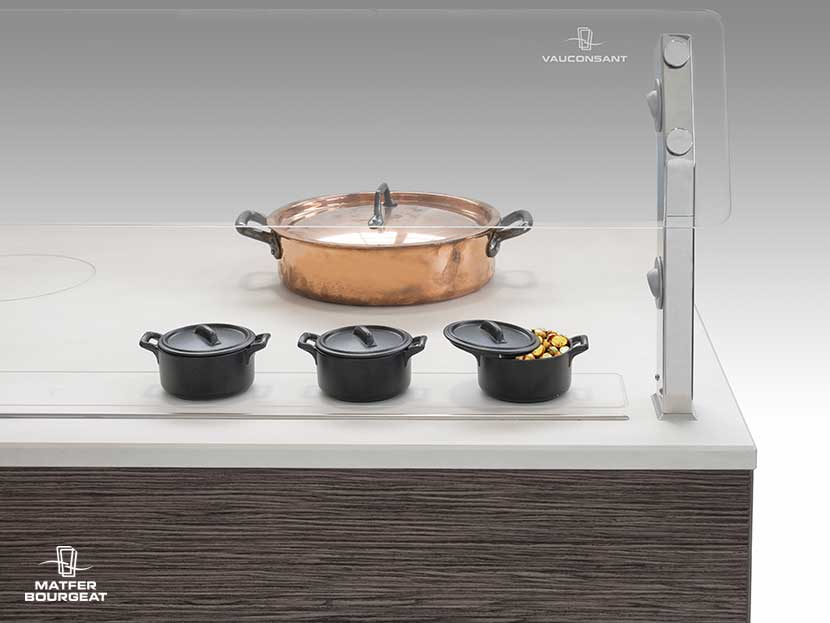 The attractive design is also extremely user-friendly, allowing for maximum movement and optimization of space. It includes two sliding shelves, an empty drawer and a counter that can hold one or two satellite cupboards. This professional mobile kitchen unit has been designed to showcase your work and comes with a 8mm tempered glass sneeze-guard and four LED spotlights for a theatrical flourish.
For the visible front of the unit, you can choose from a wide range of 34 standard Egger décors or a customized one.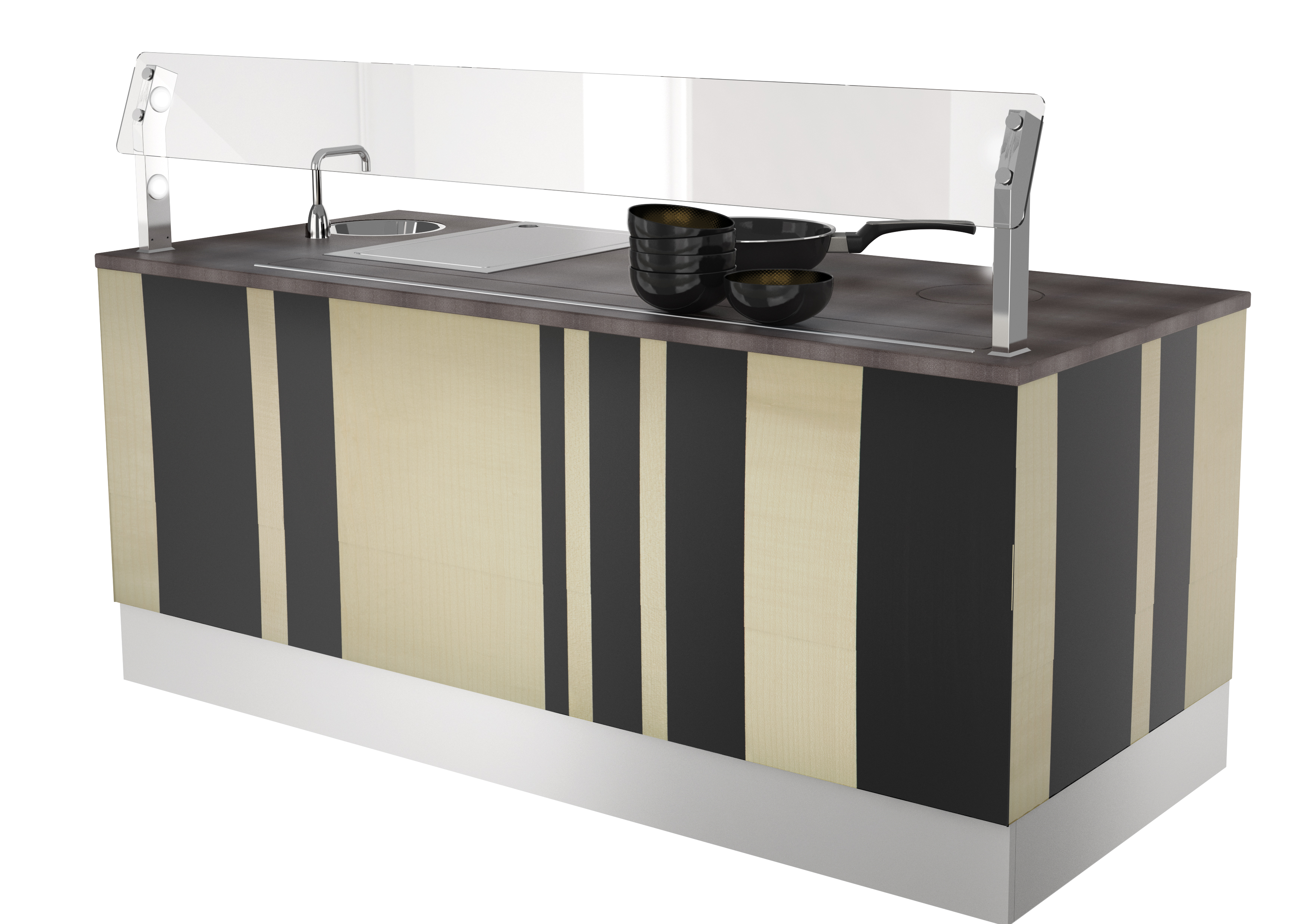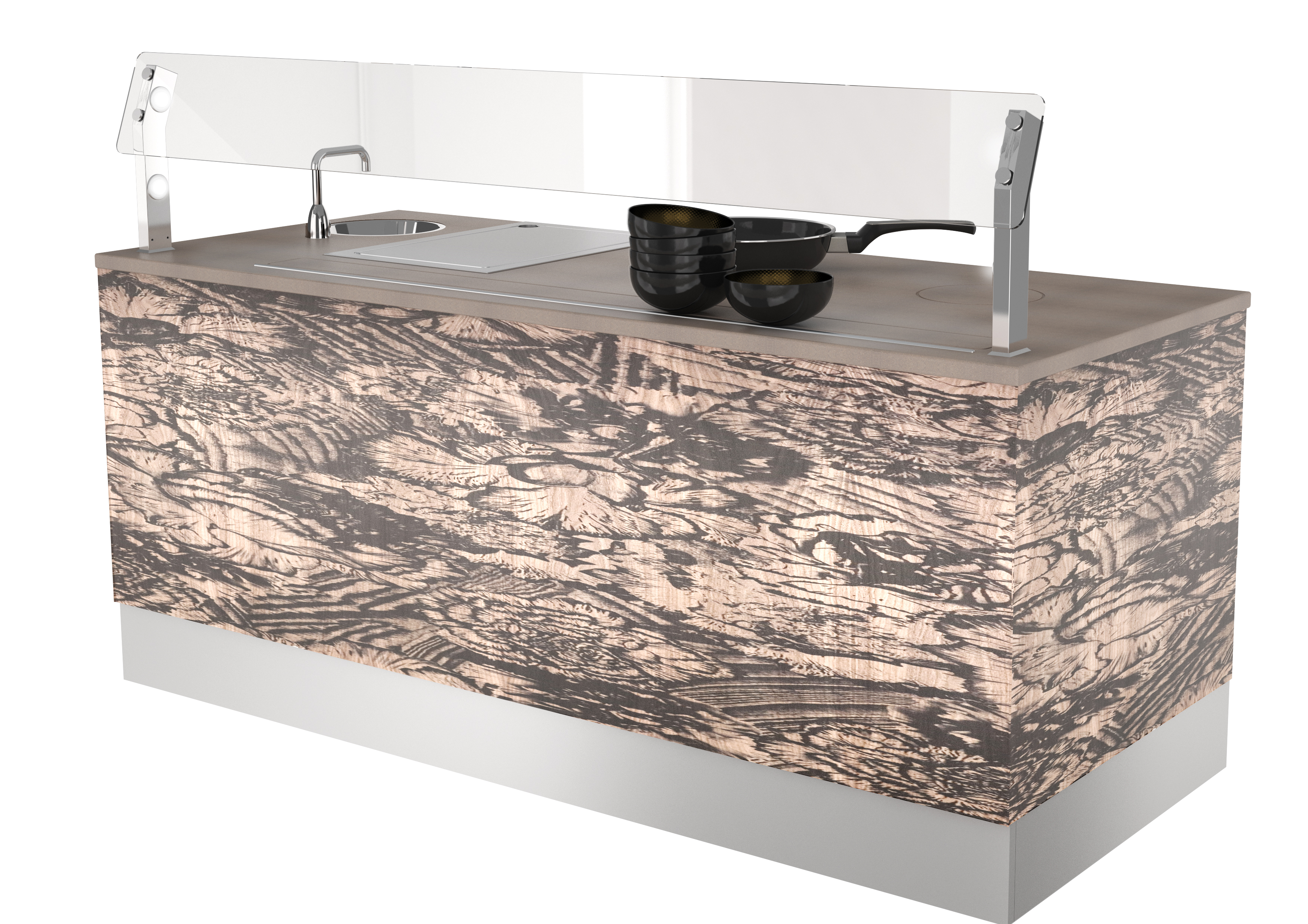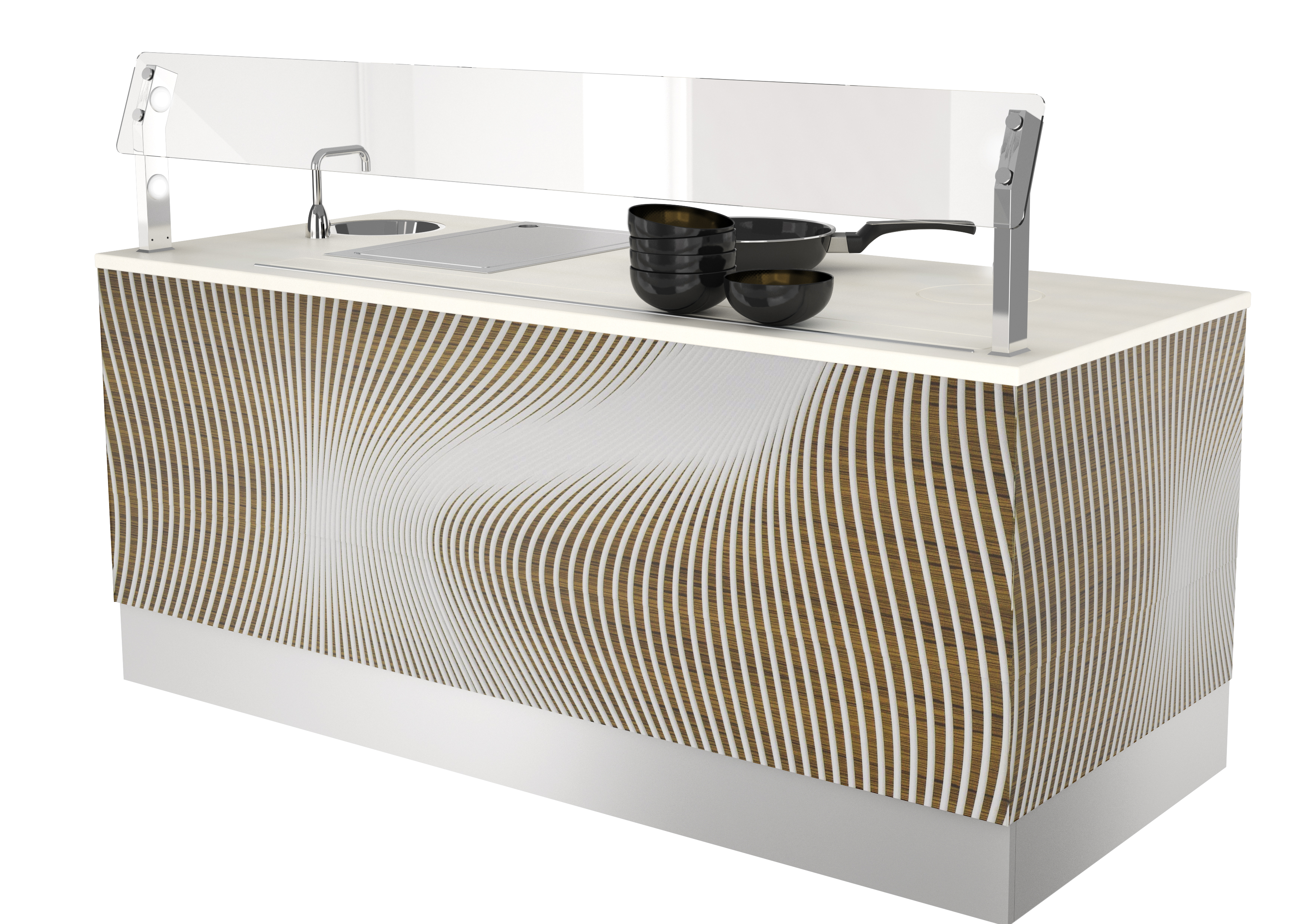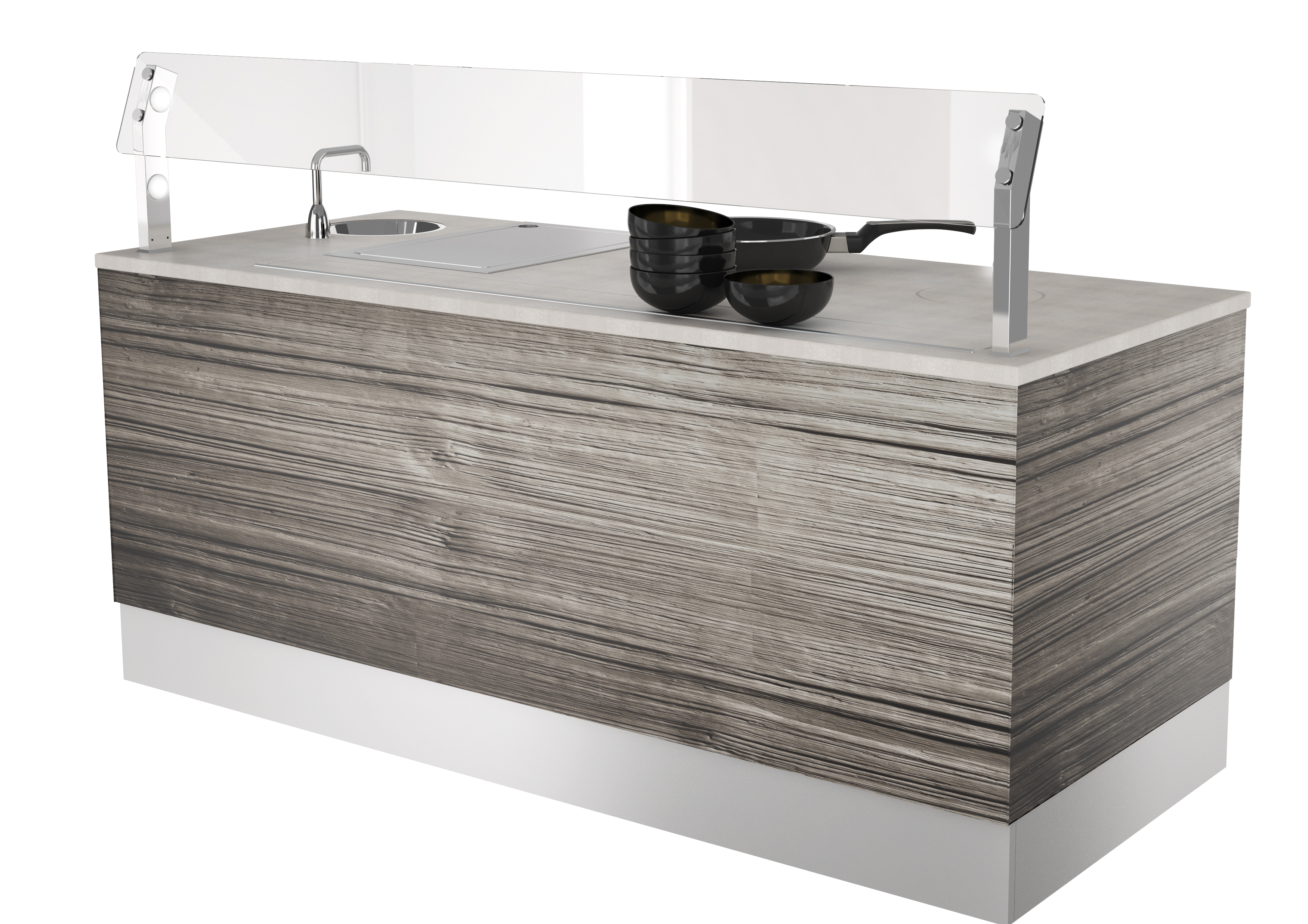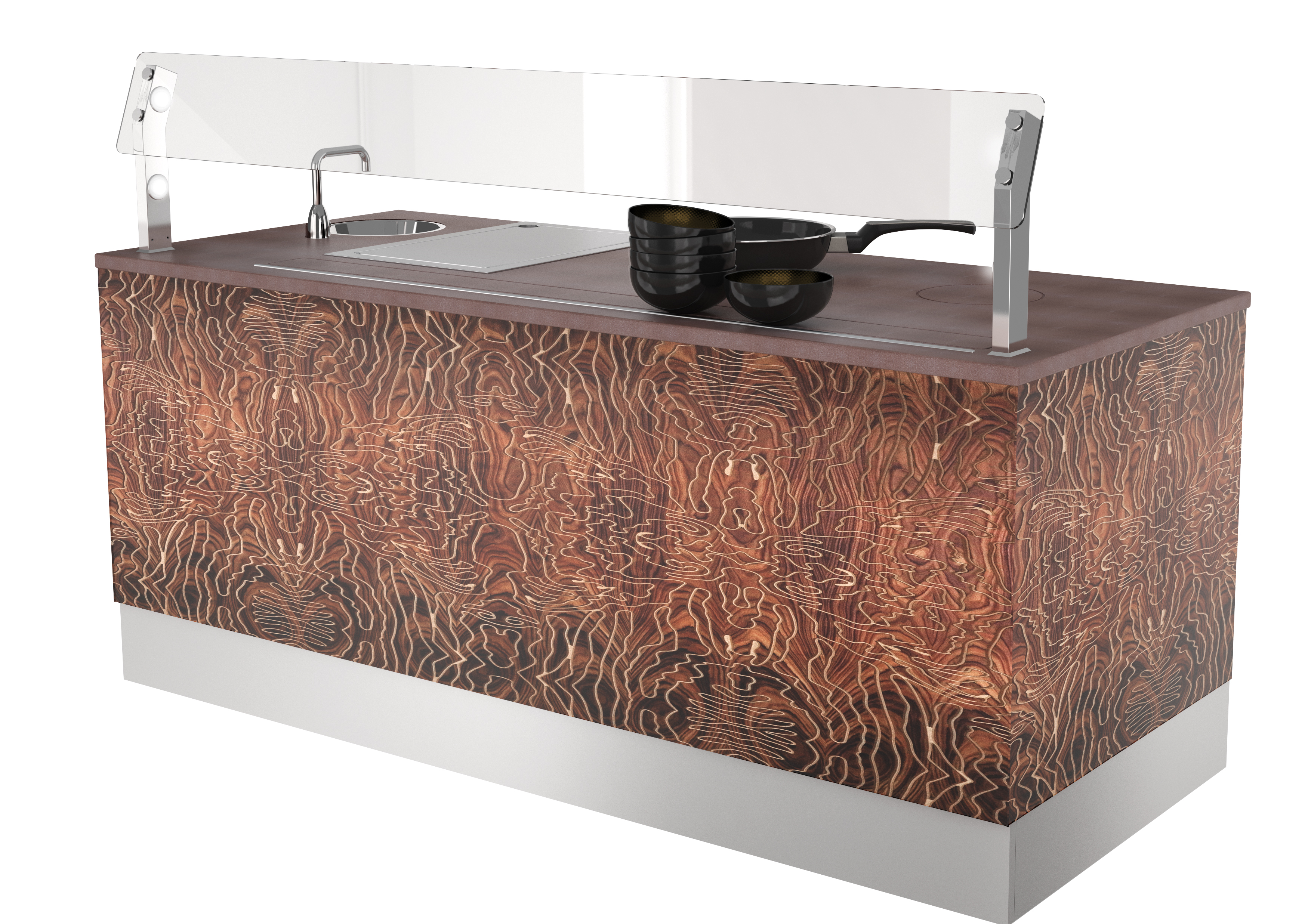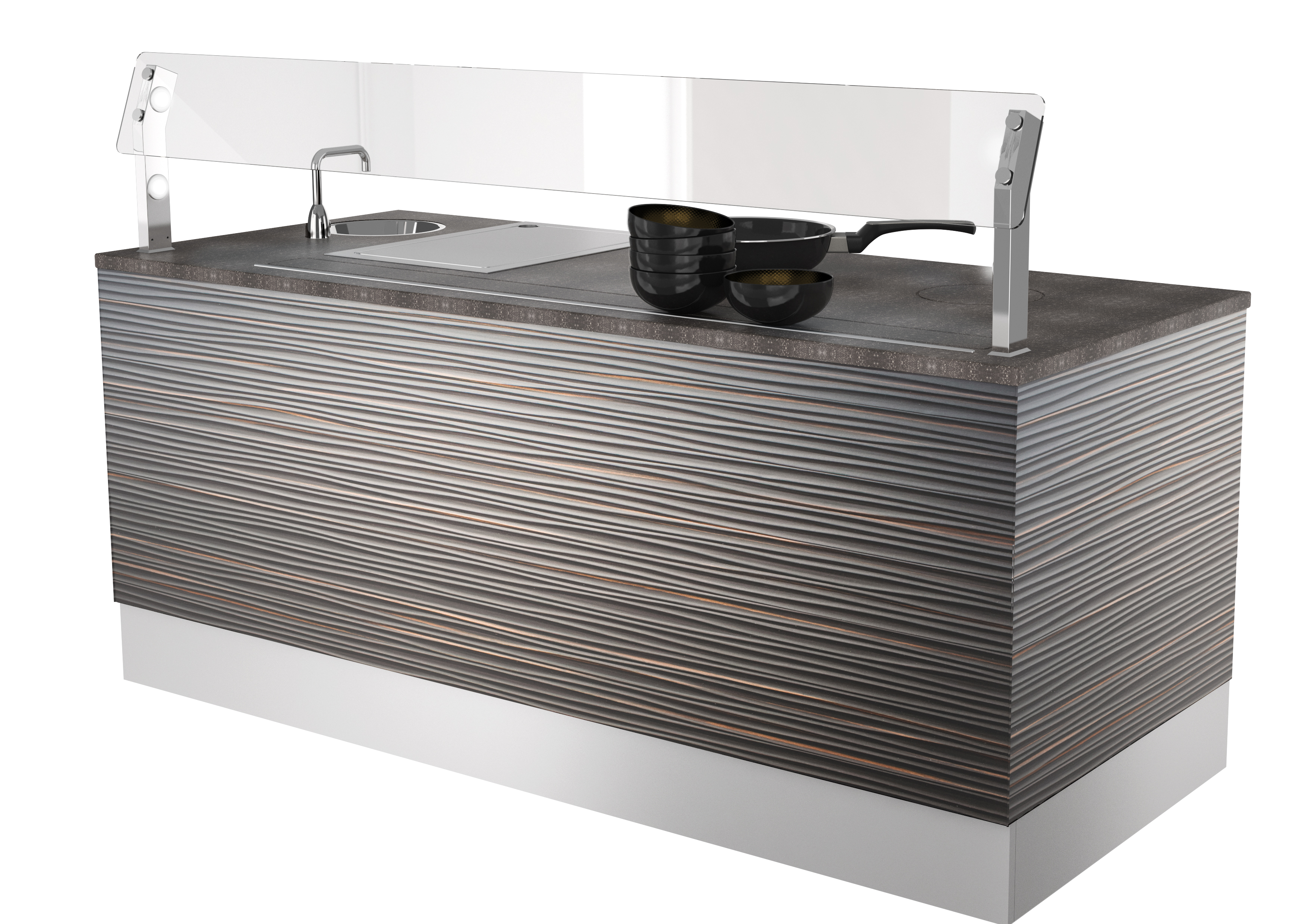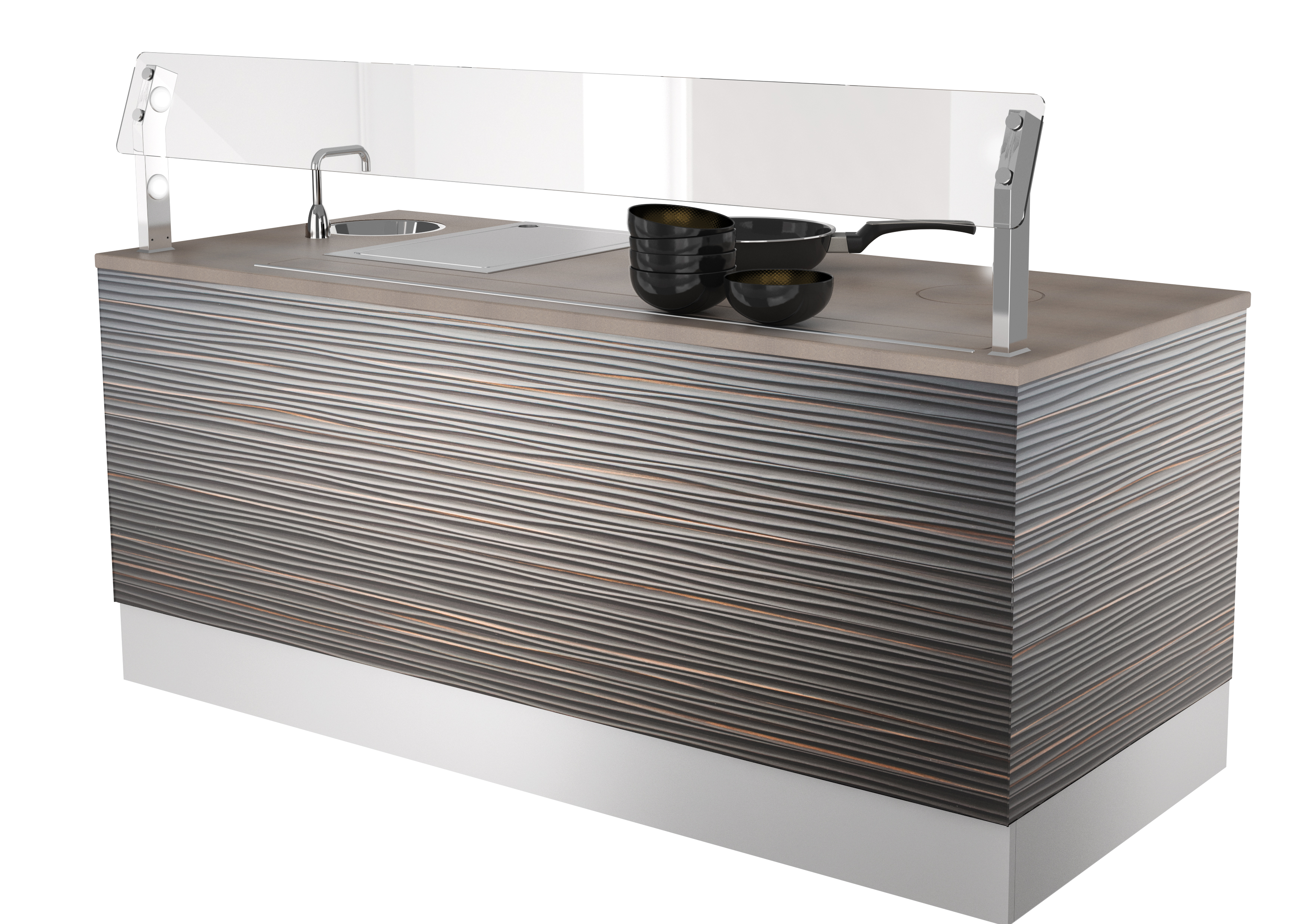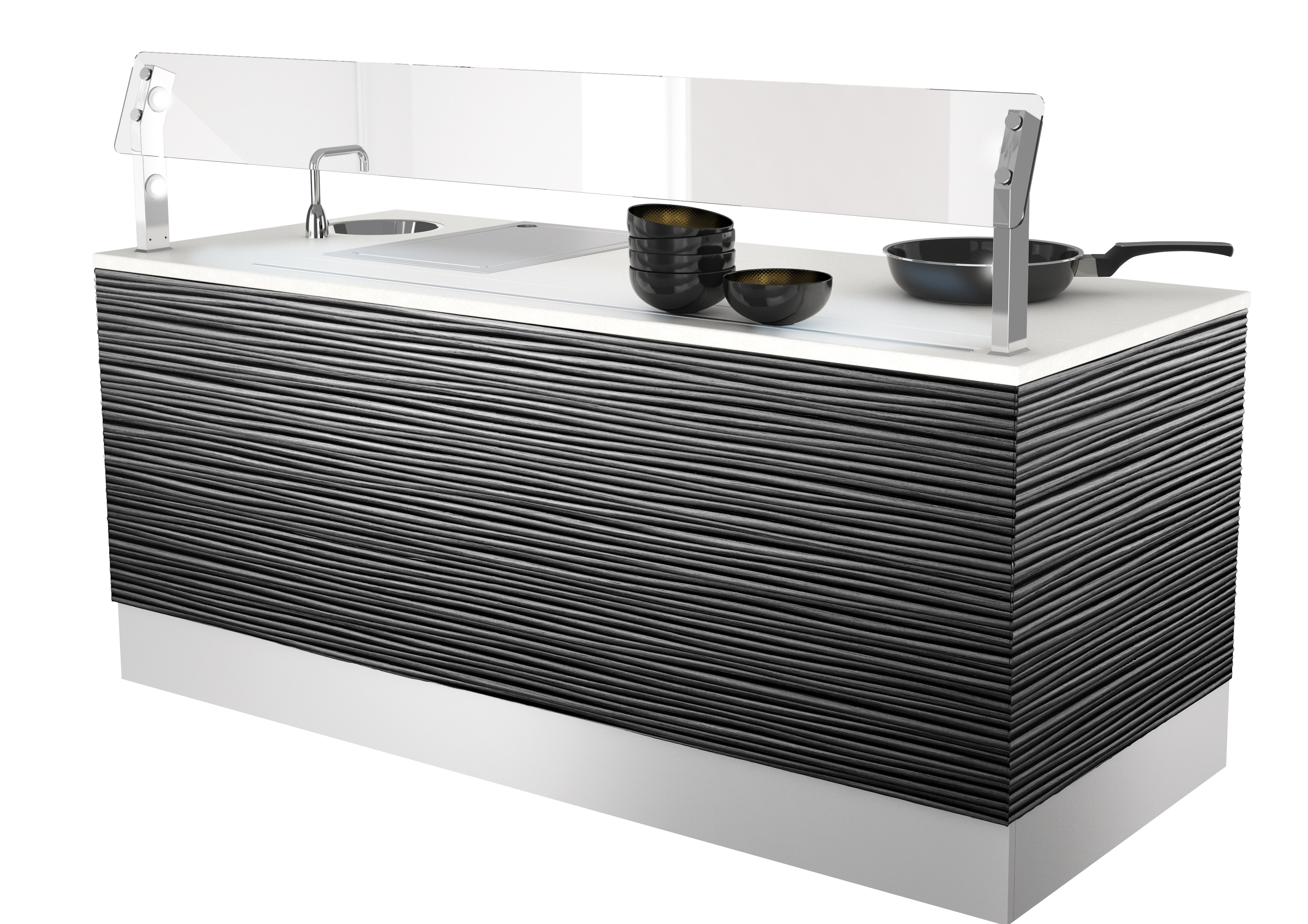 It can be moved quickly and easily, thanks to six wheels with diameters of 125mm and stainless steel swivel castors. Three of the wheels have brakes soyou can be sure the unit will stay safely in position.
The cooking show that enables you to stand out
Live cooking for professionals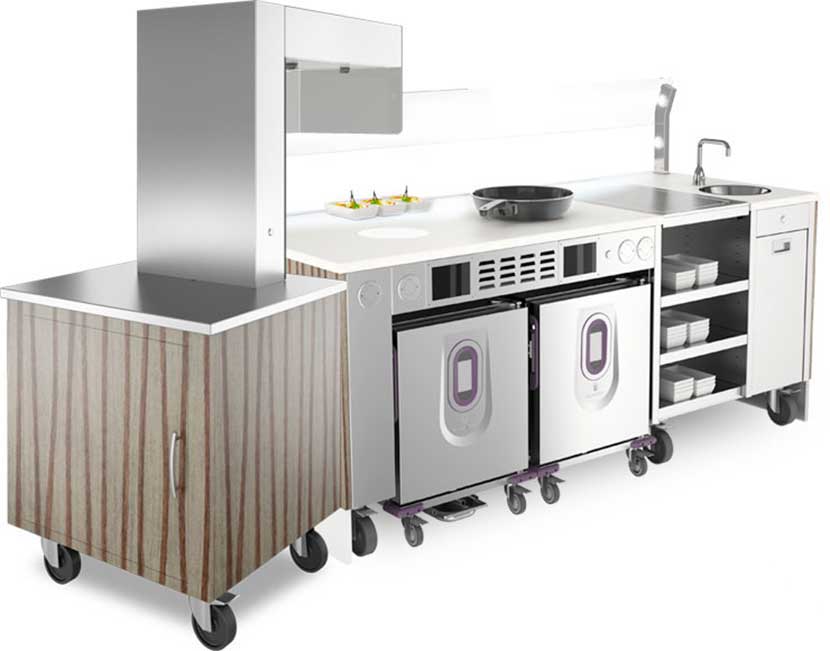 The New Front Cooking unit meets the needs of caterers by making professional standards portable. The live cooking unit can come with two professional 3600W inductors. It is shock resistant, and control panels that have capacitive keys made from unbreakable glass. So that you can cook your dishes as precisely as possible, the unit offers three pre-set power levels. It has a substantial life span of 30,000 hours, the equivalent of intensive use of 10 hours per day.
Mobile and entirely functionally independent, it can be used in any environment in association with a mobile Filt'Air 900m3/h fume hood. Even though it is built to travel, it is well-equipped with features allowing for impeccable hygiene. A 6mm-thick tempered glass sneeze guard protects your guests from any splashes. If you wish, you can add a waste bin or a wash basin.
Designed to have all the qualities of a great mobile and independent kitchen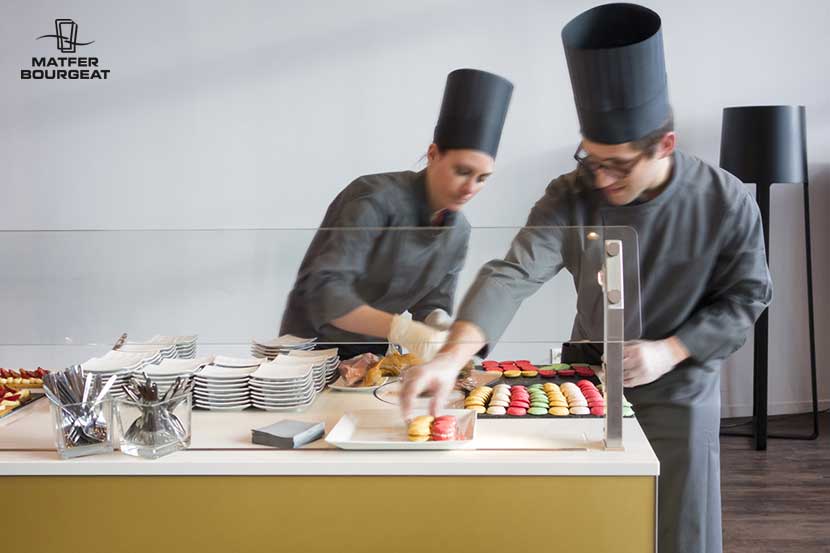 To ensure you enjoy the best meal-making conditions, the New Front Cooking unit has a high-performance, scratch-resistant Planceram work top made from 100% natural and recyclable materials. . One of the key qualities of the New Front Cooking unit is that it is very user-friendly. In addition to its wide work top, which has a support tray, the unit has a multi-purpose recess featuring a tray of adjustable height on which you can put your accessories. Two shelves allow for stowing dishware out of the way. If you would like additional storage space, you can add two neutral drawers.
The characteristics of the mobile New Front Cooking unit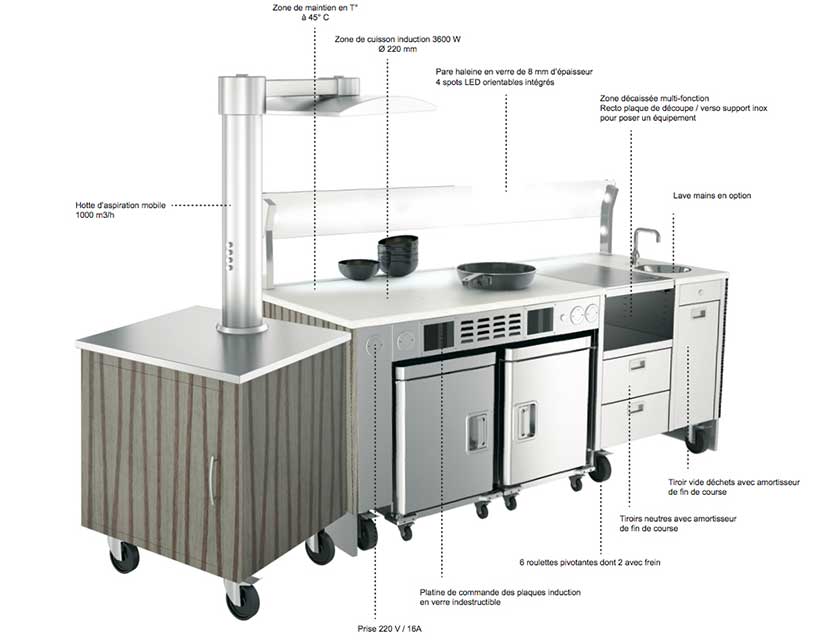 The characteristics of the New Front Cooking unit will enable you to stimulate the curiosity of your guests. You will be able to offer them a genuine live cooking show to whet their appetites. This performance builds trust, as your guests see exactly what you're cooking – and they'll be eating.
This food serving unit is equipped with induction ovens and a multi-purpose area where you can fit a griddle, wok or cutting board. Furthermore, it comes with cold or nicely warmed neutral storage cabinets. These characteristics allow you to offer a wide variety of dishes, as you will be able to work on many different products that showcase your creativity.
With its unique "Plug & Cook" feature for all accompanying equipment, the New Front Cooking unit can be made operational very quickly and in any circumstances.
The New Front Cooking unit was designed for professionals to offer mobile cooking and adds to the atmosphere of any establishment, especially the most luxurious ones.
It works perfectly along with the Food Line, the self-service solution for catering to staff and all other canteen facilities.