Discover the Alphamix food blender, a tool designed for intensive use in the kitchen.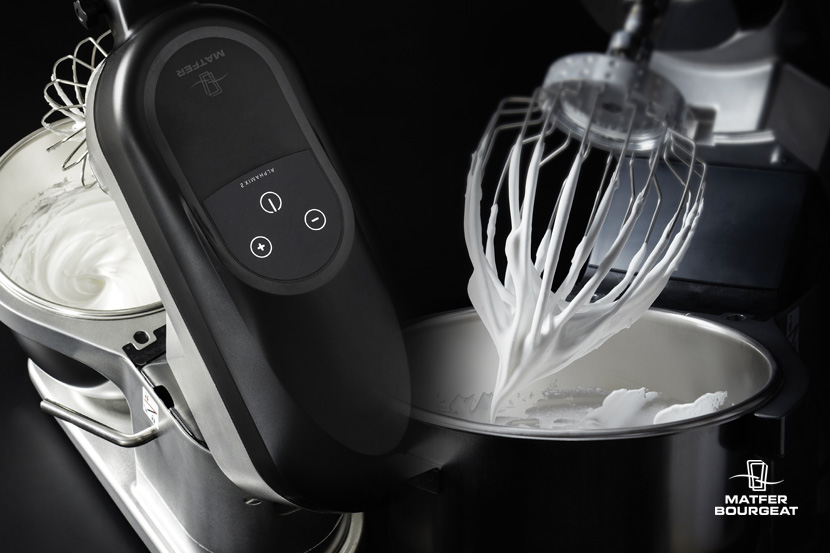 THE ALPHAMIX FOOD BLENDER FOR INTENSIVE USE
The Alphamix food blender is intended for intensive daily use. It can be used in pâtisseries, catering services and small canteens. This comprehensive appliance can be used for preparing various dishes and features three tools: a whip, a dasher and a hook. If you like, add a disc vegetable slicer or a three-cylinder set for fresh pasta. As with the Prep Chef professional purée maker, this multi-purpose appliance is designed to assist you in the kitchen.
Two versions of the Alphamix food blender are available: 5L and 8L.
In the 5L version, the appliance can knead up to 1.2kg of pasta, whip up to 8 egg whites (or 4.5 litres of beaten egg) and mix 1kg of softened butter or 2.1kg of sugar dough.
In the 8L version, the Alphamix can knead up to 4kg of pasta, whip up to 20 egg whites in record time and mix up to 1.5kg of softened butter. It helps you perform many tedious tasks quickly, saving you time on these tasks.
THE BENEFITS OF THE FOOD BLENDER
The control panel on the front of the Alphamix makes it makes it easy to access and select the desired function. This control panel offers a choice of 9 power settings with a precision speed controller and safety features. Cleaning is easy, with no residue or traces left. Alphamix's new tilt head comes with a hold setting, allowing you to fit tools without having to place pins. The polished metallic casing ensures good stability during use and cleaning. The protective screen means you can add ingredients through side slots without any risk.
The blender's accessories, such as the whip, dasher or hook, are shaped to reduce work time as much as possible.
TECHNICAL DATA ABOUT ALPHAMIX
This professional kitchen appliance has a power supply of 550Watts, 230 Volts and 50Hz for the 5L litre version, while the 8L version's power supply is 700Watts, 230 Volts and 50Hz. It is available with two types of connection depending on whether you intend using it with a EU or UK socket.
The 5L Alphamix food blender has a robust universal motor mounted on ball bearings yet is very quiet when operating. The maintenance-free motor is provides even power distribution and does not contain wearing parts or fuel, while a  single plug ensures simple operation. The 8L version of the Alphamix has an induction motor, give it greater reliability and longevity and making it more suitable to the bowl's capacity.
The motor, like the blender as a whole, has been designed with the user experience in mind. It will help you prepare dishes so that you can offer your customers the most delicate dishes while working in complete safety and record time. It combines efficiency and practicality throughout its life span.