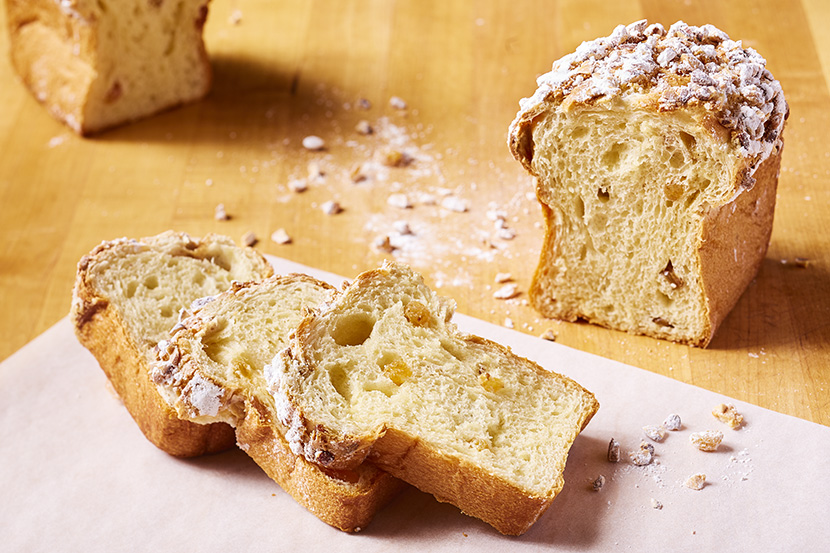 Ingredients: (Yield : 12 brioches scaled 400g)
Bread flour 450 g
Fresh Yeast 12 g
Champagne 375 g
Bread flour 1500 g
Salt 53g
Fresh Yeast 20 g
Sugar 300 g
Milk 375 g
Whole eggs 525 g
Butter 790 g
Golden raisins 600 g
Rum 60 g
Almond paste 50% 270 g
Whole almond powder 525 g
Oil 115 g
Corn starch 115 g
Egg white 200 / 300 g
Vanilla paste 40 g
Chopped whole almonds 150 g
Confectionary sugar
200 g
Mix the preferment with a spatula and store overnight in the cooler.
Mix the dough in planetary mixer like a brioche : preferment, flour, salt, yeast, sugar, milk, eggs 5 min. in 1st speed, then 10 min. in the second speed (until the dough doesn't stick on the). Add the cold butter and mix 5 more min. in second speed. Add the soaked raisins and mix at first speed until incorporated. Let rest the dough at room temperature during 45 min. Divide and preshape, let rest 10 more min.
Shape and put in exoglass brioche molds. Proof 2 hours at 80 F.

Preparation of the macaron mix
With the paddle in a kitchenaid mix all the ingredients together and adjust the consistency with more or less egg white.
The mix must be spreadable, but not liquid.
At the end of the second fermentation, use a piping bag and a rubban nozzle on top of the brioches.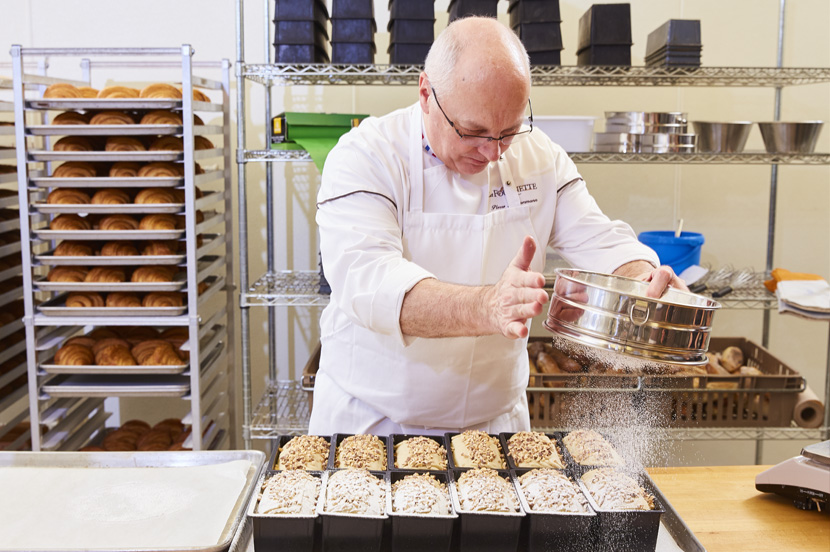 With a stainless steel sieve cover the brioches with icing sugar.
Bake at 320F during 30 min. in a convection oven or 356F during 35 min. in a deck oven.