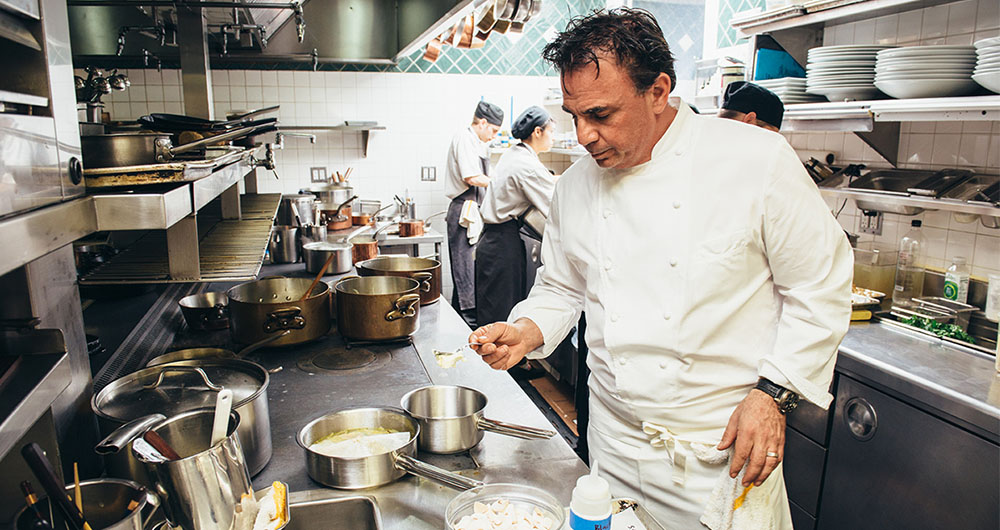 Josiah Citrin, award winning Master Chef and restaurant owner, is in a class all of his own. Bold and brave, his phenomenal dishes make it clear why he is a culinary maverick on the Los Angeles dining scene. It is no wonder he has earned the much deserved impressive accolade of two Michelin stars for Mélisse, his highly acclaimed fine dining American French restaurant in Santa Monica.
As an award winning Master Chef & successful restaurant owner, what inspires you and keeps you moving forward?
The phrase on the wall in my kitchen at Mélisse says, "In Pursuit of Excellence," and that is my culinary philosophy and inspiration. It is pure, simple and true. Each and every effort of every aspect of what I do and what my team does is done with a commitment to excellence from ingredients, to preparation, to presentation and service. Texture and taste matter. Everyone and everything is a part of creating that excellent memorable dining experience for our patrons. It's what we do and how we do it. That clarity sets the standard for my restaurant concepts, whether fine dining at Mélisse, a casual meal at Charcoal Venice, or the most excellent gourmet hot dog at Dave's Doghouse. In each venue, my entire staff is behind that attainable goal from start to finish. We are always evolving in that pursuit.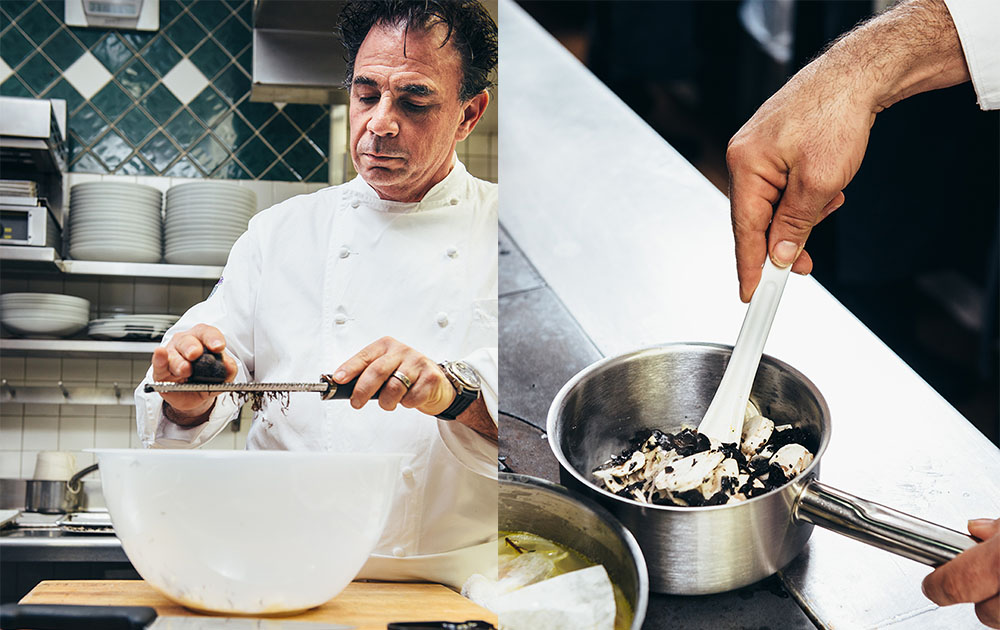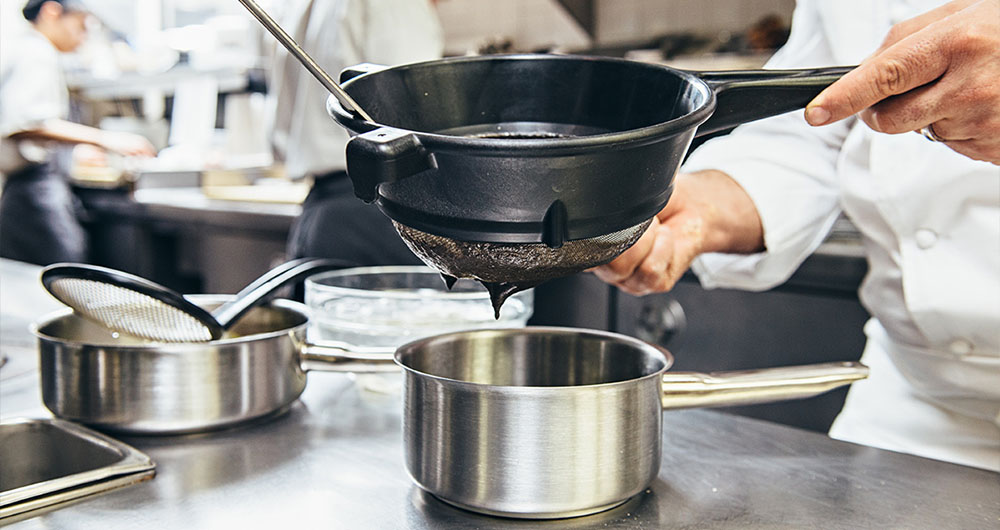 Mélisse is one of the best French restaurants in the country and has the amazing accolade of two Michelin stars. As a native Californian who lived and trained in France how did Mélisse come to be?
I grew up in Santa Monica and Venice. My grandmother was French so France was intriguing. And my mother was a caterer so food made sense to me early on in life. I moved to Paris to explore the idea of a culinary career and worked for three years at Vivarois and La Poste. Both were fine dining Parisian restaurants that taught me the art and discipline of classical French cooking. The beauty and finesse of that elegant experience got me hooked. It's what I wanted to do and when I came back to the States in 1990 that was the goal I set for myself.
I worked with excellent chefs in excellent restaurants and learned the business from the inside out. I really like the aspect of "special" that comes with the whole fine dining experience and I wanted to provide that at Mélisse. I like setting the scene of the décor, the lighting, and the tabletop and place settings. The meal should be intriguingly beautiful and absolutely delicious using the freshest seasonal ingredients from vegetables and fruits to meats and fish. My standards are very high. I just want it to be a beyond memorable experience from when guests walk in the door to when they leave.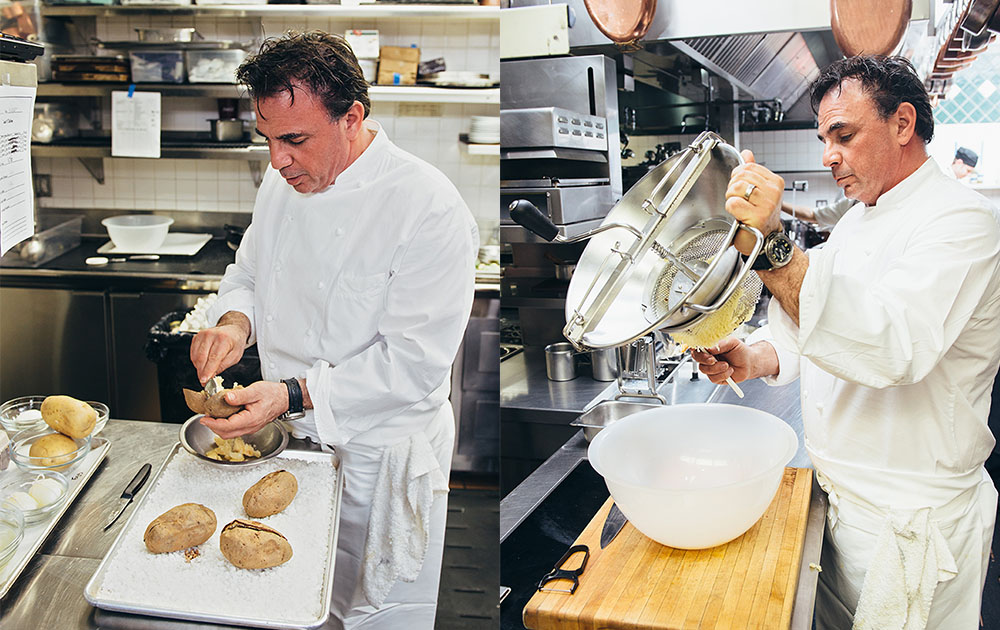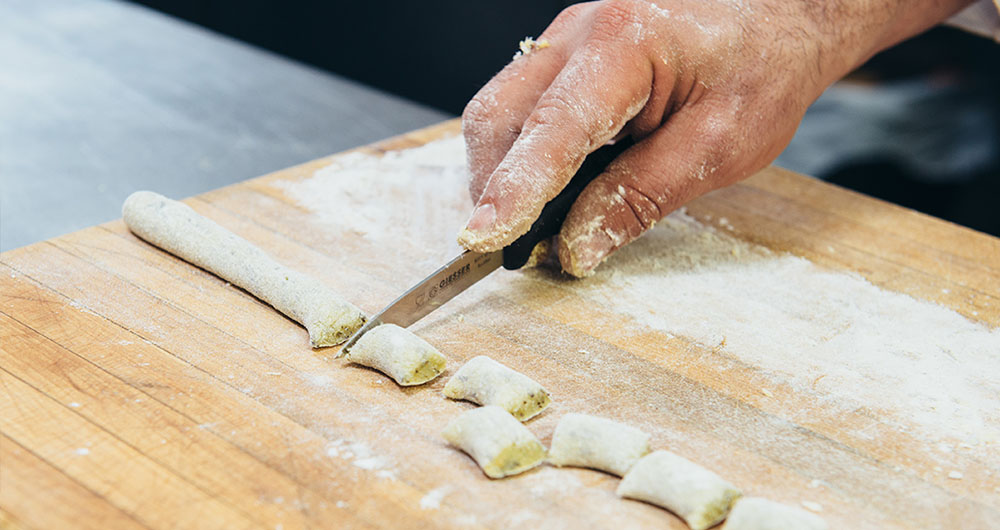 The décor is beautiful. The subtle purple walls complement the dove grey and white well. Yet purple is an unusual evocative choice, isn't it?
I love purple. It is my absolute favorite color! And I don't really know why. When I first moved to Paris, I saw this great purple shirt in the window. The price was way over my budget but it caught my eye and I just had to have it. So I splurged and bought it. Whenever I wore it, I was lucky and whatever I was doing worked out really well. So my love for purple grew and I regard the color as my lucky charm. I have a lot of purple in my wardrobe when I'm not wearing my chef whites! The purple walls are subtle yet feel sophisticated to me too since they complement the white and gray walls too. It is a simple, pure color scheme combination
Does Paris remain one of your favorite food cities?
Paris is one of the most amazing cities in the world food and all. It holds a very special place in my heart since I was fortunate enough to work and live there. I go when I can but it is never enough. Every dining experience from haute cuisine to a casual bistro meal makes an impression on me. The farmers' markets always astound me. It is where I came to appreciate the passion of vendors and purveyors for their produce. It is that passion and attention to quality that I expect from the vendors and purveyors I personally source from at the Santa Monica Farmers' Market and elsewhere.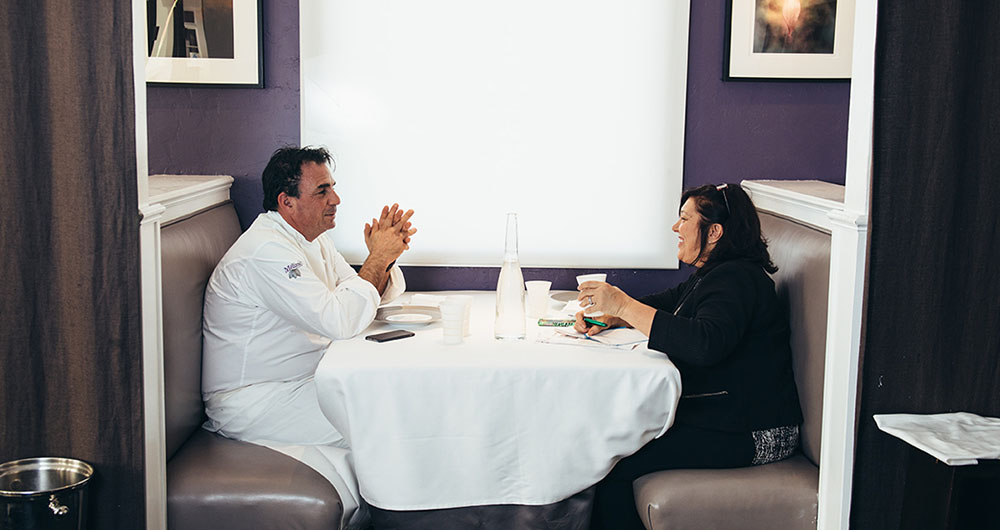 You use Matfer products in all of your kitchens. What do you like about them?
I of course came to know Matfer products when I began my culinary career in France. They are the top-of-the line high quality French cooking utensils and that guarantees a successful excellent result. The elements we prepare at Mélisse are refined and I like that Matfer items address that. For example, the sturdy handle of the sieve makes it easy to hold when I'm straining something delicate.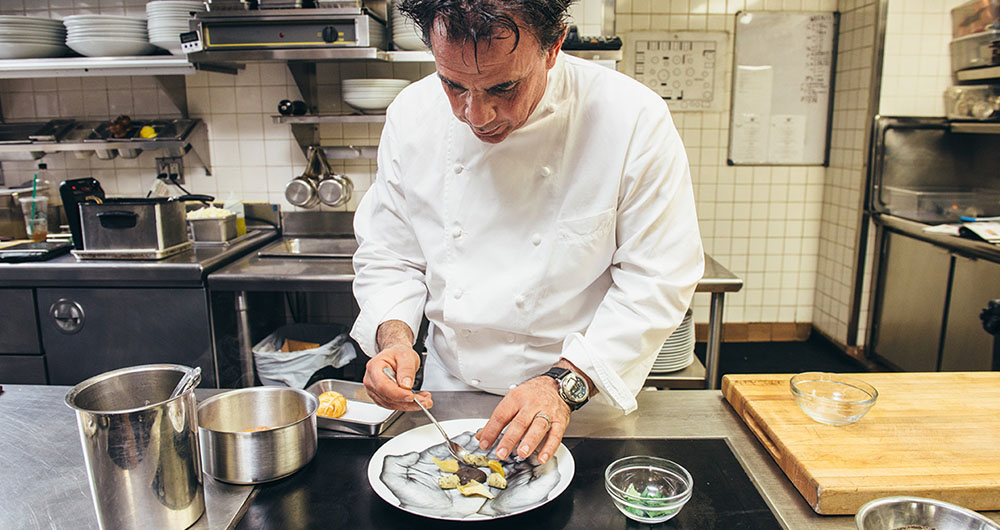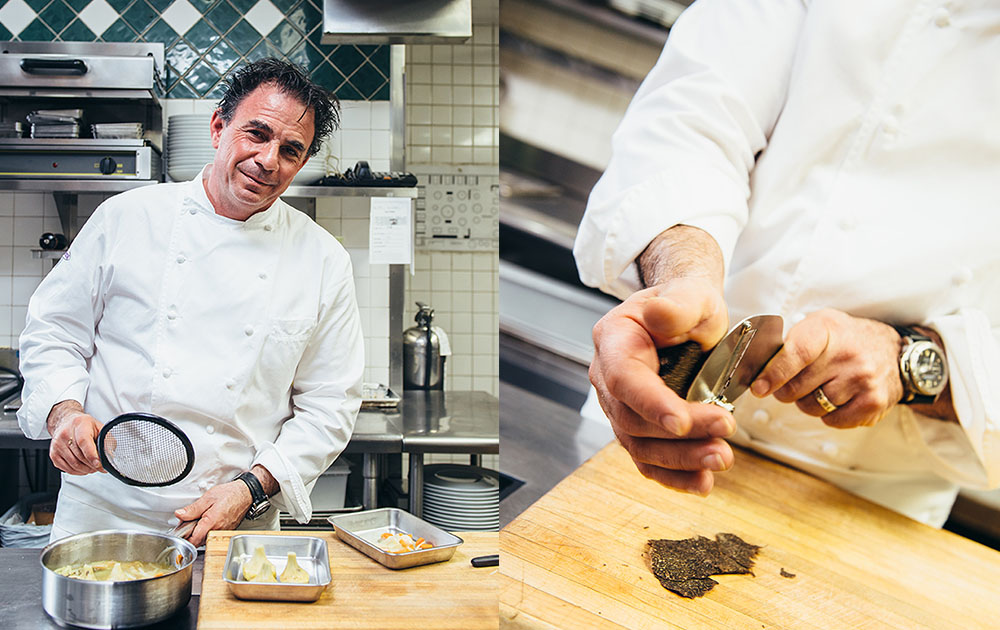 You are in pursuit of excellence. Four-star general and former US Secretary of State said, "If you are going to achieve excellence in big things, you develop the habit in little matters. Excellence is not an exception. It is a prevailing attitude." As you are always in pursuit of excellence do you agree that it is all about attitude?
Yes without a doubt. I believe to achieve excellence in anything and everything that you do, you've got to approach the task at hand with an attitude of commitment, clear focus and perseverance. I do that and train my team to do that with each dish we do. Excellence is the goal and that is how you succeed.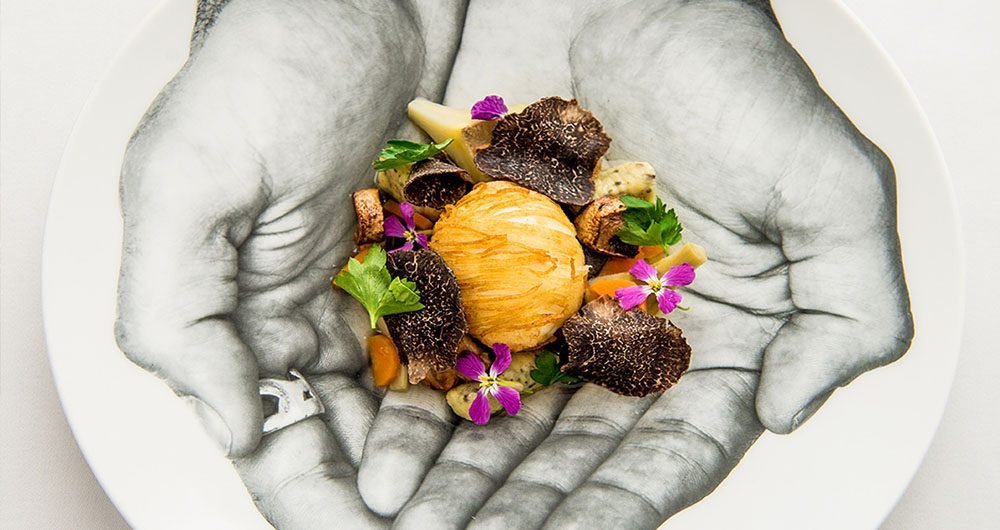 Your Oeuf Mollet Frit, Artichokes, Potato Gnocchi, Black Truffle Coulis is a stunning showstopper. The perfect soft-boiled egg elegantly wrapped with potato strands and surrounded by the truffle gnocchi, carrots, baby and artichoke hearts topped with beautiful black truffle shavings and edible flowers is a culinary feat on a gorgeous plate. Please elaborate.
Thank you. I'm always thrilled that this appetizer gets the awesome response that it does. It is exactly what I aspire to do in elegant yet accessible fine dining cuisine. It should be as pleasing to the eye as it is to the palate. I want to give guests something they can't make at home. Dining at Mélisse is unique and should be wonderful and memorable.
The cupped hand design on the plate, to me, represents an offering to the patron. Here- this is just for you. I adore truffles and they just say 'special'. My time in France gave me the opportunity to understand their prestige and appreciate their taste. The black truffle coulis is the perfect base to place the softboiled egg wrapped in potato strands upon, especially when the runny yolk blends with the truffle and the flavors from the surrounding elements.
The Matfer guillotine for the potato strands and the truffle slicer and zester make a big difference to this dish.
You are very generous with your time and support of your community through different charities. You participate in Autism Speaks and Cure Autism Now, LA Loves Alex's Lemonade, Wolfgang Puck Cancer Society Event and the Chef's Ride for No Kid Goes Hungry. What is it about these charities that inspire you?
IT is about giving back and helping out those less fortunate. If my ability as a chef can lend a hand to know more, learn more, give more to others than I'm there.
What is your favorite ingredient or must have seasoning to use when you cook?
The most vital ingredient for me is the best quality salt whether it is fleur de sel, sel gris or sea salt. It is the most underappreciated seasoning and when used right makes all of the difference to dishes. You don't need a lot to enhance the purity of flavors but it must be the right one. Other than that, I appreciate anything seasonal, and of course truffles.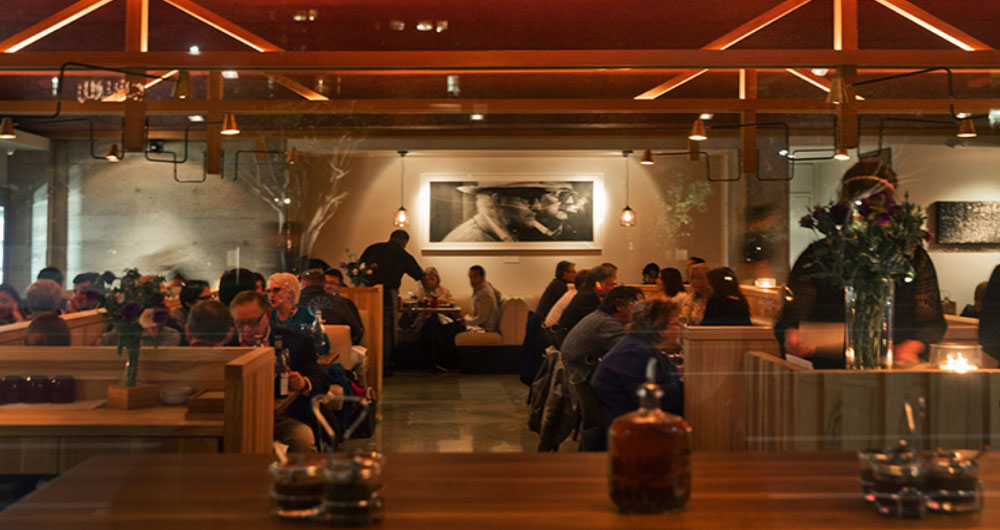 On a personal note, when you're not cooking, what do you like to eat?
I love anything on the grill over charcoal. I do lots of backyard barbecue for my family and friends. It's how and why I opened Charcoal Venice!
More about Josiah Citrin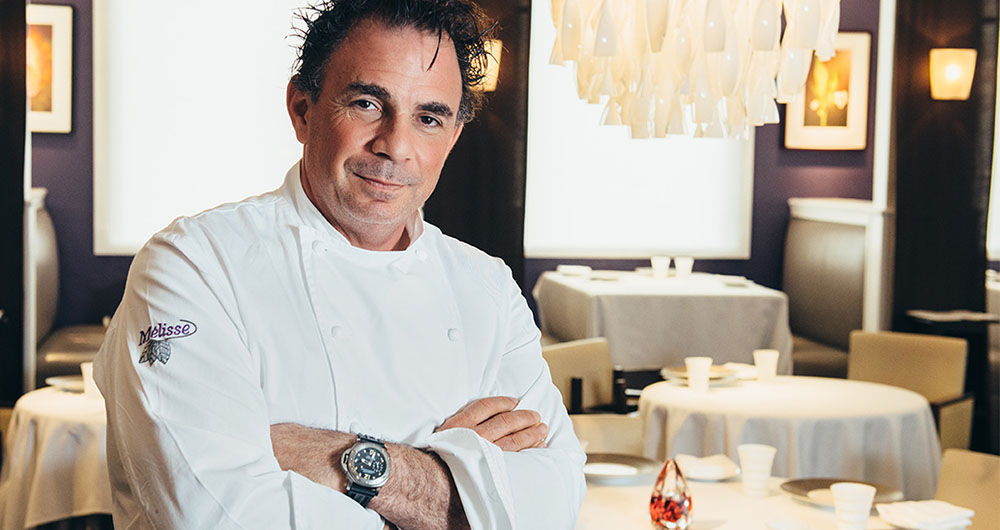 Josiah Citrin is a culinary expert and vertan of Los Angeles gourmet dining scene, with more than 25 years of experience. He is a two-star Michelin award-winning chef and owner of highly-acclaimed Mélisse restaurant in Santa Monica, Charcoal Venice, and in the Staples Center in Downtown Los Angeles. Citrin has mentored some of talented young chefs, including Nyesha Arrington . His culinary philosophy, Pursuit of also the name of his cookbook), sets the standard for all of his concepts, whether finedining or casual.
Citrin discovered his passion for food through his family at an early age, growing up in SantaMonica and Venice with a mother who was a caterer, and a French grandmother who cooked family meals. Their knowledge, combined with his excitement for cooking and business, led him to pursue a culinary career. To explore his French heritage, Citrin moved to Paris after graduating from Santa Monica High School, and worked for three years at fine Parisian restaurants Vivarois and La Poste, gaining an understanding of, and respect for, the rules of traditional French cooking.
Inspired by the quintessential, backyard barbeque cuisine guests would want to eat every day, Citrin opened Charcoal Venice . Charcoal Venice, a neighborhood restaurant, offers craveable comfort foods cooked over live fire via a wood oven, over, or in, charcoal, and in a Big Green Egg.