Ingredients for a chestnut Yule log for 12 serves
Chestnut cream 200g
Chestnut paste 200g
Preheat the oven to 180°C (360°F). Combine the chestnut cream and paste until the mass becomes homogenous. Spread ¾ of the mass thinly onto an exopat and bake in an oven at 180°F (360°F) for about 15 minutes until evenly colored. Leave to cool. Obtain a fine powder to be used in the chestnut ganache by mixing.
Set aside the remaining tuile mixture to make the tuile decoration.
Chestnut tuile powder 70g
Cream 253g
Chestnut paste 47g
White chocolate 35g
Mix together the cream and the chestnut paste and bring to a boil. Pour part of the boiling mixture onto the white chocolate and combine well, then add the remaining mixture, add the chestnut tuile powder and mix again. Refrigerate for 4 hours. When cold, lightly whip the ganache by whisk.
Hazelnut praline 200g
Milk chocolate 25g
Feuillantine 50g
Fleur de sel 2g
Heat the hazelnut praline and milk chocolate over a bain-marie then gently fold in the feuillantine and fleur de sel. Generously spread into an oval entremets mold
Milk 15g
Butter 50g
Flour T55 70g
Chestnut cream 35g
Eggs 100g
Egg yolks 80g
Egg whites 150g
Sugar 40g
Melt the butter with the milk. Bring to a boil, remove from the heat and add all the sifted flour in one batch. Mix well; add the chestnut cream and dehydrate the mixture. Gradually add the eggs and egg yolks. Beat the egg whites and meringue with the sugar. Add a little of the meringued egg whites to the choux pastry dough, then gently fold in the remaining meringued egg whites with an Elveo spatula. Spread an even thickness. Preheat the oven to 210°C (410°F) and bake at 200°C (390°F) for 3 minutes.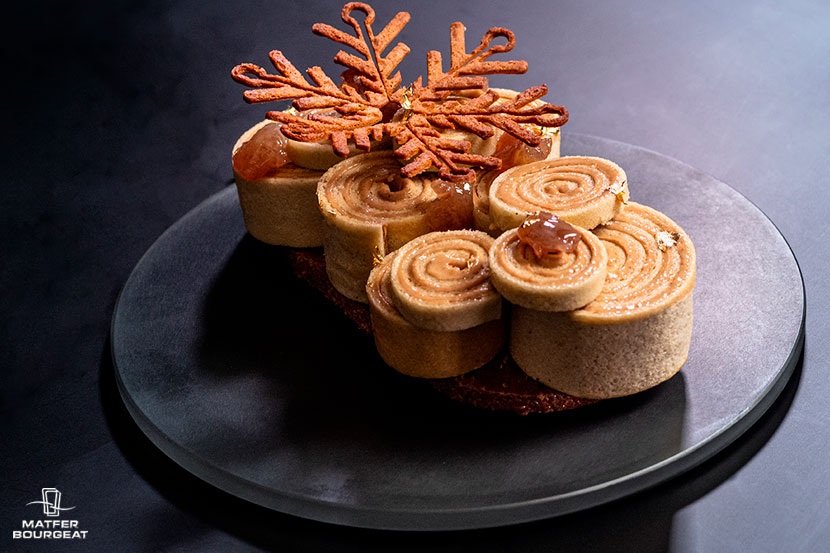 Chestnut decoration for chestnut Yule log
Chestnuts in syrup 1 can
Gold leaf
Assembly for chestnut Yule log
Start with the chestnut tuile and while it bakes, make the hazelnut feuillantine. Make the chestnut ganache and refrigerate several hours. Make the chestnut biscuit sponge.
When the biscuit sponge and chestnut ganache are cool, remove the biscuit sponge from the exopat and whip the chestnut ganache. Spread an even layer on the chestnut biscuit sponge and cut strips of different sizes. Roll them up. There should be rolls of different heights and widths. Unmold the hazelnut feuillantine. Place the biscuit sponge rolls and chestnut ganache nicely on the feuillantine.
Make the tuile decoration with an adapted mold. Lightly grease the mold; with a small palette knife spread the chestnut tuile in the mold. Blind bake in an oven at 180°C (360°F) for 5 minutes. Unmold and finish baking for 4 minutes at 180°C (360°F). Adjust the baking if necessary and gently curve the tuile.
Decorate with chestnuts in syrup, strained, gold leaf and a flake of chestnut tuile.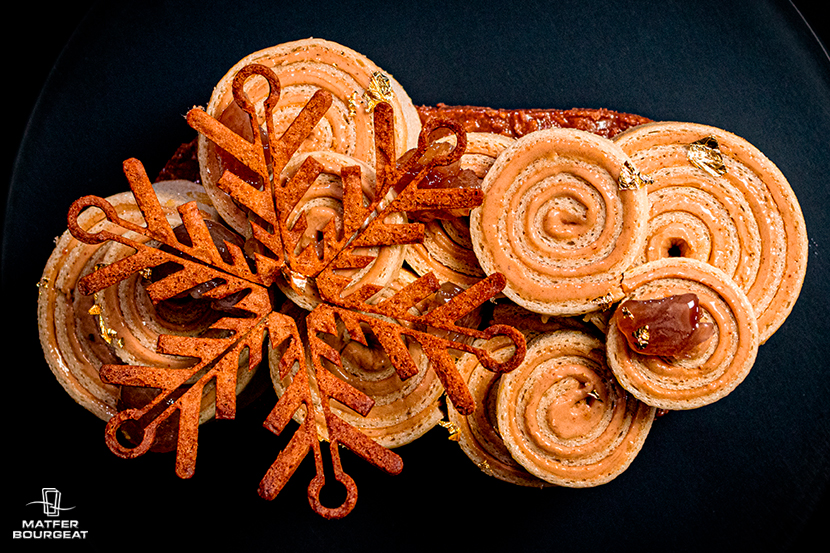 RECETTE DE LA TARTE AUX POMMES PAR CÉDRIC GROLET
Réalisez la tarte aux pommes de Cédric GROLET, quand beauté rime avec simplicité