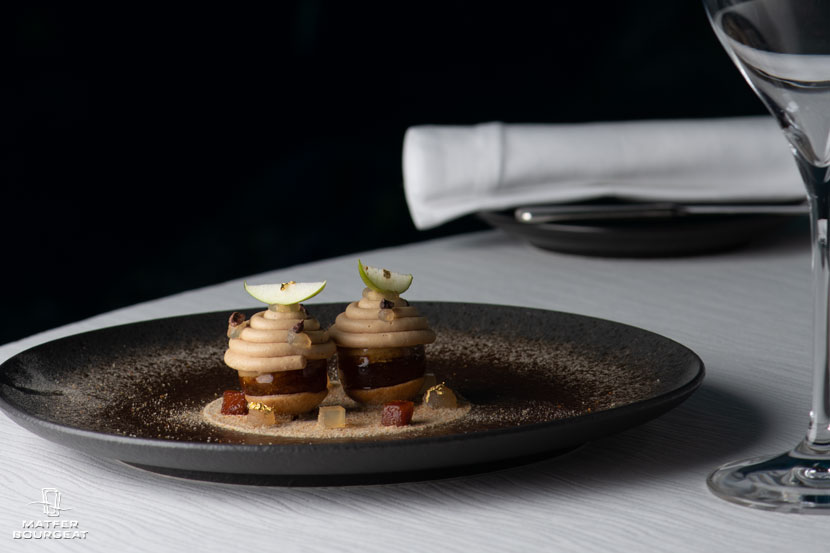 10 apples
140g cider + 140g apple juice
4g agar-agar
1 gold leaf
30g sugar
Peel and cut 10 apples into brunoise.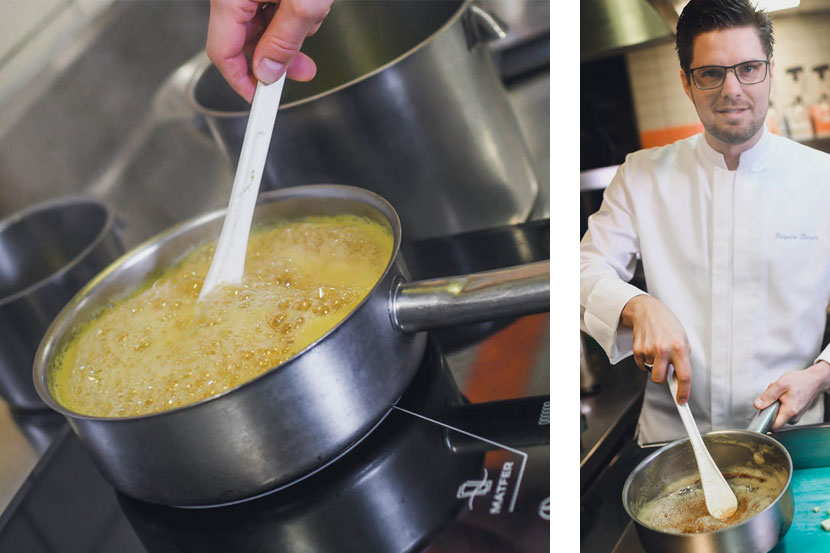 Make a caramel with the sugar and deglaze with the cider and apple juice. Confit the apples, add the agar-agar and boil for 15 seconds.
Miw well the confit apple preparation to cool.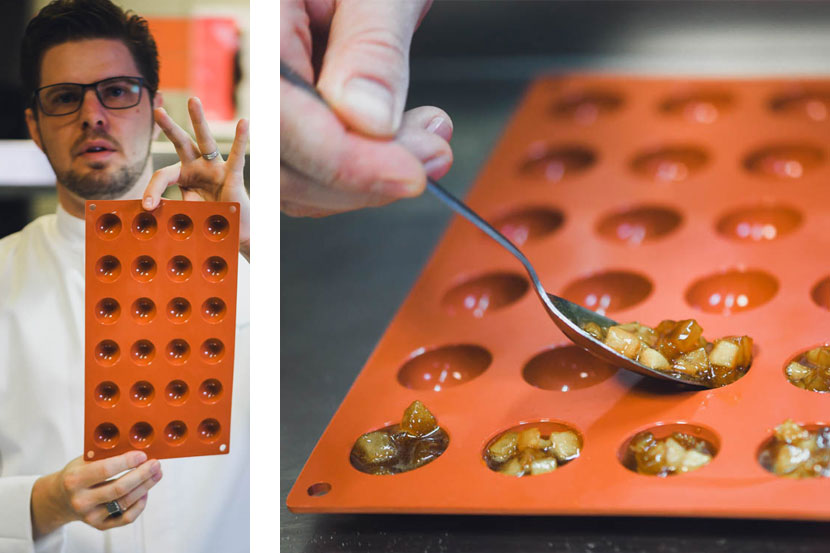 Fill Gastroflex ½ spheres with confit. Deep freeze the ½ spheres.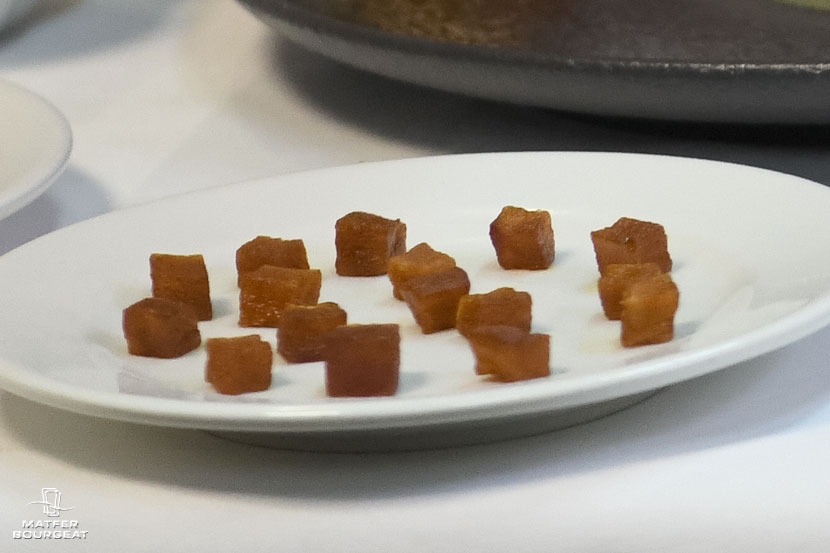 Optional: (Set aside about 20 apple cubes and dry for 3 hours at 60°C (140°F) to make confit apple candies)
270g butter 82%
230g rice flour
6g sea salt
130g cornstarch
300g ground almonds
2g ground cinnamon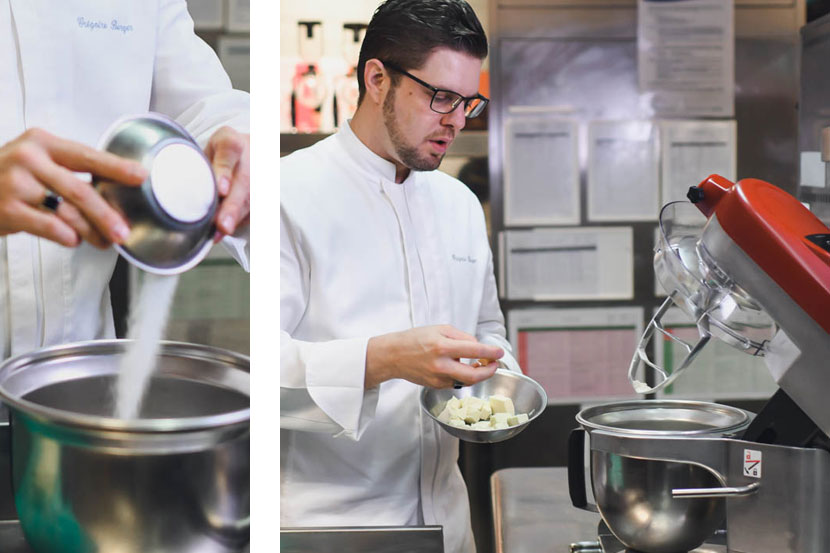 Mix together all ingredients to obtain a soft crumble mixture.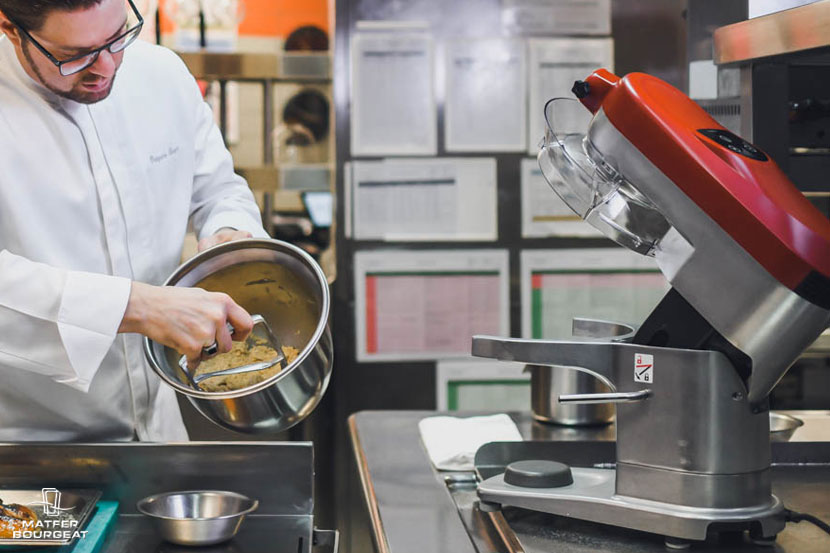 Refrigerate for 30 minutes.
Roll the dough out on a Silpat; cut disks from the dough with an Exoglass cookie cutter.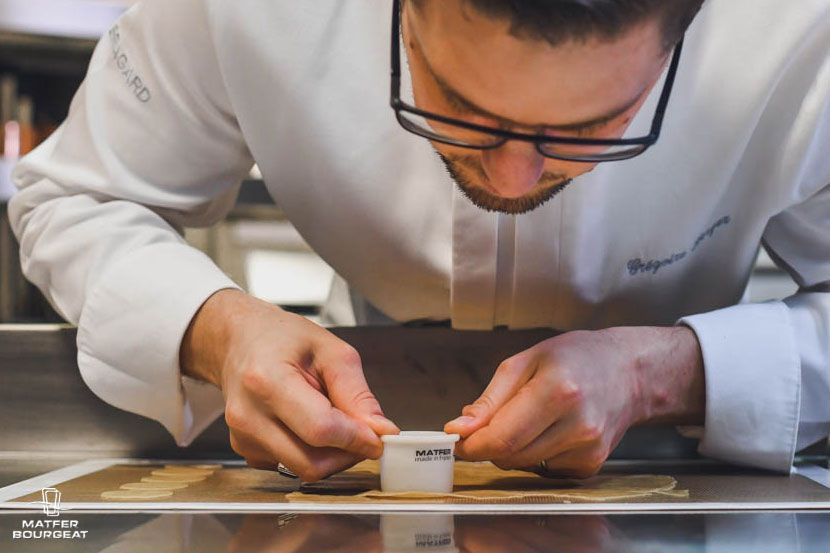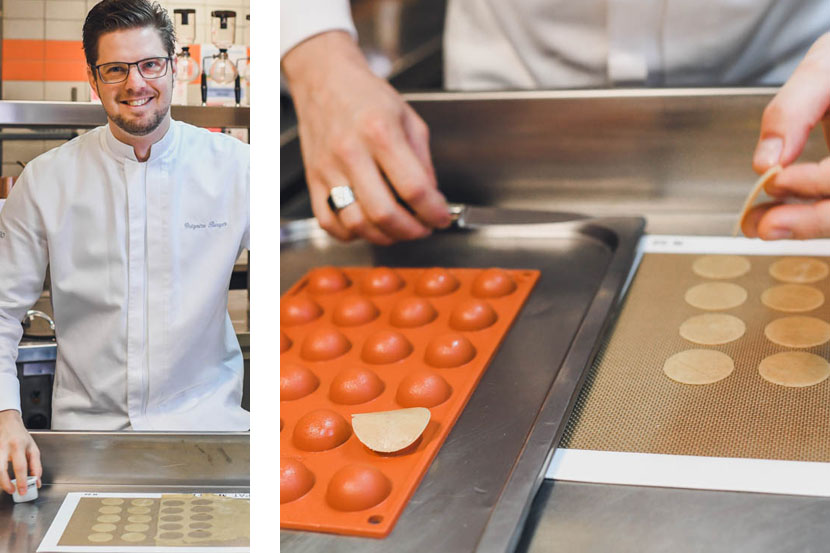 Turn upside down on a ½ sphere Gastroflex tray of the same dimension and bake in a convection oven at 140 °C (285°F) for 10 minutes.
1kg raw foie gras
225g cream
15g black pepper
15g sugar
7,5g salt
9,5 gelatin leaves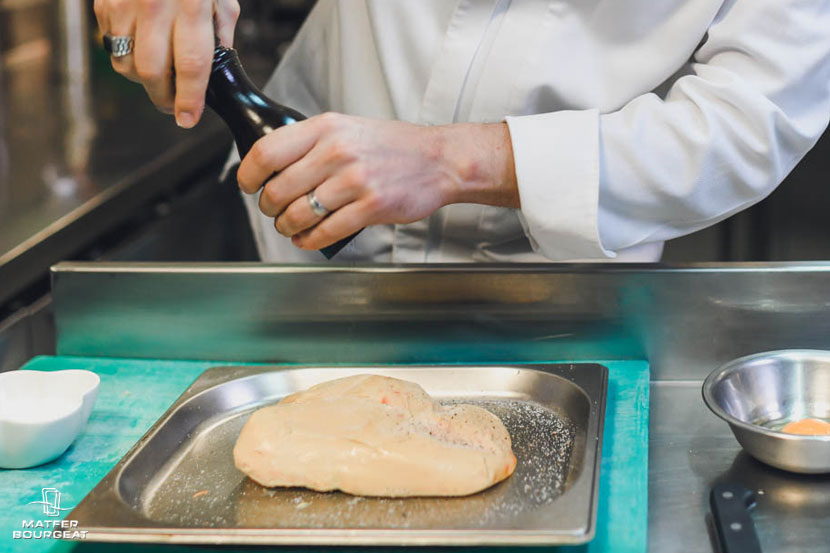 Season the foie gras with salt and pepper.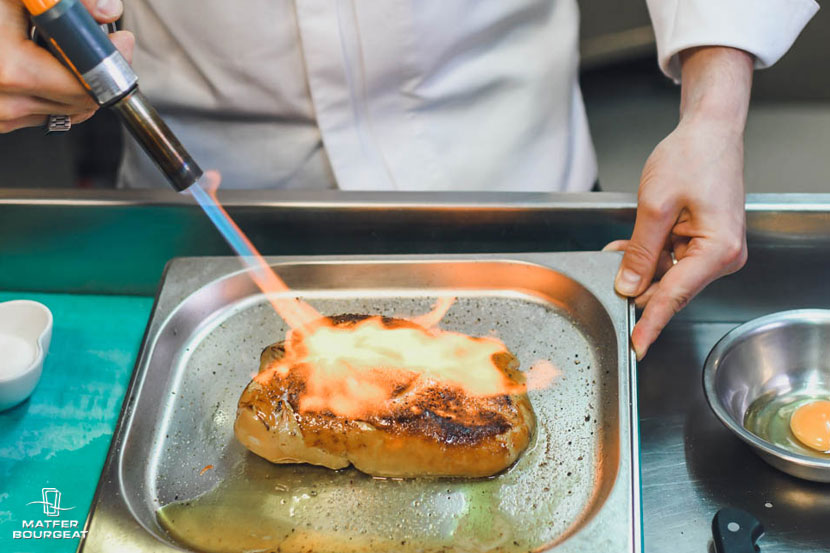 Singe the foie gras with a blow torch.
Cut large pieces of foie gras, place in a sous-vide bag and cook at 54 °C (129°F) for 30 minutes.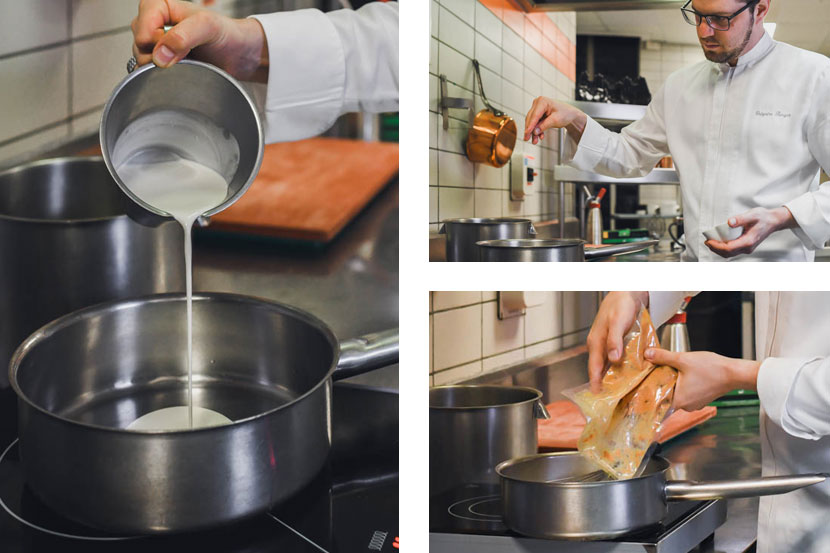 Heat the cream, sugar and salt Add the well squeezed bloomed gelatin leaves. Add the cooked and cooled sous-vide foie gras.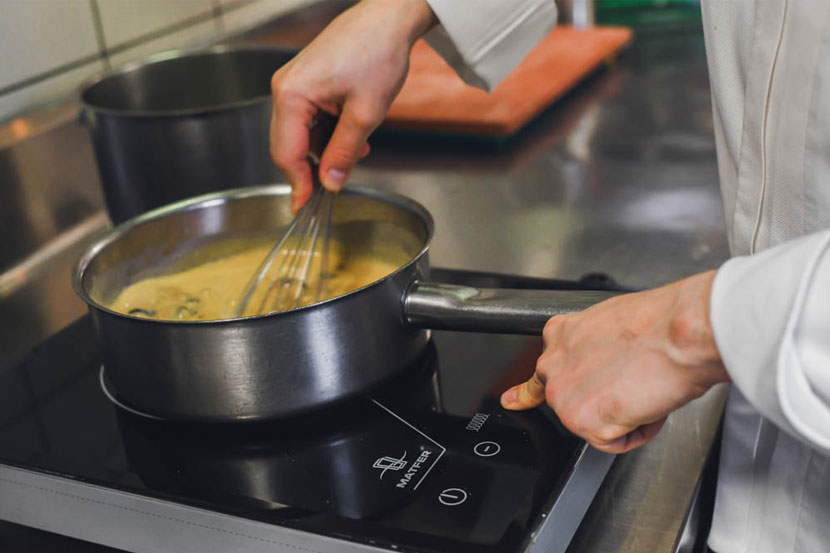 Bring the mixture to a temperature of 45/48°C (113/118°F).
Mix with an immersion blender. Strain through an Exoglass strainer.
Then fill the ½ spheres of the same size with the ganache. Cover each ½ sphere with a disk of baked shortbread cut with a cookie cutter.
Remplir ensuite des ½ sphères de même taille avec la ganache. Couvrir chaque ½ sphère d'un disque de Shortbread cuit découpé à l'emporte-pièce.
300g caramel sugar
300g cider
300g fresh apple juice
40g vegetable gelling powder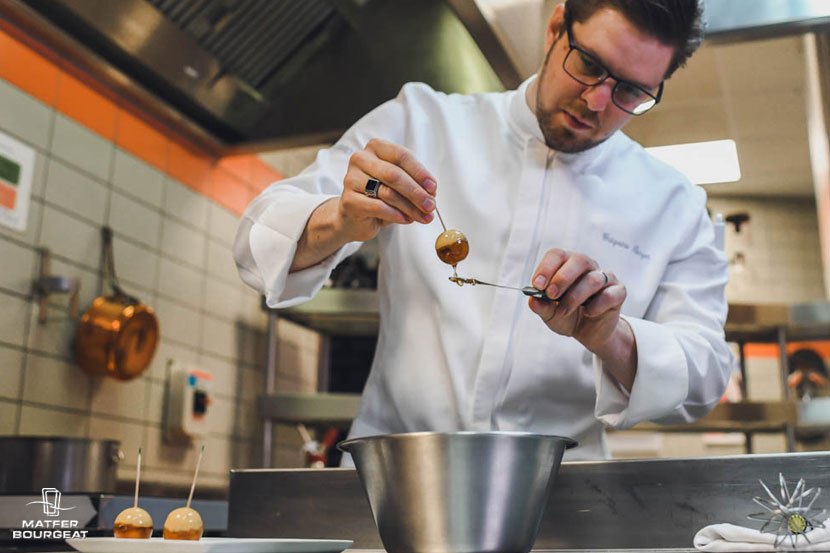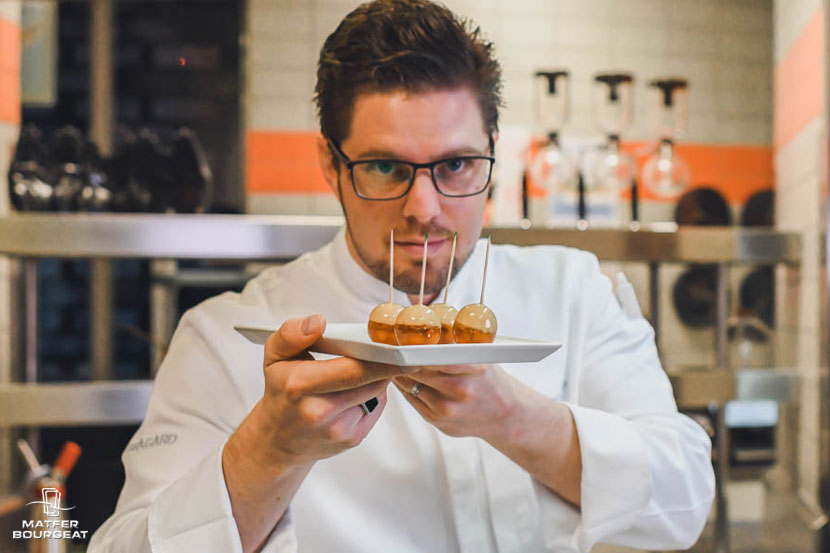 Bring all liquids to a boil. Add the vegetable gelling powder. Dip the balls in the glaze.
350g non-alcoholic cider
150g lemon juice
30g sugar
60g glucose
1 vanilla bean
8g pectin X-52
150g sugar
2g citric acid
6 gelatin leaves
Bring all the liquids to a boil. Mix together the pectin and sugar and add to the mixture.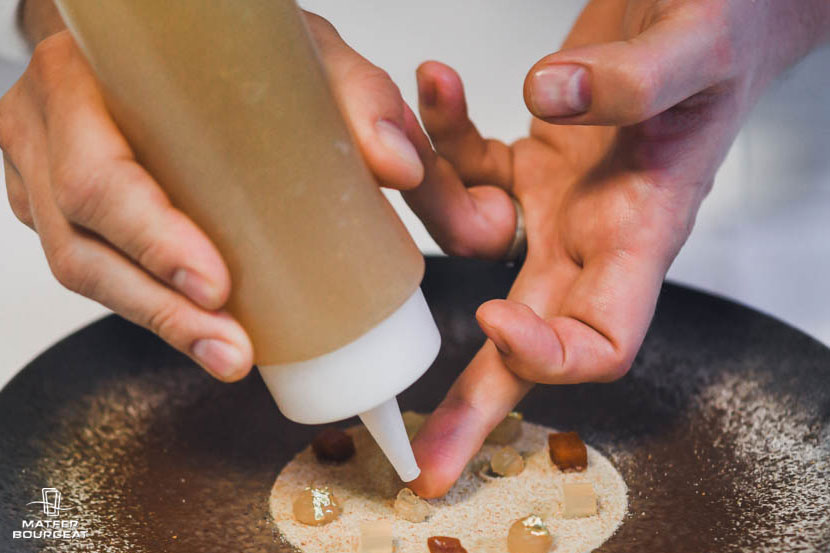 Keep aside a small amount of the mixture to use as dots when plating. Add the citric acid and well squeezed bloomed gelatin leaves.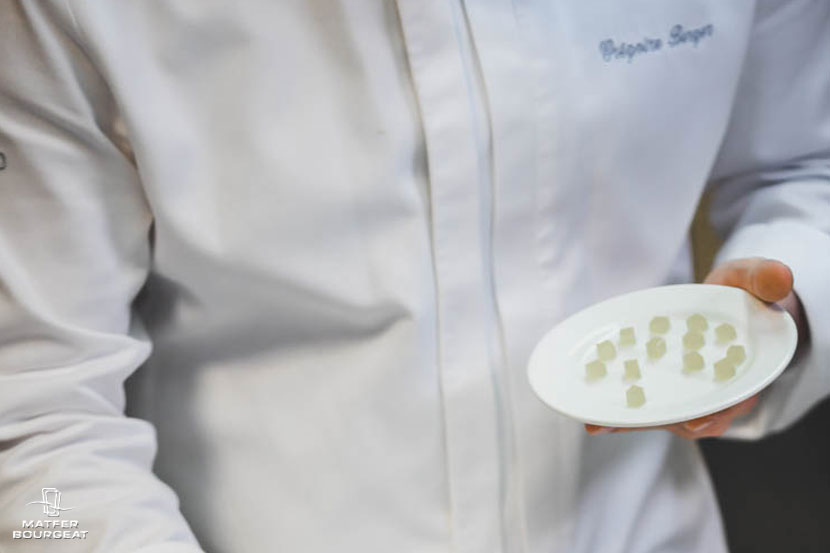 Set on a tray at room temperature and cut 6 mm cubes.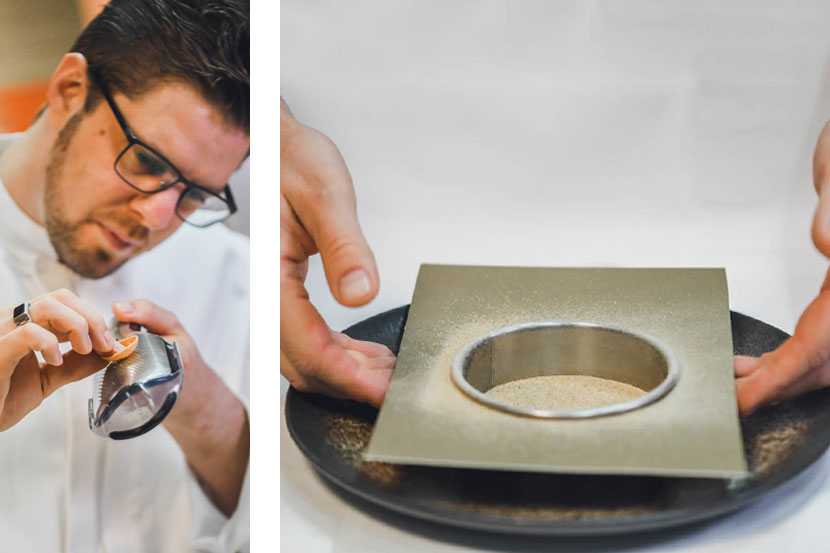 Lightly scrape the base of the shortbread disks for a stable base. Spread toasted bread crumbs in the center of the plate using a stencil. You will find a taste that is beautifully paired with the foie gras.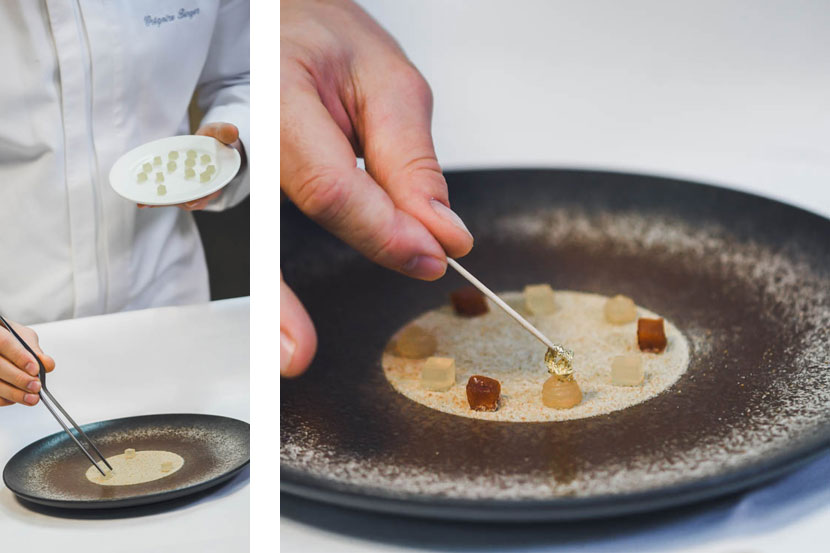 Make small dots with the cooled cider jelly and mix with a little gold leaf as well as the small cubes of set cider jelly.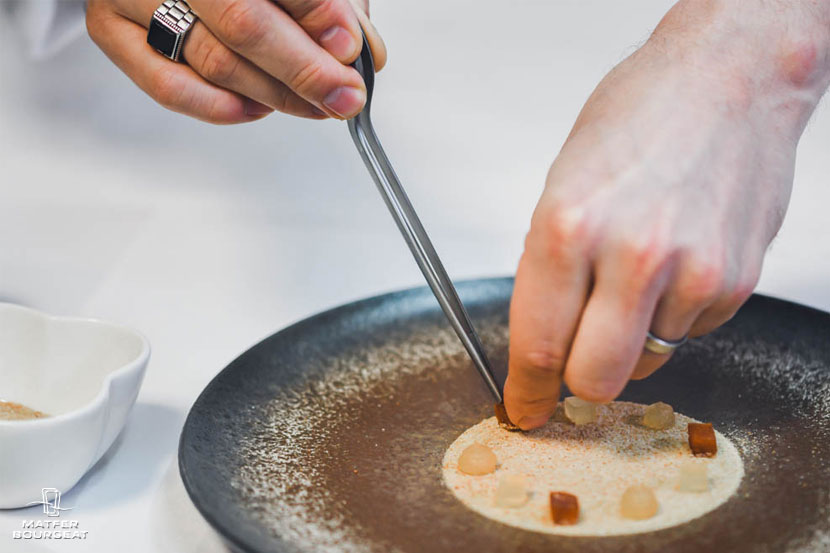 Add the dried apple cubes which look like confit candy.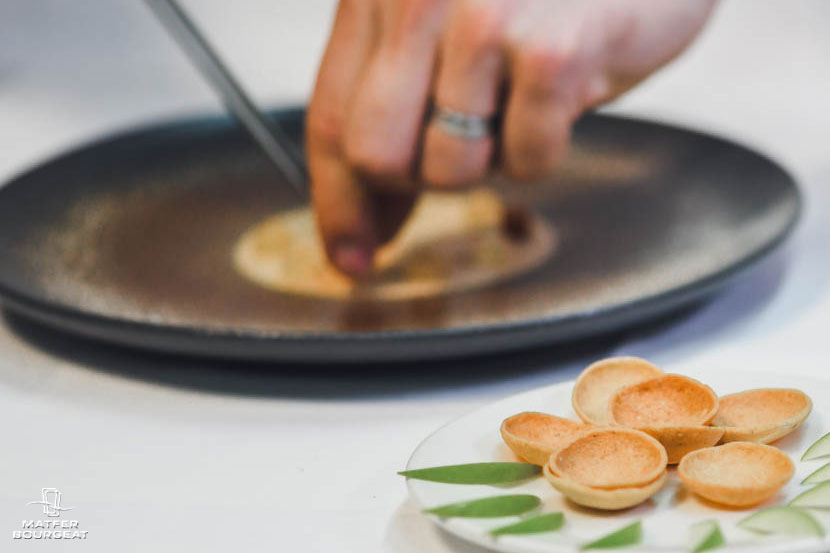 Place the shortbread in the center, then the frozen balls and spiral of ganache.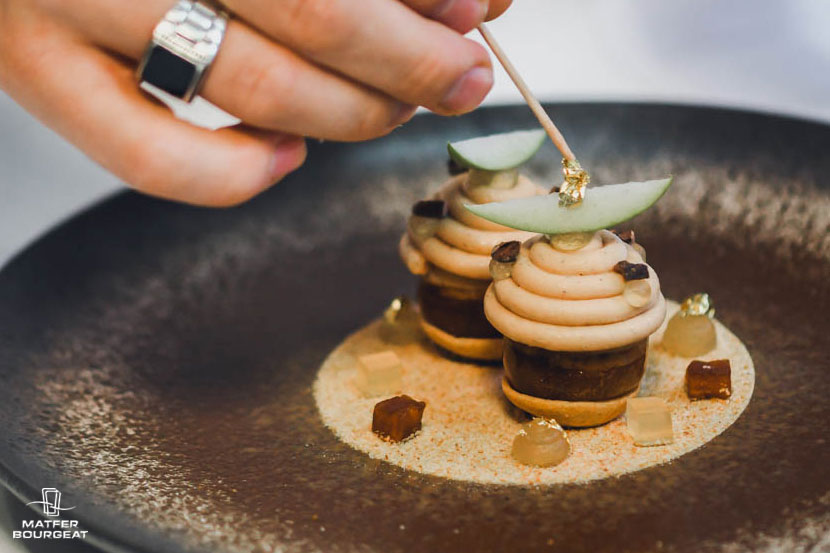 Add a thin slice of Granny Smith apple on each spiral and a touch of gold leaf.