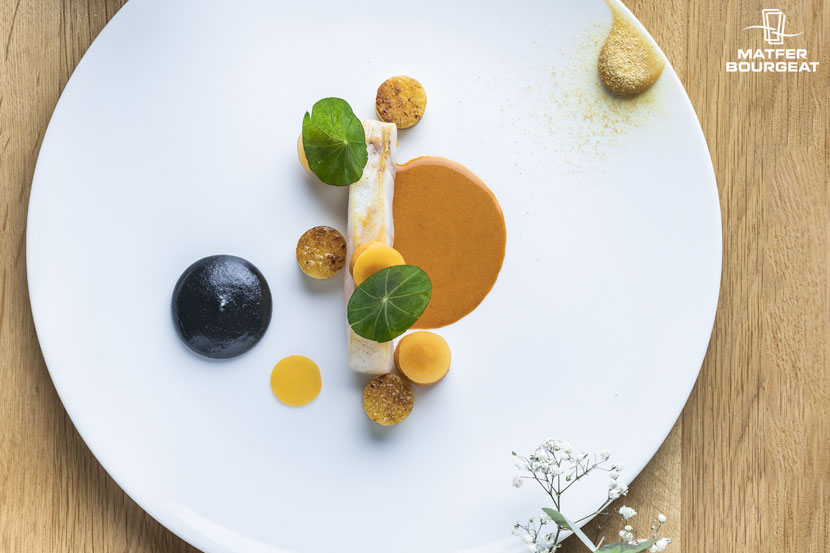 butternut squash: 1 kg
unsalted butter: 75 g
salt
pepper
Peel the butternut squash, remove the pulp and roughly slice. In a gastro pan, spread the pieces uniformly and sprinkle with a little butter. Season with salt, cover with aluminum foil and bake in an oven at 170°C (340°F) for about 1 hour. Once baked, remove the aluminum and finish drying for 15 minutes.
Blend to obtain a smooth purée. Adjust seasoning if necessary.
butternut squash: 300 g
Ginger vinegar rice vinegar: 150 g
sugar: 45 g
ginger: 75 g
Peel the butternut squash. Use a mandolin to cut very thin slices. Use a dough cutter to cut shapes as you choose.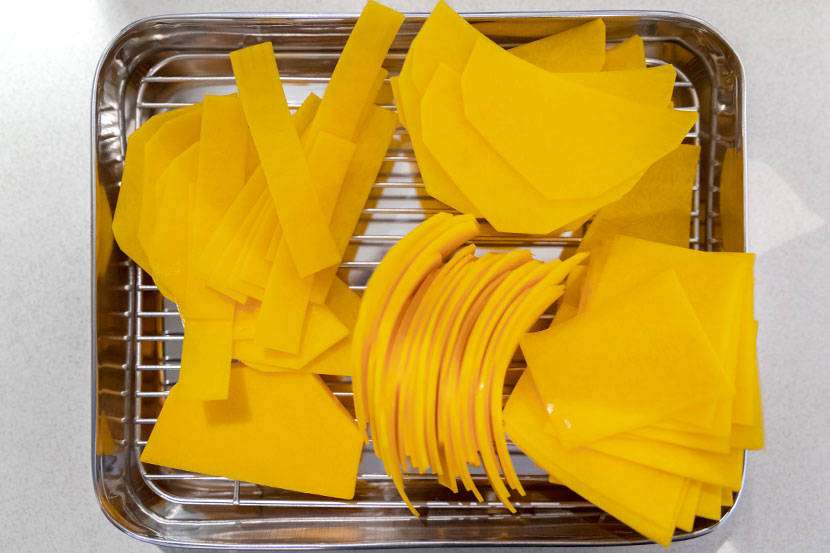 Make the ginger vinegar: boil the rice vinegar with the sugar. Once boiled, add the finely sliced ginger, infuse for 1 hour. Strain through a china cap sieve. Pour the hot vinegar over the butternut and leave to cool. Set aside.
Menton lemons : 12
sugar : 100 g
Juice 4 lemons. Zest the 8 other lemons and remove the peel and pith (peler à vif) and cut the peeled lemons into rounds. Blanch the zests up to 3 times. Put the juice, blanched peel and lemon rounds (seeds removed) into a pan. Add the sugar and cook for about 1 hour. Put into a blender and make a smooth paste. Set aside in a pipette.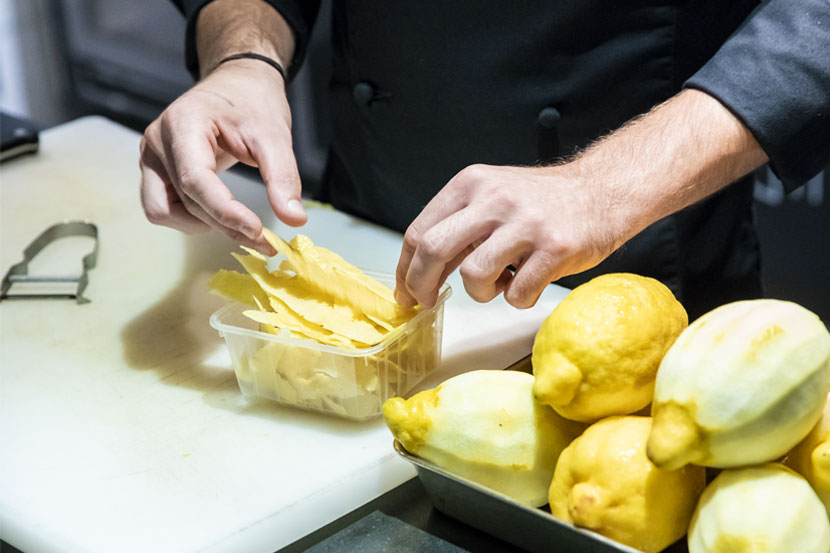 Bintje (floury variety) potato: 50 g
black garlic: 25 g
saffron
Espelette pepper
olive oil: 120 ml
salt
pepper
Cook the unpeeled potatoes for 2 hours at 180°C (350°F). Remove the pulp and put in a blender with the black garlic, saffron, Espelette pepper, salt and pepper. Blend with olive oil and adjust the seasoning. Strain through a china cap sieve and place in a siphon. Set aside.
carrot: 50 g
onion: 50 g
celery: 50 g
leek: 50 g
potato: 50 g
tomato: 50 g
tomato paste: 20 g
white wine
garlic clove: 1
spices
thyme: 1 sprig
fish stock: 500 ml
red mullet fillets: 1 kg
Cut the garnish into a large mirepoix. Sweat the vegetables in the following order: carrot, onion, celery, leek, potato, tomato. Add the thyme sprig, crushed garlic clove, spices and tomato paste. Cook the tomato paste well to eliminate the bitterness before deglazing with white wine. Flamber and reduce to a glaze.
At the same time, either in a frying pan or plancha covered with baking parchment, sear the red mullet filets on the skin side, unilaterally. Add the vegetables, fish stock and reduce over low heat for about 2 hours. Strain through a china cap sieve and press well. Reduce the obtained sauce to the desired thickness. Adjust the seasoning and keep hot.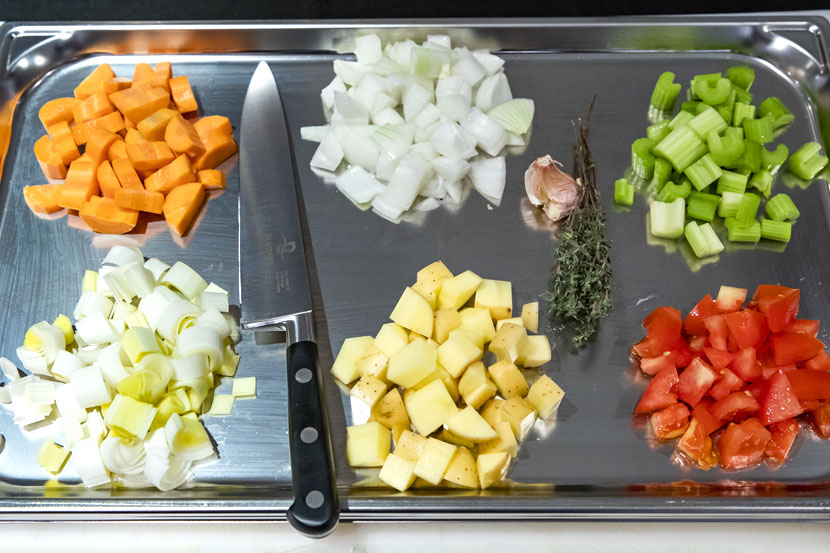 Cut 4 portions of cod from the top end of the filet. Season and cook at a low temperature: 12 minutes at 72°C. Set aside

Charlotte potato (waxy variety): 100 g
unsalted butter: 25 g
salt
pepper
garlic clove: 1
thyme: 1 sprig
Line a frying pan with thin slices of butter. Put in 1 cm sliced potato rounds keeping them closely packed. Season, add the thyme and garlic and put over high heat to quickly color the potatoes, then lower the heat. Turn the potatoes and quickly sear for a few seconds on the second side and deglaze with a little water. Cover and leave to finish cooking to give a crisp-soft potato. Remove from the pan and use a dough cutter to cut to the desired size. Set aside.
Use a dough cutter to cut rounds in the nasturtium leaves and then plate.