Ingredients for pork spare ribs with honey, spices and yellow curry recipe – serves 6
Pork spare ribs
1,2kg
MARINADE
6 tablespoons tomato paste
1 tablespoon yellow curry paste
6 tablespoons honey
2 oranges
Thyme, rosemary, bay leaf
Chicken stock
4 leaves celery stalk
1 carrot
1 onion
3 garlic cloves
3 bay leaves
1 pinch thyme
Fond de volaille
Pan-cooked fregola sarda risotto-style
1 red onion
3 garlic cloves
1 carrot
1 celery stalk
½ Pack Fregola sarda
Spanish bell peppers
3 tablespoons olive oil
3 cultivated mushrooms
Champagne
Romanesco broccoli
½ Romanesco broccoli
Vine-ripened tomatoes and celery stalk leaves
2 bunches vine-ripened tomatoes
10 leaves celery stalk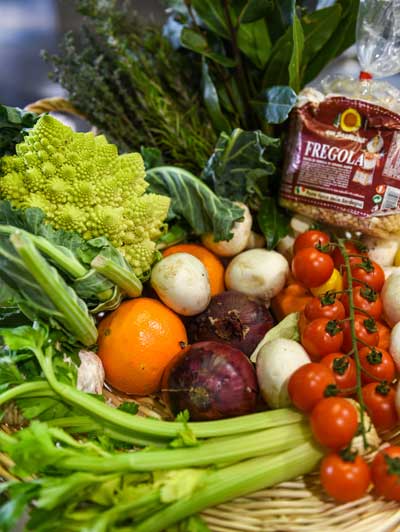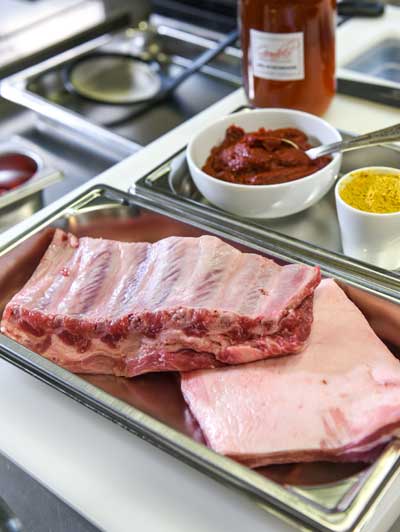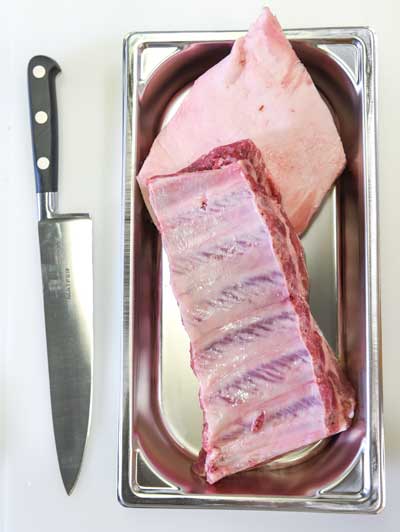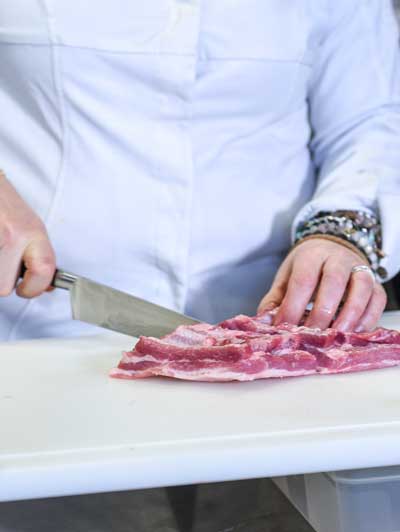 Cut the pork spare ribs in 2 following the bone.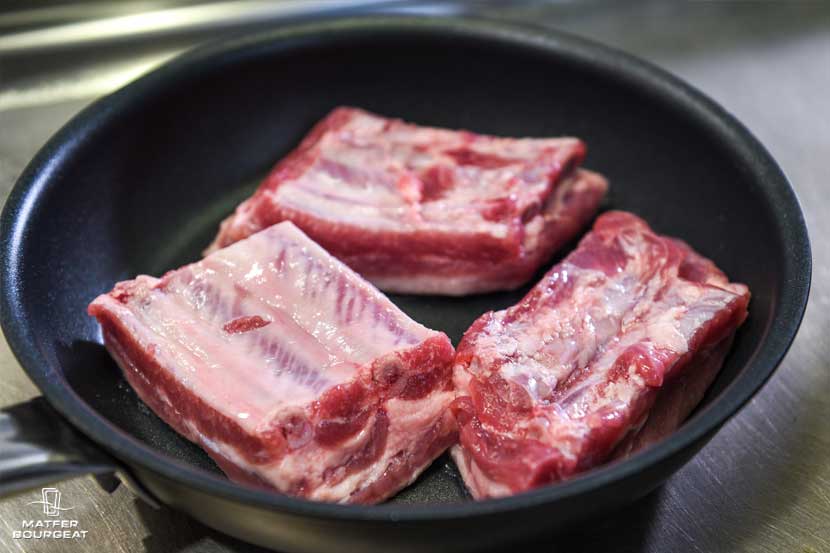 In a hot pan, brown both sides. Put the pork spare ribs in a roasting pan. Keep the fat to pan fry the fregola sarda. Lightly season with salt.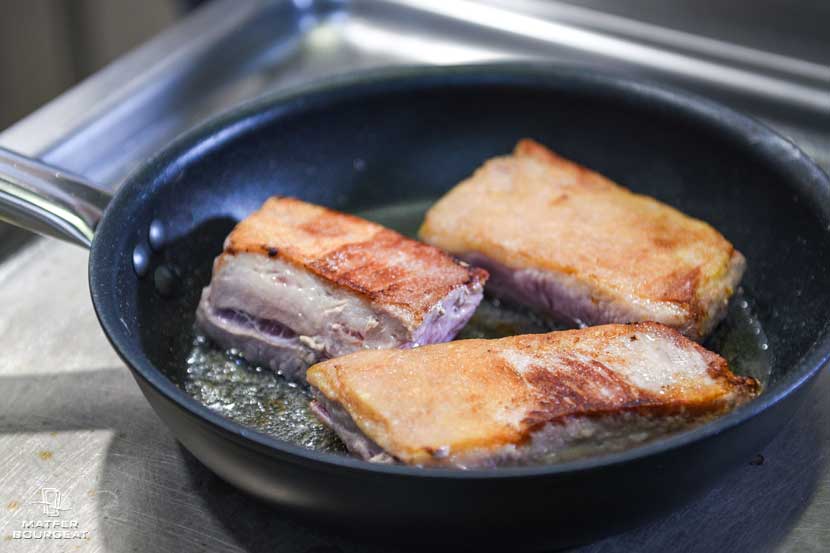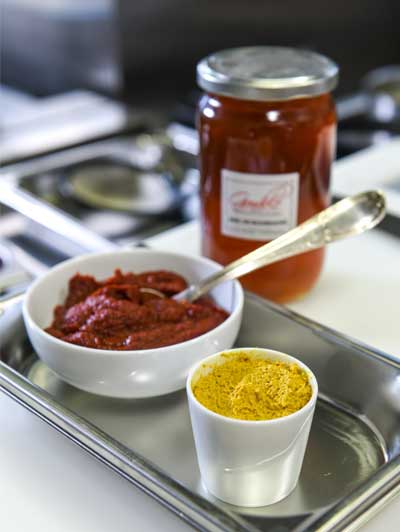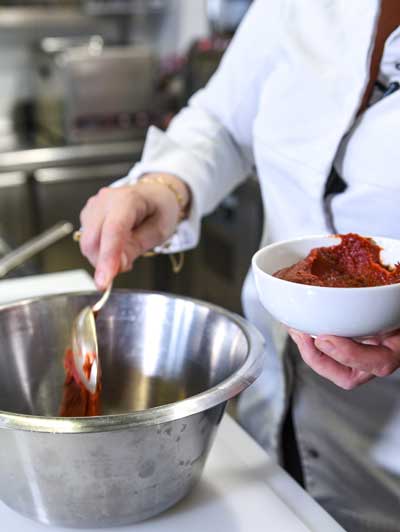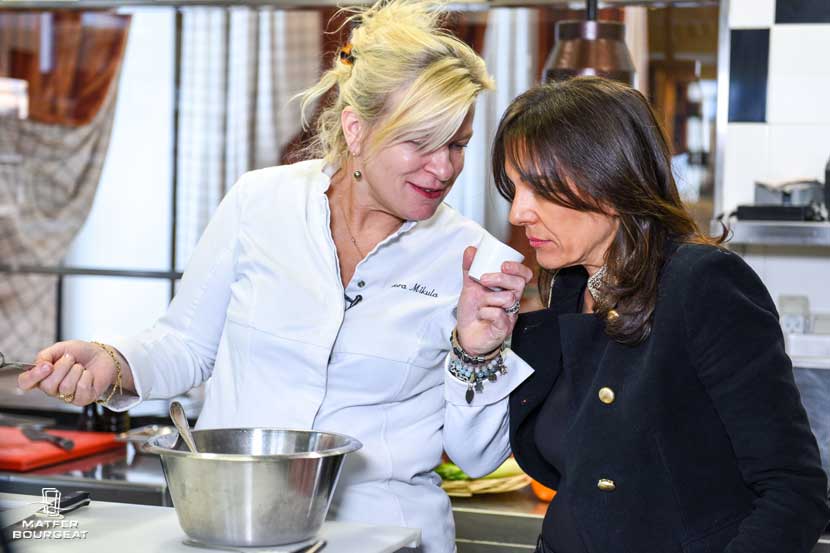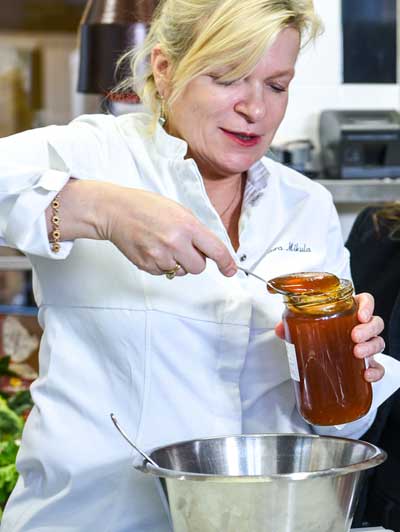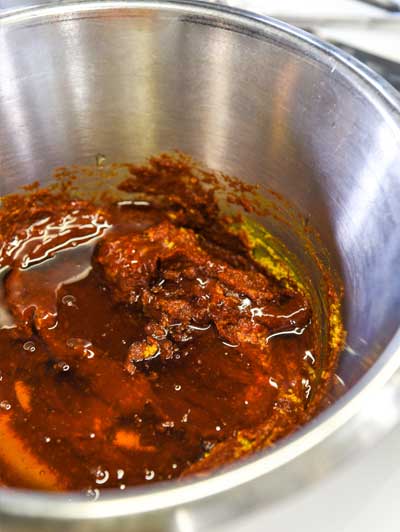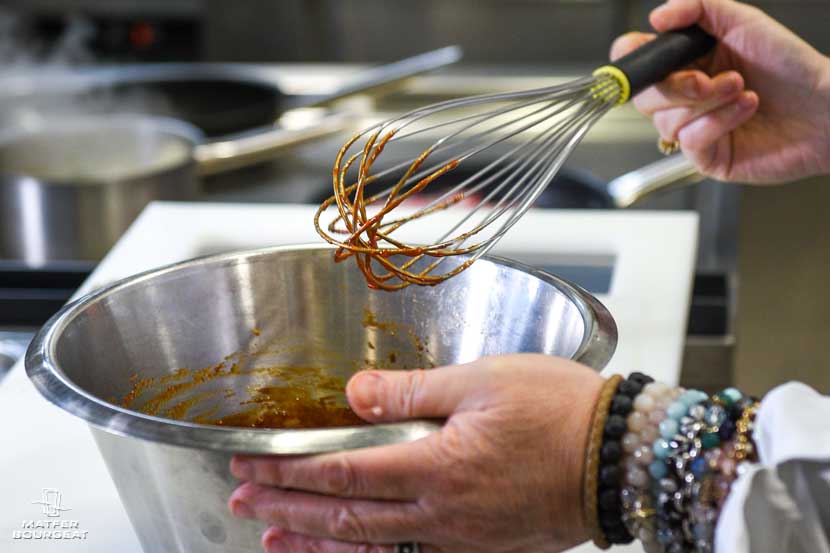 Mix the ingredients in a bowl with an Exoglass® whisk FMC until the preparation is smooth and homogenous.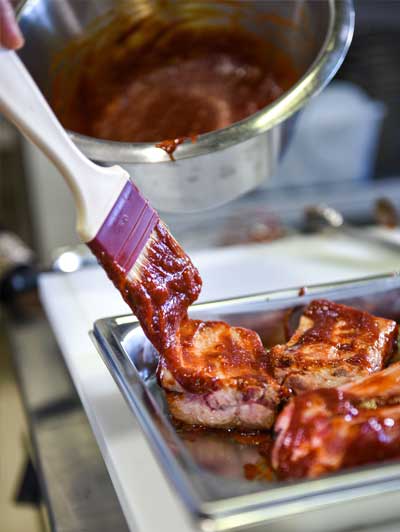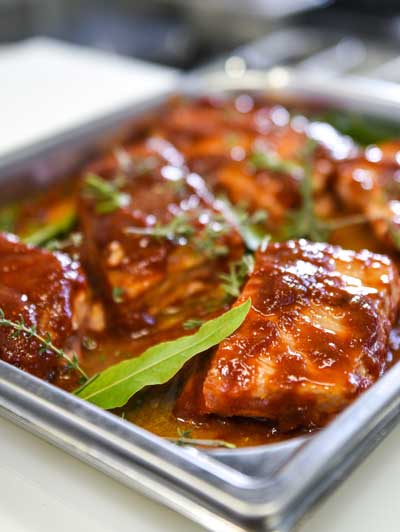 Use the marinade to baste the pork spare ribs. Add the thyme, rosemary and bay leaf.
Tips of Flora Mikula
Pour the juice of two oranges onto it for a softer textured meat.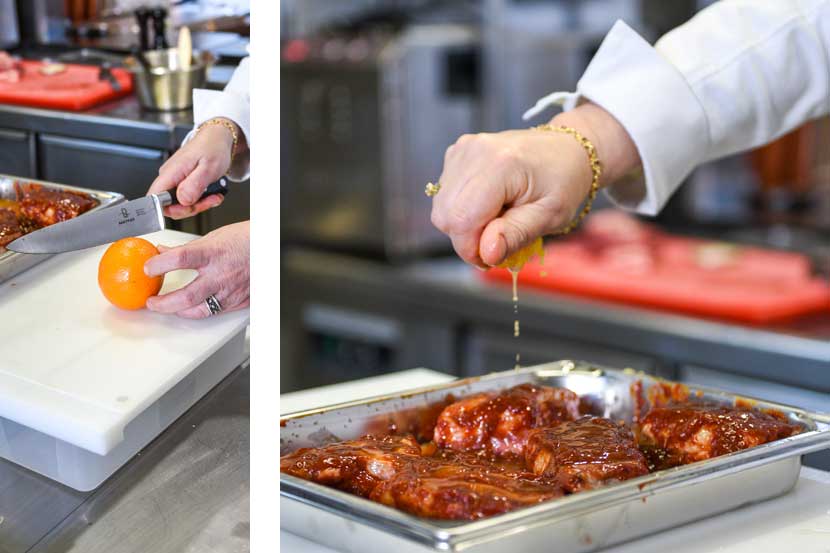 Cooking of pork spare ribs
Method 1: With a sous-vide mistral machine: minimum 10 hours at 80°C (175°F)
Method 2: In the oven: minimum 6 hours at 100°C (212°F)
When cooked, remove the pork spare ribs and set aside.
Strain the fat from the pork spare ribs.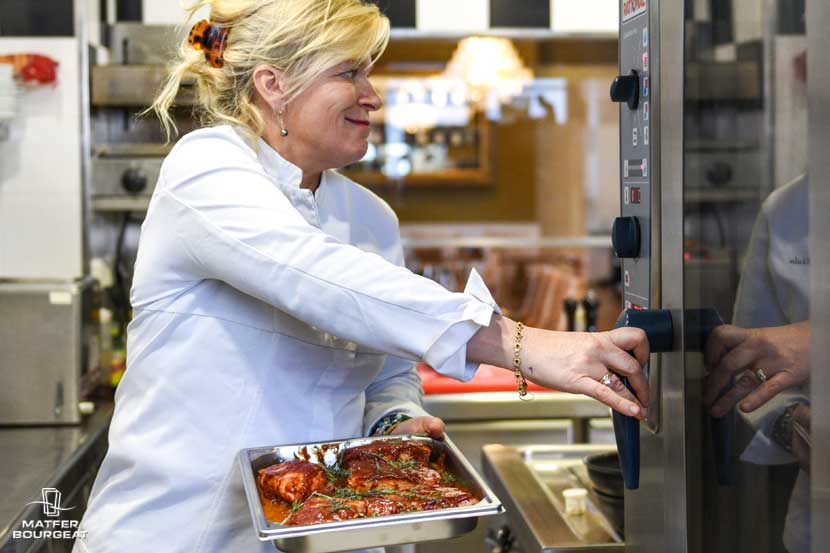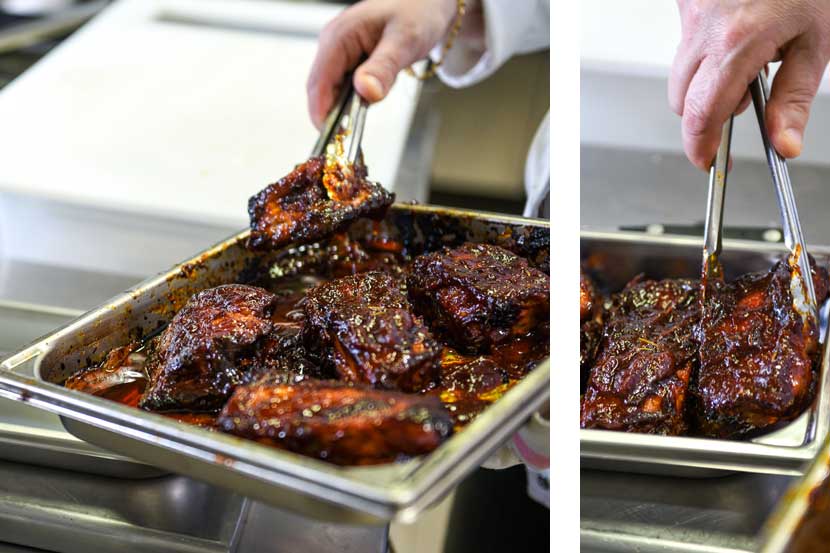 Tips of Flora Mikula
For both methods, the meat is tenderer when the cooking time is prolonged.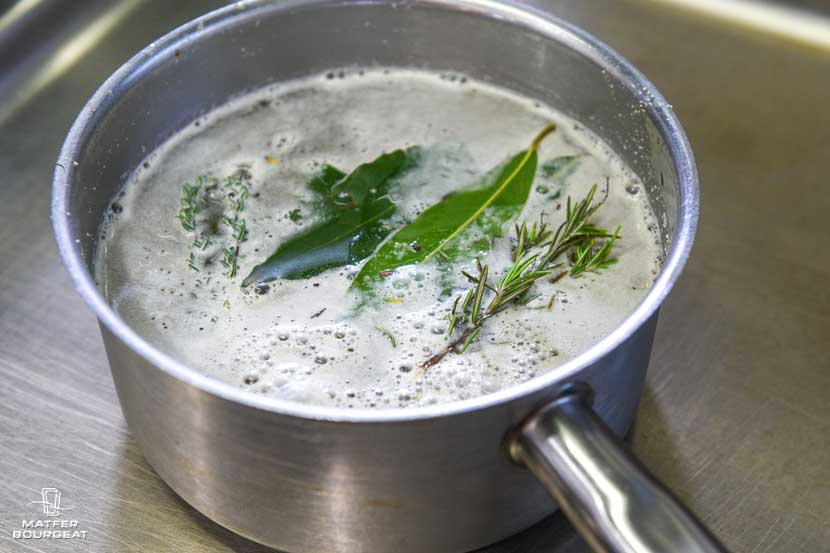 Fill a pan with water and add the ingredients. Boil the liquid to release the flavors for a perfect stock.
Pan-cooked fregola sarda risotto-style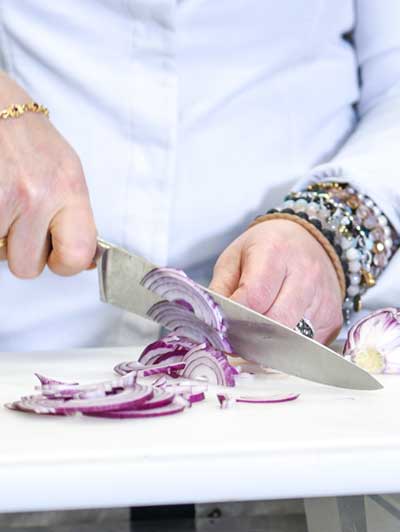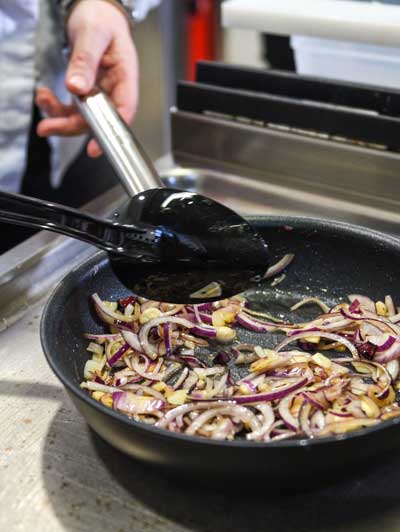 Heat the pork fat in a frying pan. Cook the onion and garlic cloves.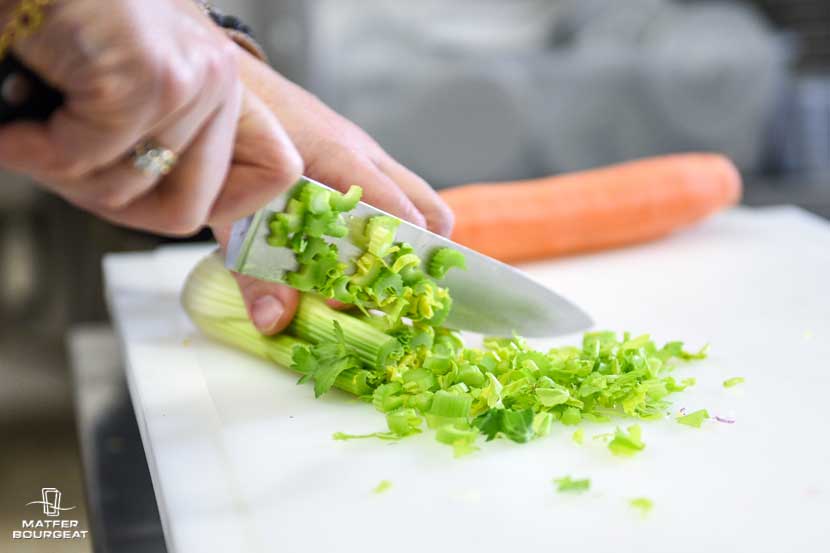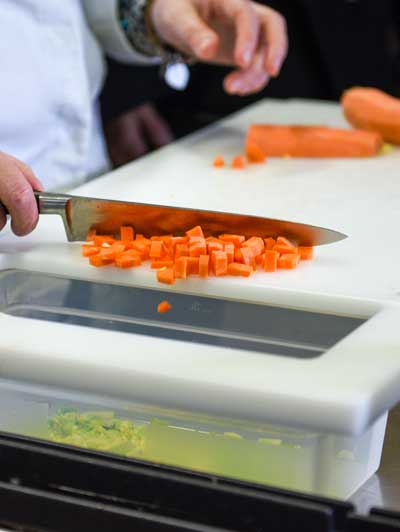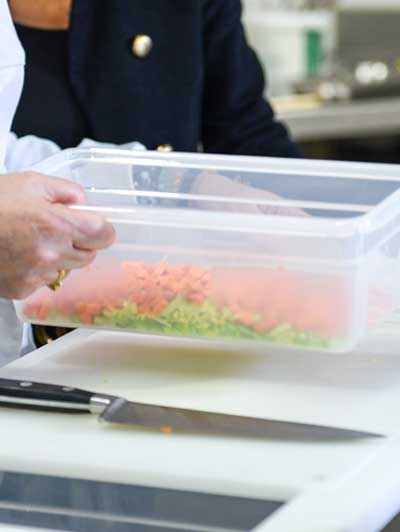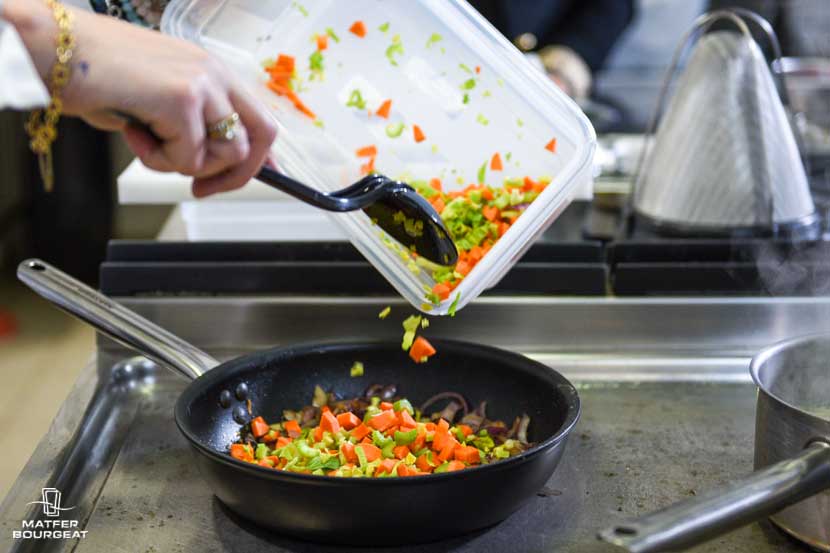 Add the carrot and celery, both cut into brunoise.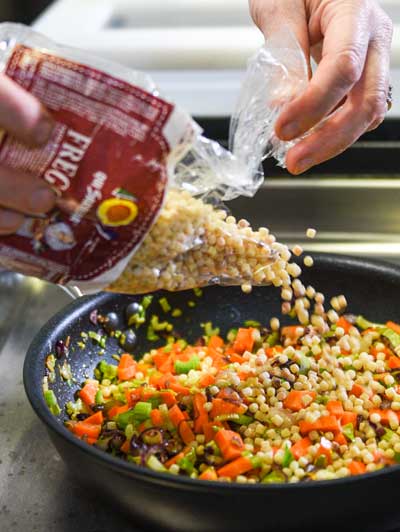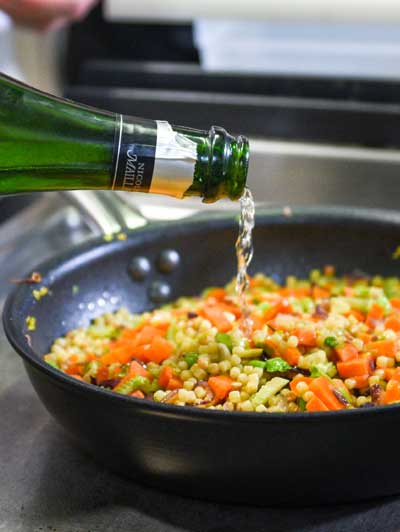 Add ½ packet fregola sarda. Deglaze with champagne and evaporate.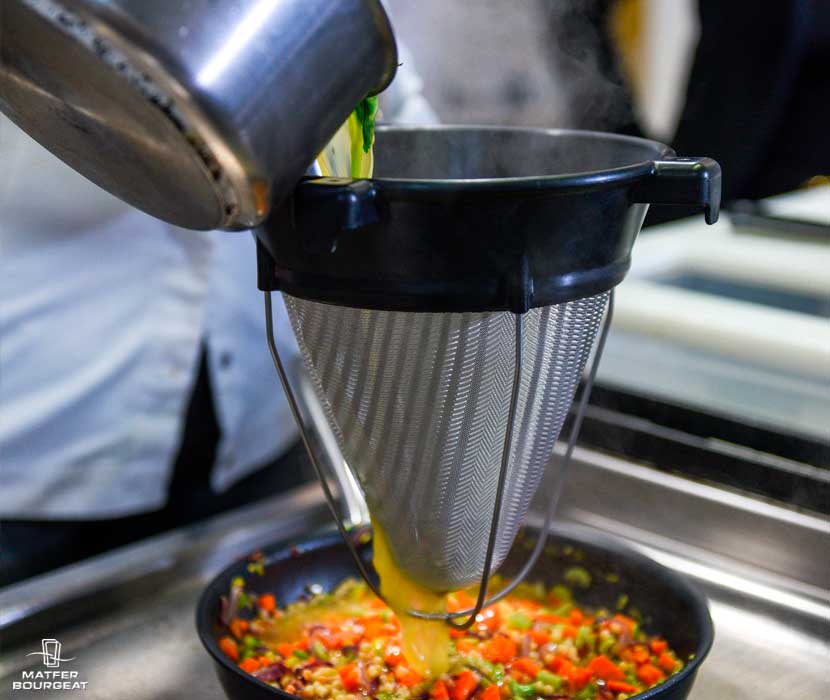 Strain in the stock in several batches using the Exoglass® strainer. Cook over low heat until the fregola sarda has absorbed the stock.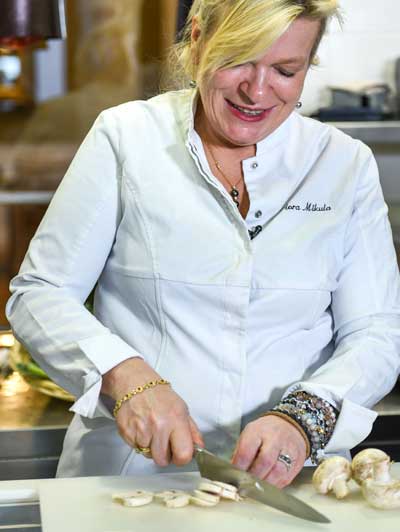 Heat the olive oil in another frying pan. Slice the cultivated mushrooms.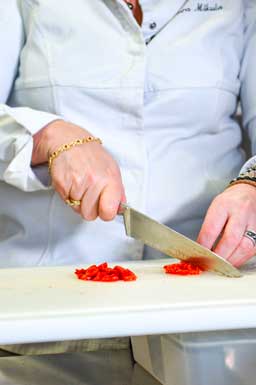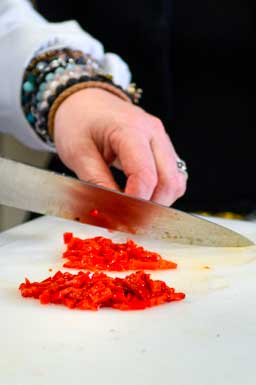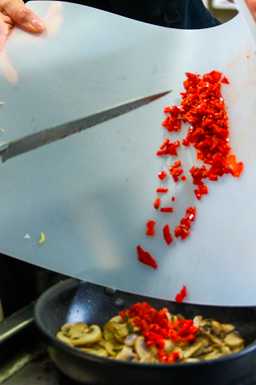 Open the pimentos in two and remove seeds if necessary and cut into brunoise. Sauté the mushrooms quickly to keep semi-raw and add the pimentos.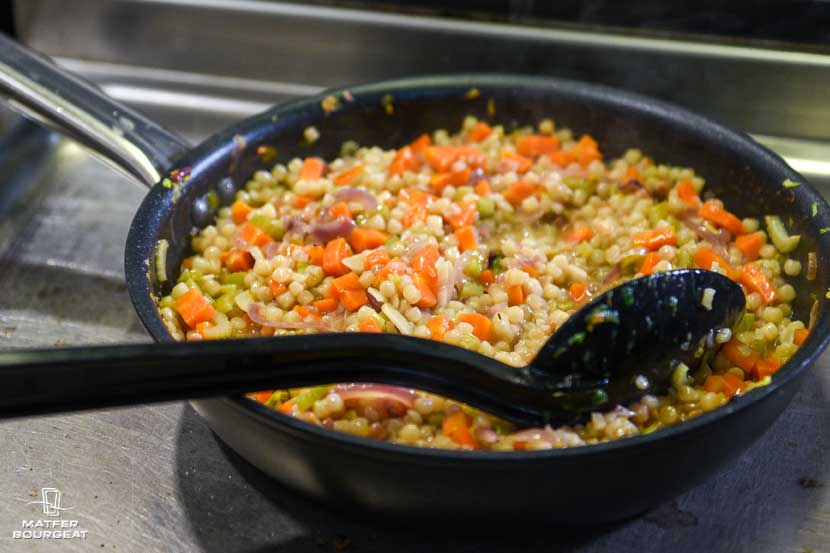 Mix together the mushroom and pimentos with the fregola sarda mixture. To finish, bind the risotto with the fat from the pork spare ribs.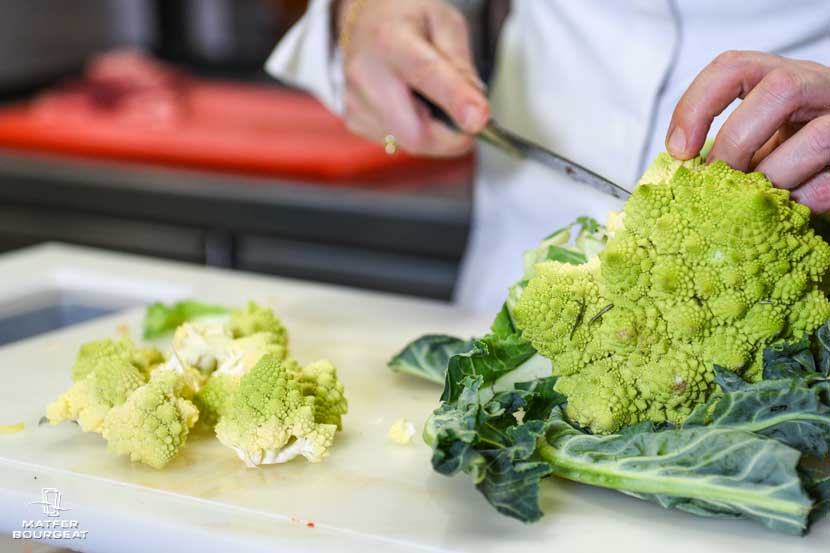 Remove the leaves from the base of the stalk. Cut florets by removing the small stalks from the central stalk.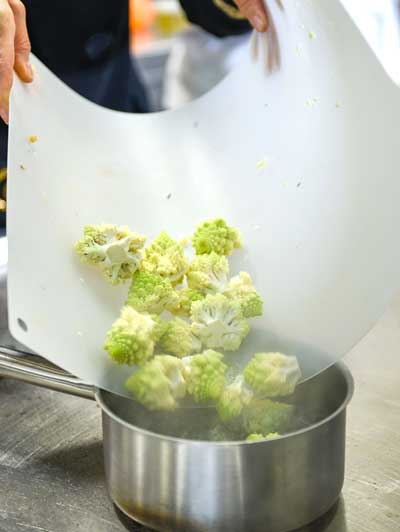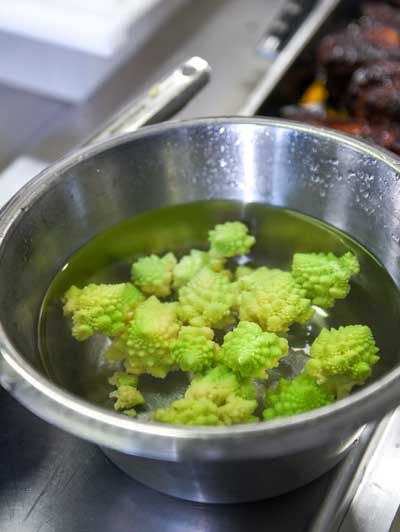 Blanch 5 minutes in a large quantity of boiling salted water. Rinse and put quickly in cold water to stop further cooking.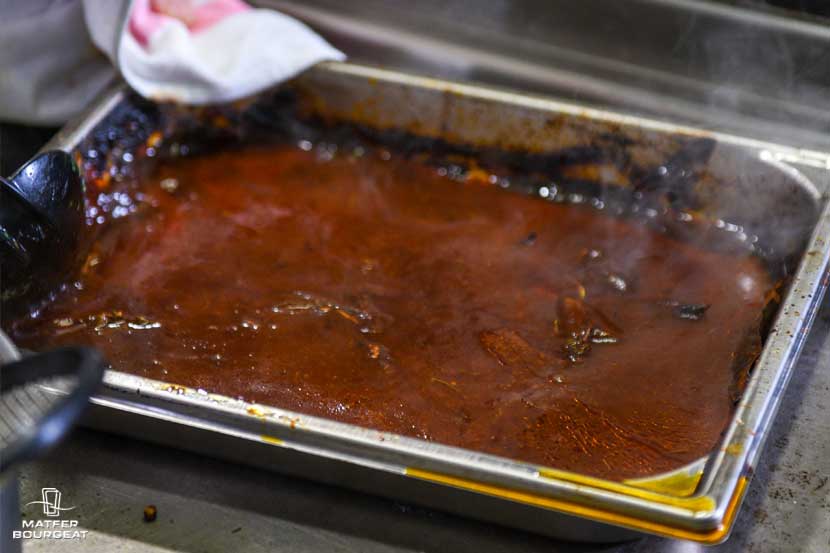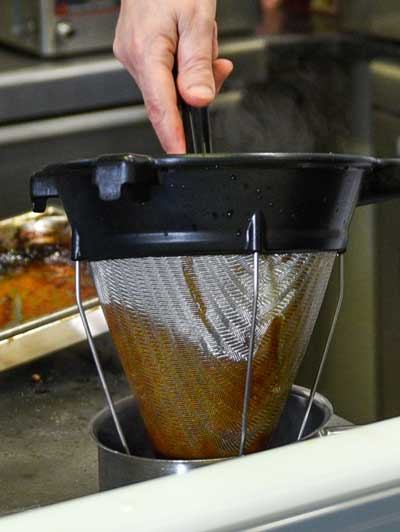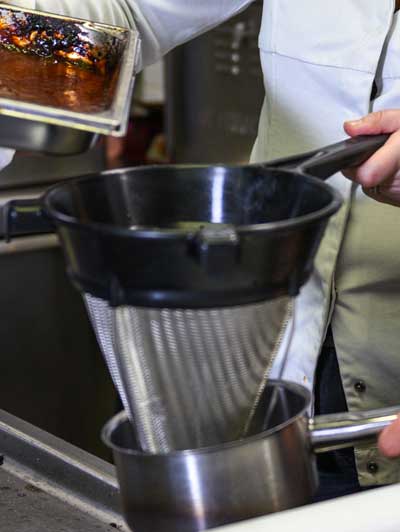 Set aside the sauce then deglaze with the cooking water from the Romanesco broccoli. For a smooth sauce, strain through an Exoglass® strainer
Vine-ripened tomatoes and celery stalk leaves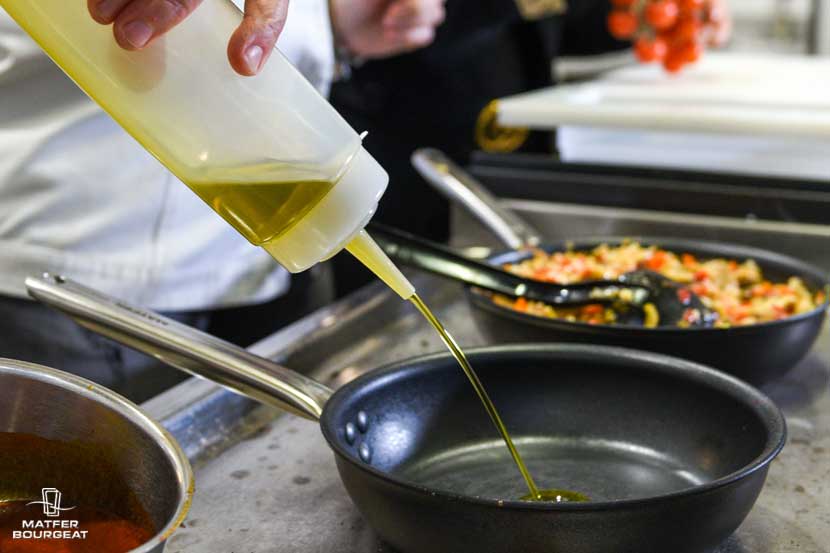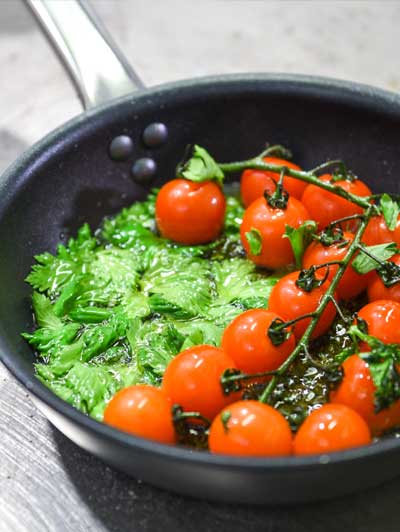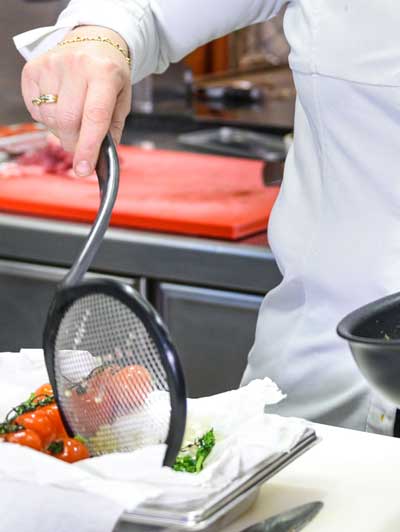 Fry the tomatoes and celery stalk leaves in olive oil. Remove and strain with a skim'all.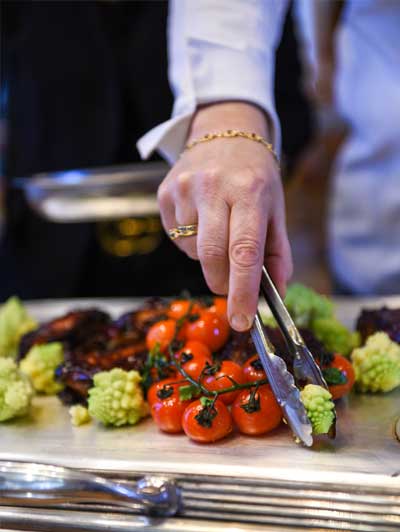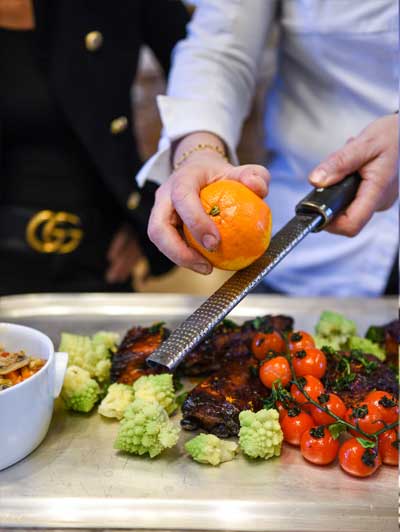 On a serving trolley, place the meat, fregola sarda risotto-style, broccoli and vine-ripened tomatoes. To finish, finely grate orange peel over the dish.