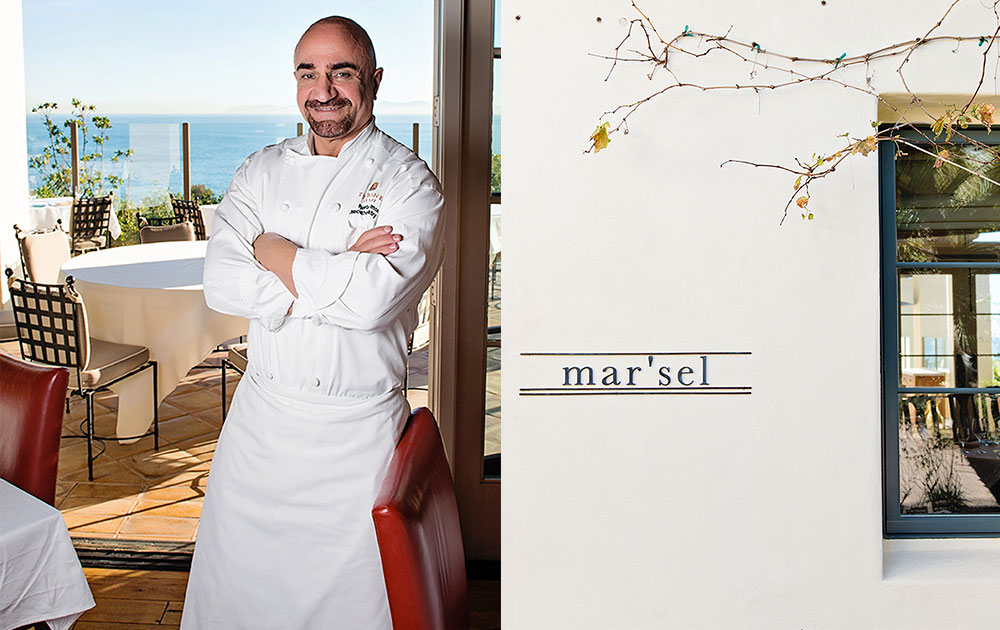 Pierino Jermonti, Executive Pastry Chef at Terranea Resort, who now calls San Pedro home, has also been featured in Bon Appétit, Food & Wine and Cucina Italiana.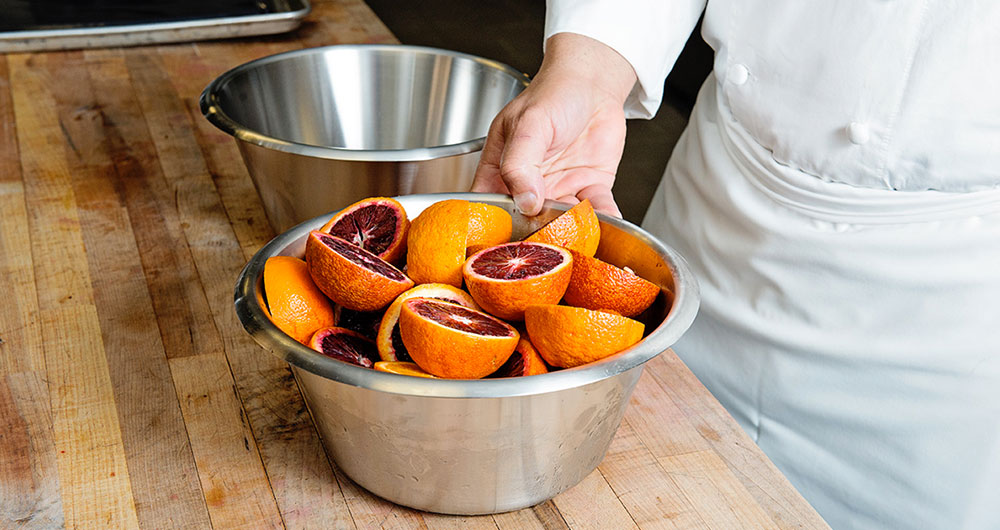 As an established Master Pastry Chef what inspires you?
Seasonal ingredients, opera and exercise all inspire me. I love giving classic desserts a creative twist and ideas come to me when I am calm and relaxed outside of the kitchen listening to music or doing exercise. Then I can take those ideas and work out the process and refine the procedure inside of the kitchen where I am very focused. My parents were also a huge inspirational influence on me. I think I was baking before I was walking! We are a family of bakers so making bread and then pastry became very second nature to me. What inspired me early on and continues to be intriguing to me is how to blend flavors uniquely. I like to mix sweet and savory elements to balance out the sugar with the simplicity of the fresh ingredients.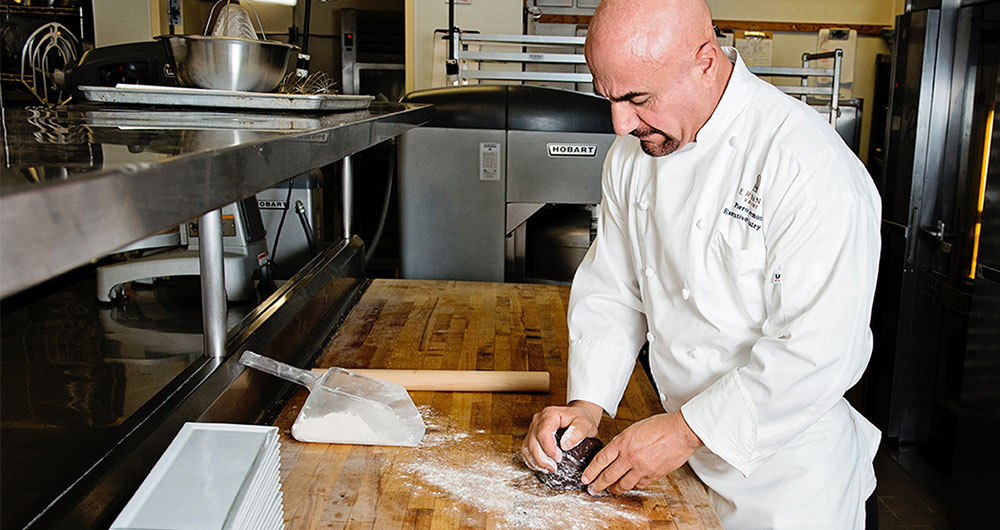 What are some of your favorite ingredients to work with?
My favorite ingredients are citrus, chocolate, caramel and sea salt. On the resort property, I have amazing access to the finest of California ingredients right here. We have beautiful Meyer lemon trees, orange and tangerine trees and an abundant fresh herb garden with rosemary, tarragon, oregano etc., but one of the most interesting things we have here is our Sea Salt Conservancy. It is fantastic. All of the sea salt we cultivate is used for our different dishes in the diverse restaurants. Many are infused with lemon or an herb and are wonderful to use in desserts. If salt is added correctly it can really enhance a sweet recipe. I grew up on the waterfront in Calabria, which is the boot of Italy and the Italians use and respect sea salt in a big way.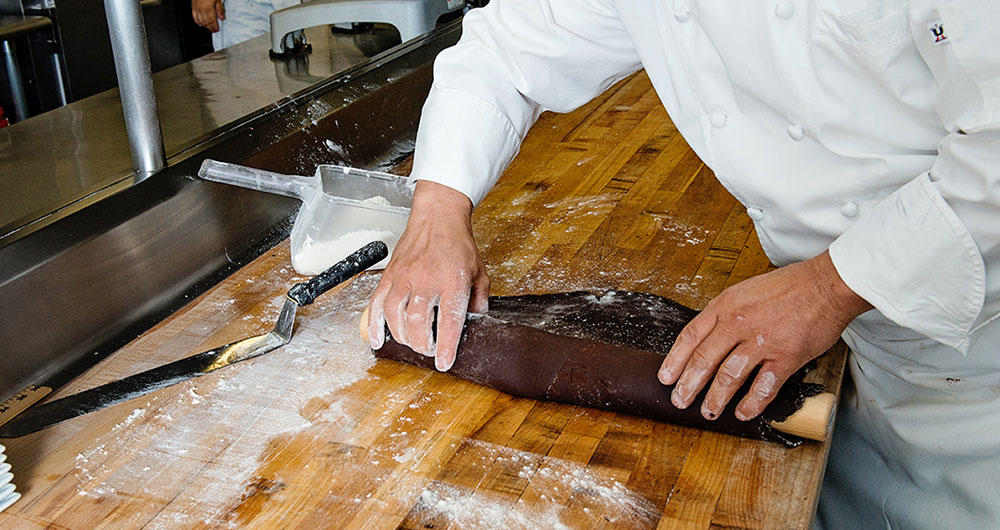 It is a balancing act to be the Master Pastry Chef at a resort like Terranea where you oversee everything sweet for the restaurants, the bakery, the private events and the weddings. How do you manage all of that with such success?
I'm lucky. I love doing what I do and I have a great team. I also learned from a great team at home and then in Arizona. I believe that practice makes perfect and I have very high standards. Pastry and presentation design are very precise with flairs of flavor. To me, it is architecture on a plate. To have a positive productive team that works well together and can produce the volume and diverse desserts that we do means that I need to show and teach by example. Everyone in the kitchens are committed to the cause of delivering delicious memorable results from the simplest chocolate chip cookie or ice cream to more intricate cakes and tortes.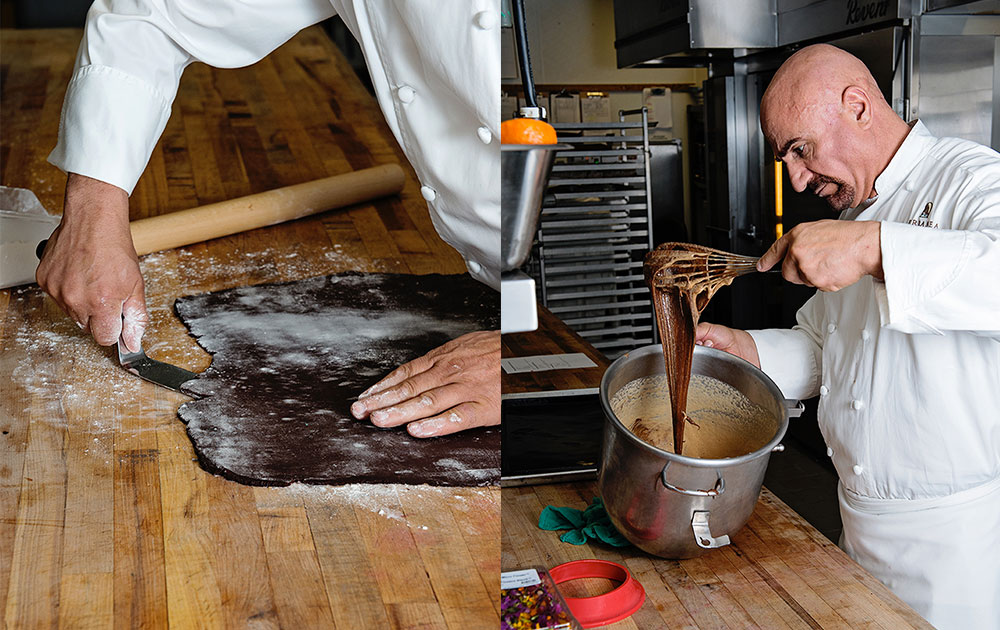 What advice do you pass on to your pastry team and apprentices?
Being a pastry chef is a focused art. To create is an art but to do it well- to master it-takes time and attention to every detail. Use the best ingredients and finest utensils to get the best results. Care about everything. Make sure your pastry toolbox is fully equipped to make complicated processes more simple. Matfer products for pastry are absolutely the best and I can show and tell my team all about them by exposing them to the various items. My personal toolbox is filled with Matfer materials from spatulas to pastry brushes, cutters, whisks and tips. The frames, the zester, the decorator comb are fantastic and guide your hands to a perfect smooth and even result.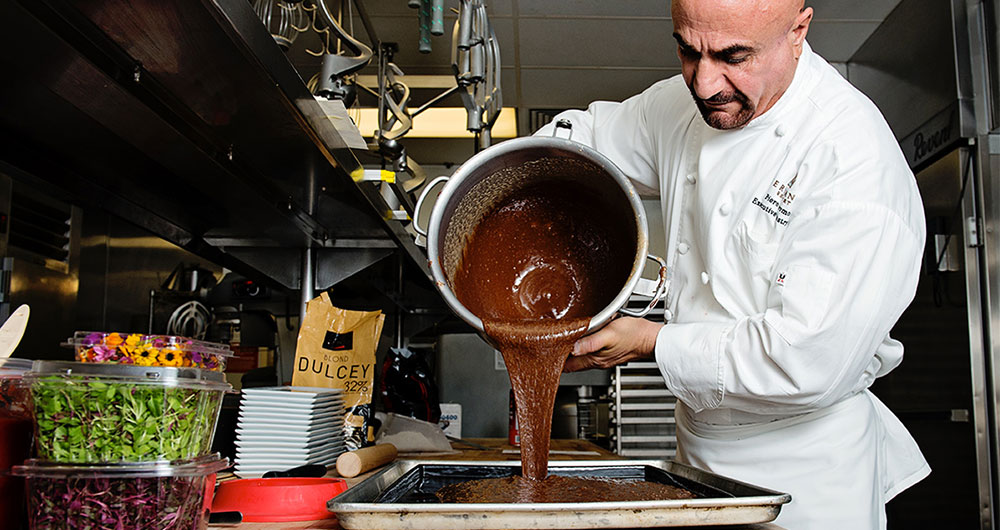 Are there special events you particularly enjoy creating desserts for?
Well I want get everything just right and make a lasting impression and memory for the patron and their palate. I like designing wedding cakes and creating new seasonal desserts that are memorable. It is also an enjoyable change to make desserts that complement wines for our Wine Library Dinners.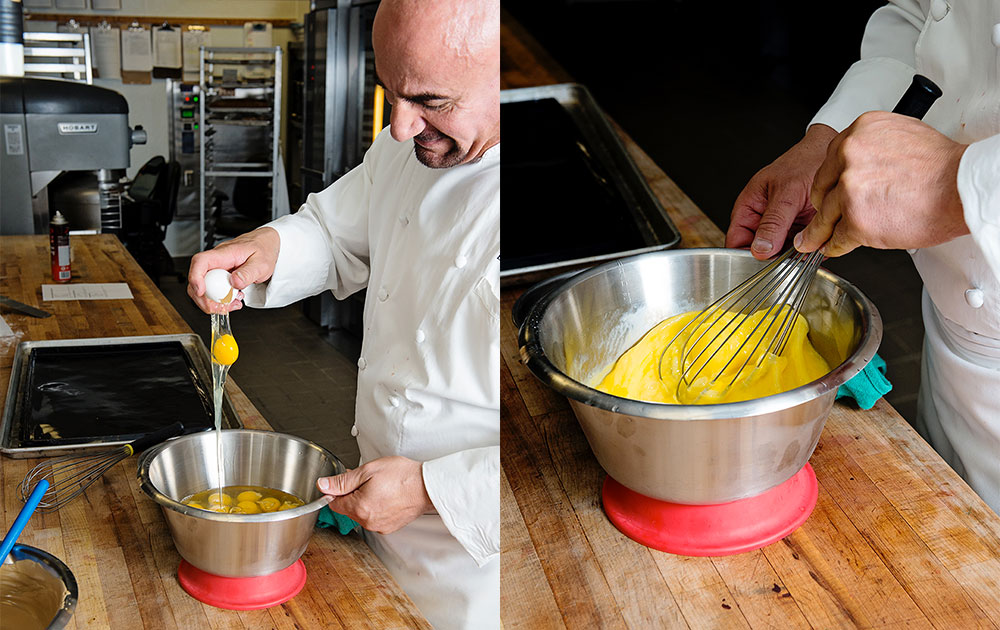 Do you have a signature dessert?
I think I do! I seem to be very well known for my Caramel Cheesecake Crème Brûlée. I first made it when I was invited years ago to make a dessert at the James Beard House in New York. It was a hit and I've been making it ever since. It is on our dessert menu at Catalina Kitchen and available for special events. I love cooking with caramel. I make a caramel pot a crème for our dessert menu in our elegant Mar'sel restaurant and a caramel bar dessert for Nelsons, our casual eatery.
You refer to building pastry as a type of architecture. Renowned American architect Frank Lloyd Wright said, "The thing always happens that you really believe in and the belief in a thing makes it happen." Do you agree? How does this quote relate to you?
I really like this quote. Believing in something and the ability to make it happen is vital to living well and to achieving success. Since I was a little boy, I always believed I could get to the USA to further my expertise as a pastry chef. I worked hard to make it happen and I got to the United States. I persisted and believed I would become better with each experience. And I did. Thankfully, I think that continues to happen.
I do believe creating pastry and a special dessert like the cremeaux torte is similar to architecture. Each dessert I "build" starts from an initial inspiration from a moment or an ingredient that I find or notice at a market. It gets me asking myself, "What can I do with this information or item in front of me? How can I make it work as a dessert?" I picture it in my mind before I begin and then believe I can do it. That is my ongoing challenge as a pastry chef and that's what keeps me creating.
I believe I can make a new dessert from the bottom up, from crust, to ingredients, to flavors and finally to garnish. You never want to lose the belief of accomplishment. For me ,it is important that I keep the juices of new ideas flowing and my curious mind seeking.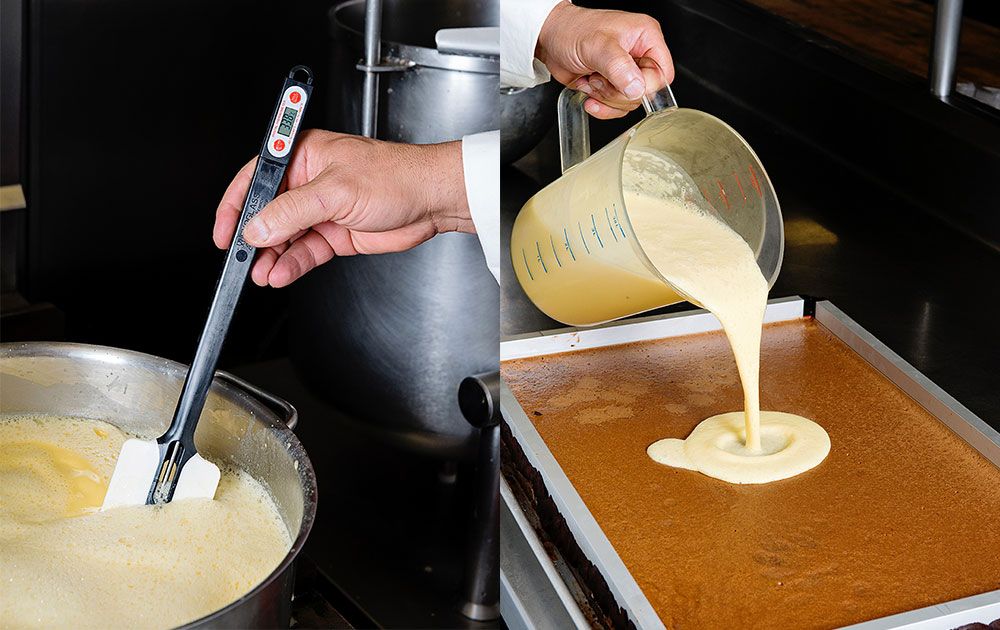 Your Chocolate Tangerine Cremeux with Blood Orange Glaze is stunning. What is the story and inspiration behind this holiday dessert?
I alter and edit the dessert menus to honor every season and the fresh ingredients that are especially available then. With the festivities of the holidays, I wanted to create something that was beautiful, unique and elegantly said Christmas. Blood oranges, chocolate and espresso are all elements that remind me of my childhood Christmas times in Italy. As an adult, Sambuca came into the equation too!! So I started fiddling and blending the ingredients and textured layers and created this torte. I like it. It feels special for the season. The opposites of the sweet chocolate with the sour yet sweet citrus of the tangerine cremeux and the blood orange glaze come together well. It will be featured on our dessert menu in Mar'sel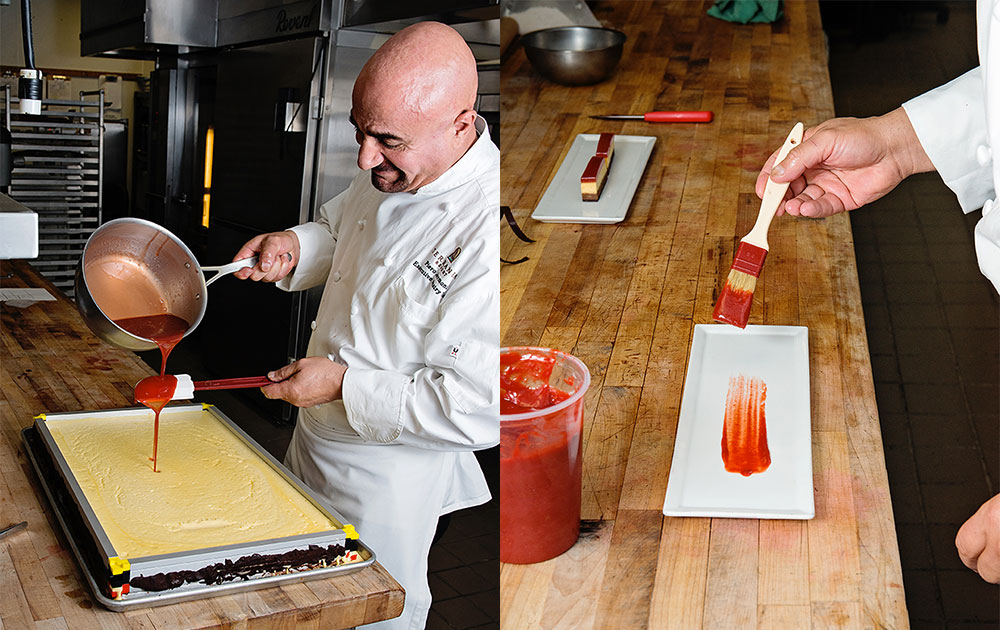 Personally, what do you like to cook and eat at home?
Protein and pasta! Being Italian, I love stuffed eggplant and lasagna.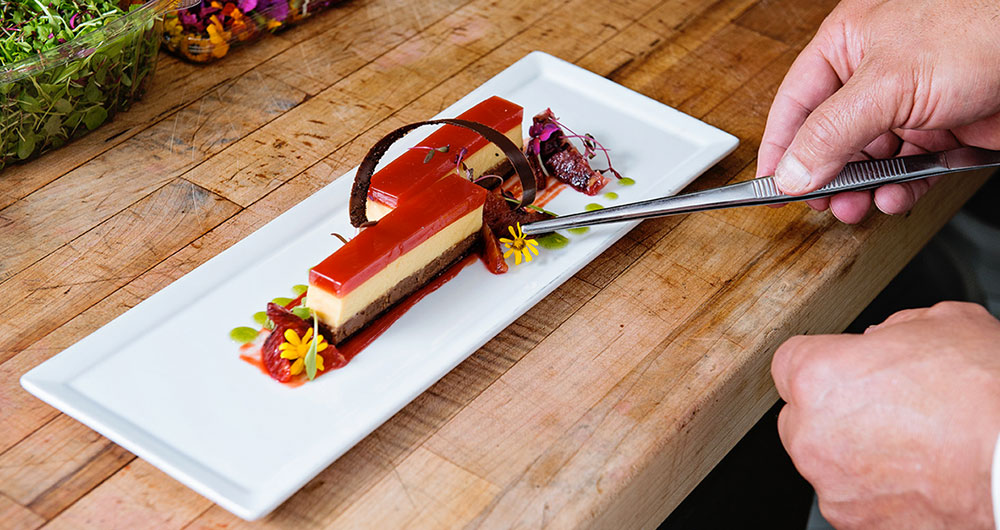 MORE ABOUT CHEF JERMONTI

For 13 years, he served as Executive Pastry Chef at the popular T. Cook's restaurant at the Royal Palms Resort & Spa in Phoenix. At T. Cook's, Jermonti became well-known for his signature caramel cake crème brûlée, which was named "Best of" by Phoenix Magazine. In January 2009, he was also named "Food Artist of the Month" by the publication. Jermonti, who now calls San Pedro home, has also been featured in Bon Appétit, Food & Wine and Cucina Italiana. Other awards and recognitions include Best Baker in America from Travel & Leisure, Gold Medal Award for best desserts from the Scottsdale League for the Arts, first place for Best Ginger Bread from Chefs Estate in Prescott, AZ, Arizona's Gold Plate Award, and Best Dessert audience winner on Phoenix Citysearch.com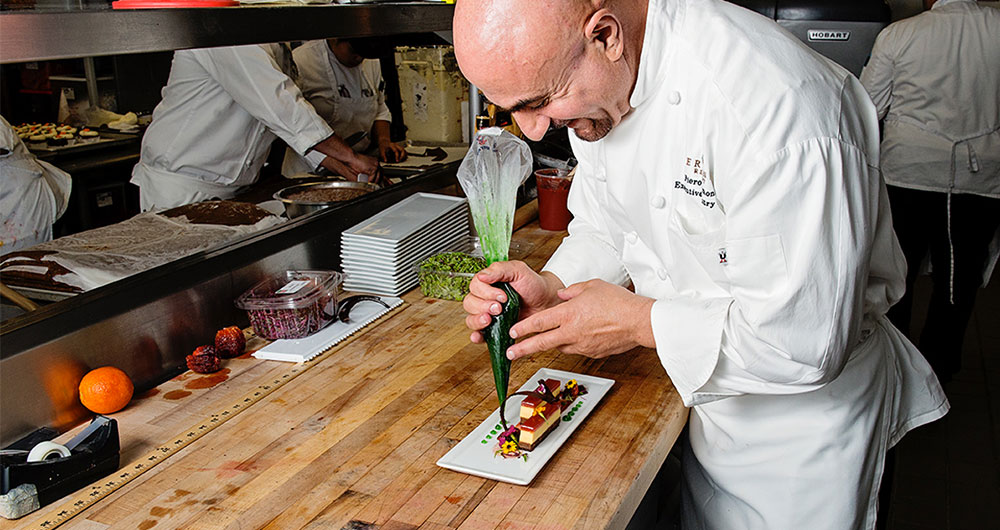 TOOLS FOR THE TASTE
As an established executive chef, you know the creation of an eye-catching divine dessert requires the use of the finest seasonal ingredients alongside top-notch utensils. Using Matfer's Stackable Frames & Mousse Ruler, Flexipat Sheet, Decorating Comb, Offset & Thermometer Spatulas, this Chocolate & Tangerine Cremeux Torte created by Chef Jermonti is especially tantalizing with its chocolate mousse base and its beautiful blood orange glaze finish.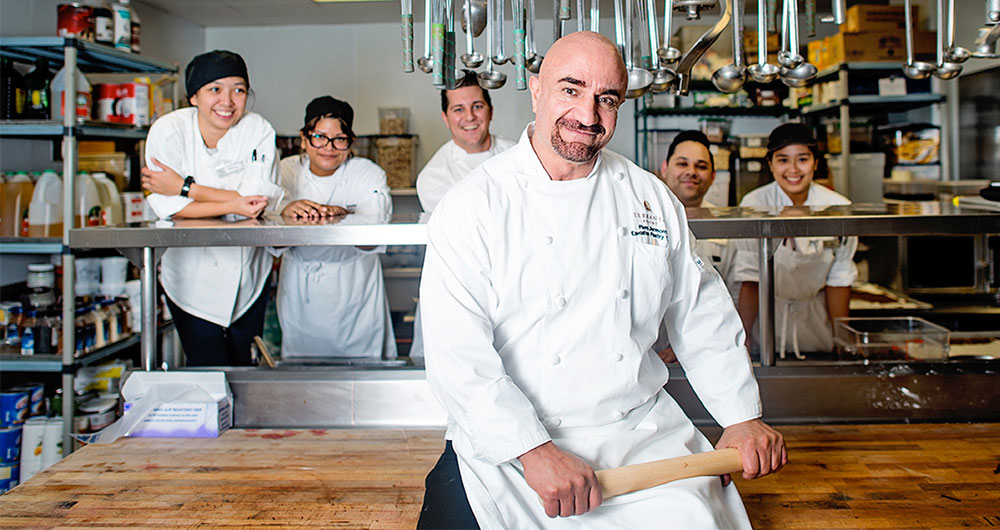 ABOUT PIERINO JERMONTI

Pierino "Perry" Jermonti was born and raised in Italy, and inspired to become a pastry chef at an early age under the guidance of his parents. He then sought out apprenticeships with renowned pastry chefs and eventually moved to the United States to pursue his passion as well as a culinary degree in the pastry arts. Jermonti now has more than 30 years of experience. Prior to joining Terranea Resort in 2009, Jermonti worked in some of Arizona's top kitchens including the Arizona Biltmore Resort & Spa, Wrigley Mansion Club and 8700 at the Citadel.